These delicious homemade pancakes are a fun twist on an old classic. With caramelized pineapple rings in the center of each pancake and a drizzle of warm, homemade coconut syrup, your family will be begging you to make these Pineapple Pancakes every weekend!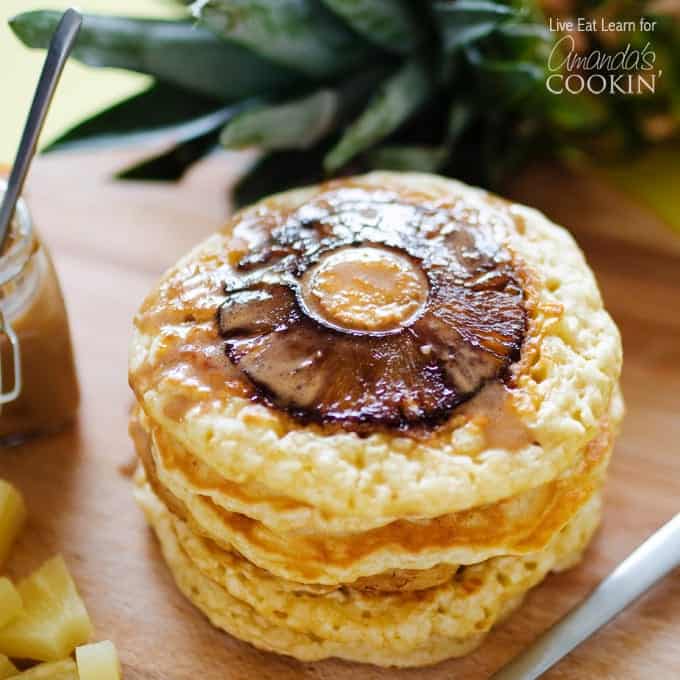 Pineapple Pancakes with Homemade Coconut Syrup
Having grown up in Alaska, my family made it a point to get out of the cold, snowed over tundra every spring to thaw out in the not-so-distant tropical islands of Hawaii. One such spring while heading to the beach on Maui, we came across a small breakfast restaurant built on a gazebo, and being a family of breakfast eaters, we had to try it out. And you know how some flavors just stick with you? The coconut syrup-coated pancakes from this gazebo will forever be etched into my taste buds. Sweet coconut with a side of pineapple, eaten next to the ocean under swaying palm trees, an entire day of snorkeling and laying in the sand ahead of you…what could be better? I was determined to replicate that delicious tropical flavor, and ladies and gents, I think I've gone and done it.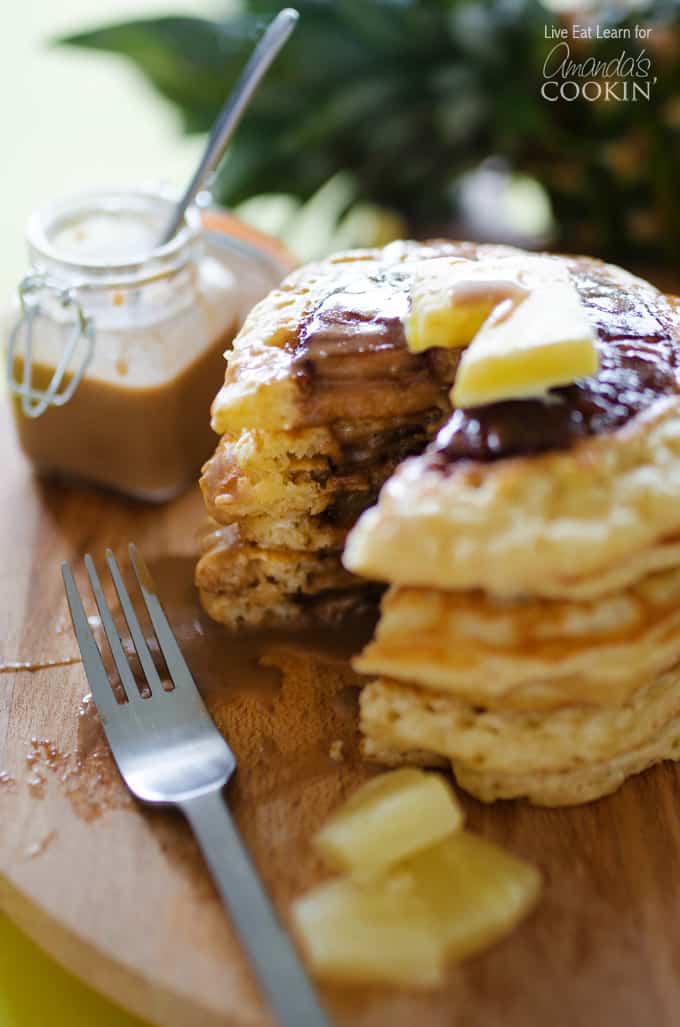 There are affiliate links in this post. That means if you buy something from that link, I will earn a small commission, but it won't cost you anything additional.
You'll Need:
Things you may find useful: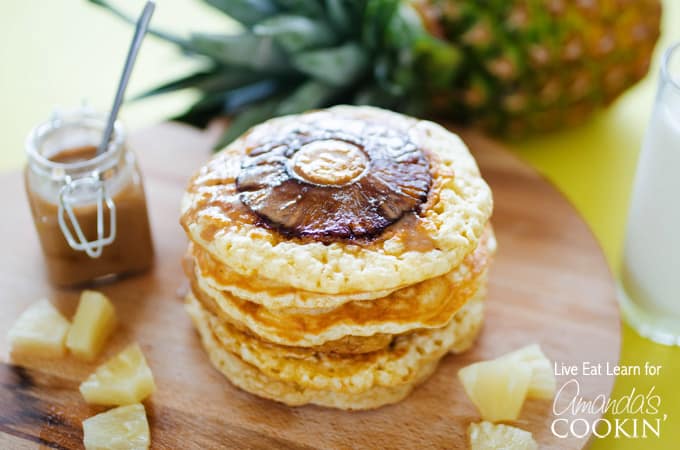 These pancakes are based on my Vanilla Pancake recipe, but for these we're nixing the vanilla and throwing in a tropical explosion. We'll essentially cook the pineapple rings in butter and brown sugar until dark and slightly caramelized, then remove the pineapple and whisk coconut milk into the remaining brown sugar juices to make the syrup. In another pan we'll pour in some pancake batter and plop a pineapple ring right into the center. The result? Tender pancakes stuffed with pineapple, drizzled with "coconutty" heaven.
Looking for more breakfast ideas?
Mornings can be really rushed and it's hard to get kids (or yourself!) to eat a hot breakfast. These French Toast Sticks are perfect for a quick breakfast.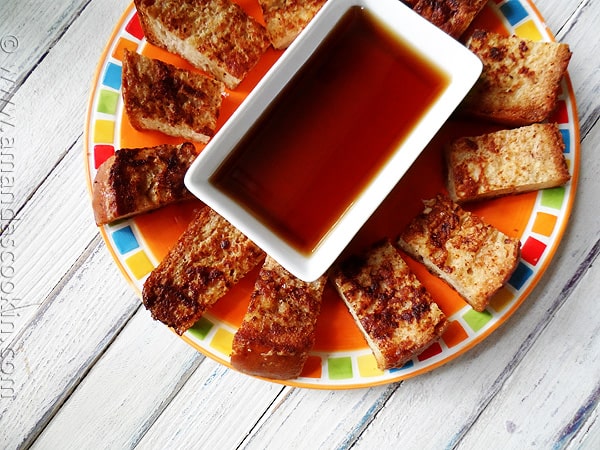 This Morning Mocha Smoothie Bowl is positively delicious and packed with nutritious and delicious ingredients!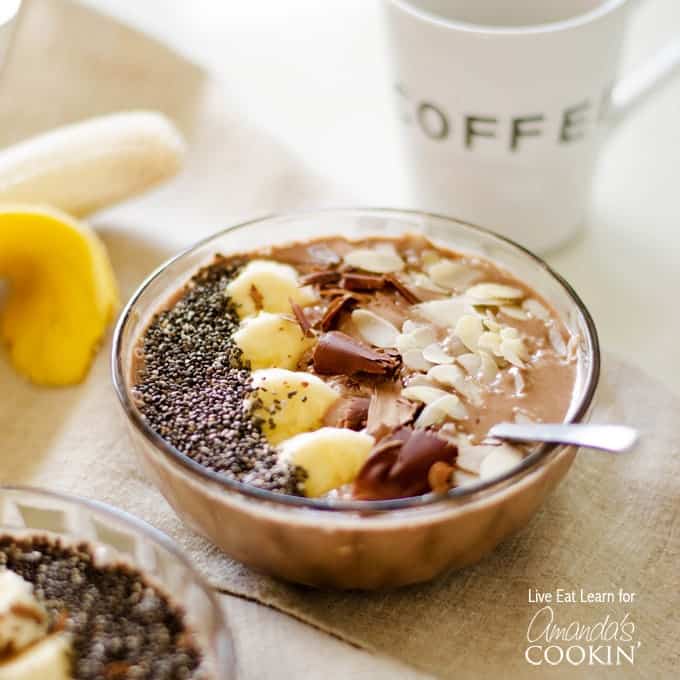 If you prefer your smoothies in a cup, this Loaded Coffee Smoothie has plenty of energy packed ingredients to get you revved up and out the door.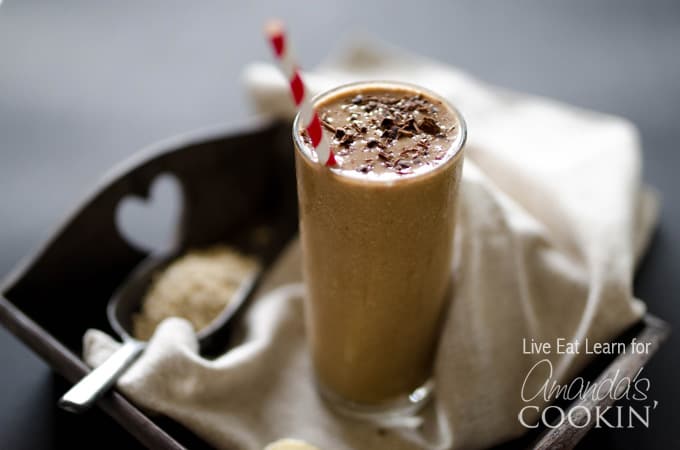 Make these freezer pancake dippers to keep in freezer for a quick breakfast before school or work.