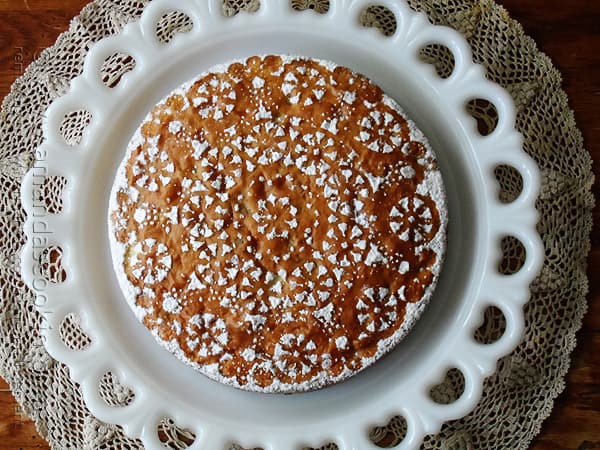 It's fall and that means it's apple picking season. It also means it's baking season and apples are a big part of fall festivals, parties and family get togethers. I'll admit, growing up I didn't really have a fondness for apple cake, or any cake that contained fruit for that matter. If it wasn't slathered in frosting, I wasn't really interested. In fact, that stayed with me until I hit my mid-thirties.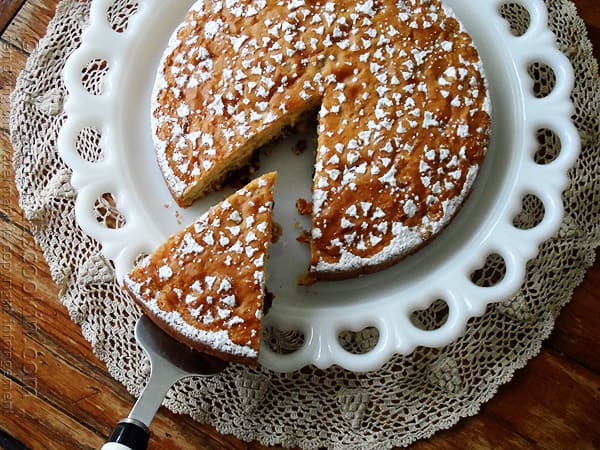 Now that I'm trying hard to watch my weight, gobs of frosting is just not something I want to throw my calories away on. I mean, yeah, it tastes awesome! No argument there, but when I can consume probably 3-4 apples at the same cost as the frosting on one cupcake, I think it's better to steer clear for now.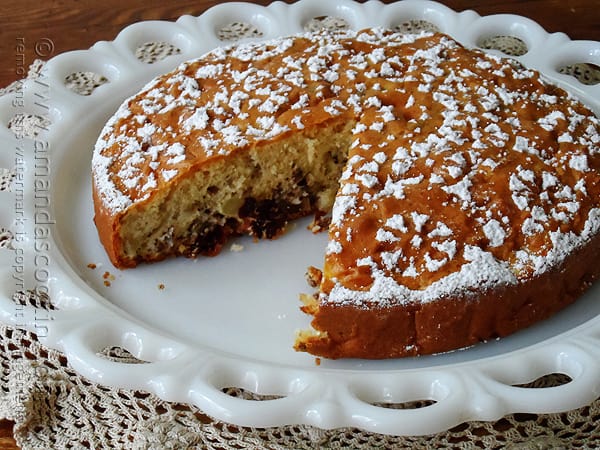 Enter this beautiful cake dusted in powdered sugar. Because it makes two cakes and you can cut them into 12 pieces each, you'll run about 200 calories per slice. That's not too bad considering a slice of cake with frosting can run anywhere from 350-500 calories per slice!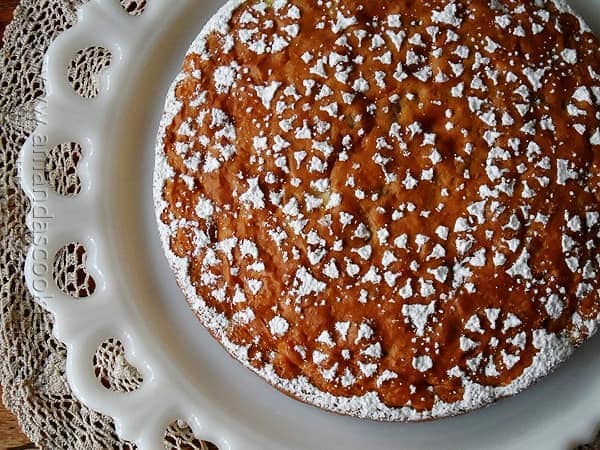 When I was in my early twenties, my father gave me a cookbook that he had in his kitchen. It was the Good Housekeeping Illustrated Cookbook and I loved it because there was a photo of every single recipe. A color photo index was in the front and all the recipes were in the back, everything was cross referenced. Love. There are several versions of the book, but the one I have is the one linked above. I remember browsing a book store once and seeing a newer version that didn't have all the pictures. What a disappointment!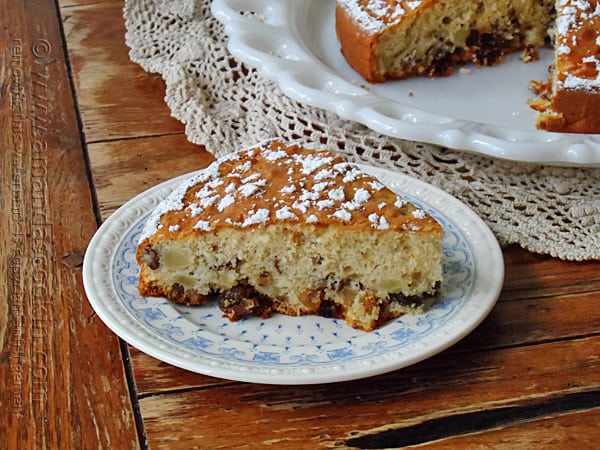 Anyway, that book contains a recipe for Merryfield Apple Cake. I tried to find a little history on the name of this cake, but didn't have much luck. There are no towns by that name (with that spelling), but I did find that it was a family name of a British actor. So the best I can assume is that Mrs. Merryfield from somewhere in history made this cake and it was named after her. Regardless of the name's origin, the picture had always drawn my attention, so I thought it was high time I made it. The cookbook uses a from scratch cake, but I wanted to make it with a box just to give it a go. The cookbook only uses walnuts and raisins, I changed mine a bit to also include pecans, golden raisins and dried cranberries.
If you are looking for a pretty cake that won't kill you in calories this fall, try this cake. In fact, I'm sure you can reduce the calories by using applesauce instead of oil, as well as making the cake from scratch. If you don't have a favorite from scratch recipe, try my classic yellow cake. I hope you enjoy it as much as we did!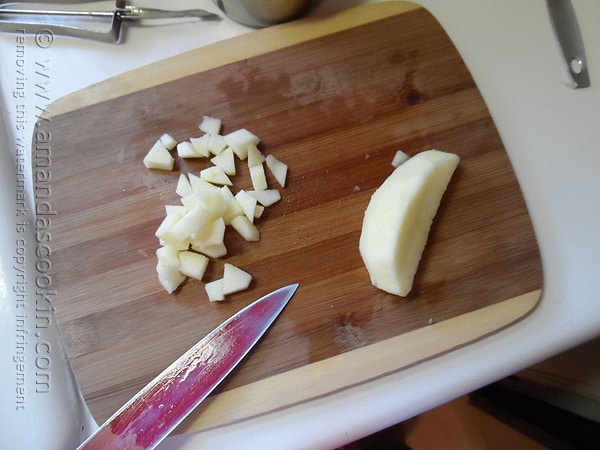 Start off by chopping all of your apples and nuts, and measuring out the raisins.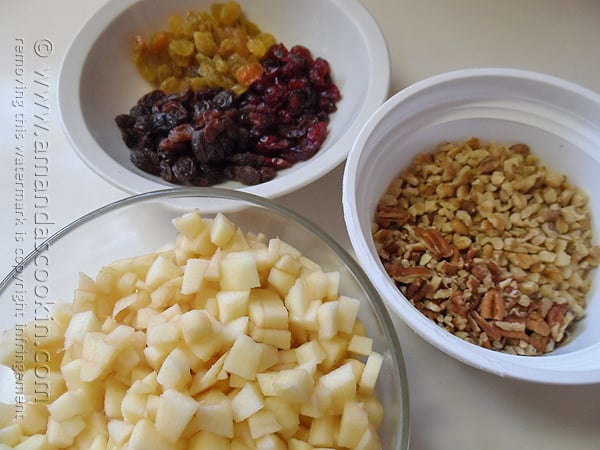 You don't have to separate everything, you can measure it all into one bowl.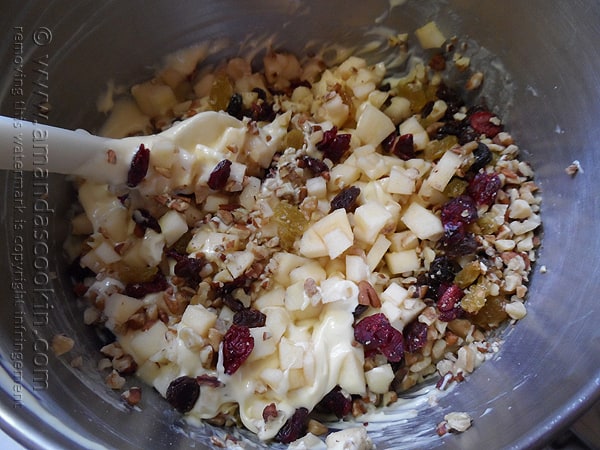 Prepare the cake batter and mix all the goodies in.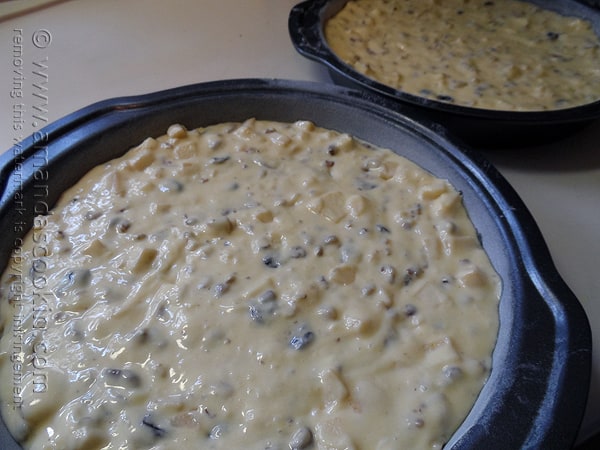 Divide between two round cake pans. Lumpy bumpy goodness!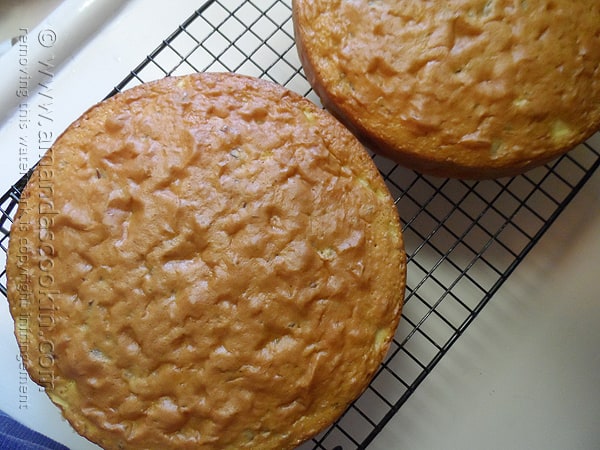 Bake until golden brown and let them cool.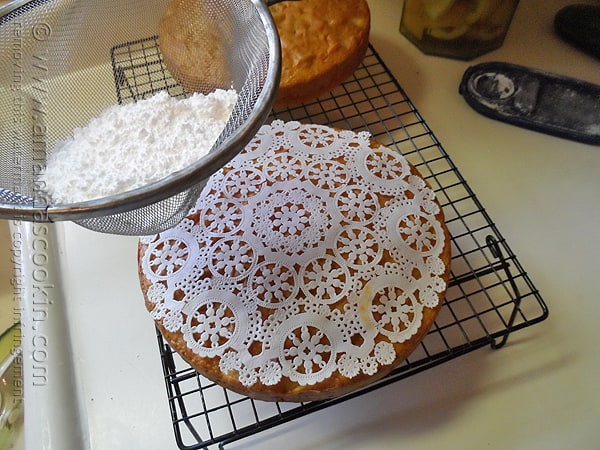 Place a paper doily on top of the cake. Dust with powdered sugar.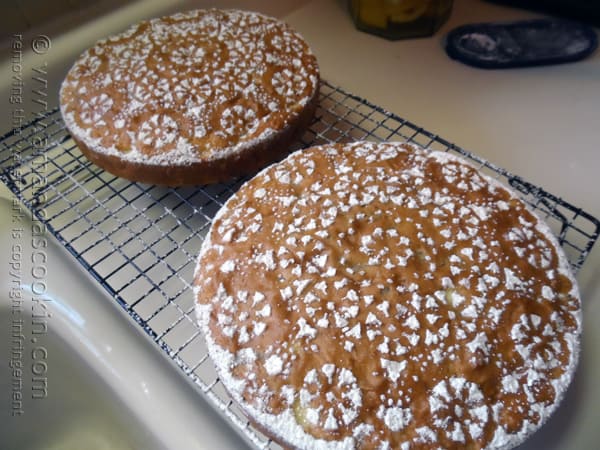 Gently lift the doily straight up, shake off the excess into the sink and repeat for the other cake. That's it. It's ready and you'll be the star of the show. :)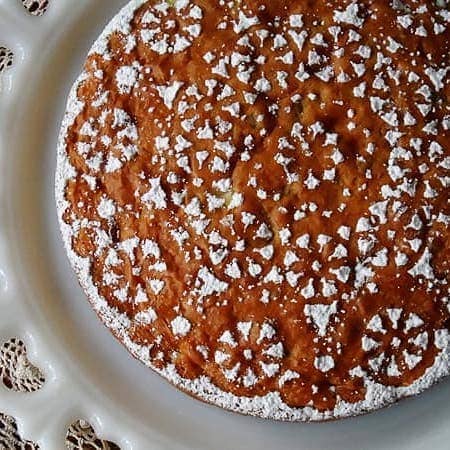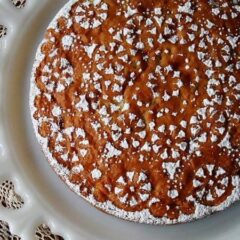 Merryfield Apple Cake
Using a doily makes the top of this cake gorgeous and appealing without the addition of frosting.
IMPORTANT - There are often Frequently Asked Questions within the blog post that you may find helpful. Simply scroll back up to read them!
Print It
Rate It
Servings:
2
cakes, 24 slices
Ingredients
1 18.5

ounce

box yellow cake mix

plus ingredients on back of box

3

cups

diced apple

1/2

cup

chopped walnuts

1/2

cup

chopped pecans

1/4

cup

golden raisins

1/4

cup

raisins

1/4

cup

dried cranberries

Craisins

6-7

" round paper doily

Confectioners' sugar
Instructions
Preheat the oven to 325 F. Grease and flour two 8-inch round cake pans.

Prepare cake batter according to box directions. Fold in the apples, walnuts, pecans, raisins, golden raisins and dried cranberries. Distribute the batter evenly between the two prepared pans.

Bake in preheated oven for 50-55 minutes, rotating pans halfway through baking. Remove from oven and cool on wire rack for 20 minutes. Remove from pans and cool on racks to room temperature.

Place paper doily on top of cake and sift confectioners' sugar directly over the doily. Carefully remove doily, shake excess into sink and repeat for second cake.
Expert Tips & FAQs
Calories 200, Calories from Fat 97, Total Fat 10.8g, Saturated Fat 1.1g, Trans Fat 0.0g, Cholesterol 21mg, Sodium 152mg, Total Carbohydrates 24.5g, Dietary Fiber 1.1g
Amanda Davis is the entrepreneurial mom of four grown children and four step children. She and her husband, Chef Antoine, love to cook together creating recipes for this blog. Amanda also make kid's crafts and creates decorative items for her home. She is a crafting expert and guru in the kitchen and has appeared online and in print publications many times over the years. She is also a craft book author five times over and product developer as well as the owner of
FunFamilyCrafts.com
. You can find her on social media by using the buttons to the left!
Latest posts by Amanda Davis (see all)