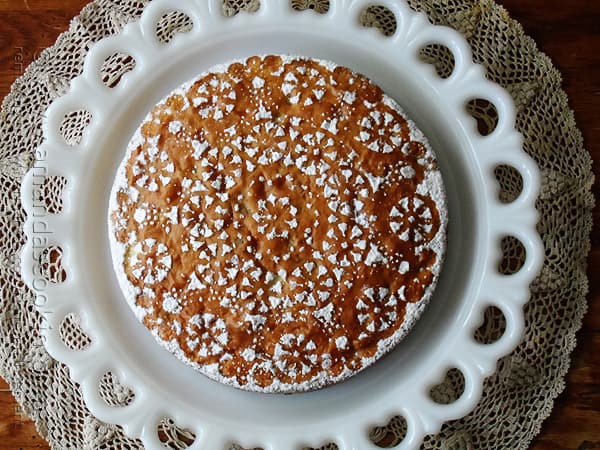 It's fall and that means it's apple picking season. It also means it's baking season and apples are a big part of fall festivals, parties and family get togethers. I'll admit, growing up I didn't really have a fondness for apple cake, or any cake that contained fruit for that matter. If it wasn't slathered in frosting, I wasn't really interested. In fact, that stayed with me until I hit my mid-thirties.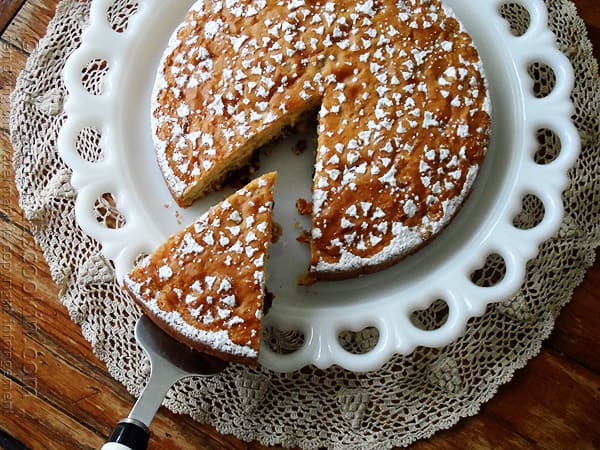 Now that I'm trying hard to watch my weight, gobs of frosting is just not something I want to throw my calories away on. I mean, yeah, it tastes awesome! No argument there, but when I can consume probably 3-4 apples at the same cost as the frosting on one cupcake, I think it's better to steer clear for now.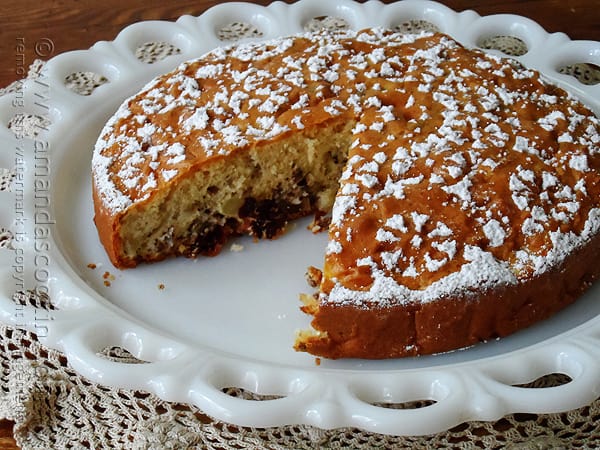 Enter this beautiful cake dusted in powdered sugar. Because it makes two cakes and you can cut them into 12 pieces each, you'll run about 200 calories per slice. That's not too bad considering a slice of cake with frosting can run anywhere from 350-500 calories per slice!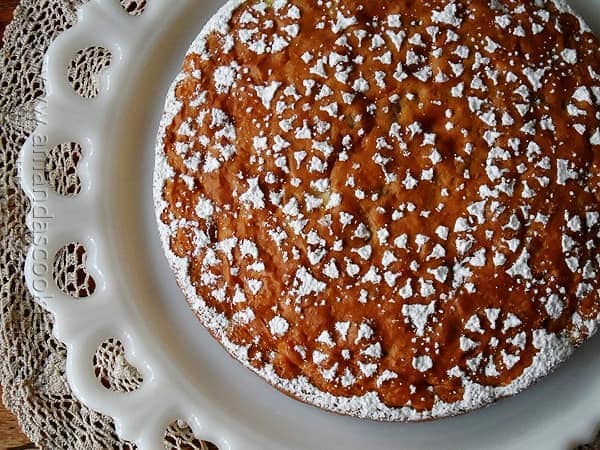 When I was in my early twenties, my father gave me a cookbook that he had in his kitchen. It was the Good Housekeeping Illustrated Cookbook and I loved it because there was a photo of every single recipe. A color photo index was in the front and all the recipes were in the back, everything was cross referenced. Love. There are several versions of the book, but the one I have is the one linked above. I remember browsing a book store once and seeing a newer version that didn't have all the pictures. What a disappointment!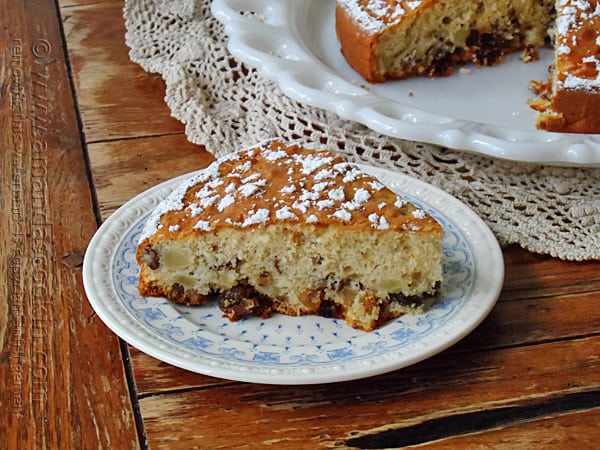 Anyway, that book contains a recipe for Merryfield Apple Cake. I tried to find a little history on the name of this cake, but didn't have much luck. There are no towns by that name (with that spelling), but I did find that it was a family name of a British actor. So the best I can assume is that Mrs. Merryfield from somewhere in history made this cake and it was named after her. Regardless of the name's origin, the picture had always drawn my attention, so I thought it was high time I made it. The cookbook uses a from scratch cake, but I wanted to make it with a box just to give it a go. The cookbook only uses walnuts and raisins, I changed mine a bit to also include pecans, golden raisins and dried cranberries.
If you are looking for a pretty cake that won't kill you in calories this fall, try this cake. In fact, I'm sure you can reduce the calories by using applesauce instead of oil, as well as making the cake from scratch. If you don't have a favorite from scratch recipe, try my classic yellow cake. I hope you enjoy it as much as we did!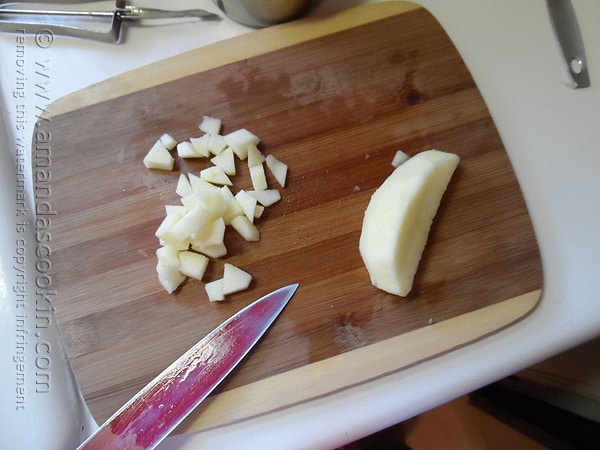 Start off by chopping all of your apples and nuts, and measuring out the raisins.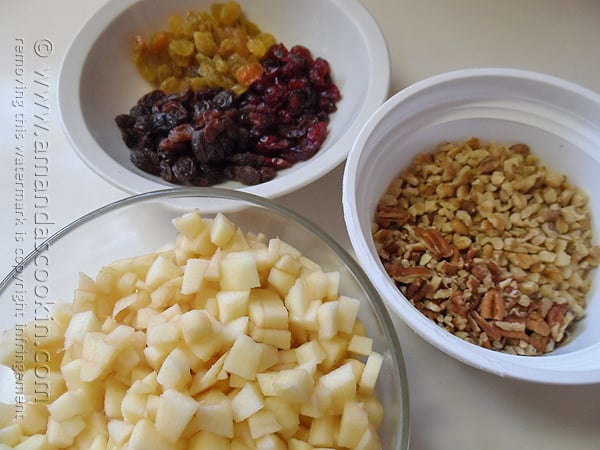 You don't have to separate everything, you can measure it all into one bowl.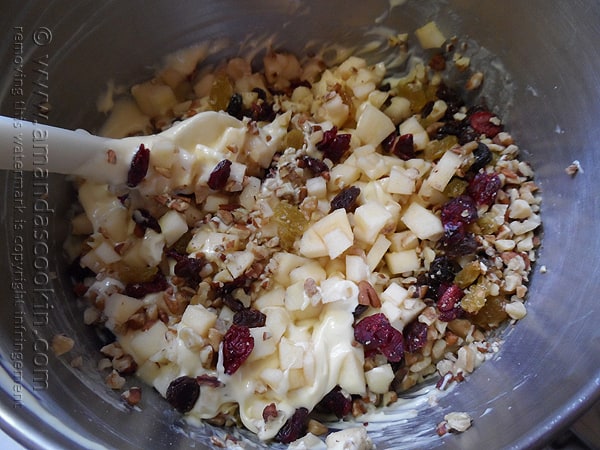 Prepare the cake batter and mix all the goodies in.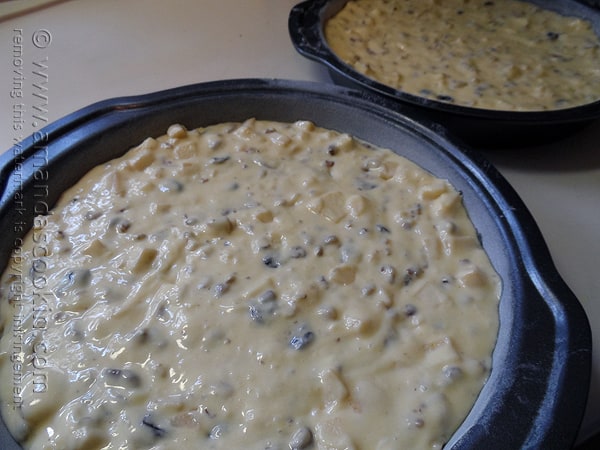 Divide between two round cake pans. Lumpy bumpy goodness!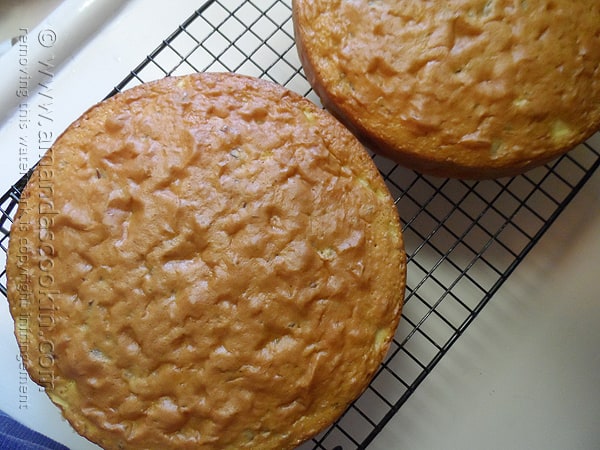 Bake until golden brown and let them cool.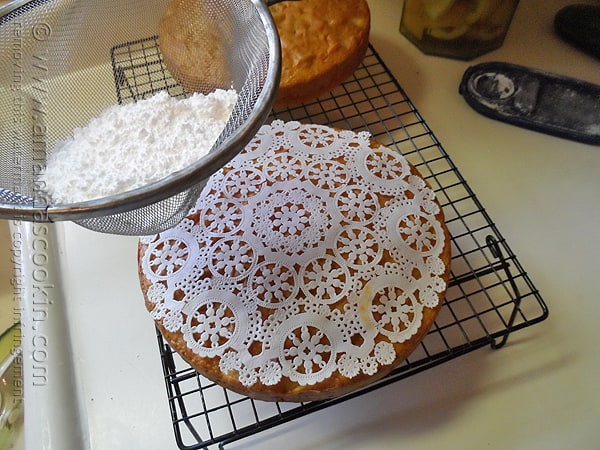 Place a paper doily on top of the cake. Dust with powdered sugar.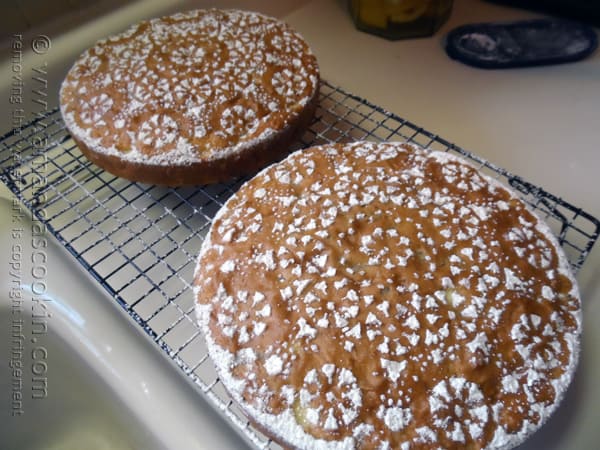 Gently lift the doily straight up, shake off the excess into the sink and repeat for the other cake. That's it. It's ready and you'll be the star of the show. :)