These herb buttermilk biscuits are flaky, buttery, and have so many layers! Everything you look for in homemade biscuits made slightly healthier and ultra-herbier. These biscuits would pair beautifully alongside this To Crockpot Roast Beef!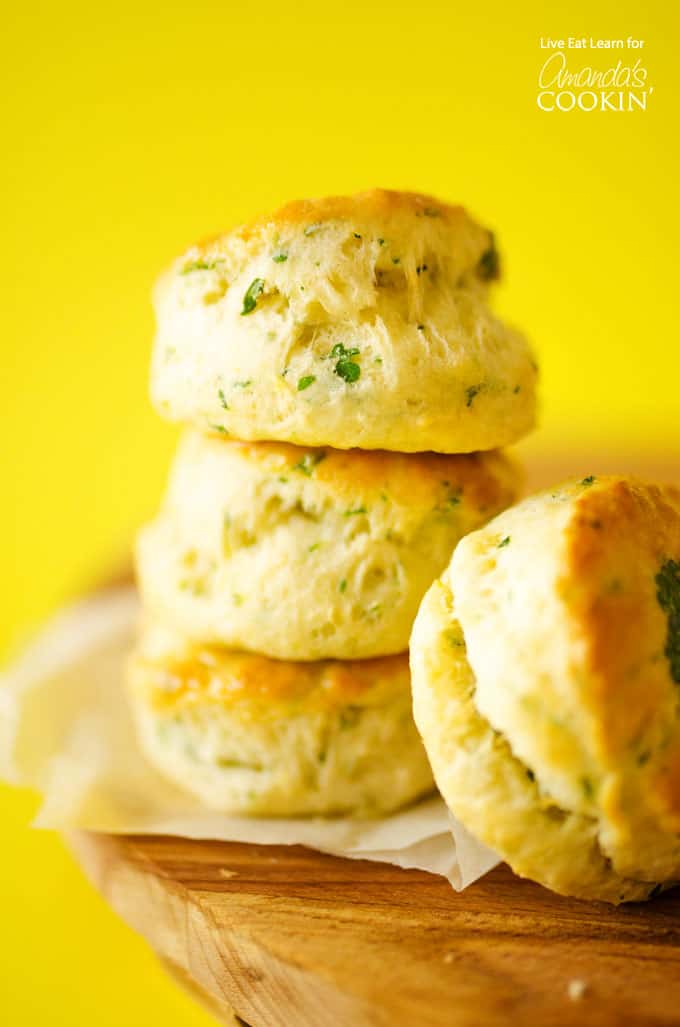 Buttermilk Biscuits
Now that I live in the Netherlands, I've been trying to learn to cook the great American classics. You know, the classics you can really only get in America, like mile-high apple pie, fluffy pancakes, and flaky buttermilk biscuits.
So with most of those options not being the healthiest choice, I thought I'd show you how to make slightly healthier homemade herb buttermilk biscuits by using Greek yogurt- that way you can still enjoy the delicious temptations of flaky, buttery, warm biscuits with a little less of the guilt.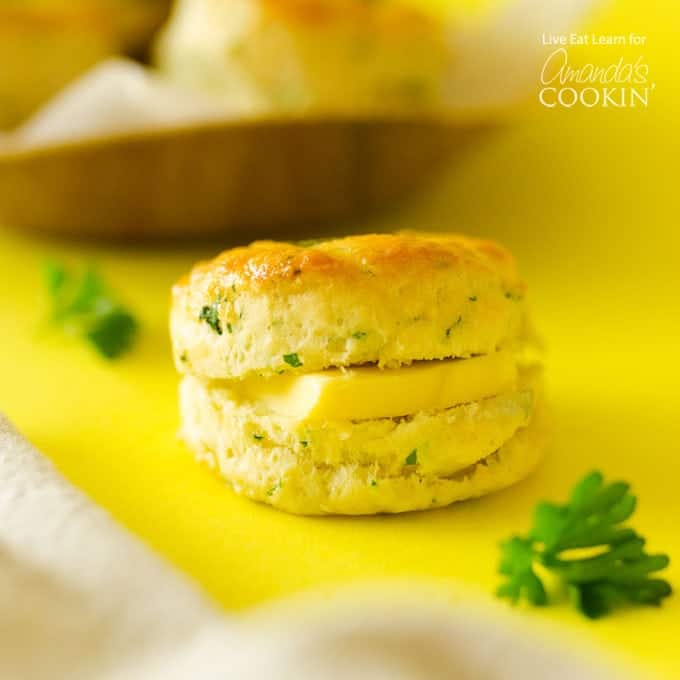 The secret to flaky, layered biscuits
The secret to flaky, layered biscuits is in keeping everything really cold. By keeping the butter as cold as possible while forming the dough, it will flatten into many thin layers as you flatten out the dough, fold it in half, then flatten it out again.
These layers of butter will help the dough fluff up into buttery, golden layers while baking! Oh, and did I mention the gorgeous herb laminating that's going on? This is totally optional (but you should definitely try it out).
We'll basically blanch some fresh herbs in boiling water for 3 seconds and throw them in an ice bath. Then we'll lay them onto the top of each biscuit, brush with egg, and cook.
To make these Herb Buttermilk Biscuits you'll need:
2 cups all purpose flour
1 Tbsp baking powder
1 tsp salt
¼ tsp baking soda
6 Tbsp cold unsalted butter, cut into cubes
½ cup buttermilk
½ cup plain Greek yogurt
¼ cup chopped fresh herbs (like parsley, basil, and chives) + more for topping
1 egg, whisked
Kitchen tools you may find useful: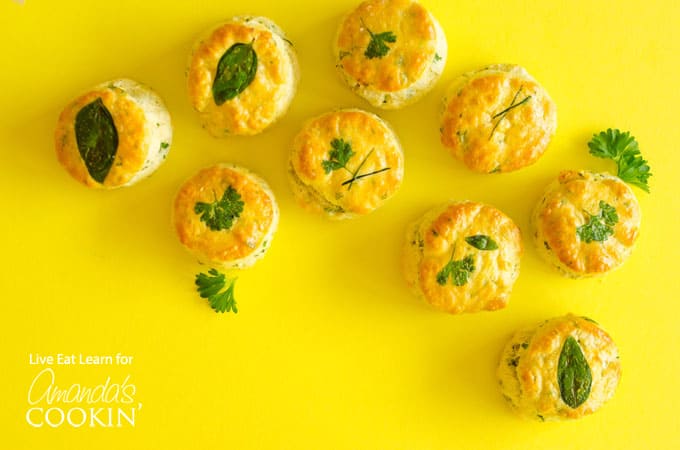 Enjoy your slightly healthier Herb Buttermilk Biscuits! Go ahead. Treat yourself.
Serve these buttermilk biscuits alongside: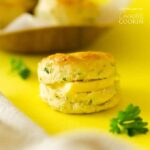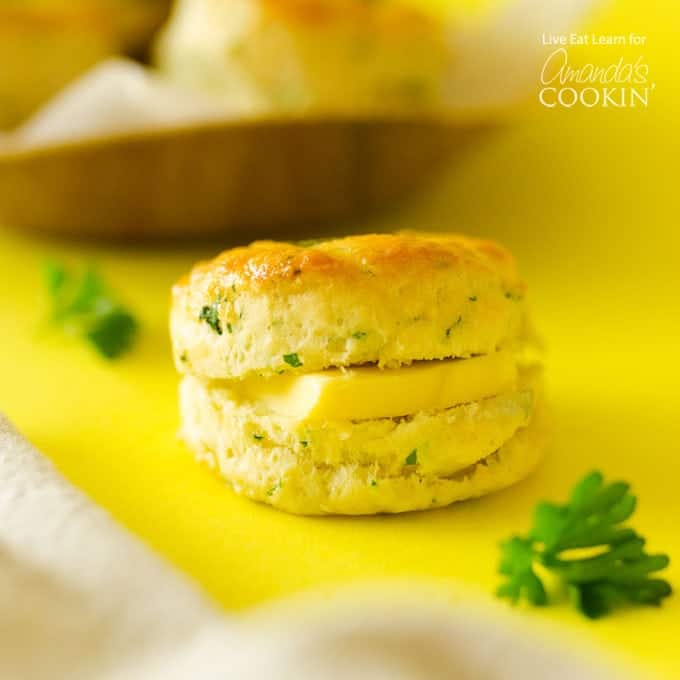 Buttermilk Biscuits
These herby yogurt and Buttermilk Biscuits are flaky, buttery, and have so many layers! Everything you look for in biscuits made slightly healthier and ultra-herbier.
Print
Ingredients
2

cups

flour

1

Tbsp

baking powder

1

tsp

salt

¼

tsp

baking soda

6

Tbsp

cold unsalted butter

cut into cubes

½

cup

buttermilk

½

cup

plain Greek yogurt

¼

cup

chopped fresh herbs

like parsley, basil, and chives + more for topping

1

large

egg

whisked
Instructions
In a medium bowl, combine flour, baking powder, salt, and baking soda.

With a pastry cutter or two forks, cut the butter into the flour mixture until butter is crumbly and mixed through, about the size of peas.

Stir to combine buttermilk, yogurt, and chopped herbs, then add to the flour/butter mixture. Stir just until combined (do not overstir).

Set dough onto a well-floured surface. Pat (don't roll) dough out to about an inch thick, then fold in half or into thirds. Repeat this process, patting out and folding, 3 to 4 times, flouring as much as you need to keep dough from sticking.

Pat dough to be about ½ to ¾ inches thick. Use a biscuit cutter to cut out about 12 biscuits. Re-shape remaining dough to make a few more biscuits. Set biscuits on a parchment paper-lined baking sheet (far apart for crispy sides, close together for soft sides) and set in the fridge while you prepare the herb laminate (optional, can just straight to baking now if you want).

Bring a small pot of water to a boil and prepare a small bowl of ice water. Get a few big leaves of herbs, removing the leaves from the stems. One at a time, throw the leaves in the boiling water for 3 seconds then immediately into the ice water.

Set blanched herbs flat on a paper towel*. Cover with a few more paper towels and set a heavy pan on top. Let dry and flatten for 5 minutes.

Brush biscuits with whisked egg. Place a blanched herb onto each biscuit, and brush with a bit more egg.

Bake at 450 degrees F for 10 to 12 minutes, or until biscuits are golden.
Recipe Notes
*If you flatten the herb onto your finger in the ice water then transfer it to the paper towel it's much easier!
Nutrition Facts
Buttermilk Biscuits
Amount Per Serving (1 biscuit)
Calories 144
Calories from Fat 54
% Daily Value*
Total Fat 6g 9%
Cholesterol 32mg 11%
Sodium 241mg 10%
Potassium 154mg 4%
Total Carbohydrates 17g 6%
Protein 3g 6%
* Percent Daily Values are based on a 2000 calorie diet.
This post was originally published on this blog on Jun 9, 2017.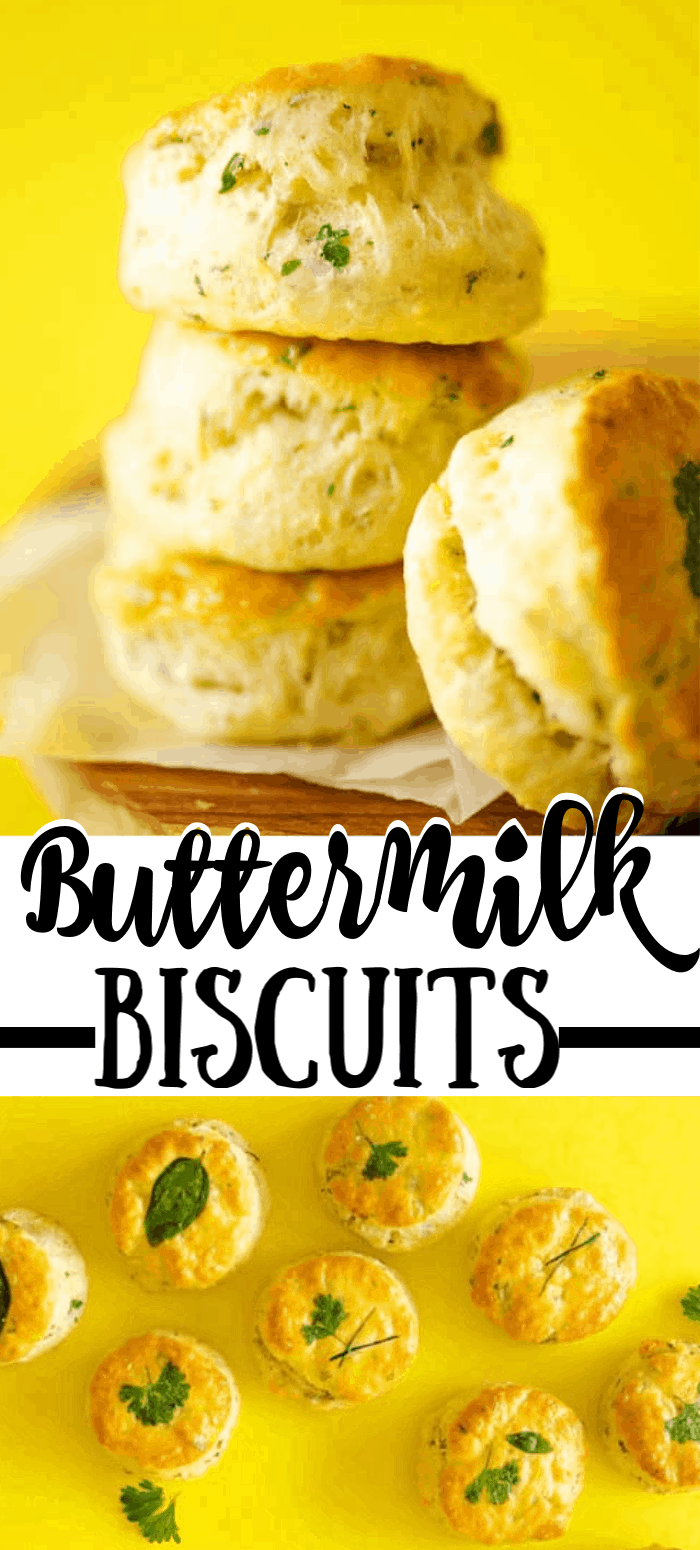 Sarah is the publisher behind the vegetarian health food blog, Live Eat Learn. An Alaskan self-taught cook and nutritionist by trade, she loves all things food and health. When she's not exploring new ways to cook up healthy ingredients, she's romping around the Netherlands, her new stomping grounds!
Latest posts by Sarah Bond (see all)