Granola started off as a healthy treat, full of whole grains, sprinkled with wholesome nuts and dried fruit. Over the years, commercialism and appealing to the masses caused cereal companies to reinvent granola, adding all sorts of preservatives and unappealing additives. Making homemade granola is super simple. Because you control what goes into it, you can also determine the calorie and sweetener levels, and it takes less than half an hour to make a batch. Once you make your own granola, you'll never buy a bag from the store again.
My daughter plays soccer. She needs energy and she loves granola. She asked me if I could make some, how could I say no to this face (pictured left)?
She was pretty specific about what she wanted it in. Sliced almonds, dried cranberries, and chocolate chips. :) No problem girly, you know I love ya.
You can adapt this recipe to suit your personal tastes. My daughter isn't big on walnuts, so we use sliced almonds and sunflower seeds. She also prefers dried cranberries to raisins. And of course, she had to have chocolate chips. Here are some ideas for substitutions and add ins:
DRY
rolled (old fashioned) oats
ground flax seed
wheat germ
NUTS (UNSALTED)
sunflower seeds
pumpkin seeds
sliced almonds
pecans
walnuts
hazelnuts
Note: If you use salted nuts, you may want to omit the salt that is mixed with the cinnamon at the opening of the instructions!
FRUIT
dried cranberries
flavored Craisins
raisins, brown or golden
other dried fruits (banana chips, dried blueberries, etc)
SWEETENER
brown sugar (light or dark)
maple syrup
honey
agave nectar
shredded coconut
FLAVORING
pure vanilla extract
other extracts such as almond, lemon, cherry, etc
spices (cinnamon, nutmeg, etc)
Easy Homemade Granola 
adapted from Baked: New Frontiers in Baking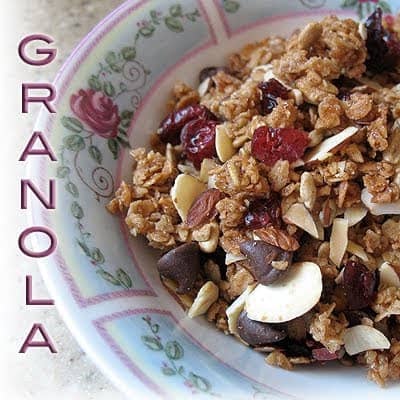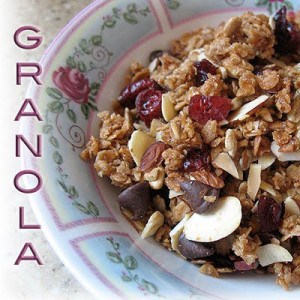 Ingredients
2

cups

rolled oats 

1

teaspoon

cinnamon 

1

teaspoon

salt 

3

tablespoons

plus 1 teaspoon Canola oil 

1/4

cup

honey 

1/4

cup

firmly packed light brown sugar 

1

teaspoon

pure vanilla extract 

1/2

cup

slivered almonds 

1/2

cup

sunflower seeds 

1/3

cup

dried cranberries

we used cherry flavored Craisins 

1/3

cup

chocolate chips 
Instructions
Preheat the oven to 325 degrees. Line a baking sheet with parchment paper. 

In a large bowl, toss the oats with cinnamon and salt. 

In a medium bowl, stir together the oil, honey, brown sugar, and vanilla. Whisk until completely combined. 

Pour the honey mixture over the oats mixture and use your hands to combine them. Gather up some of the mixture in each hand and make a fist. Repeat until all of the oats are coated with the honey mixture. 

Pour the mixture onto the prepared baking sheet. Spread it out evenly, but leave a few clumps here and there for texture. 

Bake for 10 minutes, then remove from the oven and use a metal spatula to lift and flip the granola. Sprinkle the nuts over the granola and return the baking sheet to the oven. 

Bake for 5 minutes, then remove from the oven and use a metal spatula to lift and flip the granola. Return the baking sheet to the oven. 

Bake for 10 minutes, then remove from the oven. Let cool completely. Sprinkle the dried cranberries and chocolate chips over the granola and use your hands to transfer it to an airtight container. The granola will keep for 1 week.
Amanda Formaro is the crafty, entrepreneurial mother of four grown children. She loves to bake, cook, make kid's crafts and create decorative items for her home. She is a crafting expert and guru in the kitchen and has appeared online and in print publications many times over the years. She is also a craft book author five times over and product developer as well as the owner of
FunFamilyCrafts.com
. You can find her on social media by using the buttons to the left!
Latest posts by Amanda Formaro (see all)