These funfetti marshmallow cereal bars are made with crispy cereal, marshmallows and rainbow sprinkles. Deliciously thick, soft and chewy with a hint of vanilla, they're a colorful treat for any occasion just like these Frosted Sugar Cookie Bars!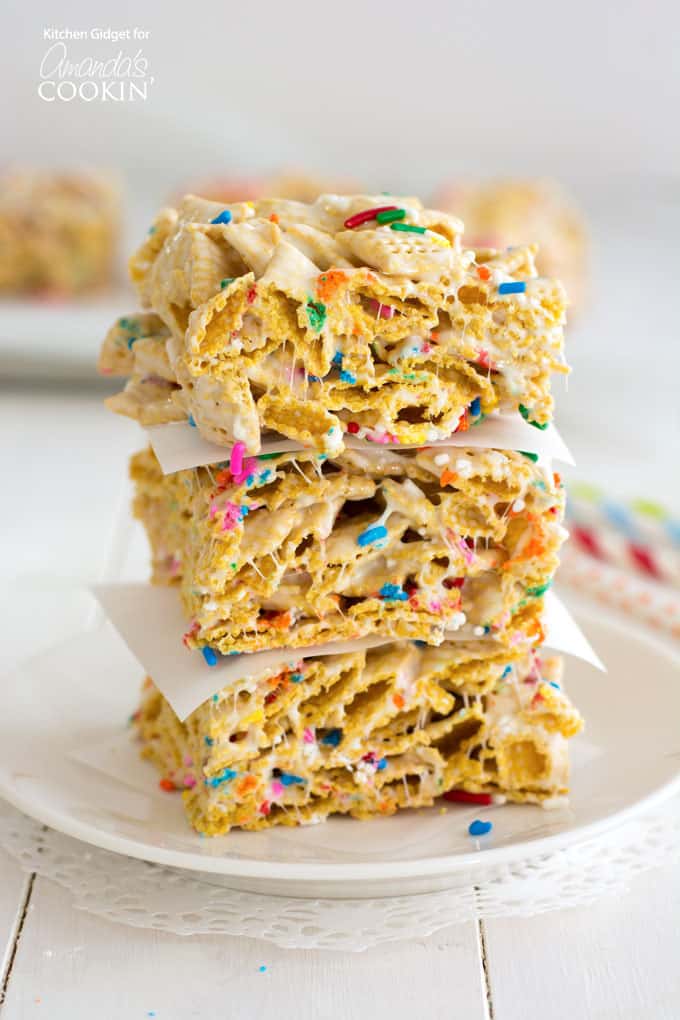 Funfetti Marshmallow Cereal Bars
Over the holidays I had rice crispy treats at a friend's house. I forgot how tasty and how easy they are to make! Plus, everyone loves them—the whole tray was gone before the end of the night. These bars were especially festive since the cereal was a limited edition red and green for Christmas.
There are affiliate links in this post. That means if you buy something from that link, I will earn a small commission, but it won't cost you anything additional.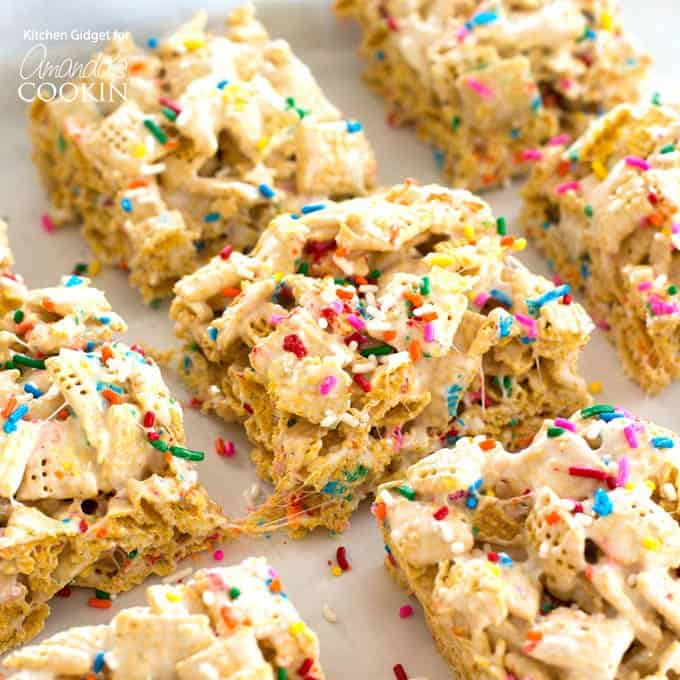 I thought to myself, how cute would it be to have colorful cereal bars for every occasion? So I decided to make these funfetti marshmallow cereal bars. By adding rainbow sprinkles (or jimmies as they're also known) the color of the sprinkles can be changed to match the occasion—pastels for Easter, red, white and blue for the 4th of July, etc! I'm a stickler for food that matches the occasion like green Spinach Bread for St. Patrick's or just colorful food in general, like gorgeous Blueberry Cottage Cheese Smoothies. We eat with our eyes first!
I love rice crispy treats, but using corn Chex cereal instead of puffed rice is my favorite. The cereal has a great crunchy texture and the pockets catch all the gooey marshmallows making them deliciously chewy. You can also use rice, wheat or vanilla Chex, but I love the unique flavor of the corn.
One thing everyone wants to know is how I get my marshmallow bars so soft. The answer is to use plenty of butter, super fresh (not old) marshmallows, and take care to cook the marshmallows until they are just melted. I take them off the heat before they are completely melted. Also, when pressing the cereal into the pan, use a firm touch but don't pack the bars down or they'll end up tough. These are my tips for funfetti marshmallow cereal bars that are still soft the next day. Whether they last that long is another story.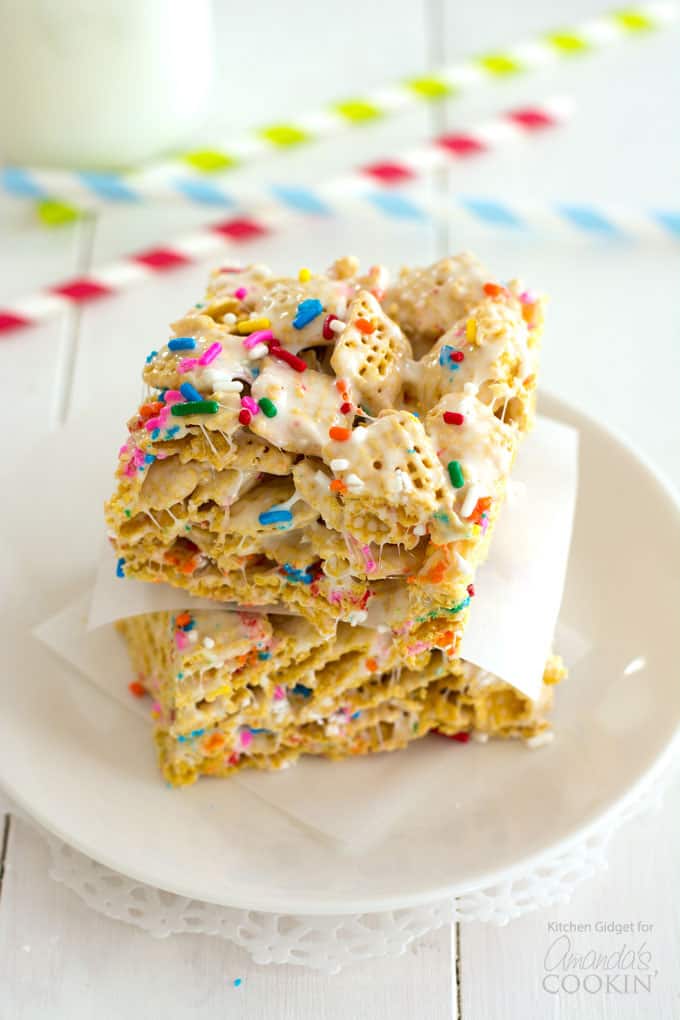 You will need:
4 tablespoons butter
1/2 teaspoon vanilla
10 oz bag of marshmallows
7 cups corn Chex
1/2 cup funfetti sprinkles
Kitchen Tools You May Find Helpful: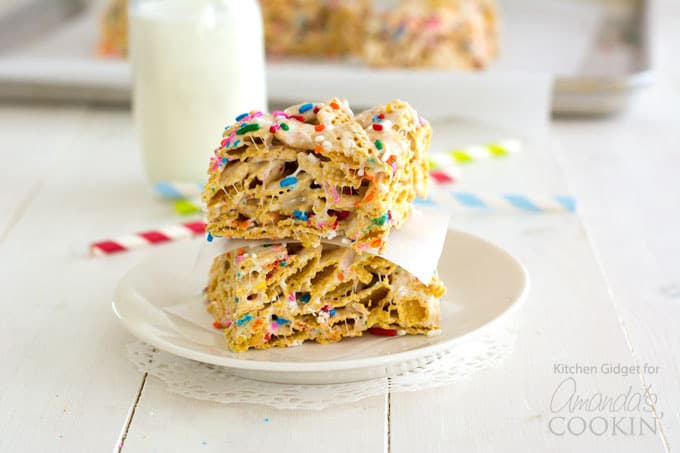 Typically, cereal treats are made in a 13×9-inch pan, but I like to put them in a square pan for thicker bars. You won't get quite as many servings, but it makes for perfectly thick and chewy funfetti marshmallow cereal bars.
We hope you enjoy these Funfetti Marshmallow Cereal Bars! Don't they look so inviting? Don't forget to check out more chewy and delicious bar recipes like these Chewy Cookie Crunch Bars or these Banana Bars with Vanilla Cream Cheese Frosting!