Crockpot supper recipes are perfect for days when you want a flavorful, filling meal but don't want to spend hours in the kitchen. Let the crockpot do the work with this easy Crockpot Chicken and Dumplings recipe!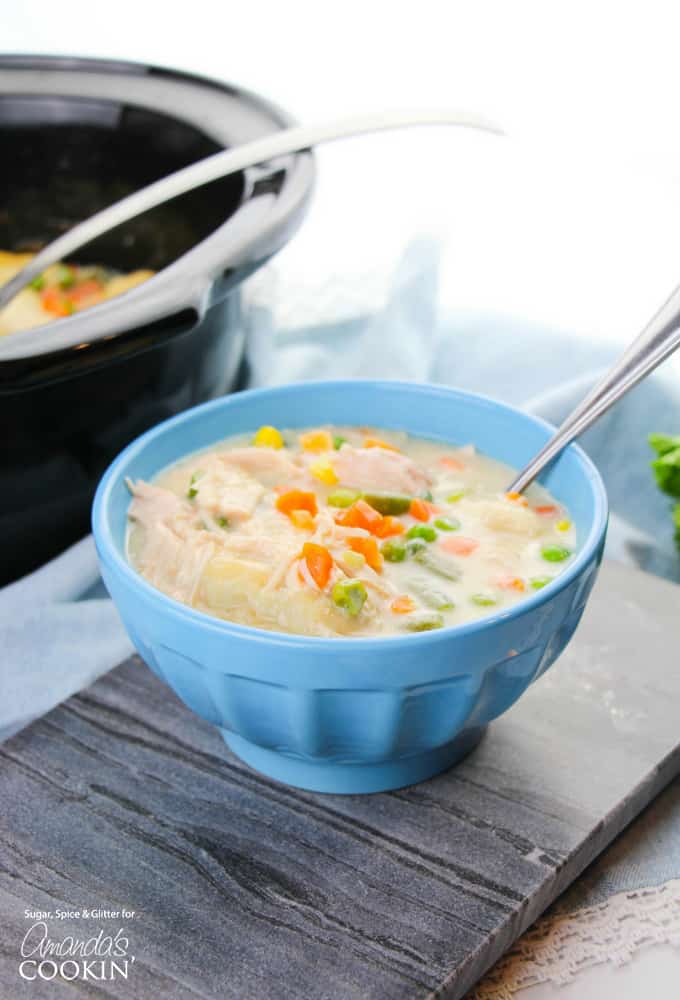 Crockpot Chicken and Dumplings
Chicken and Dumplings are the ultimate "set and forget" meal. A good crockpot chicken and dumplings recipe should be quick, easy and delicious – with minimal prep time and ingredients resulting in a creamy, perfectly cooked comfort meal that the whole family will go crazy for.
By using the crockpot, we've reduced the active time in this recipe to less than 5 minutes.
Seriously: Pop the chicken in the bottom of the crockpot, pour over two cans of cream soup and cook. About 3 hours later, add 3 cups of frozen vegetables and make some dumplings. Wash the dishes and walk away for another hour (okay, maybe spend 20 minutes of that hour whipping up dessert.)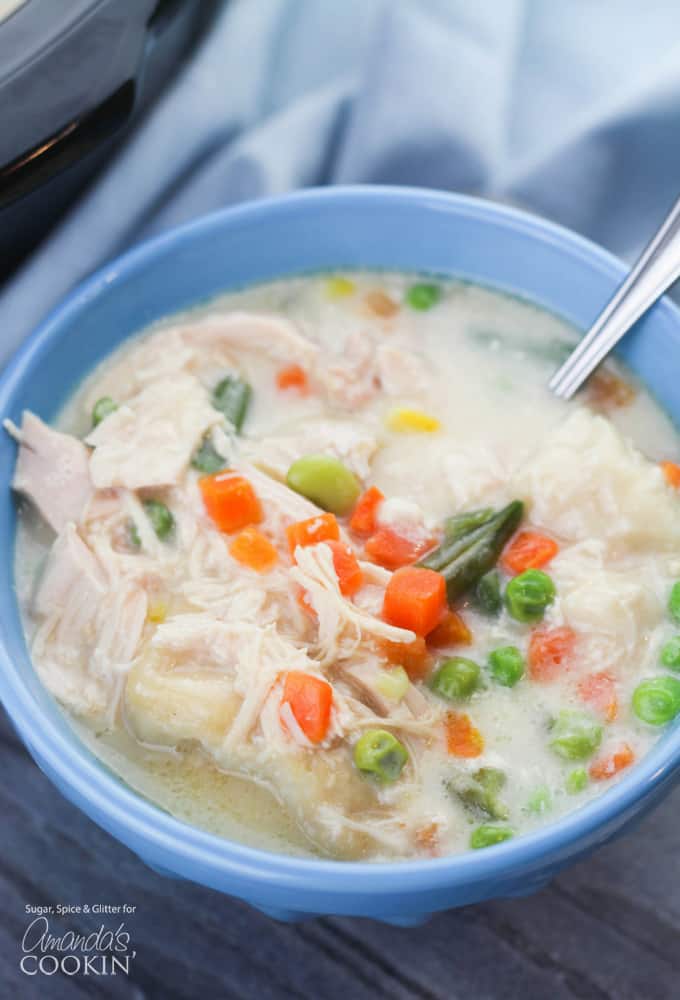 This recipe relies on cream of chicken and cream of bacon soups for it's "gravy" and we save time on vegetable prep by using a medley of frozen vegetables.
While we chose to make our dumplings from scratch, you can use a can of refrigerated biscuit dough instead for even less work in the kitchen.
This dumpling recipe is a favorite of mine – it's so versatile I use the exact same dough to make country-style biscuits (like I served with my Slow Cooker Chicken Pot Pie) and my 10-minute Cinnamon Buns. In fact, you could double the recipe and use half for dumplings and half for cinnamon buns! Dinner and dessert – done!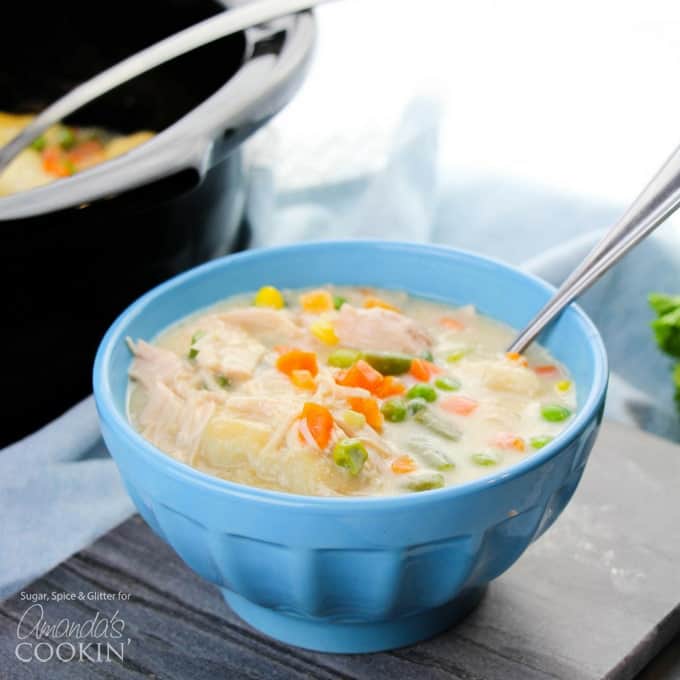 Ingredients to Make Crockpot Chicken and Dumplings
4 chicken breasts, boneless and skinless
1 can cream of chicken soup
1 can cream of bacon soup
2 cups chicken broth or water
2-3 cups frozen mixed vegetables (peas, carrots, corns and beans)
For the dumplings:
2 1/2 all-purpose flour
2 Tablespoons sugar
2 1/2 teaspoons baking powder
1/2 teaspoon baking soda
1/2 teaspoon salt
1/2 cup cold butter, cubed
1 cup buttermilk
1 egg
1 tablespoon milk or cream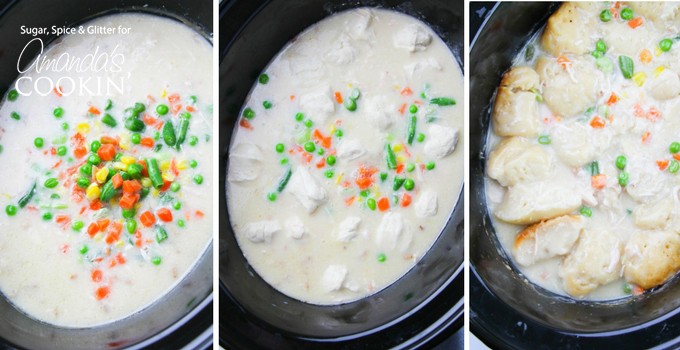 Kitchen Tools You May Find Helpful: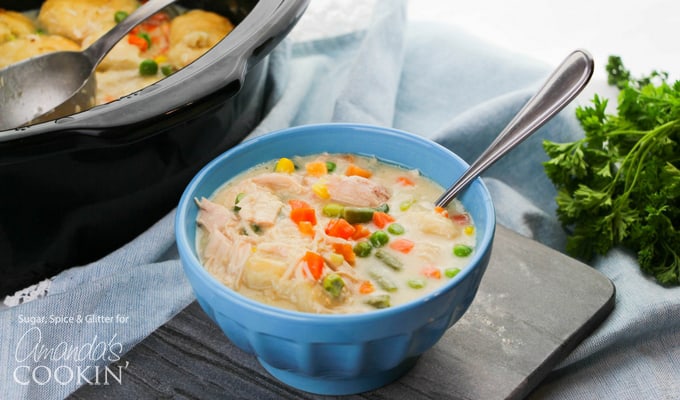 This crockpot chicken and dumplings recipe is creamy, hearty and delicious with a to-die-for gravy and the perfect balance of protein and vegetables. The ultimate comfort food that you don't have to feel guilty about!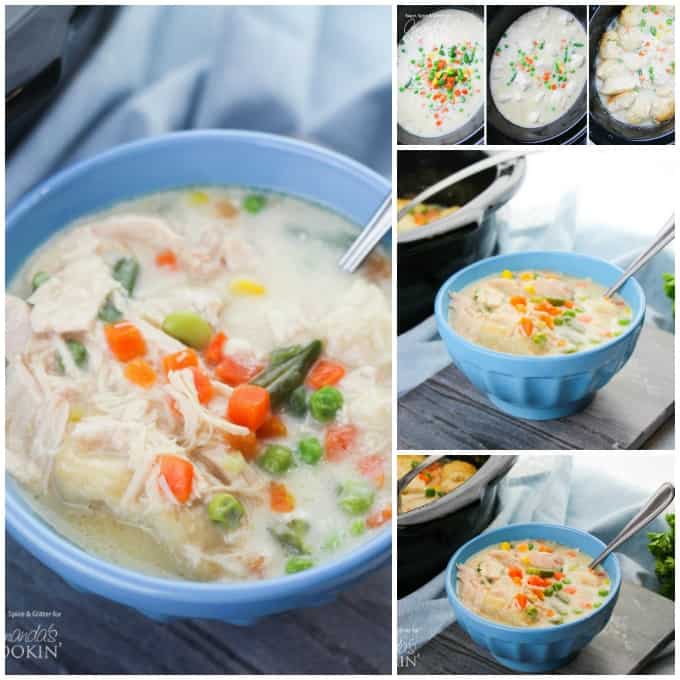 For more tasty crockpot dinner ideas you'll want to check out this Healthy Vegetable Soup– loaded with chickpeas and quinoa this soup is packed with healthy ingredients that will fill you up and keep you warm! Another alternative crockpot recipe is this To Die For Pot Roast– it's one of the most popular recipes on this blog for a good reason! A recipe I have bookmarked to try is this delicious looking Slow Cooker Chicken Cacciatore on Foodie Crush! I hope you I've helped you choose a slow cooker dinner for this week, enjoy!