Every girl knows that pumpkins are magical, but this cake proves it! A delicious fall dessert, this three-layer Chocolate Pumpkin Magic Cake bakes in a very unique way, but the combination of 3 delicious desserts into one is definitely the highlight of this fall treat.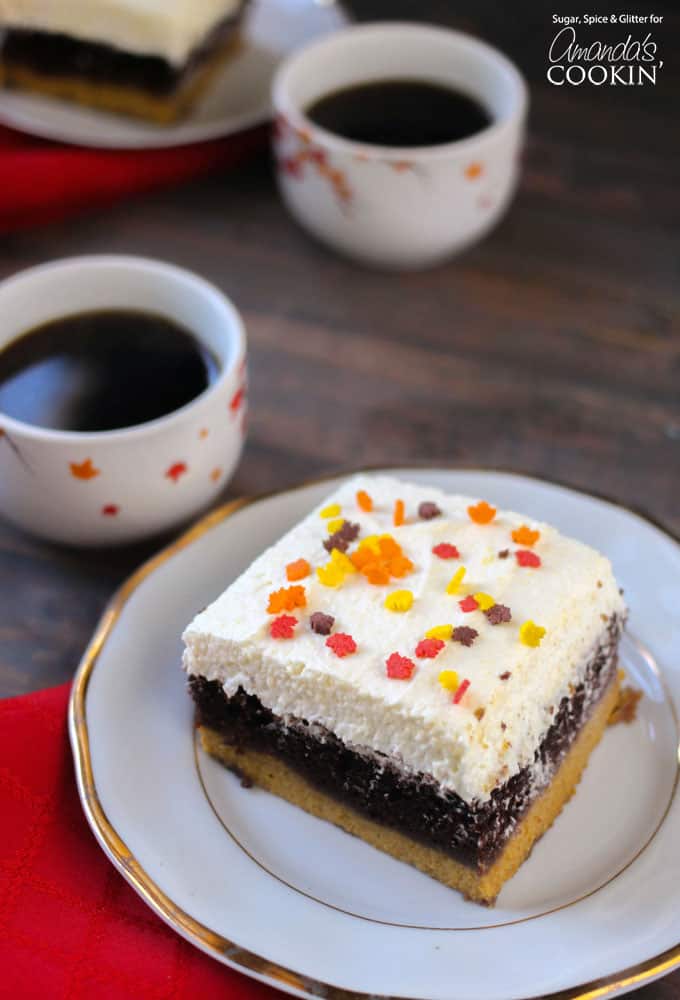 Chocolate Pumpkin Magic Cake Recipe
You may have heard of Pumpkin Magic Cake before, but it usually calls for a yellow cake layer. This version is for all the chocolate lovers out there! It took me a while to come along with the pumpkin spice trend, mostly due to all of the artificially-flavored treats that are out there, but this chocolate pumpkin magic cake could make a fan out of the biggest pumpkin spice skeptic.
First, the pumpkin isn't overpowering because it's equally balanced by a moist chocolate cake and a creamy vanilla mousse.
Second, we are talking REAL pumpkin with just the right amount of spice.
And, third – how can anyone resist a three-layer dessert with the work MAGIC in the recipe name?
Now, we are squarely in the pumpkin recipe loving category, with our Pumpkin Spice Rice Krispies, Pumpkin Spice Scones, and this Pumpkin Bread with Maple Glaze being in high rotation every autumn. And for the cake lovers, this pumpkin roll looks delicious too!
As I said, this cake cooks in a really interesting way – you actually layer the pumpkin pie batter OVERTOP of the chocolate cake batter. Because it is denser and takes longer to cook, it falls through the chocolate cake layer (helping make it moist) and settles into a perfect layer on the bottom, with just a slight chocolate cake layer on the bottom helping keep things together.
I was actually a bit worried when I took my cake out of the oven as the pumpkin layer seemed to have disappeared – but when I cut into the cake, the thick pumpkin layer was there, ready to surprise and delight.
There are affiliate links in this post. That means if you buy something from that link, I will earn a small commission, but it won't cost you anything additional.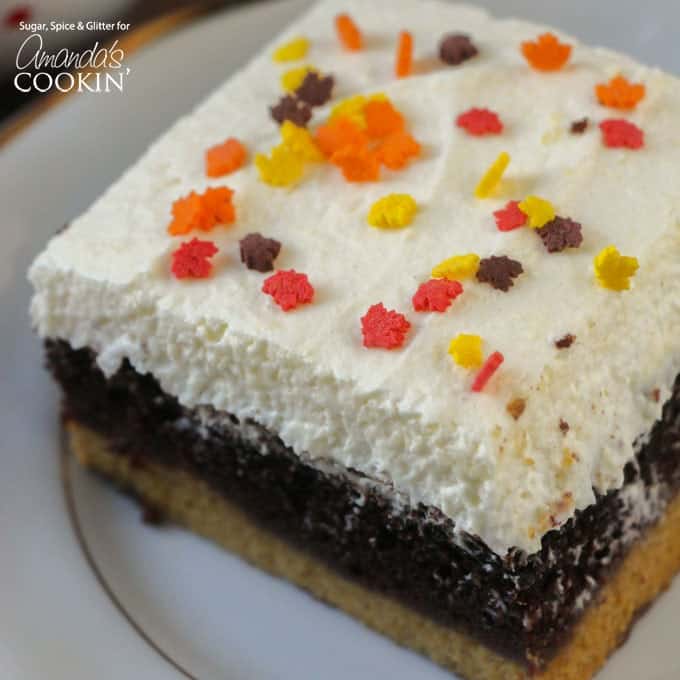 Ingredients for a Pumpkin Magic Cake
1 box of devil's food cake mix
Plus ingredients called for on the box
1-15oz can Pumpkin Puree
1/2 cup evaporated milk
1/2 cup heavy cream
3 eggs
1 cup brown sugar
2 teaspoon cinnamon
1/2 teaspoon nutmeg
1/4 teaspoon allspice
1-90g box vanilla instant pudding mix
1 cup cold milk
8 oz Cool Whip, thawed
Fall sprinkles, for garnish
Kitchen Tools You May Find Helpful:
Stand mixer
Heavy Bowls
Casserole dish
Can opener
Measuring cups
Measuring spoons
Serving spoon or spatula
Offset spatula
SCROLL DOWN FOR THE PRINTABLE VERSION OF THIS RECIPE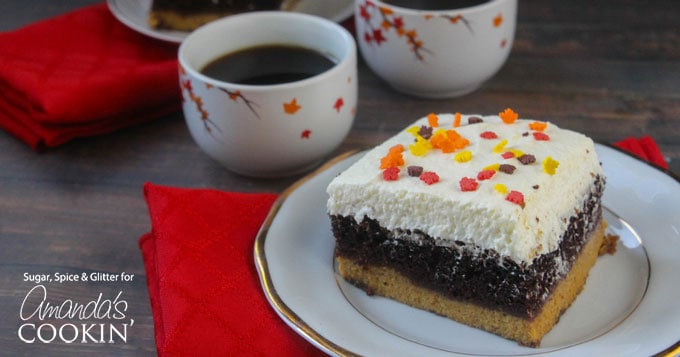 Are you a pumpkin dessert fan? Is there someone in your life who would love this Pumpkin Magic Cake for a special dessert?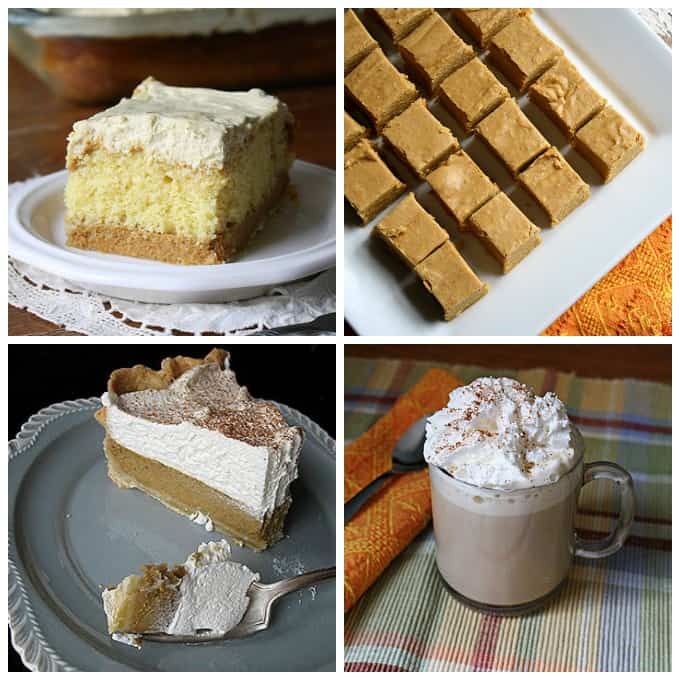 More pumpkin recipes you might like: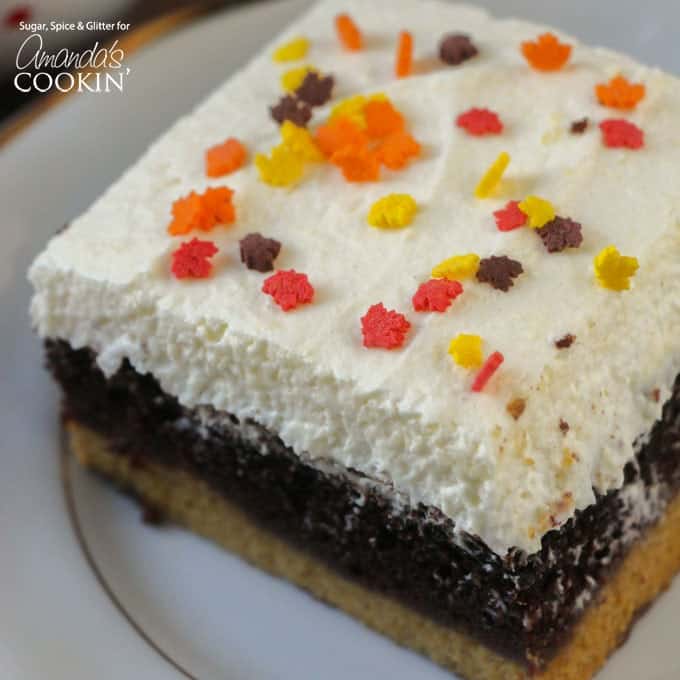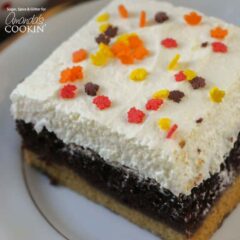 Pumpkin Magic Cake
If you love chocolate and you've tried pumpkin magic cake, this chocolate pumpkin magic cake is a definitely must-try! Chocolate and pumpkin, so delicious!
IMPORTANT - There are often Frequently Asked Questions within the blog post that you may find helpful. Simply scroll back up to read them!
Print It
Rate It
Text It
Ingredients
For the Chocolate Cake layer:

1

box of devil's food cake mix

Plus ingredients called for on the box

For the Pumpkin Pie Layer:

1-15

oz

can Pumpkin Puree

½

cup

evaporated milk

½

cup

heavy cream

3

eggs

1

cup

brown sugar

2

teaspoon

cinnamon

½

teaspoon

nutmeg

¼

teaspoon

allspice

For the Vanilla Mousse Layer:

1-90

g

box vanilla instant pudding mix

1

cup

cold milk

8

oz

Cool Whip

thawed

Fall sprinkles

for garnish
Instructions
Preheat oven to 350 F.

Line or grease a 9x13 casserole dish or cake pan.

Prepare box of cake mix according to package instructions, then pour into prepared baking pan. DO NOT BAKE YET. Set aside.

In a separate bowl, whisk together the ingredients for the Pumpkin Pie layer until smooth.

Slowly pour the pumpkin pie mixture all over the cake mix, making as even a layer as possible - do not spread or attempt to fix uneven pouring, it will work out in the baking process.

Bake for 50-60 minutes or until the center is no longer jiggly when the cake pan is shifted, and a toothpick inserted into cake mix comes out clean.

Let the cake cool to room temperature as you prepare the mousse.

Place the vanilla pudding mix and cold milk in a large bowl.

Whisk until combined and starting to thicken. Gently fold in the Cool Whip until completely combined.

Spoon the vanilla mousse overtop of the cooled cake and spread with an offset spatula.

Garnish with fall-inspired sprinkles.
Jennifer loves sharing positive parenting inspiration, easy recipes for the foodie family, and fun kids' activity ideas. Her goal is to provide a safe space for busy moms to come find great resources and reliable ideas to help you & your family thrive.
Latest posts by Jennifer Tammy (see all)