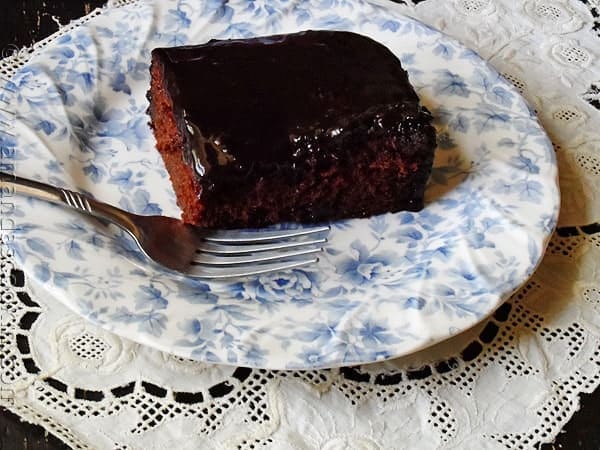 I'm not sure how it happened, but somehow I ended up with several bags of prunes. Have you ever offered a prune to a teenager? I mean come on, these aren't Craisins. Prunes have a bad rap, which is why I prefer to call them dried plums.
That is what they are after all. Dried plums. Of course, we don't call raisins dried grapes, but raisins haven't had the misfortune, like prunes, of being labeled for the geriatric crowd, if you know what I mean. It probably didn't help that every time their grandpa visited he made sure to request a bottle of prune juice for his visit.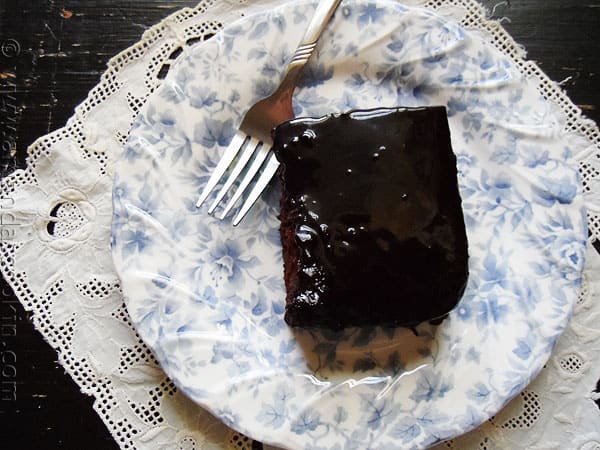 I digress. So I have all these dried plums, or prunes, whatever tickles your fancy, and needed to make something they could "hide" in, you know, so no one was the wiser.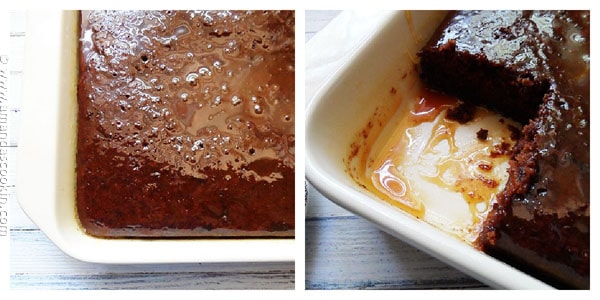 I found it… But I changed it. See Ree Drummond, AKA The Pioneer Woman, has a recipe called Grandma Iny's Prune Cake. I made it, and it's quite good. See it above?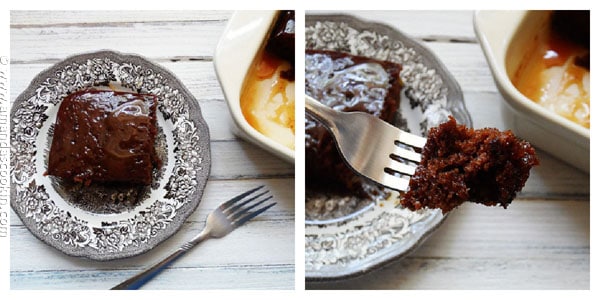 Everyone ate it… ALL of it, even though they did say they wish there was less spice.
That got me thinking. Chocolate. It needed chocolate. But I really liked the caramel glaze on top, so I gave that some chocolate too. While the prune cake was quite good in its own right, we all preferred the chocolate version I made. So whenever I need to use up some prunes, this is the cake I will be making!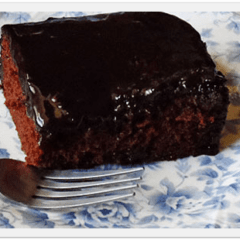 Chocolate Prune Cake
IMPORTANT - There are often Frequently Asked Questions within the blog post that you may find helpful. Simply scroll back up to read them!
Print It
Rate It
Ingredients
1

cup

dried plums

prunes

1

tablespoon

vanilla

1

cup

sugar

3

eggs

1

cup

canola oil

1 1/2

cups

flour

1/4

cup

cocoa

1

teaspoon

baking soda

1/2

teaspoon

cinnamon

1

cup

buttermilk
Chocolate Caramel Icing
1

cup

sugar

2

ounces

bittersweet chocolate

chopped

1/2

cup

buttermilk

1/2

teaspoon

baking soda

1

tablespoon

corn syrup

1/4

cup

unsalted butter

1/2

teaspoon

vanilla
Instructions
Preheat oven to 300 F. Grease or spray a 13x9 baking pan.

Place prunes in a medium saucepan and cover with water. Bring to a boil and cook for 7-8 minutes. Remove from heat, drain, reserving 2 tablespoons of the boiling water and place prunes, vanilla and reserved water into a mini food processor. Puree and then set aside.

In a large bowl, mix together the sugar, eggs and canola oil, beating well.

In a separate bowl, whisk together the flour, cocoa, and cinnamon.

To the large bowl with the egg/oil mixture add all ingredients (flour mixture, buttermilk, and prune puree) and stir until well combined.

Scrape batter into prepared pan and bake for 35-40 minutes.

Five minutes before cake has finished baking, make the icing. Combine all icing ingredients in a medium saucepan. Bring to a gentle boil over medium heat. Once icing begins to boil, give it a quick few stirs to combine everything then let it boil, undisturbed for 6-7 minutes.

Remove cake from oven to a cooling rack. Remove icing pan from heat and give it one or two stir then pour over the top of the cake. Let cake cool for 10 minutes and serve warm.
Expert Tips & FAQs
This cake is delicious once cooled too, but I found that my family preferred heating it in the microwave and serving it with vanilla ice cream.
Amanda Davis is the entrepreneurial mom of four grown children and four step children. She and her husband, Chef Antoine, love to cook together creating recipes for this blog. Amanda also make kid's crafts and creates decorative items for her home. She is a crafting expert and guru in the kitchen and has appeared online and in print publications many times over the years. She is also a craft book author five times over and product developer as well as the owner of
FunFamilyCrafts.com
. You can find her on social media by using the buttons to the left!
Latest posts by Amanda Davis (see all)