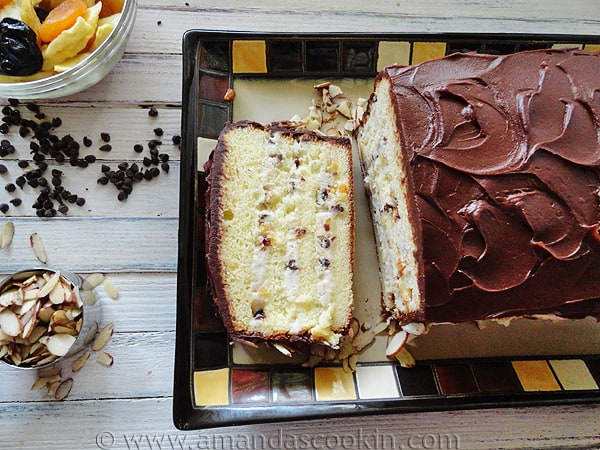 English Trifle. Tiramisu. Cassata Cake. They all have similar texture and flavors, and I frankly love them to bits. You know that face when someone puts a forkful into their mouth, their eyes close, and utter pleasure seeps out their pores, causing their body to relax and a moan of pleasure to escape their throat? Yeah. So that's me when I eat any of these desserts.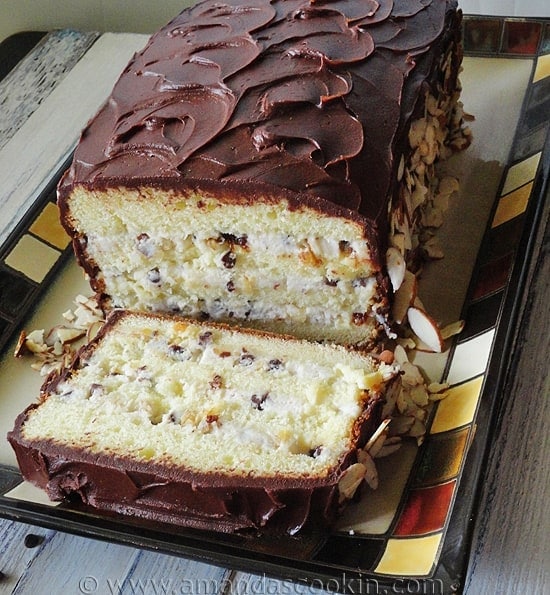 As a little girl I remember spending all of our holidays at my aunt's house. I never really liked going to her house, she had far too many rules for a rambunctious 6 year old, but the food was worth it. It was worth putting up with the rules about the white carpet, removing your shoes, not touching any of her curio cabinets, and everyone having a turn at doing the dishes. Because she was 10 years older than my mother, all of my cousins were much older than me, all in high school with me barely out of 1st grade.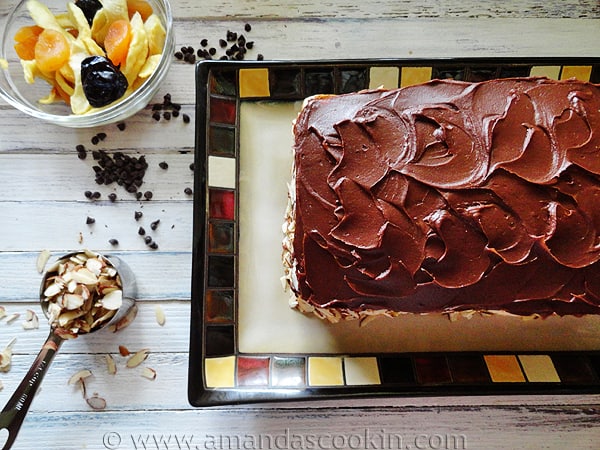 That meant no toys to play with and nothing to do, and nothing to watch since football dominated the only TV in the house. So it was me and my brothers and a stack of coloring books. That is, until it came time to eat. That's what made it all worth while. Dinner was always good, but I looked forward to dessert more than anything. My aunt's lemon tarts were to die for, and her English Trifle? Pure taste bud pleasure!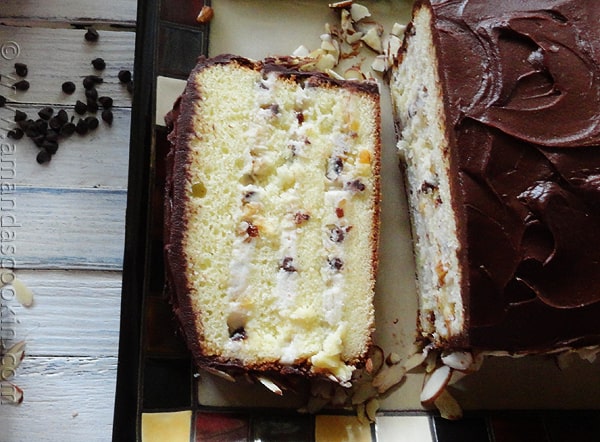 When biting into this cake I was reminded of the flavor of that trifle, most likely due to the cream sherry that I subbed in for the orange liqueur. A traditional Cassata Cake hails from Sicily. I'm a British girl, but I married an Italian, so I guess this is a fitting dessert for me.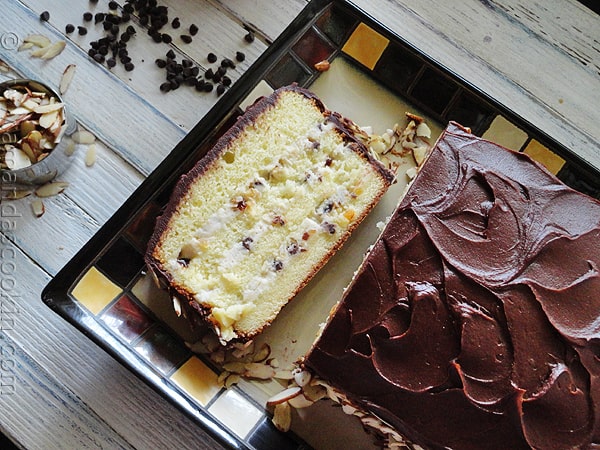 According to Wikipedia, and I quote:
The cassata siciliana consists of round sponge cake moistened with fruit juices or liqueur and layered with ricotta cheese, candied peel, and a chocolate or vanilla filling similar to cannoli cream. It is covered with a shell of marzipan, pink and green pastel colored icing, and decorative designs. The cassata is finally topped with candied fruit depicting cherries and slices of citrus fruit characteristic of Sicily.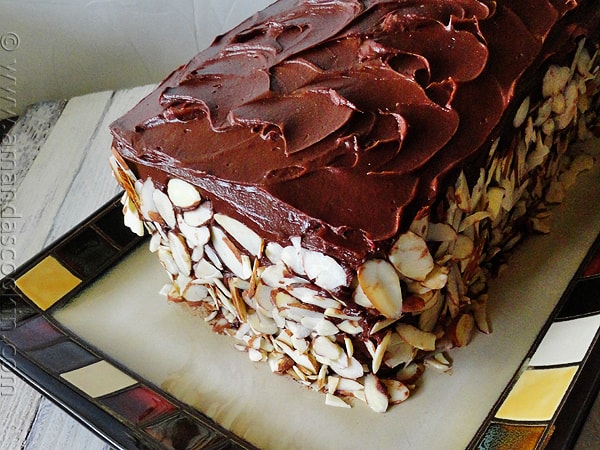 So while this version of Cassata that I found on Sargento's website isn't exactly like a traditional Sicilian cake, it's absolutely perfect to me. I made a few minor changes to mine, most notably using cream sherry plus orange extract. I really couldn't justify $22 for a bottle of orange liqueur when I had perfectly good cream sherry in the pantry!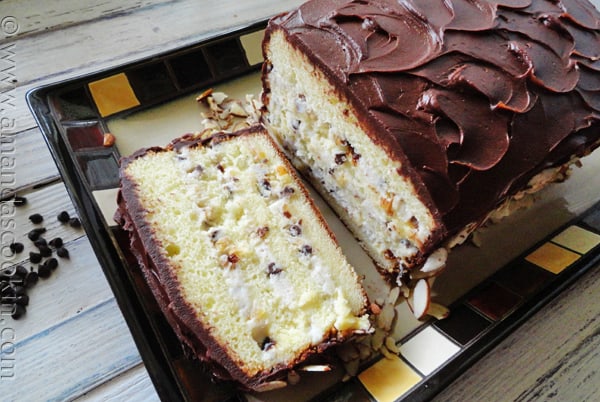 This cassata uses several of the traditional elements including a sponge cake, orange liqueur, candied fruit and ricotta cheese. Instead of marzipan, this sweet concoction is covered with a simple chocolate frosting then finished with sliced almonds.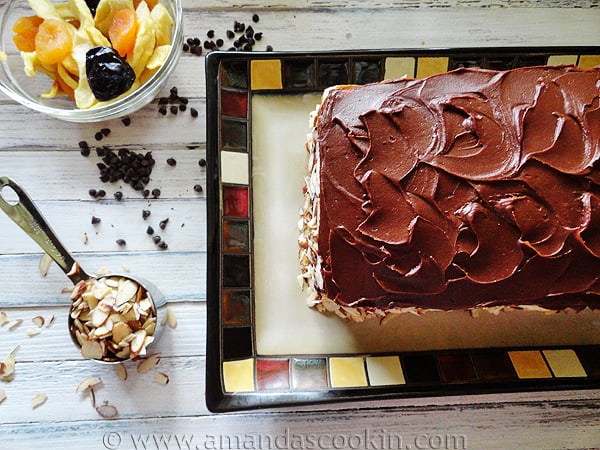 Because candied fruit is only available during the holidays, I bought some dried mixed fruit and it worked like a charm. It's not quite as colorful, so next time I make this I think I'll still stick with the dried fruit and add in dried cherries for a little color pop. I don't think I could have enjoyed this cake any more than I did. I do believe this dessert will be gracing my Thanksgiving or Christmas table this year.

There's a little bit of chopping involved, but not too bad. I chopped the dried fruit and the almonds too. Then just measured the miniature chocolate chips.

After mixing up the ricotta and sugar you'll combine all the filling ingredients. I use my kitchen scale to ensure that I'm using the same amount for each cake layer.

You can certainly use a store bought pound cake for this. Instead, I baked my favorite – Elvis Presley's Whipping Cream Pound Cake. The recipes makes two, so we ate one and I wrapped the second in plastic wrap and refrigerated it until I was ready to make the cassata. Refrigerating the cake makes it much easier to cut! You will split the cake in half lengthwise, then split those two halves lengthwise. Then layer the filling in between. Wrap and refrigerate. The only thing left to do is frost and garnish! Oh yeah, and eat!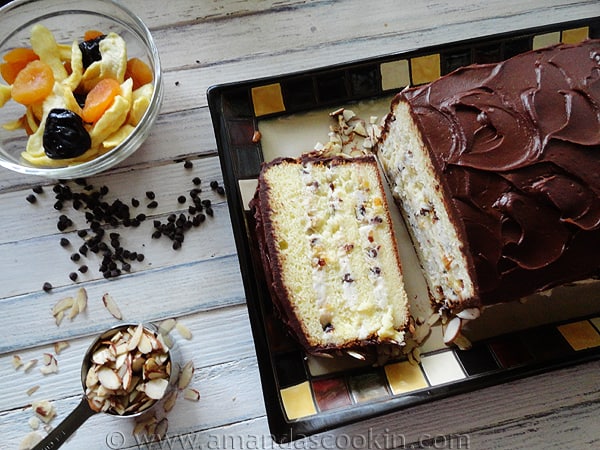 Enjoy :)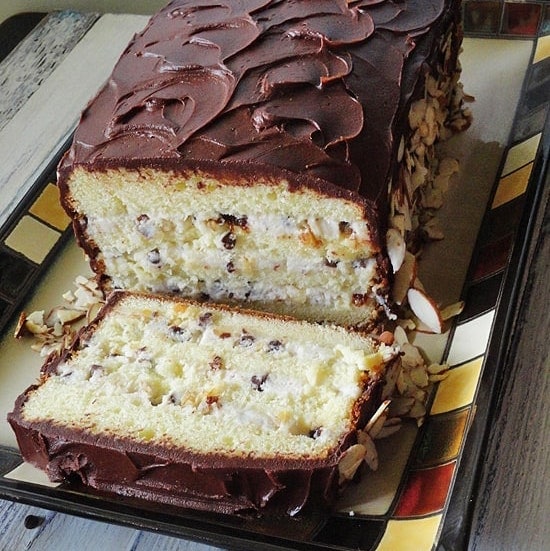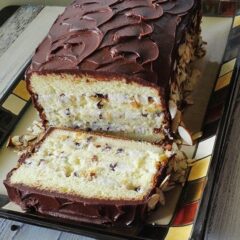 Cassata Cake
Cassata Cake. English Trifle. Tiramisu. They all have similar texture and flavors, and I frankly love them to bits. Try this Italian inspired dessert.
IMPORTANT - There are often Frequently Asked Questions within the blog post that you may find helpful. Simply scroll back up to read them!
Print It
Rate It
Ingredients
2

cups

15 oz. Sargento® Whole Milk Ricotta Cheese

1/4

cup

sugar

2

Tablespoons

cream sherry

1

teaspoon

orange extract

1/3

cup

finely chopped mixed dried fruit

1/4

cup

chopped almonds

1-1/4

cups

mini semisweet chocolate chips

divided

1

10-3/4 oz. pound cake

1

tsp.

instant coffee dissolved in 1/4 cup boiling water

6

Tbsp.

unsalted butter or margarine

cut into 8 pieces, chilled

Sliced almonds for garnish
Instructions
Combine Ricotta, sugar, sherry and extract in bowl of food processor; process 21/2 minutes until silky. Fold in dried fruit, 1/4 cup chopped almonds and 1/4 cup chocolate chips; set aside.

Cut pound cake in half horizontally using sharp serrated knife. Cut each half again horizontally. Place pound cake on serving platter. Spread one-third Ricotta mixture evenly over cake. Repeat procedure twice. Top with remaining cake layer; press lightly to compact layers. Cover with plastic wrap; chill at least 2 hours.

Meanwhile, heat remaining chocolate chips and coffee in top of double boiler over hot, not boiling, water. Stir constantly until chocolate is melted. Add butter pieces, one by one, stirring constantly, until all butter is added and melted. Remove from heat; chill to spreading consistency, about 2 hours. Spread top and sides of cake with chocolate frosting. Garnish sides of cake by pressing sliced almonds into the frosting.
Expert Tips & FAQs
It's best to refrigerate the pound cake first to make it easier to slice. Calorie count based off of using my homemade pound cake.
Sargento did compensate me for the time I dedicated to making this recipe and putting this post together for you, however my opinions on flavor and preparation are 100% mine. :)
Originally published on this blog: Apr 5, 2012
Amanda Formaro is the crafty, entrepreneurial mother of four grown children. She loves to bake, cook, make kid's crafts and create decorative items for her home. She is a crafting expert and guru in the kitchen and has appeared online and in print publications many times over the years. She is also a craft book author five times over and product developer as well as the owner of
FunFamilyCrafts.com
. You can find her on social media by using the buttons to the left!
Latest posts by Amanda Formaro (see all)