Try this festive Candy Cane Danish – cherry cheese pastry in the shape of a candy cane! This gorgeous candy cane danish is easy to assemble with crescent rolls, cherry pie filling and sweetened cream cheese. It's a fun Christmas breakfast treat to make with kids!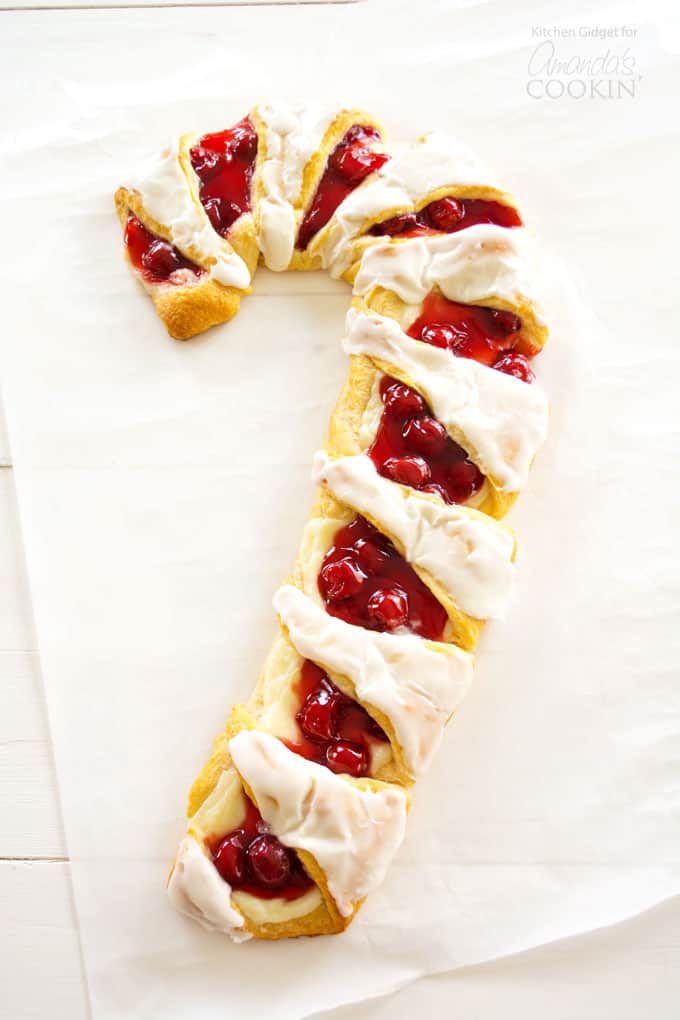 Candy Cane Danish
For those of us that celebrate, Christmas is the most wonderful time of the year! I love hearing how others celebrate and the traditions they've cultivated with their families. For myself, I have cherished memories of family traditions that–more often than not–revolve around food.
One of my favorites is a pre-Christmas ritual that involves making over half a dozen batches of different types of cookies with mom while listening to classic Christmas music. My favorite cookie changes from year to year, but I'm currently in love with Brown Sugar Shortbread.
Another favorite tradition involves the morning of. As we wait for everyone to wake up before opening presents, we like to enjoy a slice of potica with a cup of coffee. Potica is nut roll pastry from my Polish heritage. My father makes and delivers them as gifts on Christmas Eve to lucky recipients.
Some tips for making Candy Cane Danish
Use a silpat or parchment paper so you can easily lift the candy cane danish from the cookie sheet. A rimless insulated baking sheet will also allow you to slide the danish off rather than trying to lift it, running the risk of breaking it.
After forming the crescent cane shape and adding the filling, start from the top of the cane to fold the triangles over. Gently tuck the ends along the length of the pastry.
Be sure to add the icing while the danish is still quite warm. The heat from the danish will melt the icing a bit allowing it to level out nice and smooth.
Chances are you won't use all the pie filling. If that's the case save it for a hand pies!
After adding the icing, use an icing spatula or small rubber spatula to clean up any filling that may have spilled out during baking.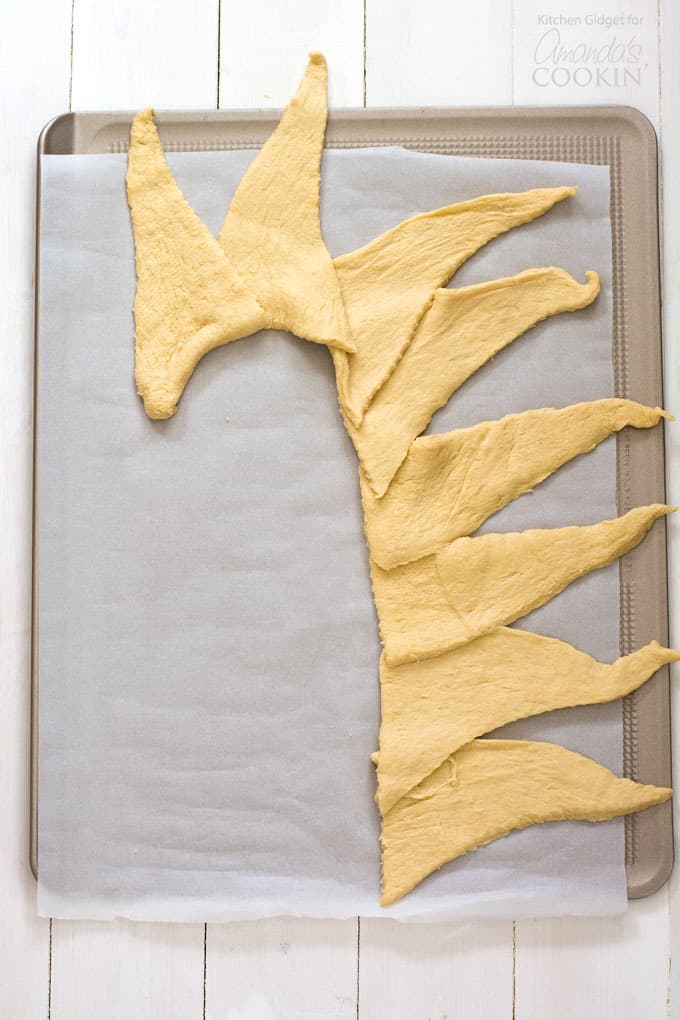 This year, I have a new pastry to add to the morning breakfast table – this candy cane danish. It's really a cherry cheese danish baked into the shape of a candy cane and it is so festive! Plus, it's made with refrigerated crescent dough, so it's fast and easy to put together. You can use store-bought pie filling or homemade cherry pie filling if you put some up this past year. The cream cheese filling in this candy cane shaped danish can be flavored with vanilla or a blend of vanilla and almond extracts. The almond complements the cherries so well.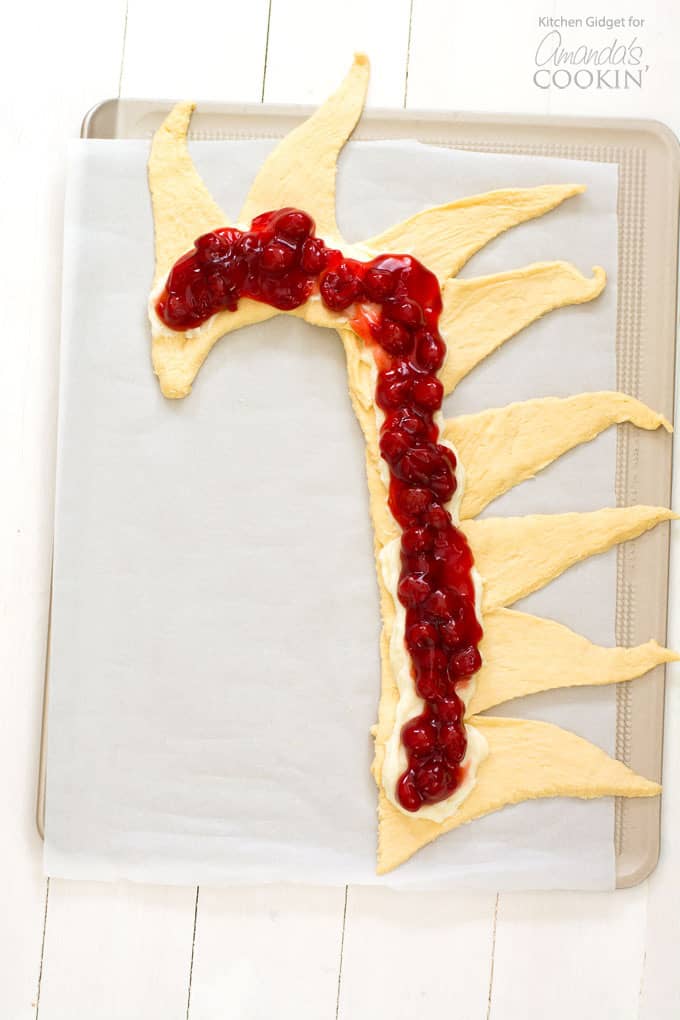 Before you jump into the ingredients, watch the video on how to make this delicious candy cane danish!
Ingredients Needed for Candy Cane Danish:
8 oz cream cheese, softened
1/2 cup sugar
1 teaspoon vanilla
(OR 1/2 teaspoon vanilla and 1/2 teaspoon almond extract)
2 tubes of crescent rolls
1 can (21 oz) cherry pie filling
For the glaze:
1 cup powdered sugar
1 tablespoon butter, softened
1 tablespoon milk
¼ teaspoon vanilla
Tools You May Need: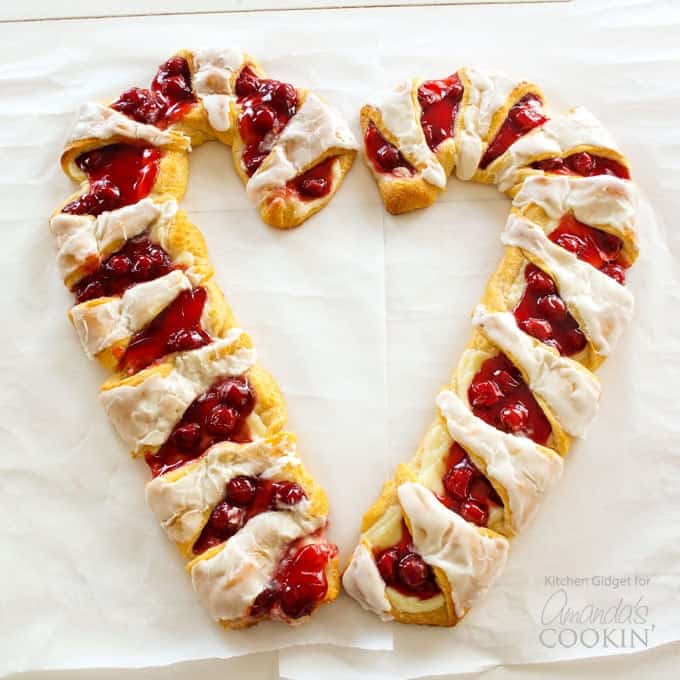 This recipe makes two candy cane pastries. If you wanted to make just one, you would need an extremely large baking sheet! For ease, I like to use parchment paper on my pans. It will keep the pastry from sticking to the pan and makes cleanup a breeze.
I've included pictures for guidance, but simply align four crescent triangles in a straight line, slightly overlapping. With the fifth crescent, begin curving the head of the cane. Top with cream cheese and cherries, then fold over the points of the triangles. After baking, frost with a simple white icing to complete the candy cane stripes.
Hope you enjoy and have a happy holiday season!
If you're looking for another delicious breakfast option check out this Raspberry Coffee Cake. So yummy!