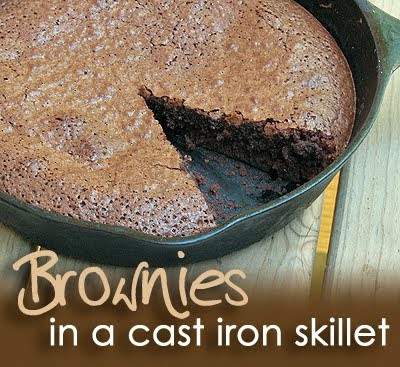 If you are a fan of chewy, fudge-like brownies, you'll love this recipe. I did have to make this twice, to make sure I had the baking time right, but it was worth it. They are truly fabulous! Thick, chewy, rich!  You won't need any mixing bowls for this recipe, everything happens in the cast iron skillet. The only additional tools will be some measuring cups, a measuring spoon, a wooden spoon for stirring, and a rubber spatula.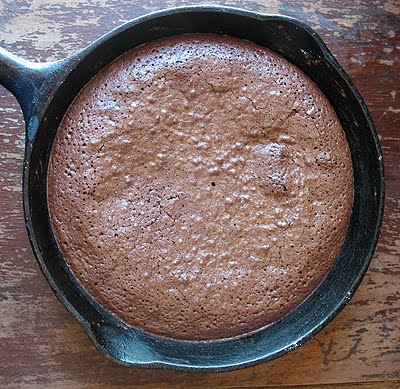 I developed this recipe myself. It's adapted from one that I have always baked in a 13×9 baking pan, so I scaled it down a bit. If you have a favorite brownie recipe of your own, you can certainly use that and just watch the baking time. It's also important to note that I used a 9 3/4″ cast iron skillet. If yours is larger or smaller, you'll need to adjust the baking time a bit.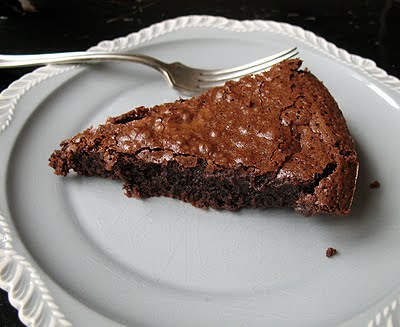 You'll also notice that my oven temperature is set to 325, rather than the standard 350 that most brownie recipes call for. That's because these are fairly thick brownies and you don't want to over bake the outside and under bake the insides. So instead, I decreased the temperature and increased the baking time. In fact, the picture of the individual slice above is from the first batch, which was a little underdone, BUT would be perfect warmed with ice cream. So on to the recipe, shall we??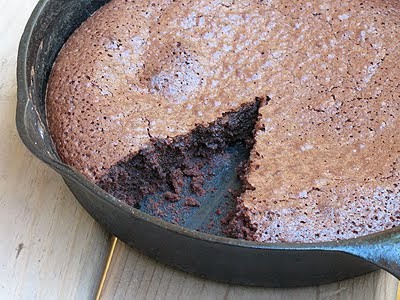 Don't they stick to the pan?? No, the seasoning from your cast iron skillet will keep the brownies from sticking. I suggest using an icing spatula to remove the wedges.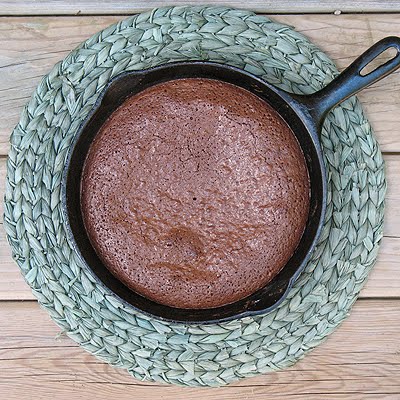 Enjoy!
Here are some other recipes you may enjoy:
From Amanda's Cookin':
Pineapple Upside Down Cake in a Cast Iron Skillet
Chocolate Brownie Bars
Football Brownies
Brown Sugar Vanilla Bean Ice Cream
More great cast iron recipes:
Cast Iron Cornbread – from The Paupered Chef
Blackberry Cobbler – from Buns In My Oven
Cast Iron Skillet Pizza – from Last Night's Dinner
Soft and Chewy Chocolate Chip Cookies – from The Alchemist