This Almond Maple Smoothie is surprisingly simple and delicious. Nutty almonds and maple syrup meet creamy Greek yogurt and frozen banana to create a hands-down heavenly smoothie that you won't be able to put down.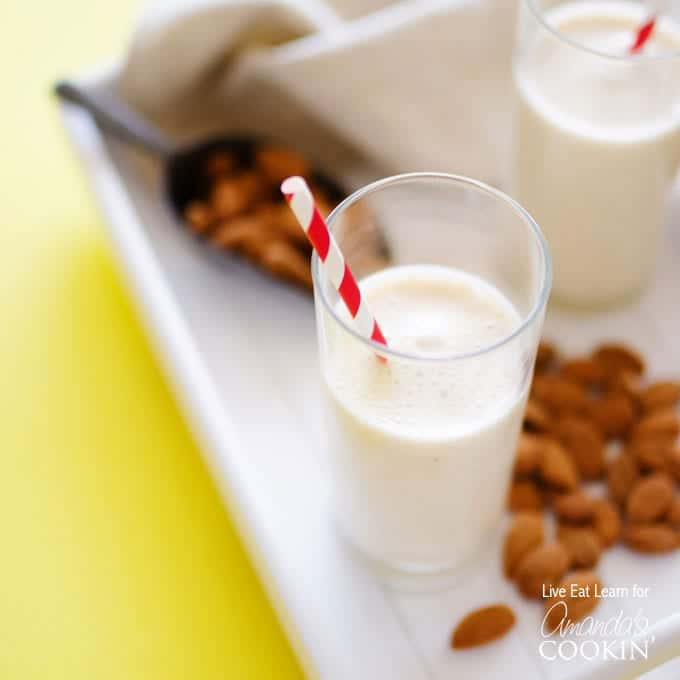 Almond Maple Smoothie
I've become a bit of a self-declared Smoothie Queen as of recent. But I've realized that my smoothies don't often stray from the usual frozen berries + banana + spinach routine, so today I went about trying to change that. After accidentally buying way WAY too many almonds the other day, I've been scheming up ways to use them. I throw them in salads, on breakfast cereal, I even tried chopping them up for use as a breadcrumb of sorts! But it never occurred to me to make them the center of a smoothie. That is until now.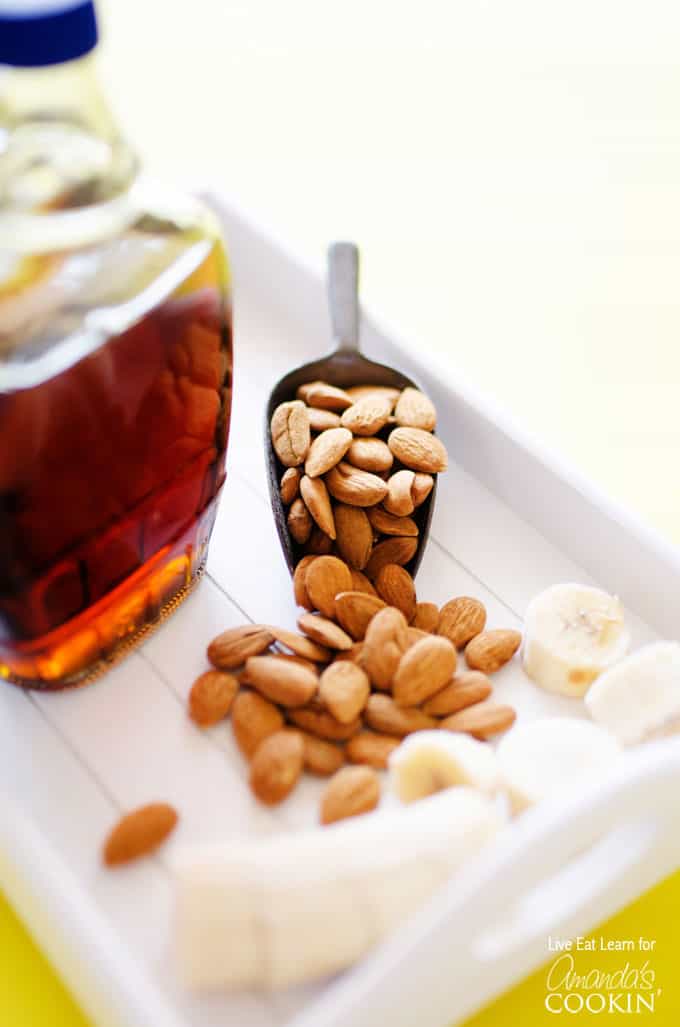 There are affiliate links in this post. That means if you buy something from that link, I will earn a small commission, but it won't cost you anything additional.

To make this Almond Maple Smoothie you'll need:
¼ cup slivered or chopped almonds
¼ cup plain Greek yogurt
1 banana, sliced and frozen
2 Tbsp maple syrup
¼ tsp cinnamon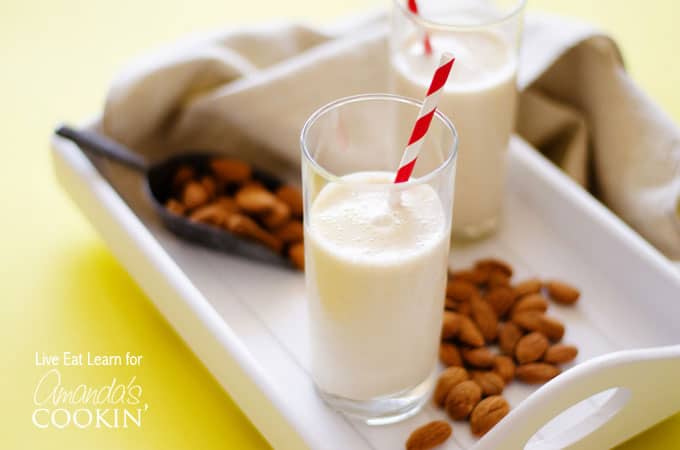 The tulip-man, my European boyfriend who's unaccustomed to our American foods, was addicted to good ole North American maple syrup from the moment he first tasted it, so we've acquired quite a stockpile in our house (you know, in preparation for the maple syrup apocalypse). And as I was staring into the fridge blankly, as I so often do when I'm blanking on a good recipe idea, it dawned on me. Almonds + maple syrup! I quickly threw some almonds, maple syrup, yogurt, and a frozen banana in the blender, blitzed it all up, and tasted. Holy guacamole, you guys, this smoothie is GOOD. It's not in-your-face flavor, but rather, subtle hints of sweetness and creaminess and just darned goodness.
SCROLL DOWN FOR THE PRINTABLE VERSION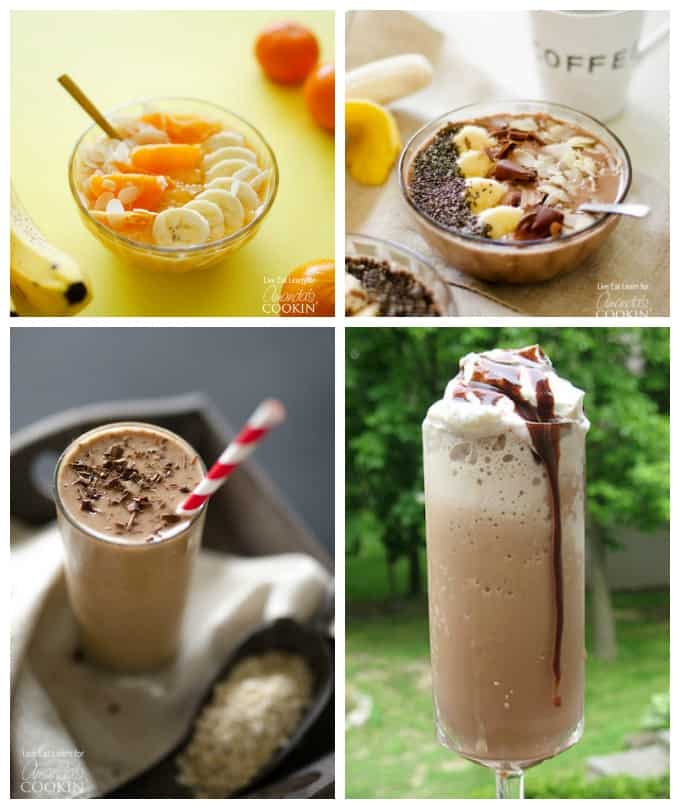 MORE SMOOTHIES FOR BREAKFAST:
Want even more free recipes? Be sure to join my newsletter for FREE recipes and craft ideas sent to your email inbox every week.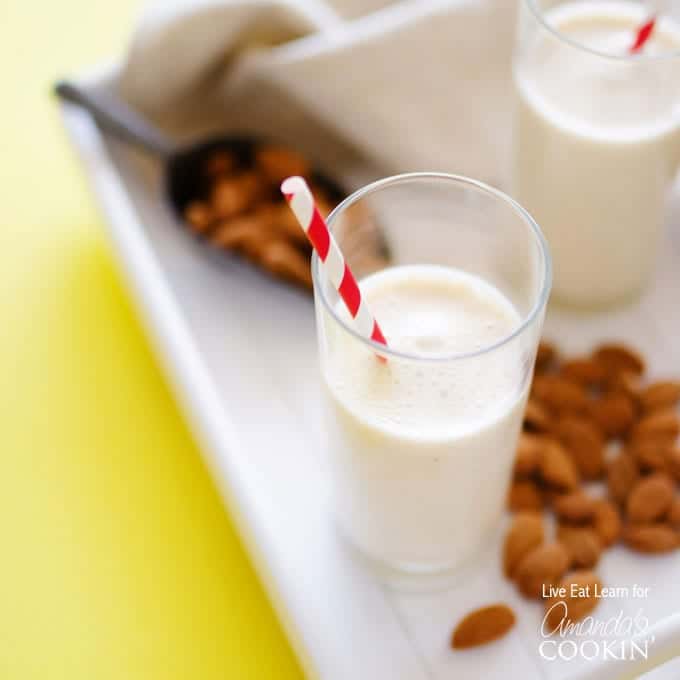 Almond Maple Smoothie
Nutty almonds and maple syrup meet creamy Greek yogurt and frozen banana to create a heavenly almond maple smoothie you won't be able to put down.
IMPORTANT - There are often Frequently Asked Questions within the blog post that you may find helpful. Simply scroll back up to read them!
Print It
Rate It
Ingredients
1/4

cup

slivered or chopped almonds

1/4

cup

plain Greek yogurt

1

banana

sliced and frozen

2

Tbsp

maple syrup

1/4

tsp

cinnamon
Instructions
Blend all ingredients until smooth and serve!
Sarah is the publisher behind the vegetarian health food blog, Live Eat Learn. An Alaskan self-taught cook and nutritionist by trade, she loves all things food and health. When she's not exploring new ways to cook up healthy ingredients, she's romping around the Netherlands, her new stomping grounds!
Latest posts by Sarah Bond (see all)