White Chocolate Candy Cane Pretzel Sticks are one of my most addictive holiday treats. These sweet and salty Christmas wands are so fun to make and even more fun to eat. Great for kids and adults, but they can be a little tricky to make…come see!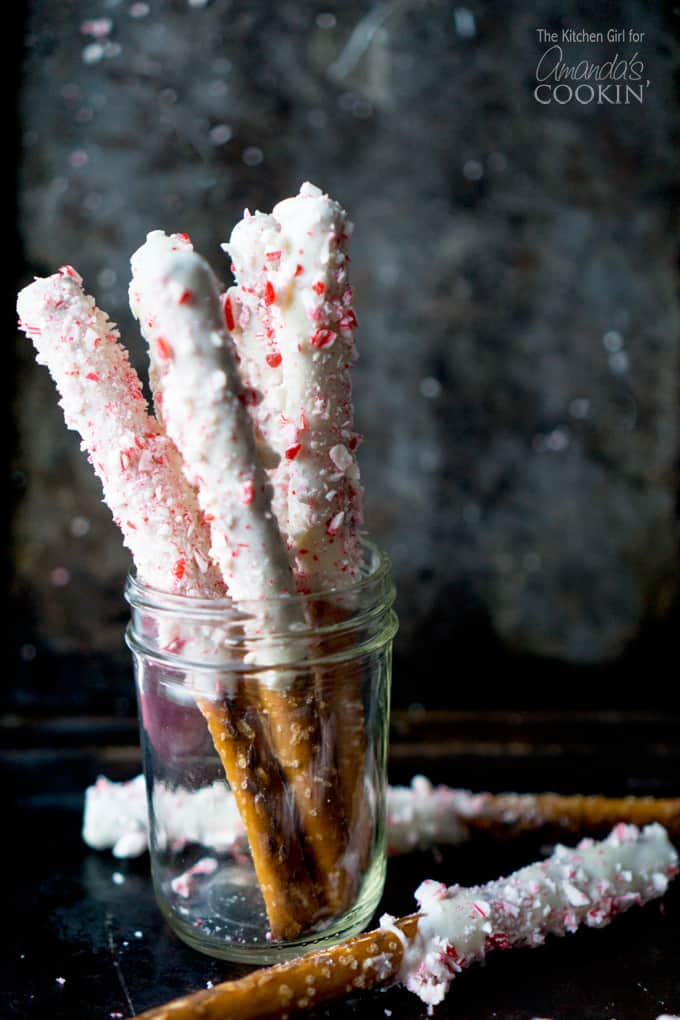 White Chocolate Candy Cane Pretzel Sticks
Melting chocolate, dunking pretzels, and dusting them with crushed candy cane…sounds easy enough, right? Well, it can be very tricky, actually. It all hinges on…the chocolate coating.
First, I've noticed this type of recipe typically calls for candy coating, but when I first experimented with this idea, I really wanted to use a gourmet chocolate product. The kind you could eat right out of the bag, or doesn't last long in your pantry because the flavor's so good. We have a couple household, gourmet chocolate brand names made right here in the bay area…Guittard and Ghirardelli. To me, it would be a toss-up if you asked which is better. After years of using both, the jury is still out on that one.
So, which one did I use for this recipe?
I used Guittard Vanilla Milk Chips. For the record, I'm so glad I rebelled against the non-gourmet, candy coatings because you can literally taste the quality of this product…it's pretty perfecto for this job. And it happens to be non GMO, peanut free, gluten free, and uses real vanilla, for the win!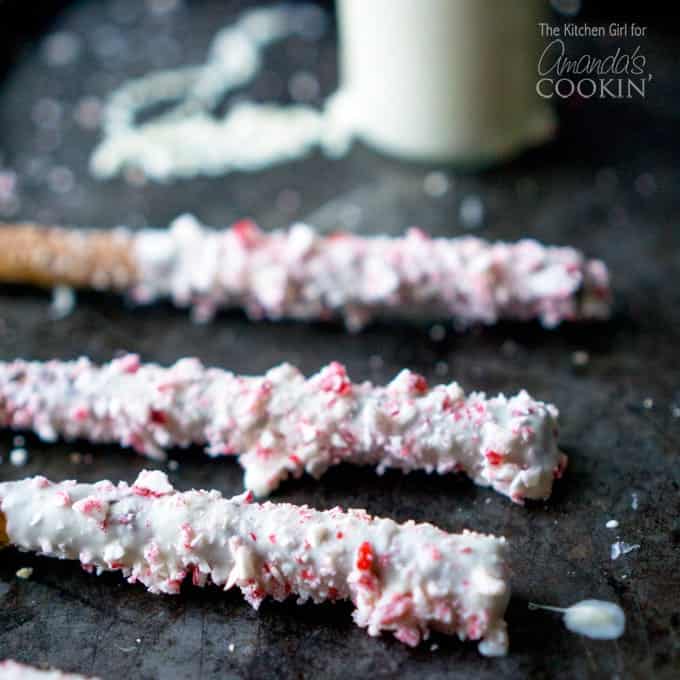 You'll need these ingredients for White Chocolate Candy Cane Pretzel Sticks:
8 oz bag salted pretzel rods

10 oz or 12 oz bag vanilla milk chips or white melting chocolate

3 oz peppermint stick
Kitchen tools you'll find helpful for this recipe:
bumpy-sided tenderizing tool (to crush candy cane)

microwave safe bowl

2 baking sheets (provides candy-crushing surface and storage surfaces)

(optional) parchment paper (provides nonstick surface for coated candy to set up)

6-8" tall glass jar (to hold melted chocolate for pretzel dunking)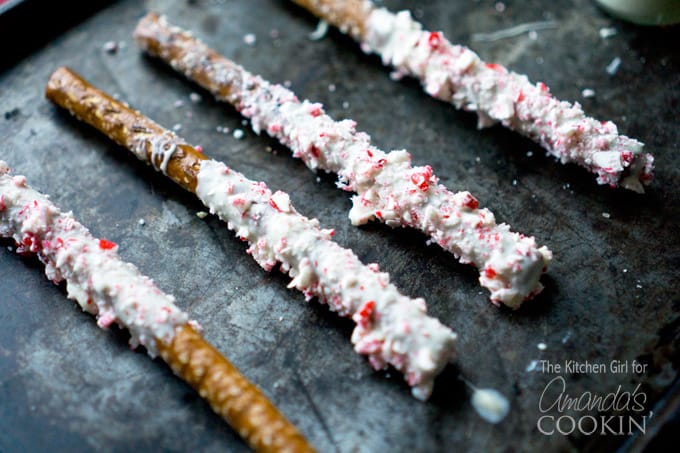 Have you seen my other holiday recipes?
If you like gourmet, holiday snacks, check out my Black Truffle Salted Dark Chocolate Drizzled Nuts. These guys are as addictive and just as easy as the Christmas pretzel sticks! Also, get your dish remembered at that next holiday party with my No-Cook Cranberry Pomegranate Relish served over warm, brie cheese.