I make thumbprint cookies every Christmas. Yummy little buttery cookies filled with seedless jams and lemon curd, small enough to pop into your mouth with one bite! Yum.. After reading through this thumbprint cookie recipe and noticing that ground hazelnuts played a big roll, I immediate thought that Nutella would be an ideal filling.
The chocolate (not the Nutella) idea was actually an after thought. I had already rolled one full cookie sheet (by the way, I doubled the size of the cookies, 60 was just too many) when I decided to add a tablespoon of cocoa to the remaining dough. So half of my cookies were as written and the other half were a little chocolatey.
As lovely as they look, I think I made a mistake. You see, as I was grinding the hazelnuts I realized that they weren't toasted, but raw. The ground nuts were sticking together a little bit, so I was concerned that there would be too much moisture. So I went ahead and toasted the hazelnuts, which brought out the wonderful flavor they possess. However, I think they may have contributed to the cookie's unfortunate dryness. :( I don't think the added cocoa had anything to do with the dryness as both versions were equally dry. :-/
I also am not certain if the Nutella was really the ideal filling for these. Perhaps if they were fill halfway through baking, and then allowed to back again, the filling may have set up. Not sure. As soon as you take a bite, and long string of Nutella hits your chin. Still tasty… Nutella is always tasty. :)
I looked back at my own thumbprint recipe, which always turns out tender and buttery, and found that the only ingredients are flour, butter, sugar, orange juice, and an egg yolk. Dorie's recipe contains flour and ground hazelnuts for the dry ingredients, and sugar, butter and extracts for the wet. There's no egg yolk or any other liquid. That leads me to believe that she used the moisture from the ground nuts to contribute to the moisture.
Another difference between mine and Dorie's is that hers bake all the way before filling them. Mine you bake 10 minutes, fill them, then bake 5 minutes more. Dorie boils the jam and fills the cookies after they are baked.
These were fun, they were easy to make, but I still like my thumbprint recipe better.
Special thanks go out to Mike from Ugly Food for an Ugly Dude (don't you just LOVE that blog title?? Hee hee!) for hosting this week's Tuesday With Dorie pick! You can get the recipe below, or turn to page 164 of Baking From My Home to Yours by the fabulous Dorie Greenspan.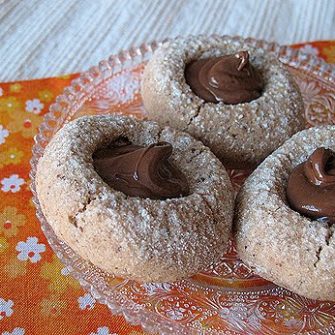 Chocolate Nutella Thumbprint Cookies
Print
Rate
Ingredients
1 3/4

cups

finely ground hazelnuts

1 3/4

cups

all purpose flour

1

tablespoon

unsweetened cocoa

2

sticks unsalted butter

room temperature

1/2

cup

sugar

1

teaspoon

vanilla extract

1/2

teaspoon

almond extract

Confectioners' sugar

for dusting

1

cup

Nutella
Instructions
Preheat oven to 350 F. Line two baking sheets with parchment paper.

Whisk together ground nuts, flour and cocoa.

In a mixer beat butter and sugar on medium speed until light and fluffy. Add extracts and beat to blend.

Reduce speed of mixer to low and gradually add flour mixture until a dough forms.

Use a cookie scoop or a teaspoon to portion out dough. Roll it gently in your hands and place balls two inches apart on cookie sheets. Use the end of a wooden spoon to create a well in each dough ball. Do not go all the way down to to the cookie sheet.

Bake 1o minutes minutes.

Remove from oven and fill each well with Nutella (to come level with the top of the cookie). Return cookies to oven for 5 minutes more.

Remove to wire cooling racks and dust with Confectioners' sugar.

Allow to cool completely.
Amanda Formaro is the crafty, entrepreneurial mother of four grown children. She loves to bake, cook, make kid's crafts and create decorative items for her home. She is a crafting expert and guru in the kitchen and has appeared online and in print publications many times over the years. She is also a craft book author five times over and product developer as well as the owner of
FunFamilyCrafts.com
. You can find her on social media by using the buttons to the left!
Latest posts by Amanda Formaro (see all)