So I said I would write a post about these a few days ago. I got to thinking, what the heck am I going to write? I have a bunch of totally cool pictures, but I don't feel confident enough to give a tutorial on these, and the recipes aren't mine either. Hmm. So I thought I would just share some things that worked for me and provide you with the recipes I used and give a little link love to the person who shared it with me ;)
So first off, this is going to be an obsession with me, I can already see it. Between my craft blog and this food blog, this is definitely right smack dab in between. Because they are edible, any royally iced cookies will be posted here. But I'm warning you now, I will probably find every occasion and holiday to make these. So feel free to zoom on past the decorated cookie posts if I start to bore you LOL This blog certainly certainly won't be dedicated to cookies, but they are just too dang fun not to make them when an occasion arises. :)
So on with the post. When in WalMart a few days before Halloween looking for a clown wig, I noticed some cute cookie cutters hanging on the wall. By now I had already fallen in love with decorating cookies after making the football jersey cookies for my boys' football teams. So I just HAD to get the cookie cutters. :) It was a three pack including a turkey, leaf, and a pumpkin. I had another leaf shaped cutter at home, and also a bunch of alphabet letters, and so this post was born.
The sugar cookie recipe as well as the icing recipe I used comes from my Florida friend, Leslie, of The Hungry Housewife (p.s. don't google that, you mind end up with an eyeful if you click to the wrong site bahahaha!). Leslie gives a bunch of great tips for making these cookies, so click over to her site and bookmark that link to refer back to. Great stuff. The recipe is also listed at the end of this post.
Another great link is The Baker's Banter from King Arthur Flour. If you follow that link, you will find a very cool way to turn parchment paper into small piping bags for making fine lines. These work really great and it's perfect for details. Not only because of the small lines and dots you can create, but also because it only holds a small amount of icing, so I don't feel like I'm wasting putting a bunch into piping bags. I used these little bags to make the lines on the pumpkins, the eyes on the turkey, and the dots on the alphabet letters. Fabulous.
Now I'm sure that decorator tips are great and all, but when you only have one and you are trying to decorate with a bunch of different colors AND you don't want to mess with couplings and switching the tip from bag to bag, you might do what I did. I just filled the disposable bags with the colored icings and snipped the end of the tip off the bag. Overall it does a great job. While the piping tip is definitely more precise, this method certainly worked fine for me.
Also, I wanted to mention that Leslie had pointed out that outlining all your cookies first and coming back and filling the centers afterward (we are talking about with the same color, so outline in red, fill in red for example) can leave visible border lines because those borders dry before you get back to them. So instead, she suggested piping the border and filling the center immediately. Again, this is only if you are outlining and filling with the same color. She was so right. When I made the jersey cookies I did this with the colored ones and they were great. When I made the white jerseys, I outlined them all first then came back and tried a flooding method I saw on a different blog using these fun icing bottles. Na da. Ended up with border lines. Not doing that again.
When I filled my centers in, I just basically kept going around the inner border of the outline, working my way inward, until I reached the center. Then I gently tapped the cookie against the side of the cookie sheet, or you an pick it up and shake it side to side a little to make the icing spread out. If there are any bubles, pop with a toothpick and shake again. You can also use a toothpick to spread the icing out, you just have to work quickly so the icing doesn't dry before you fill all the gaps. Do one cookie at a time, that's key.
Something else fun that I experimented with was blending colors on the leaves. These could be so much better, but not bad for being a newbie! The trick is to add the secondary color(s) right away while the base coat is still wet. Then just drag a toothpick through it and swirl around.
Even if you don't want to mess around with Royal Icing, which is really easy, you should still try this cookie recipe. Very yummy, overall winner, and even fun to decorate with canned frosting! You can still use Royal icing to top the cookies, and sprinkle with jimmies, nonpareils, or colored sugar too. Just remember you have to add those right away before the icing sets.
And so I give thanks to my friend Leslie, she answered several questions and provided two great recipes from which I yielded these yummy treats. My family thanks you too. :)
Oh and sorry for all the pictures. I couldn't decide which ones to use, so I just used them all! LOL Hope you have a Happy Thanksgiving!
Looking for something more kid friendly? Try this Thanksgiving turkey treat from The Idea Room the kids will love!
Cut Out Sugar Cookies
from The Hungry Housewife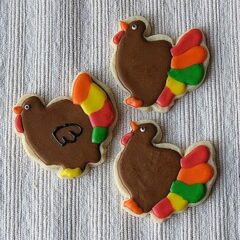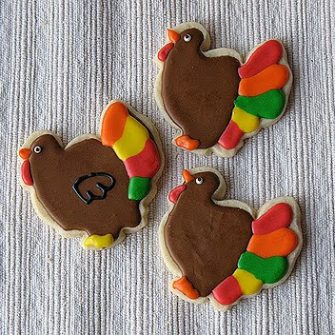 Thanksgiving Cookies: Turkeys, Leaves & Pumpkins, Oh My!
IMPORTANT - There are often Frequently Asked Questions within the blog post that you may find helpful. Simply scroll back up to read them!
Print It
Rate It
Ingredients
1

cup

butter

softened

1

cup

sugar

1

egg

1 1/2

teaspoon

almond or vanilla extract or a mix of both

3

cups

ap flour

1 1/2

teaspoons

baking powder

1/2

teaspoon

salt
Royal Icing Cookie Glaze
6

oz

3/4 cup warm water

5

Tablespoons

Meringue Powder

1

teaspoon

cream of tartar

2 1/4

pounds

powdered sugar
Instructions
Cream the butter and sugar until light and fluffy. Add in the eggs and the extract and beat to incorporate. In a separate bowl sift together the flour, baking powder and salt. Slowly add the flour mixture to the butter mixture and mix until combined.

Divide the dough into 2 portions and roll to 3/8" thick in between 2 sheets of parchment paper and chill in the fridge for 2 hours.

Remove the dough and cut your desired shape. Place the formed cookies back in the fridge for 10-15 minutes. Take the scraps and re roll them to 3/8" in the parchment paper and re chill before cutting out again.

Preheat oven to 350 30 minutes before baking the cookies. Bake your cookies on an ungreased cookie sheet (resist the urge to add parchment. These don't make a mess, but the parchment can cause spreading) for 8-12 minutes depending on the thickness of your cookie. (Mine were done in 9.5 minutes)

Cool on cookie sheet for 2 minutes before removing to a cooling rack.

Cool completely before icing.
Royal Icing Cookie Glaze
If your meringue powder does not have any vanilla flavor in it, you can add a teaspoon of CLEAR vanilla.

In a mixer bowl, pour the warm water and the meringue powder in and whisk for about 30 seconds until frothy. Add the cream of tartar and whisk for another 30 seconds. Pour all of the sugar in at once and place on the mixer.

Using your paddle attachment, on the lowest speed, mix slowly for 10 full minutes.

Icing will be thick and creamy (like Elmer's Glue). Cover the bowl the a damp cloth to prevent drying and crusting.

If you find the icing too thick, you can thin it by adding in water by the Tablespoon.

TIP: To test, lift your paddle attachment. Watch the ribbon of icing fall back into the bowl of icing. It should disappear before the count of 10. If it doesn't add a little water at a time until it does.
NEW! Be sure to subscribe to my newsletter, Foodie in the Craftroom, to receive updates and tips from both Amanda's Cookin' and Crafts by Amanda! Visit https://amandascookin.com/p/subscribe-to-newsletter.html
Amanda Davis is the entrepreneurial mom of four grown children and four step children. She and her husband, Chef Antoine, love to cook together creating recipes for this blog. Amanda also make kid's crafts and creates decorative items for her home. She is a crafting expert and guru in the kitchen and has appeared online and in print publications many times over the years. She is also a craft book author five times over and product developer as well as the owner of
FunFamilyCrafts.com
. You can find her on social media by using the buttons to the left!
Latest posts by Amanda Davis (see all)