Football season is here! We are definitely football fans in this house. Our two youngest boys both play tackle on the local youth football league, and even my daughter is getting in on the action playing in the powder puff game at homecoming.
Recently, the boys' teams had a couple of parties and we needed to bring a dish to pass. Since I was in a hurry, I made brownies from a (shudder) box mix (eek!) and used a football shaped cookie cutter on them once they were cooled off. Then I added the laces them with a tube of white cake decorator icing. The brownies were a huge hit at the parties and the boys were very happy. :)
Then, I had an assignment for Disney to make some gingerbread cookies (sorry, can't say anymore about that), and only used a portion of this FABULOUS soft gingerbread cookie dough I found. I have never really liked gingerbread, well at least I didn't until I found this recipe. :) Roll it fairly thick and you'll have deliciously soft and chewy gingerbread. So anyway, I needed to use up the remaining dough, so I dug through the cookie cutters and decided to make the boys a helmet each with their numbers on them, some footballs, and played around with the rest, making some gingerbread people, ghosts, and pumpkins.
I found the recipe on Recipezaar and absolutely agree with the title. Some people had a little trouble with the dough being sticky, but I followed her directions exactly, including the part about letting the dough rest for at least two hours and had no problems at all. I didn't make the second batch of cookies until the next day. I had chilled the dough in the refrigerator overnight and took it out in the morning and let it come to room temperature before rolling it out.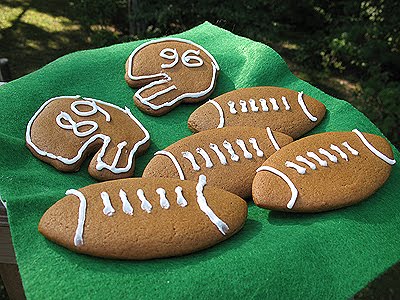 Ingredients
3

cups

all-purpose flour

1 1/2

teaspoons

baking powder

3/4

teaspoon

baking soda

1/4

teaspoon

salt

1

tablespoon

ground ginger

1 3/4

teaspoons

ground cinnamon

1/4

teaspoon

ground cloves

6

tablespoons

unsalted butter

3/4

cup

dark brown sugar

1

large egg

1/2

cup

molasses

2

teaspoons

vanilla

1

teaspoon

finely grated lemon zest

optional - I didn't use this
Instructions
In a small bowl, whisk together flour, baking powder, baking soda, salt, ginger, cinnamon, and cloves until well blended.

In a large bowl (KitchenAid's great for this) beat butter, brown sugar, and egg on medium speed until well blended. Add molasses, vanilla, and lemon zest and continue to mix until well blended. Gradually stir in dry ingredients until blended and smooth.

Divide dough in half and wrap each half in plastic and let stand at room temperature for at least 2 hours or up to 8 hours. (Dough can be stored in the refrigerator for up to 4 days. Return to room temp before using.)

Preheat oven to 375°. Grease or line cookie sheets with parchment paper.

Place 1 portion of the dough on a lightly floured surface. Sprinkle flour over dough and rolling pin. Roll dough to a scant 1/4-inch thick (I rolled mine a bit thicker for softer cookies). Use additional flour to avoid sticking.

Cut out cookies with desired cutter. I actually found it easier to roll the dough out on the parchment, cut out the cookies and remove the outer pieces, leaving the cookie shapes on the parchment. Then lift the parchment up at one side, so that the cookie shape is now upside down, place your hand under it and peel the parchment off the back of the cookie. The cookie will land gently in your hand and won't get stretched out of shape like it would if you lift the cookie from the surface and place it on the pan.

Space cookies 1 1/2-inches apart. Bake 1 sheet at a time for 7-10 minutes (the lower time will give you softer cookies). Remove cookie sheet from oven and allow the cookies to stand until the cookies are firm enough to move to a wire rack.
Amanda Formaro is the crafty, entrepreneurial mother of four grown children. She loves to bake, cook, make kid's crafts and create decorative items for her home. She is a crafting expert and guru in the kitchen and has appeared online and in print publications many times over the years. She is also a craft book author five times over and product developer as well as the owner of
FunFamilyCrafts.com
. You can find her on social media by using the buttons to the left!
Latest posts by Amanda Formaro (see all)