If it's comfort food you seek, try this satisfying 3 Bean Salsa Chicken & Rice. It's full of flavor, fills you up, and is great for chilly nights.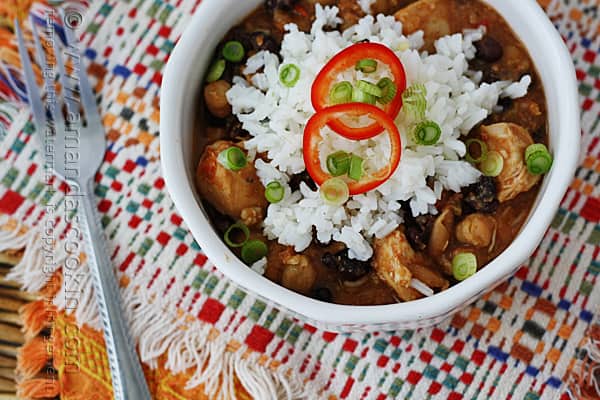 I really like to use my slow cooker because of my busy schedule. I can't tell you how often we throw together this crockpot macaroni and cheese! I'm a big fan of chicken, but I get tired of making the same dinners over and over again. I was actually looking through my fridge and pantry and came up with a few things that had the makings of a tasty slow cooker chicken dinner.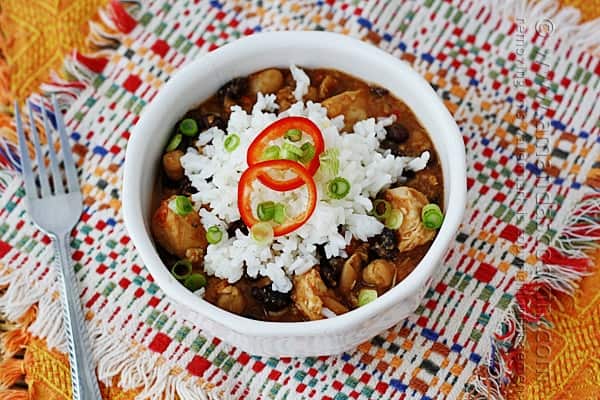 I made tacos the night before, so I had a big batch of my homemade salsa from canned tomatoes in the fridge. That's what I used in this dish, but a 16-ounce jar of your favorite salsa will be perfect too.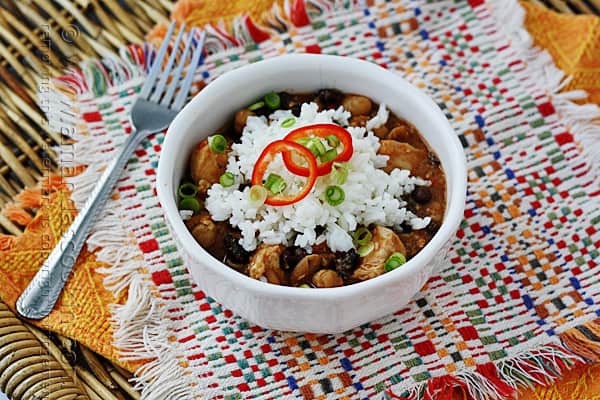 I used to only use my slow cooker during the winter months, but that's changed quite a bit over the past two years. it's so convenient for busy days, which seemed to have consumed me lately. The weather is starting to warm up around here and I already have visions of summer evenings on the deck sipping a glass of wine. :)
Here are some shots from the weather here via my Instagram account. I'm so happy that it's starting to warm up! So are the piggies (guinea pigs) – they were outside munching for the first time this season just a week ago. They could only stay out for a short period of time before they started catching a chill, but they enjoyed it while it lasted!
Also on that day, I grilled outside for the first time this season. Simple hamburgers, but it was SO nice to be outside after such a long winter inside. Hamburgers, grilled green beans and a glass of wine. Life was good.
The lake just recently swallowed all the ice that held it captive for so many months. I've been waiting and waiting to see this sight again. I love to swing by and snap pictures, especially at sunset. Man, the sunsets on this lake are spectacular! I took this shot less than a week ago, on a typical spring day. A bit cloudy, warm but not really, and you could smell the rain in the air. Yesterday when I came home and got out of the car, the smell in the air was pure bliss! I kept drinking it in over and over, so much so that I didn't want to go inside!
The landscape of spring in Wisconsin is still brown, the grass hasn't had a chance to grow yet and the trees are just barely beginning to bud. But they sure do make for a gorgeous sunset shot. I took this one just last night after picking up my son. I stopped on the side of the road to get the shot. My kids used to think I was weird for doing so, now they are more of a look out… "Wait, there's a car coming mom, it'll get in your shot." Ha ha!
I also captured this one last night. The sky was beautiful and I was scouting out different trees for a silhouette. The problem with doing that is the sun sets quickly. You don't have a lot of time to be searching before it's gone completely. In fact, the time I spent trying to find a good tree cost me the sunset on the lake. By the time I passed the lake the sun was down and all those beautiful hues had left with it.
If you like the images I share on Instagram, you can find me here: Amanda on Instagram – @amandaformaro
So anyway, back to the chicken! With my busy days, getting ready to fly out of town next week to head to SNAP Conference, then up to General Mills in Minneapolis after that, plus my book deadline, I don't have a ton of time left over for standing at the stove. My crockpot has been saving me!
We truly enjoyed this dish. I hope you like it too. It's easy to throw together and when served with a helping of rice, it's quite satisfying.
NOTE: The recipe can be found at the very end of the post. Click the little printer icon for a printer friendly version.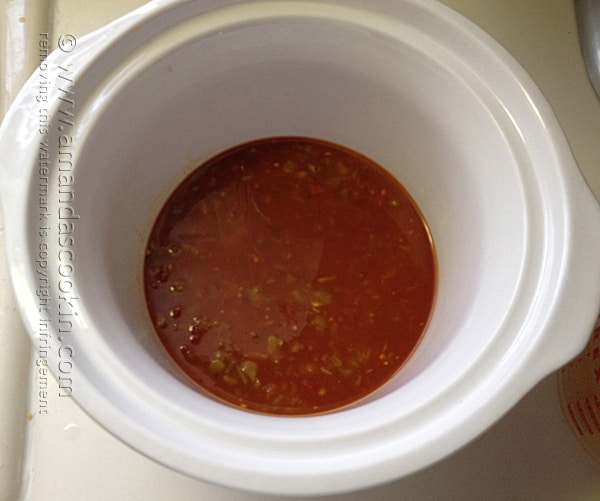 In the crock, combine the salsa, broth, and green chiles.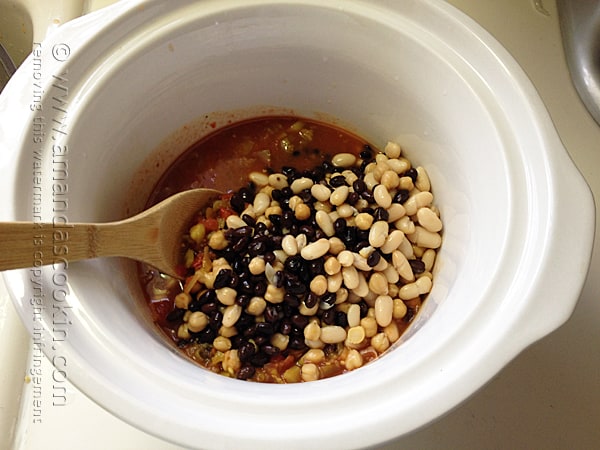 After you've drained and rinsed all the beans, stir them into the salsa mixture.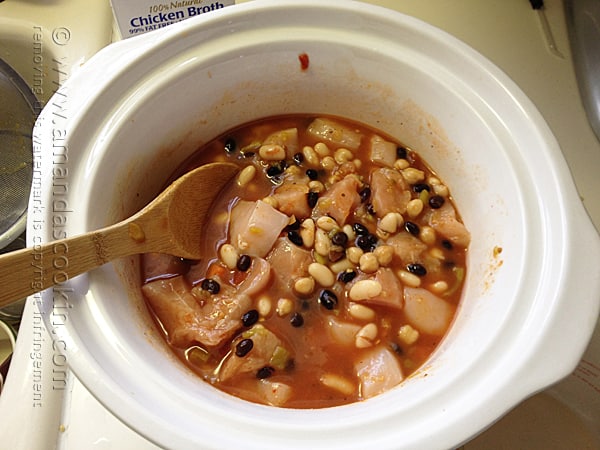 Lastly, add the cubed chicken and give it one more stir before turning on low for 6-8 hours.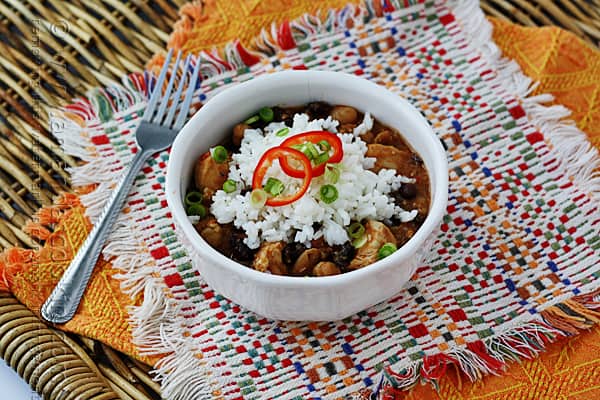 Serve with cooked rice for a nice hearty, home-cooked meal. Enjoy!
More of my recipes
I know a lot of you like to use your slow cookers too. So I've picked out a few of my favorites and shared them below. You can find all my slow cooker recipes here.
If it's chicken you're craving, I've also selected a handful of my favorite chicken recipes. I have a lot of favorites, but these are some of my go-to dinners. You can find all my chicken recipes here.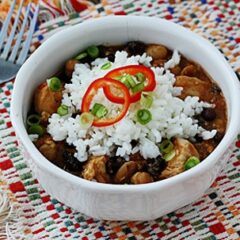 3 Bean Salsa Chicken & Rice
IMPORTANT - There are often Frequently Asked Questions within the blog post that you may find helpful. Simply scroll back up to read them!
Print It
Rate It
Ingredients
2

pounds

about 4 medium boneless, skinless chicken breasts, trimmed and cubed

1 16-

ounce

jar salsa

1 1/2

cups

chicken broth

1 4-

ounce

can green chiles

1 15-

ounce

can cannellini beans

1 15-

ounce

can black beans

1 15-

ounce

can garbonzo beans

chick peas

Cooked rice
Instructions
Combine salsa, broth and green chiles in the bottom of the slow cooker.

Drain and rinse all beans and stir into salsa mixture in slow cooker.

Stir in chicken cubes.

Cook on low for 6-8 hours. Serve over cooked rice.
See you next time!
Amanda Davis is the entrepreneurial mom of four grown children and four step children. She and her husband, Chef Antoine, love to cook together creating recipes for this blog. Amanda also make kid's crafts and creates decorative items for her home. She is a crafting expert and guru in the kitchen and has appeared online and in print publications many times over the years. She is also a craft book author five times over and product developer as well as the owner of
FunFamilyCrafts.com
. You can find her on social media by using the buttons to the left!
Latest posts by Amanda Davis (see all)