I love homemade bread. But like you, and every other mom, dad, sister, husband, brother, uncle, grandma, etc, etc I have a busy, hectic life. Unless you remember early in the day, and assuming you are home during the day, you most likely cannot make many of the homemade bread recipes out there. Instead, many of us opt for grocery store bread or bread from the grocer's bakery. We all know that while the grocery store does pop those loaves of Italian bread into the oven, they don't mix up the dough there, it's delivered to them, frozen. So who knows what preservatives might be lurking in there? Hopefully none, but one can't be certain. :-/
Then you come across a recipe that seems too good to be true. Warm, aromatic homemade bread in an hour? Is it possible? Yes my friends, it is. :) And it's delicious. And ridiculously easy. You are going to thank me for this. You see, I have this friend, her name is Rachael. You may already know her from her fabulous blog, La Fuji Mama. Well dear readers, that's where this wonderful bread comes from, and you can watch… no, I highly recommend that you watch her video on making this bread, found here.
I have to tell you a few things about MY one hour bread first. This didn't work for me right away. It took about 3 tries, but I got it, and have made it several times with dinner over the past couple of months. You see, Rachael lives in southern California, a fairly dry climate. I live in southern Wisconsin, a humid climate. We might as well be on opposite sides of the Earth as far as weather is concerned. Well, all I can fathom is that weather was a factor in the challenges I had with this bread. So here goes…
My first attempt. I followed the recipe exactly. The dough was rather sticky and shaping it into a boule (watch Rachel's video, link above) was impossible. It just wasn't happening. I baked the two loaves and they spread like crazy. Now it's important to note that it still tasted fabulous! Nothing was thrown away, but as you can see, any flatter and I would have baked a frisbee.
My second attempt. Again, I followed the recipe exactly. After the first one minute of mixing, I added more flour, probably about 1/2 cup. This helped, but I still ended up with very wrinkly loaves. Not very pretty, but again, totally edible and delish! (I baked the one below in a loaf pan)
My third attempt. Finally! Success! This time instead of following everything exactly, I increased the flour by 1/2 cup, knowing that worked in attempt #2, only this time I added it from the get go, not as an after thought. The other thing I did was reduced the water by 1/4 cup. The last thing that I changed was the temperature of the water. I used very warm water, rather than hot. Those were the magical changes that made this bread work for me. Now the dough was pliable and I was able to form it into proper loaves and boules. Beautiful! (pictured at the top of this post, please ignore my stupid attempt at criss crossing the boule loaf)
I spoke with Rachael, who by the way was very helpful in trying to troubleshoot what was happening with me. She made me feel far less pathetic than I would have felt without her kind words. ;) After I told her of my discovery with the flour and water levels, she spoke with a relative in a humid climate that had made pretty much the same adjustments I had. So there you have it. :)
So here's my slightly adapted recipe. We'll call it The Midwest Version. ;) Thank you Rachael, this bread is not a permanent recipe in my kitchen!
Simple One Hour Homemade Bread
Midwest Version
adapted from La Fuji Mama
A note from Rachael: Why saf-instant yeast? Saf-instant yeast is a high-potency, fast-acting yeast that can be added directly to your dry ingredients without it having to be put in a starter first.
You can use rapid rise yeast as well, though I did go ahead and buy a bag of Saf. :)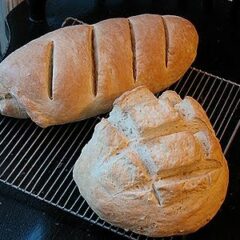 Simple One Hour Homemade Bread
IMPORTANT - There are often Frequently Asked Questions within the blog post that you may find helpful. Simply scroll back up to read them!
Print It
Rate It
Ingredients
5 3/4

cups

white bread flour

3

Tbsp.

sugar

1 1/2

tsp.

salt

1 1/2

Tbsp.

rounded saf-instant yeast

1 1/2

Tbsp.

oil

1 3/4

cups

VERY warm water

100-110
Instructions
Mix dry ingredients. Place in stand mixer with paddle attachment and add oil and water. Mix for 1 minute and then check the consistency of the dough. The dough should be sticky, but no so sticky that it has to be peeled from your fingers. If it is too dry, add more water.

Mix for 5 minutes. (Do not add any more flour after the dough has finished mixing.)

Spray kneading surface with cooking spray and turn dough out onto surface. Knead dough briefly until it has a smooth even consistency (this will only take several turns of the dough to accomplish).

Divide dough into 2 pieces (or more if you wish to have smaller loaves) and shape loaves into desired shapes and place on greased baking sheets. Cover with a large dish towel and let rise for 25 minutes.

While loaves are rising, preheat oven to 350 degrees Fahrenheit. When loaves are ready to go into the oven, use a sharp knife (you can lightly spray your knife with cooking spray to prevent dragging) to make several slashes in the top. Make each cut about 1/4-inch deep at a 30 degree angle. Bake loaves for 25 minutes, or until they are golden brown.
Amanda Davis is the entrepreneurial mom of four grown children and four step children. She and her husband, Chef Antoine, love to cook together creating recipes for this blog. Amanda also make kid's crafts and creates decorative items for her home. She is a crafting expert and guru in the kitchen and has appeared online and in print publications many times over the years. She is also a craft book author five times over and product developer as well as the owner of
FunFamilyCrafts.com
. You can find her on social media by using the buttons to the left!
Latest posts by Amanda Davis (see all)