making doughnuts at home takes a bit of effort, but they are really delicious and make for a fun family kitchen activity!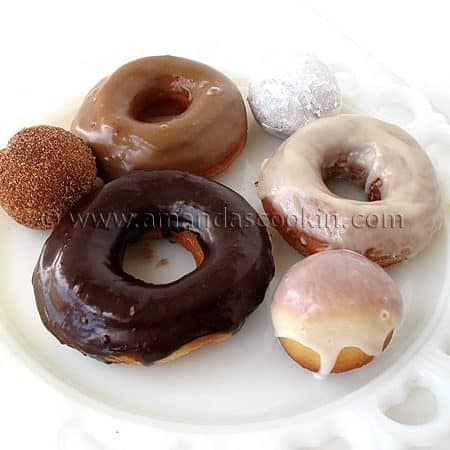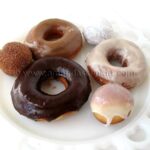 I've always wanted to make homemade doughnuts. I've made apple cider doughnuts and baked caked donuts before, but they were of the cake variety. Yeast doughnuts, however, have been on my baking to do list for quite some time. So on Mother's Day my kids and I made the most amazing homemade doughnuts with several glazes, including maple, buttery vanilla, chocolate, white, powdered sugar and cinnamon.
The chocolate is the most visually impressive, followed closely by the maple. The vanilla glazes didn't cover as well but tasted just as spectacular as the ones that did.
I don't deep fry things too often, so it can be quite a production when I do. This wasn't too bad though. I used my cast iron Dutch oven and my candy thermometer. The most important thing was keeping the temperature around 350 F. Anything higher and the outside of the dough will cook too quickly leaving you with a doughy interior and terribly browned exterior.
This is what you really want to achieve. Absolute doughnut amazingness. Really. Just like a doughnut shop!
Sorry for all the pictures, but I couldn't pick a favorite angle, so you're getting them all. None of these went to waste. This recipe made 15 doughnuts and 15 large doughnut holes. I don't have a doughnut cutter, so I used the smallest biscuit cutter I have, which is 1.5″ (hence the huge doughnut holes), and for the actual doughnuts I used a plastic hamburger patty maker from Tupperware. Hey, ya use what ya got!
My 14 year old son snuck down to my craft room, pulled out some construction paper and foam sticker letters to make this. :) Awww!
RECIPE NOTES: I was actually out of milk. :-o My husband's doctor told him he should drink more milk, so we've been going through it like crazy lately. For this recipe I actually used 1 1/4 cups of half and half and 1/4 cup water. So if you are out of milk, just letting you know the substitution worked fine. I also needed more flour than the original recipe called for. I didn't measure, but I used all the flour in the recipe plus probably another half of a cup or so. I have made the adjustment in the ingredient list already.
Homemade Doughnuts
adapted from AllRecipes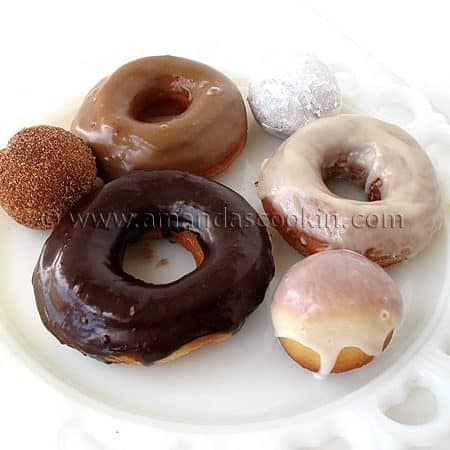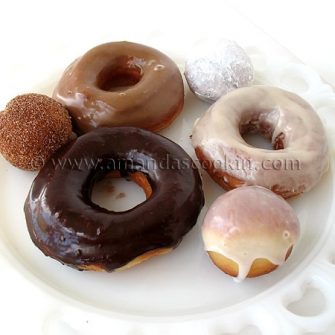 Homemade Doughnuts
making doughnuts at home takes a bit of effort, but they are really delicious and make for a fun family kitchen activity!
Print
Rate
Ingredients
4 1/2

teaspoons

SAF Instant yeast

or 2 envelopes active dry yeast

1/4

cup

warm water

105 to 115 degrees

1 1/2

cups

lukewarm milk

see note above

1/2

cup

white sugar

1

teaspoon

salt

2

large

eggs

1/3

cup

shortening

5 1/2

cups

all-purpose flour

1

quart

vegetable oil for frying
Vanilla Butter Glaze
1/3

cup

butter

2

cups

confectioners' sugar

1 1/2

teaspoons

vanilla

4

tablespoons

hot water or as needed
Chocolate Glaze
1 1/2

cups

powdered sugar

sifted

1/2

cup

unsweetened cocoa

sifted

1

teaspoon

vanilla

2-4

tablespoons

milk
Maple Glaze
2

cups

powdered sugar

sifted

1

teaspoon

Mapeline

maple extract

2-4

tablespoons

milk
Simple White Glaze
2

cups

powdered sugar

sifted

1

teaspoon

clear vanilla extract

2-4

tablespoons

milk
Cinnamon Sugar
1/4

cup

white sugar

1 1/2

tablespoons

ground cinnamon
Instructions
Sprinkle the yeast over the warm water and gently stir to get all the yeast wet. Let stand for 5 minutes, or until foamy.

In a large mixer bowl with paddle attachment on low speed, mix together the yeast mixture, milk, sugar, salt, eggs, shortening, and 2 cups of the flour. Mix for a few minutes at low speed (or you can stir with a wooden spoon). Beat in remaining flour 1/2 cup at a time, until the dough no longer sticks to the bowl.

On a lightly floured surface, knead for about 5 minutes, or until smooth and elastic. Place the dough into a greased bowl and cover with a clean towel or cloth. Set in a warm place to rise until doubled, about 45 minutes or so.

Turn the dough out onto a lightly floured surface, and gently roll out to 1/2 inch thickness. Cut with a floured doughnut cutter and place on large cookie sheets. Cover doughnuts with a cloth or towel and let rise until doubled, about 45 minutes.

Add enough oil or shortening to a cast iron Dutch oven* to measure a depth of about 3 inches. Attach a candy thermometer to the side of the pan and heat over medium heat until the oil reaches 350° F, then WAIT. Wait several minutes and make sure it's going to stay at 350 F. If it goes up, turn the heat down. Get it to where the temp will stay around 350 F, THEN proceed with cooking your doughnuts. Cooking at too high of a temperature will overcook the exterior and undercook the interior.

Have ready a plate lined with several thicknesses of paper towels.

Carefully slide doughnuts into the hot oil using a wide spatula, do not crowd. 3 doughnuts should fit comfortably in a standard Dutch oven. Turn doughnuts over as they rise to the surface. Fry doughnuts on each side until golden brown, a minute or so per side. Remove from hot oil, to drain on paper towels or a wire rack.

Dip doughnuts into the glaze while still hot, and set onto wire racks to drain off excess. Keep a cookie sheet or tray under racks for easier clean up. Dip the finished doughnuts as the next batch is frying. Place the dipped doughnuts on a waiting cookie sheet.

* Cast iron retains its heat better and more evenly than other vessels, which is why it's my pan of choice for frying. You can certainly use a deep fryer, I just hate all the major clean up with those, so I stick with the Dutch oven.
Toppings
For the Vanilla Butter Glaze, melt butter in a saucepan over medium heat. Stir in confectioners' sugar and vanilla until smooth. Remove from heat, and stir in hot water one tablespoon at a time until the icing is somewhat thin, but not watery.

For the chocolate glaze, maple glaze and simple white glazes, stir their ingredients together, adding extract and 2 tablespoons of milk first, then adding more milk as needed to get a thick glaze.

For cinnamon sugar stir together the ingredients.
Nutrition
Serving:
1
plain donut
|
Calories:
211
cal
|
Carbohydrates:
33
g
|
Protein:
5
g
|
Fat:
6
g
|
Saturated Fat:
2
g
|
Cholesterol:
20
mg
|
Sodium:
133
mg
|
Potassium:
93
mg
|
Fiber:
1
g
|
Sugar:
6
g
|
Vitamin A:
55
IU
|
Calcium:
29
mg
|
Iron:
1.7
mg
---
Did you enjoy this post? Why not subscribe to my feed, or better yet, to my free newsletter – Foodie in the Craftroom, which provides not only recipes but crafts from my other blog, Crafts by Amanda too!
---
NEW! Be sure to subscribe to my newsletter, Foodie in the Craftroom, to receive updates and tips from both Amanda's Cookin' and Crafts by Amanda! Visit https://amandascookin.com/p/subscribe-to-newsletter.html
Amanda Formaro is the crafty, entrepreneurial mother of four grown children. She loves to bake, cook, make kid's crafts and create decorative items for her home. She is a crafting expert and guru in the kitchen and has appeared online and in print publications many times over the years. She is also a craft book author five times over and product developer as well as the owner of
FunFamilyCrafts.com
. You can find her on social media by using the buttons to the left!
Latest posts by Amanda Formaro (see all)