Disclosure: This post is sponsored by Mirum, but opinions expressed are my own.
Earlier this year we shared our famous Rainbow Grilled Cheese and just in time for the holidays, we thought we'd give it a festive tweak. I bring you: a Festive Grilled Cheese!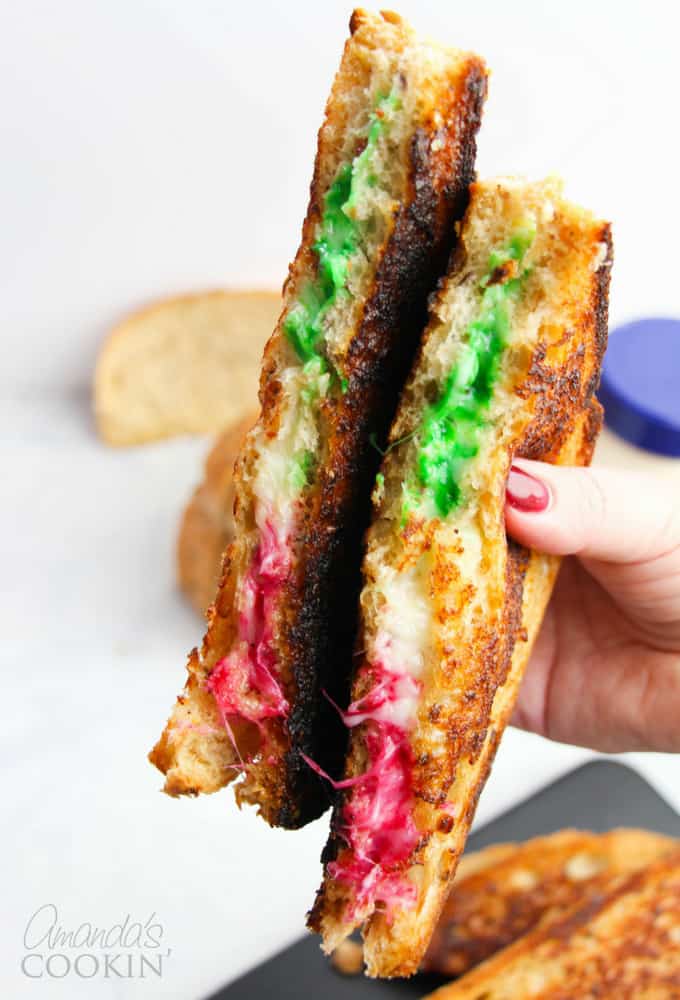 Festive Grilled Cheese
Grilled cheese is always a crowd-pleaser and by adding a bit of holiday pizzazz it can be the perfect easy entertaining option.
Just think: inviting friends or family over for some snow-filled fun – building a fort, going for a walk to see all the Christmas light displays, snow-shoeing or just having some fun tossing snowballs – and then coming inside to a hot & cheesy grilled cheese. (You could even pair it with a mug of soup for an even more filling meal.)
It's great for a lunchtime get-together or just a filling snack in the afternoon following some fun festivities.
Personally, I wouldn't tell anyone that there is anything special about these grilled cheeses and just wait for guests to pull them apart to reveal the festive colors inside!
We purchased all of our ingredients for this festive grilled cheese via Walmart's Grocery Store Pickup so we could quickly get the freshest ingredients at Walmart's every day low prices – no getting distracted in the aisles or caught up in the holiday crowds! (It's one way I'm trying to focus on what really matters during the hustle and bustle of the holiday season.)
Many of the Unilever and Walmart ingredients come from sustainable farms, which means they're a smart choice for your family and your holiday cooking. Unilever also has a fun "Make Meals that do More" campaign with several quick, delicious and budget-friendly meals that the whole family will love. Before seeing their grilled vegetables & cheese sandwich recipe I had never thought to use mayonnaise to make a grilled cheese but it was absolutely delicious!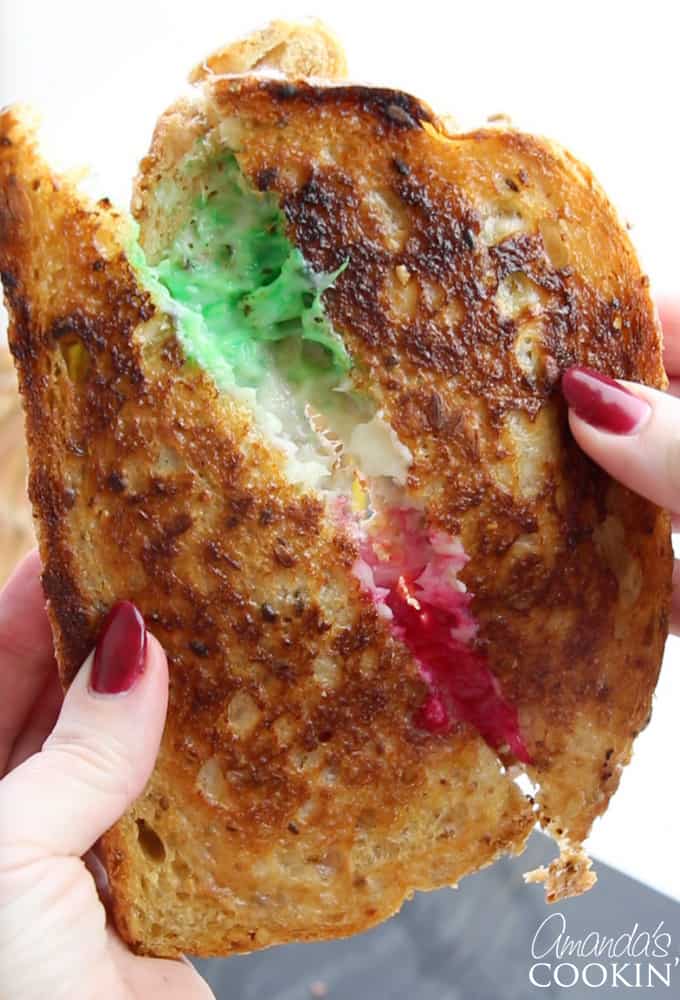 Ingredients to Make a Festive Grilled Cheese Recipe
8 slices of bread
1 1/2 cups mozzarella cheese, shredded
Food dye (green and red)
Tip: You could make the grilled cheese with shredded or chopped red and green veggies (like bell peppers and zucchini) or food dye, as we did here. 
Makes 4 sandwiches.
Kitchen Tools You May Find Helpful: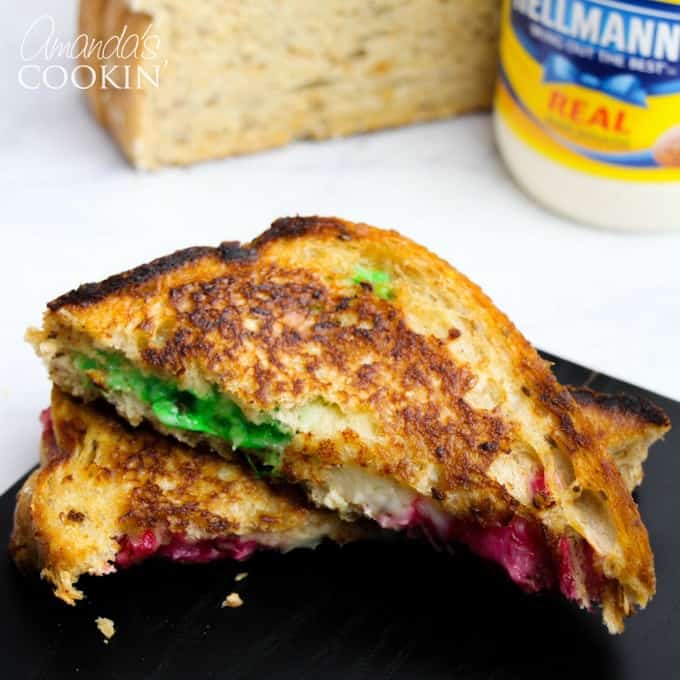 How to Make a Festive Grilled Cheese
Divide the shredded cheese into three equal bowls (about 8 Tablespoons per bowl).
Add a few drops of red dye to one bowl, green to the second, and leave the third plain. Stir the dye to dye the cheese.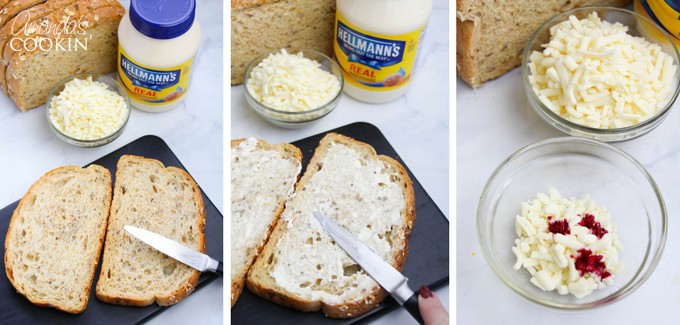 Spread one slice of bread with Hellmann's Real Mayonnaise.
I have to say using Hellmann's made the bread extra crispy, a wonderful unexpected surprise!
Place bread mayonnaise-side-down into hot skillet; add 2 Tablespoons of each "color" of cheese to the bread and then spread another slice of bread with mayonnaise and place mayonnaise-side-up on top of the cheese.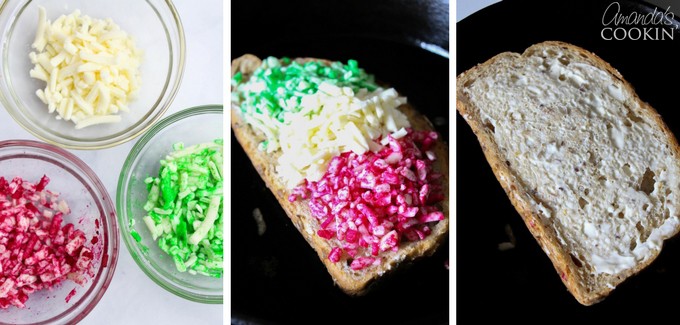 Cook until lightly browned on one side. Flip over and cook until cheese is melted.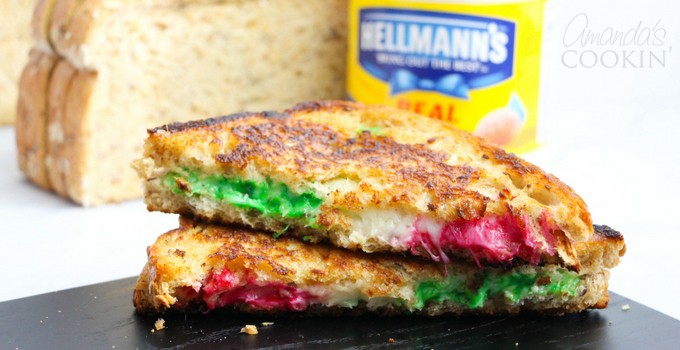 This festive grilled cheese recipe is a fun recipe to make for holiday guests when you don't want to cook an entire holiday feast. It's simple and satisfying, while still feeling special.
Looking for even more holiday food inspiration? This homemade peanut brittle makes the perfect holiday treat bags for your friends, neighbors or coworkers. Or maybe you're looking for something for Christmas morning? Try this candy cane danish. A deliciously festive cherry danish shaped like a candy cane, perfect for the morning of!