One of my new favorite comfort foods is Corned Beef & Cabbage – it's not something I grew up eating, but it is so incredibly delicious and unique that it has fast become a cold weather dinner favorite.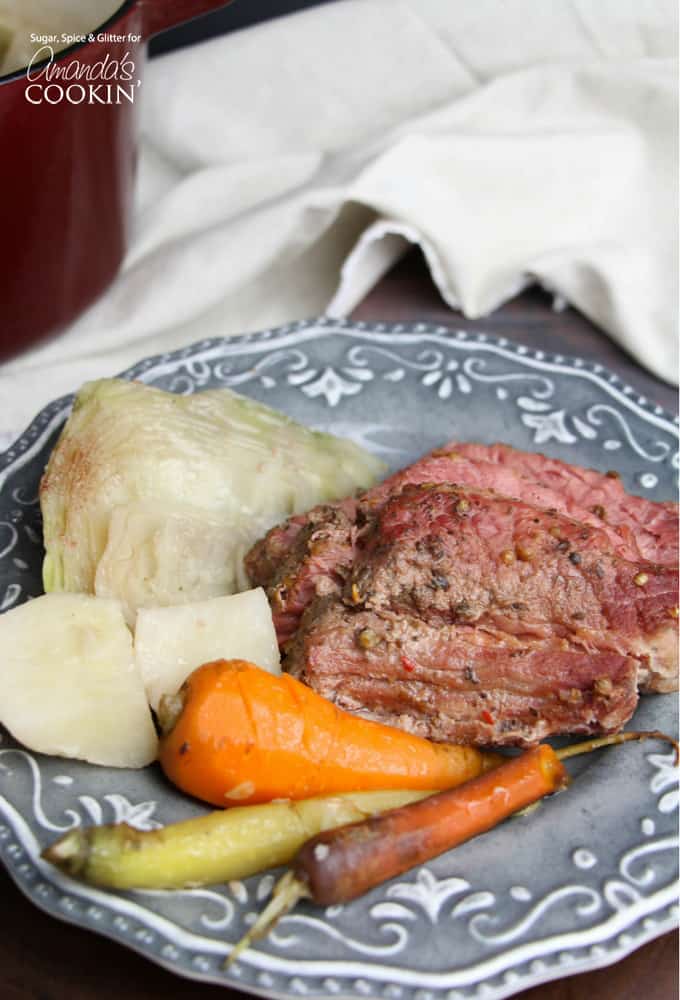 Corned Beef and Cabbage Recipe
Corned beef and cabbage is a delicious one-pot recipe that has come to symbolize Irish culture in North America, however it's actually a fun mash-up of New York Irish and Jewish cultures coming together to create something absolutely amazing.
Now, you have two options when it comes to making corned beef and cabbage:
make the corned beef from scratch with homemade brine
buy a pre-seasoned corned beef brisket
Where I live, a good-quality corned beef brisket is pretty inexpensive so it's a hard decision between the pride of doing it myself and the ease of spending $5, because I'll be honest – I bought a store-bought one and it was perfect.
Yes, the store-bought one was way too salty – but I also think that corned beef is supposed to be salty, so that one negative kind of cancels itself out.
I'm including the recipe I used to make our corned beef brisket from scratch below, but do not feel guilty if you skip the crazy seasoning and brining steps and skip straight to making corned beef and cabbage. (You'll also skip the risk of the corned beef going bad if you don't submerge it fully or someone disturbs the container in the fridge and shifts the beef out of the brine.)
Either way, it will still be a delicious way to celebrate Saint Patrick's Day along with some Baileys Irish Cream Chocolate Fudge.
There are affiliate links in this post. That means if you buy something from that link, I will earn a small commission, but it won't cost you anything additional.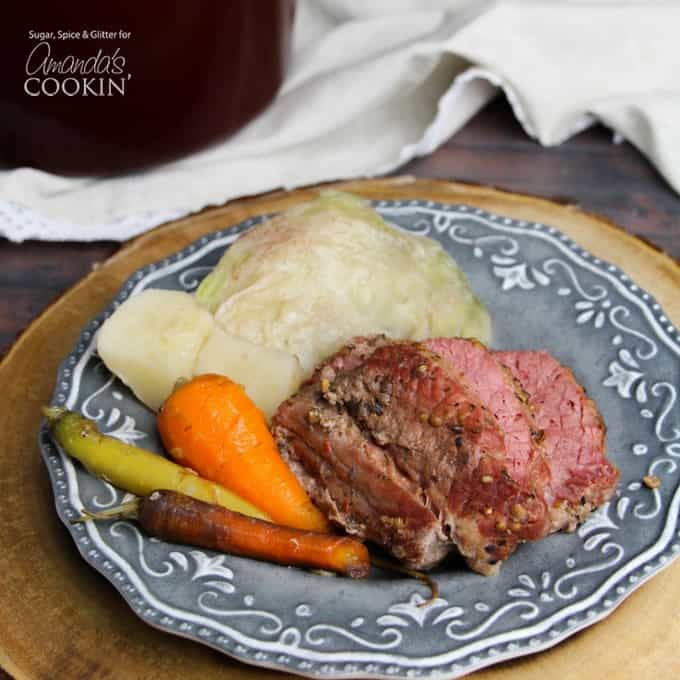 FIND THE PRINTABLE VERSION OF THIS RECIPE BELOW
Ingredients you will need
To make your brine from scratch:
4 cups water PLUS more as needed
1 cup salt
1/2 cup brown sugar
1 teaspoon whole mustard seeds
1 teaspoon black peppercorns
1/2 teaspoon white peppercorns
1 teaspoon whole cloves
1 teaspoon whole juniper berries
2 bay leaves
1/2 teaspoon ground ginger
Whether you make your corned beef brisket from scratch or not, you'll need:
1 (3-5lb) beef brisket, trimmed
1 onion
2 large carrots or 1 cup small carrots
1/2 head cabbage
6 potatoes (red are most authentic)
3 cloves garlic, optional
6 cups water, approximately
Kitchen Tools You May Find Helpful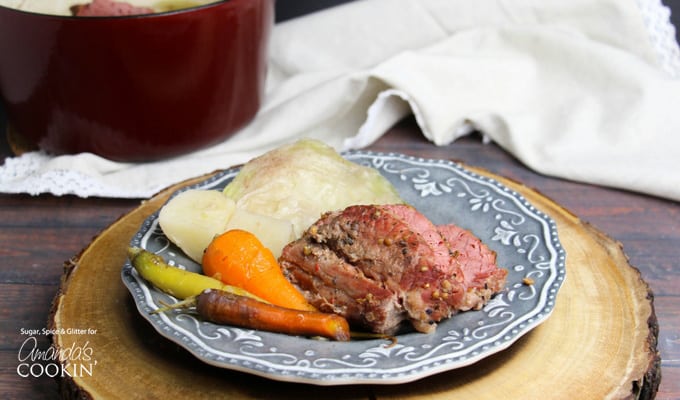 Make these easy homemade dinner rolls to go along with this meal or these perfect brown butter mashed potatoes. Now you're all set! Have you ever tried making this yummy dish? What are your favorite winter comfort foods?
Don't forget the dessert! These Green Jello Shots are a fun and festive St. Patrick's Day treat to enjoy after this delicious Corned Beef and Cabbage meal.