Lately, I've seen a surplus of adorable Cookie Monster desserts. From donuts to chocolate bark, to super cute cupcakes. Those sweet treats inspired me to get creative and I immediately thought "MILKSHAKES!" That was something I hadn't seen. Perfect! These Cookie Monster Freak Shakes are so fun and kids will love them for a birthday party or just for the heck of it. The best part? You won't believe just how easy they are to make!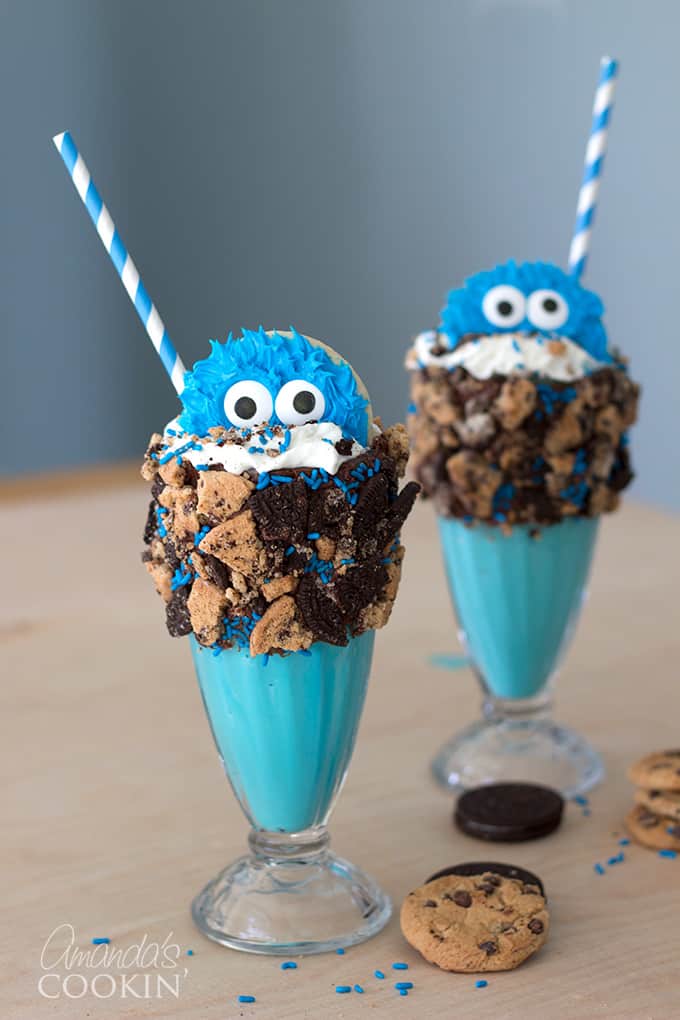 Cookie Monster Freak Shakes
Freak shakes really allow you to feed your creative soul and just go crazy! It makes it feel A-okay covering your milkshake glass in as many sweets as you possibly want. So when I was thinking of things I could do for these Cookie Monster Freak Shakes I immediately jumped to Oreo cookies, and of course Chips Ahoy cookies- because those two cookies scream Cookie Monster to me.
I struggled to devise a plan for Cookie Monster's face on the milkshake. I thought of coloring the whip cream blue but there was really no way of attaching those infamous edible eyeballs without them floating away into the wonderous world of milkshake heaven- otherwise known as the bottom of the glass. So that's where having a super crafty, and full of wonderful ideas, Mom (Amanda!) came into play. She suggested sugar cookies and BAM what better way to make Cookie Monster than to make him out of a cookie! What would I do without her?
Please be wary that these Cookie Monster Freak Shakes do indeed have sugar in them. If there are ways you would like to cut back on the sugar, by all means, have at it! I personally believe we all could use a good indulgence every now and again, and keep in mind you won't be feeding these to your children (or yourself) every day. It can't hurt to have a fun milkshake once in a while and the smile you'll get from them makes it SO worth it!
I used mostly store bought cookies, frosting, and ice cream because I wanted this recipe to be super easy and readily accessible for anyone to make but you can absolutely make your own sugar cookies, chocolate chips cookies, white frosting, and homemade vanilla ice cream!
There are affiliate links in this post. That means if you buy something from that link, I will earn a small commission, but it won't cost you anything additional.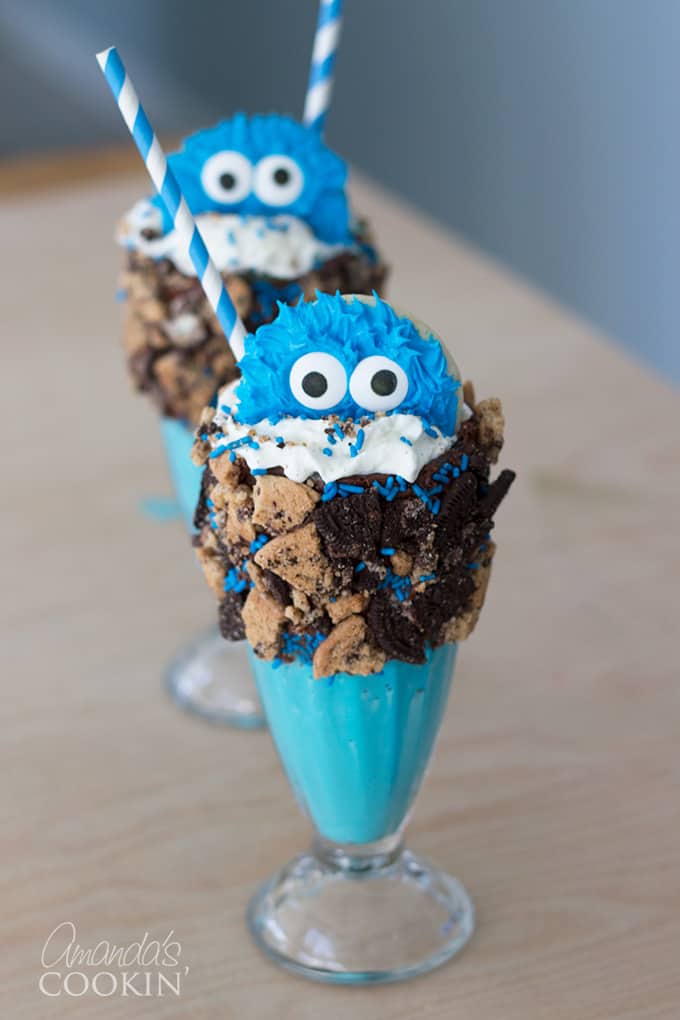 FIND THE PRINTABLE VERSION OF THIS RECIPE AT THE END OF THIS POST
Ingredients for Cookie Monster Freak Shakes
For the Milkshake:
5 scoops vanilla ice cream of your choice
Reddi Whip whipped topping
Blue sprinkles
6 Chips Ahoy cookies
6 Oreo cookies
Blue gel food coloring (I used sky blue)- make sure you use the gel food coloring, the color is much more vibrant.
Chocolate frosting
1/2 cup milk
Parchment paper
For the Cookie Monster Cookies:
You can find the full printable recipe for the Cookie Monster Cookies here.
1 package of refrigerated Pillsbury sugar cookies- you can certainly make your own sugar cookies as well!
Blue gel food color (I used sky blue)
Tub of white/Vanilla frosting
Edible jumbo candy eyeballs
*This recipe makes 2 milkshakes. Double or tripe the recipe to make more*
Helpful Kitchen Tools
The first thing you will want to do is grab your refrigerator sugar cookies and throw them in the oven following the package directions and let those cook and cool while you prepare your milkshakes.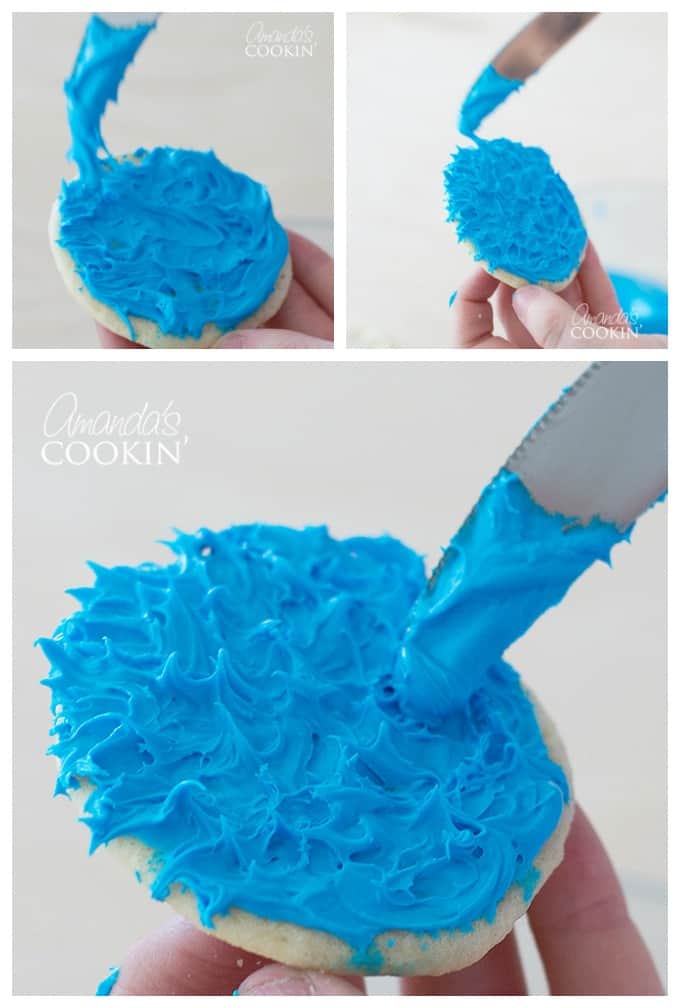 You can find out how to make the Cookie Monster Cookies here. You will basically use your sky blue food coloring and mix it into the white/vanilla frosting. Then, apply the frosting to the sugar cookie and whisp upwards with a butter knife to create that fluffy-haired look. Add some edible eyeballs- in a crazy-eyed fashion- and you're done! Super easy.

Now, grab 6 of each type of cookie and put them in a large Ziploc bag. Crush the cookies by hand, but be careful you don't crunch them up too much. Otherwise, you'll be working with cookie dust.

After you crush them up, lay out a piece of parchment paper and pour your cookie crumbles on to it. Spread them out evenly.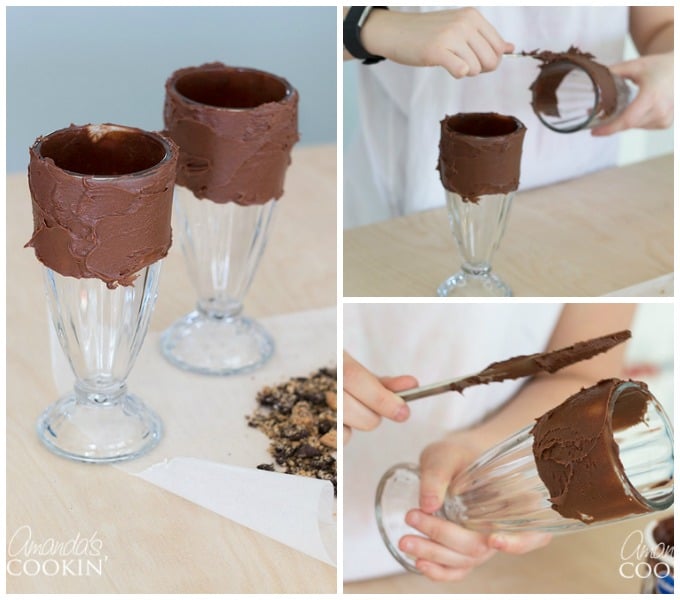 Grab your milkshake glasses, your chocolate frosting, and a butter knife or rubber spatula and spread the frosting evenly around the top of the milkshake glasses. This creates the base for which your cookie crumbles will stick to. I found that by applying a thicker coat of frosting creates a better base for your cookie crumbles. If you don't have enough on there, you will have a less chance of success with this step. So load it on! :)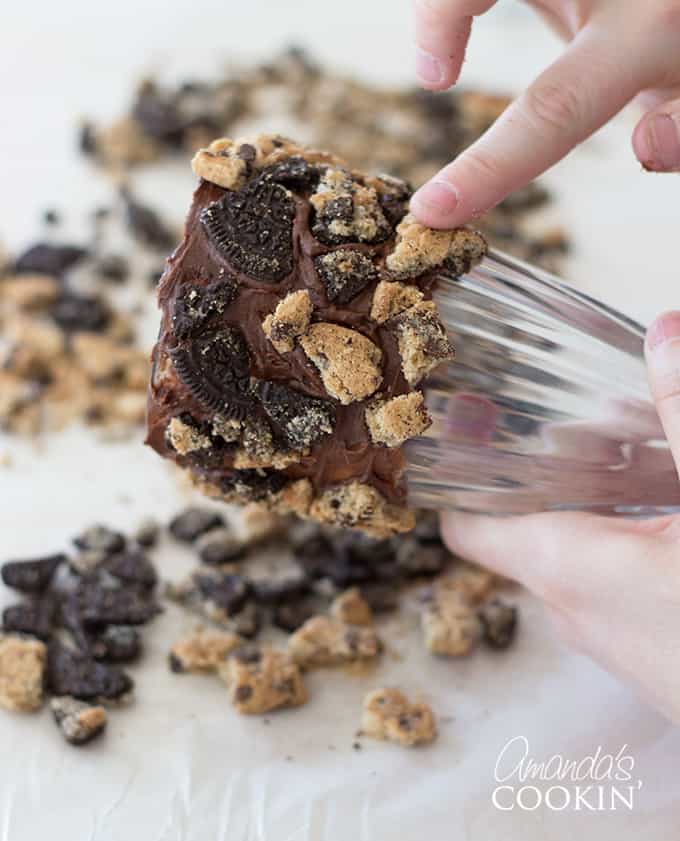 Take your freshly frosted milkshake glass and lightly roll it in the cookie crumbles. Try not to press too hard otherwise it will smear the frosting on the glass and won't stick as well. Only roll the glass in the cookies once, then you can piece in any empty spots with more cookie crumbles where you see fit. You should have leftover cookie crumbles- set those aside because you will use those for the topping on the finished milkshake later.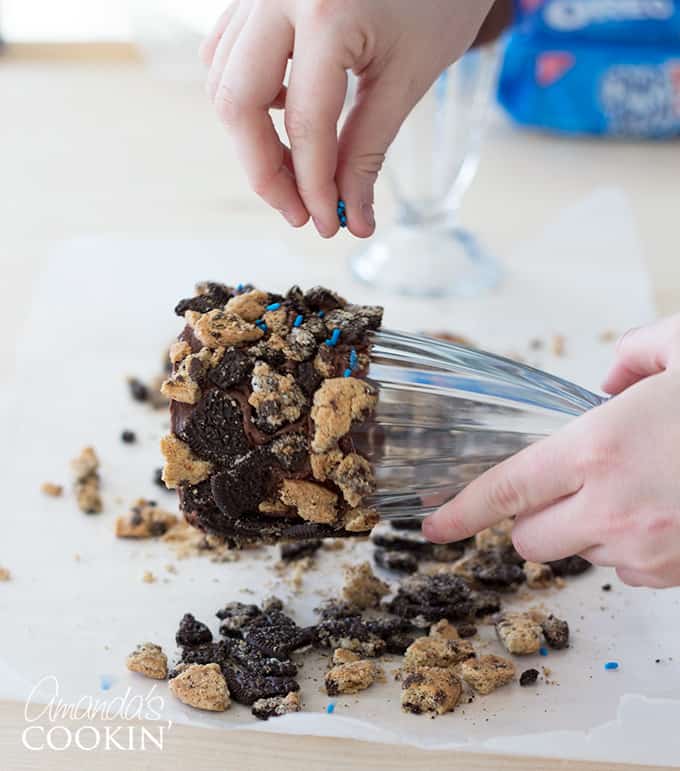 Go through and press in your cookie crumbles to make sure they stay in place. Take your blue sprinkles and sprinkle them over any other open-frosted spots on the glass. Piece them in and press them down slightly. Now that your cookie crumbles and sprinkles are on your milkshake glasses, pop them in the freezer for the remainder of the time it'll take you to make the shakes, allowing them to set and harden.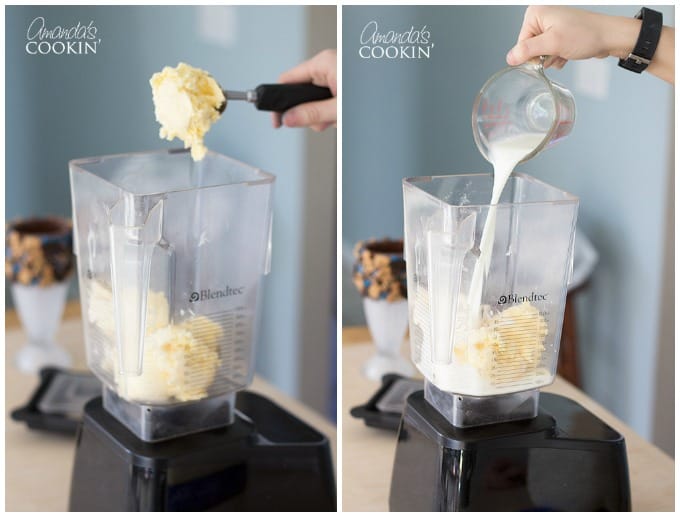 Add your 5 scoops of vanilla ice cream and 1/2 cup milk to a blender.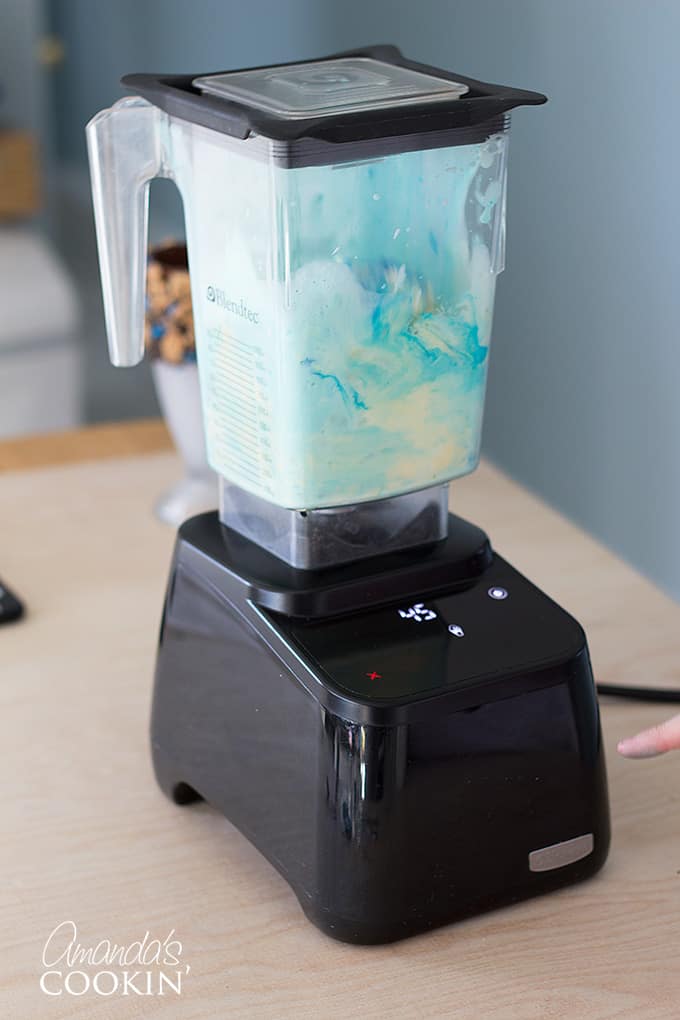 Then add your sky blue gel food coloring to the blender as well. It's best to add a small amount at first, and if you are unhappy with the color outcome, add a little more.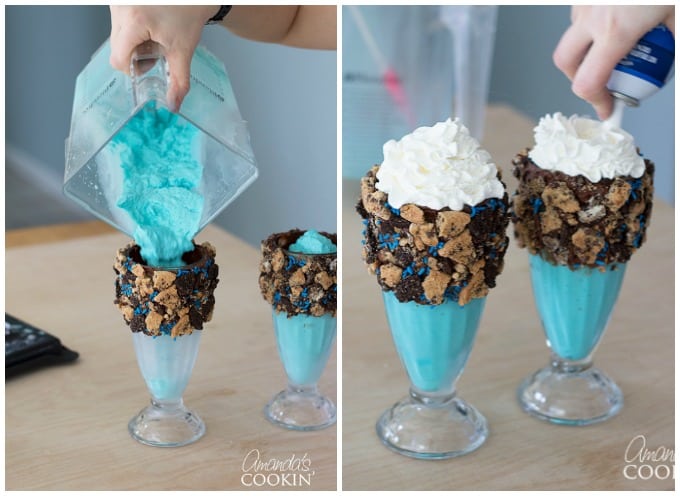 Pour your cookie monster freak shake mixture into your chilled glasses. Add whip cream to the top.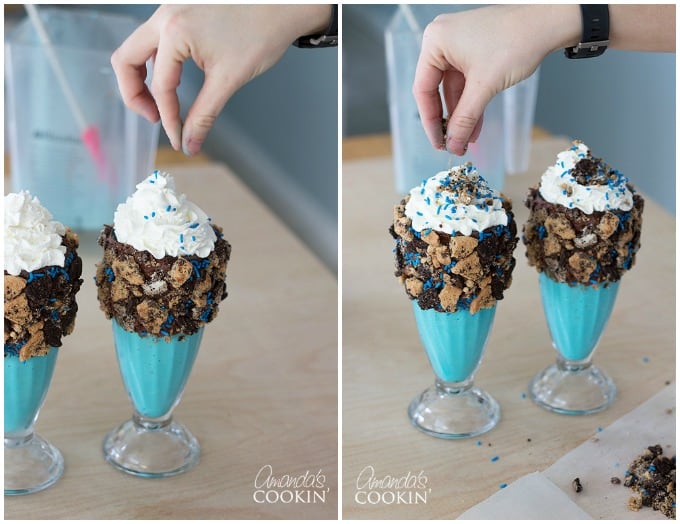 Top with your blue sprinkles and the leftover cookie crumbles.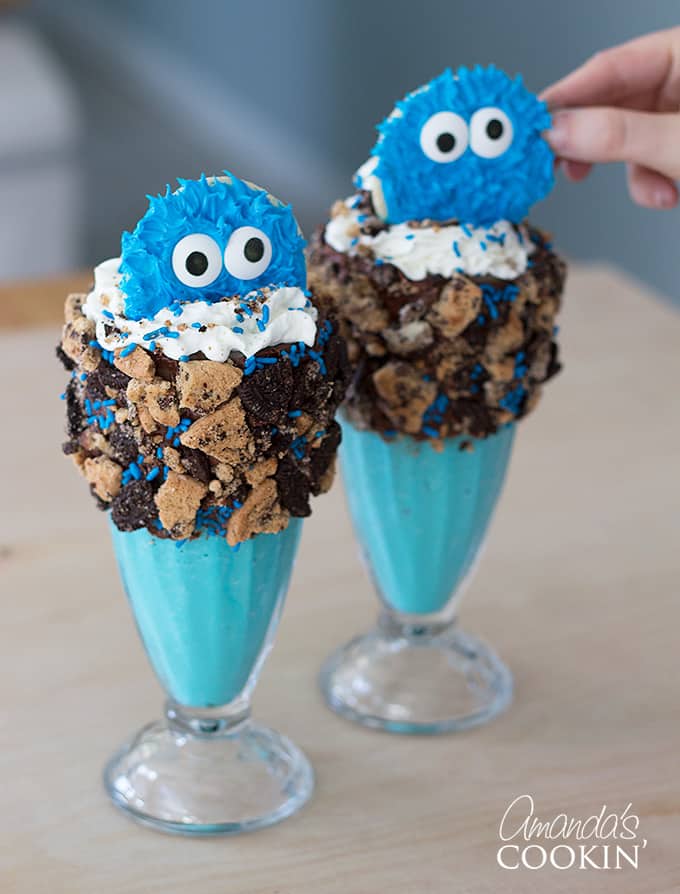 Add your adorable Cookie Monster cookies to the top of your milkshake (place in the middle). Don't forget a cute striped straw!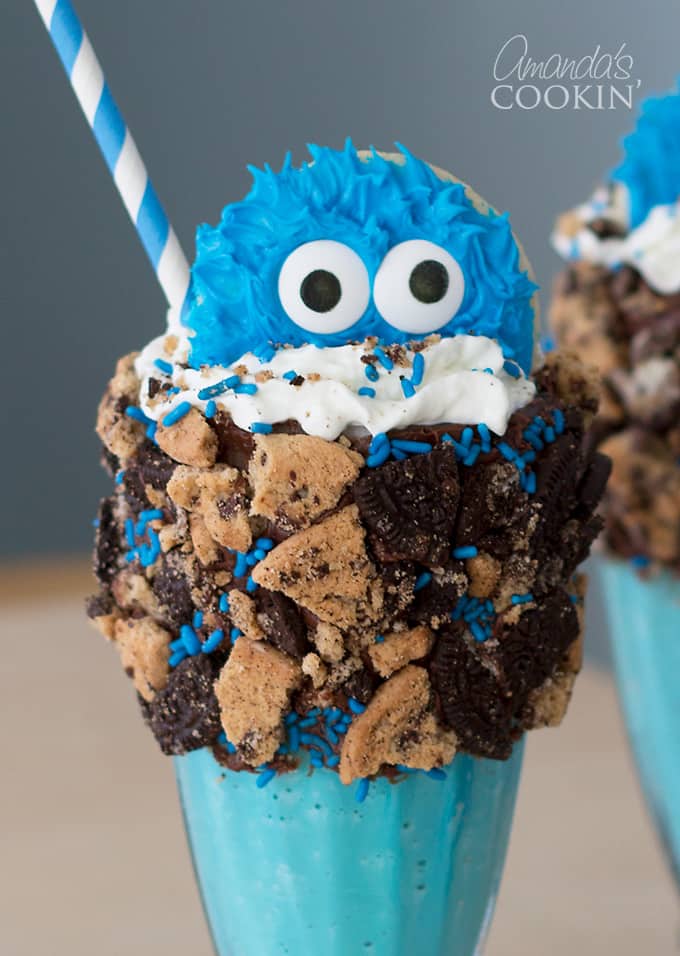 Now you have two super cute Cookie Monster Freak Shakes!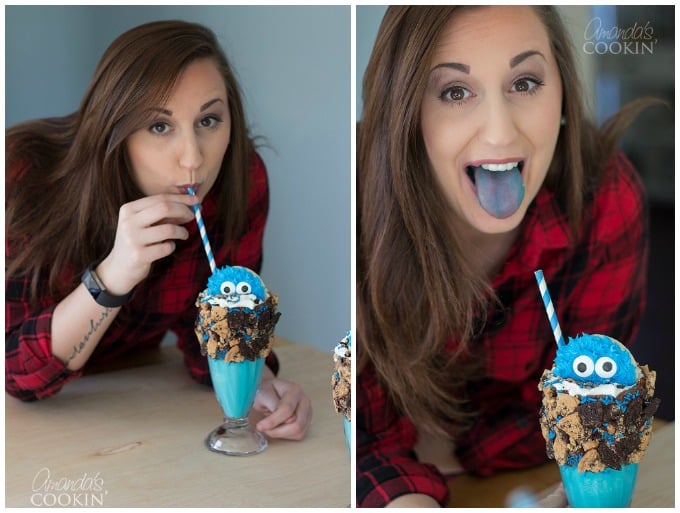 Beware of a bright blue tongue afterward!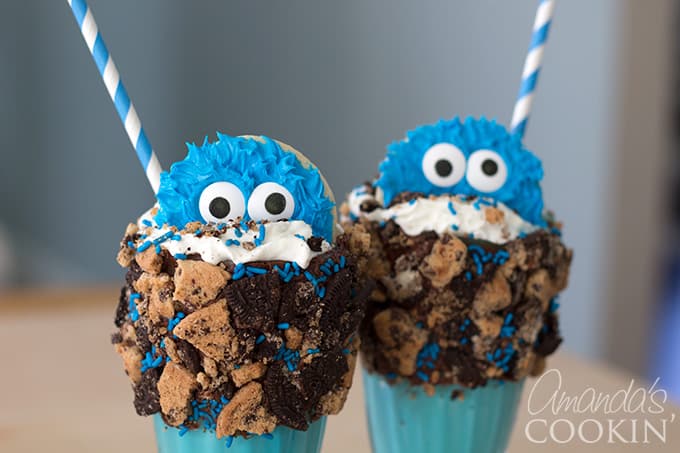 I hope you enjoy these super easy and adorable Cookie Monster Freak Shakes! I had a blast making them, and the outcome is totally worth it. My younger brother licked the milkshake glass clean- I think that was his favorite part.
This is essentially a vanilla milkshake with blue coloring, the first round of milkshakes I made a cookies 'n cream ice cream instead of just plain vanilla. I added 2 of each type of cookie in the blender along with the other ingredients. And oh my god, were they good. The only problem with adding the cookies is the milkshakes didn't come out blue, which is how I envisioned them. So we opted out of the cookies in this recipe for the aesthetic look- but feel free to add cookies to make an even more flavorful milkshake!
Be sure to stay tuned for our Elmo Milkshakes coming later this week! Also, check out how to make these Cookie Monster and Elmo cookies! They are perfect additions to a Sesame Street themed birthday party, and they're just about the easiest cookies you'll ever make! You may also be interested in these absolutely delicious Freakshakes: Extreme Milkshakes!