This chocolate peanut butter fudge is a nostalgic treat sure to delight! With two distinct layers of chocolate and peanut butter, this creamy confection is a wonderful holiday candy for gifting or snacking! Everyone loves homemade fudge at the holidays, so be sure to make an extra batch of this recipe.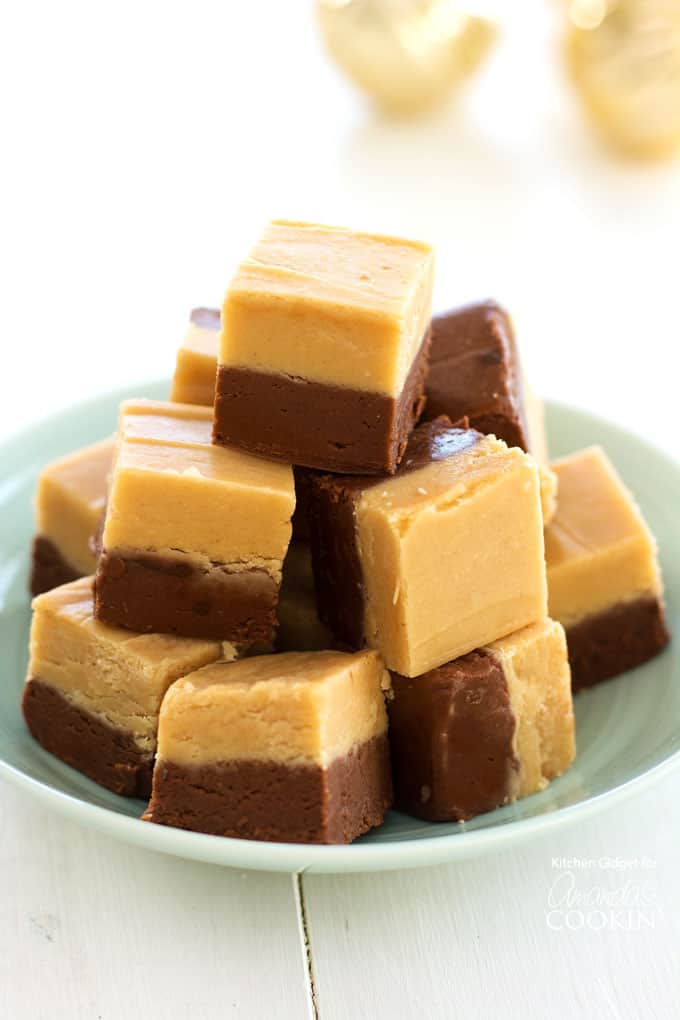 Chocolate Peanut Butter Fudge
I am so excited to bring you this recipe! I probably say that every time I post a new recipe, but it's true. How can you not be excited about the combination of chocolate and peanut butter?
I have some dear memories related to this sweet confection. I grew up in the Midwest near some old-fashioned towns. Do you know the ones I'm talking about? Small little towns with a central road called "Main Street" that has been converted to tourism with little shops and pubs.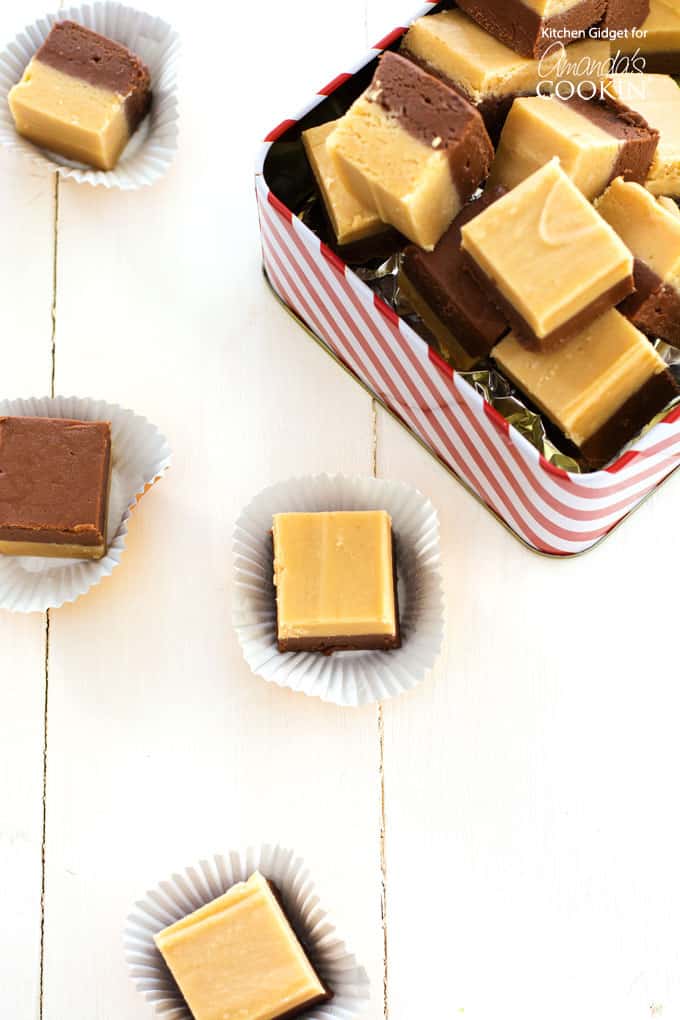 We used to vacation near places like this, usually staying up in Wisconsin in a cabin in the woods. To break up the time, we'd head to town and there was always a fudge shop, which you could smell from blocks away. The copper vats of chocolate poured out on marble tables were absolutely mesmerizing – a child's dream come true!
Last year I was on an Alaskan cruise and what do you know? One of the towns we stopped in had a classic fudge shop. Although we are both adults, my sister and I (and mother!) went crazy over the flavors at the counter and walked out with six slabs of fudge. Nostalgia is priceless.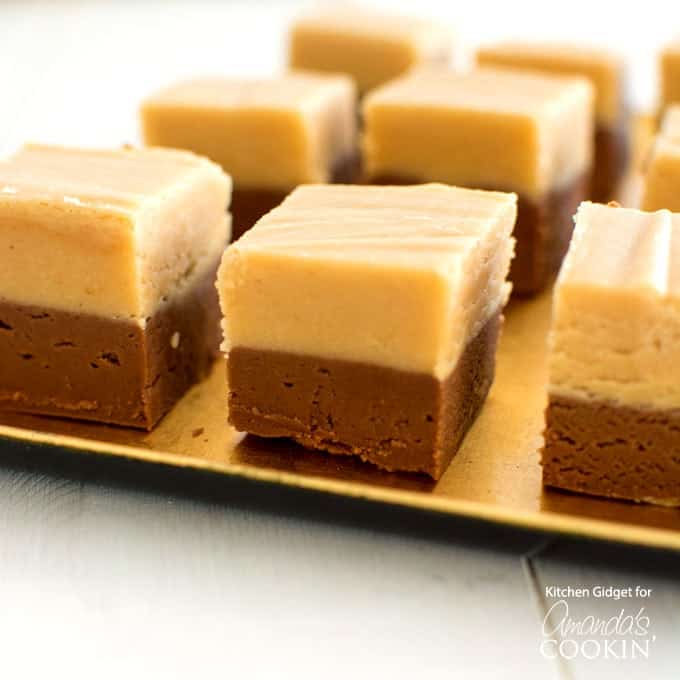 Ingredients you will need:
3 cups sugar, divided
3/4 cup butter, divided
2/3 cup evaporated milk, divided
6 oz semi-sweet chocolate
1/2 cup peanut butter
1 jar (7 oz) marshmallow fluff, divided
1 teaspoon vanilla, divided
SCROLL TO THE BOTTOM FOR THE PRINTABLE RECIPE
Helpful kitchen tools: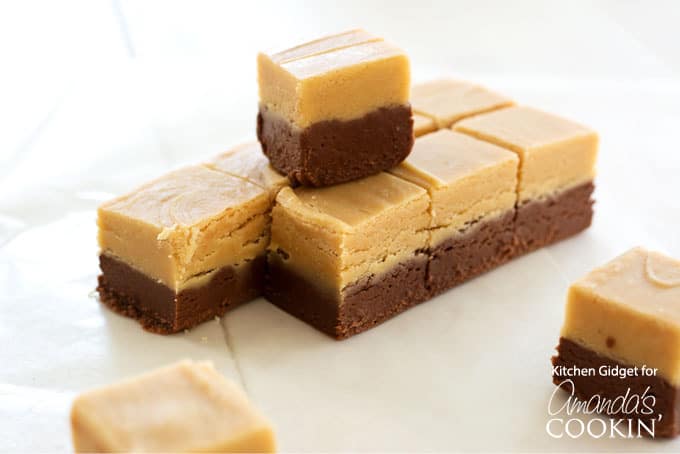 The experience reminded me of my favorite flavor: chocolate peanut butter fudge. Every year during the holidays, my father would receive a gift basket from his realtor. It would be filled with homemade cookies, sweet treats and this fudge. I looked forward to it every year, along with grandma's old-fashioned Butterhorn Cookies and stunning Red Velvet Cookies with cream cheese frosting.
I particularly like this chocolate peanut butter fudge recipe because it's two-toned. The layers of chocolate fudge and peanut butter fudge are like a double treat. The trick to getting fudge smooth and creamy is to properly cook it – too little and it won't set up, too long and it will be dry and grainy. Luckily, the addition of marshmallow fluff is like a magic ingredient, helping to ensure that velvety texture.
IMPORTANT TIP – When making candy of any kind, it's imperative that you use a heavy bottomed saucepan and a candy thermometer. The temperature of a candy mixture can increase slowly and then suddenly surge up. Watch your thermometer carefully and remove pan from heat when the desired temperature is reached.
If you absolutely can't use a candy thermometer cook it for approximately 3-4 minutes after it starts boiling (over MEDIUM heat). The final product will be silky smooth. After cooling and cutting, set little squares out on trays for guests or package up and give as gifts!
More candy and fudge recipes:
Candy and fudge and perfect for the holidays. Once the cooler weather starts to settle in, people tend to get excited about baking and making candy. Here are several other candy recipes that are ideal for the Thanksgiving and Christmas holidays!