A brownie and a cookie combine in sweet harmony to create these chewy Chocolate Chip Blondies. The great thing about this blondie recipe is that you can use just about any type of flavored chips. For example, butterscotch, dark or milk chocolate chips all taste delicious. I've made them with a mix of milk chocolate and peanut butter chips and they were wonderful!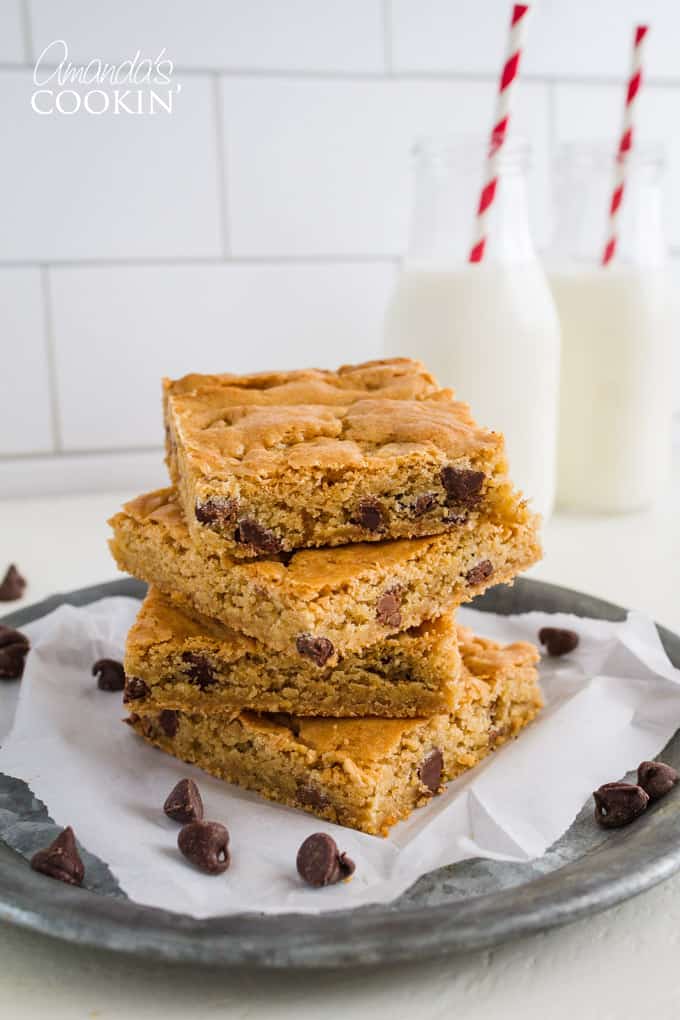 Chocolate Chip Blondies
I got my hands on a copy of Taste of Home's cookbook and my daughter requested that I make the Chocolate Chip Blondies (pg. 668). I was out of semi-sweet chocolate chips but did have a bag of peanut butter & milk chocolate chips, so I substituted. The peanut butter and milk chocolate substitution worked great!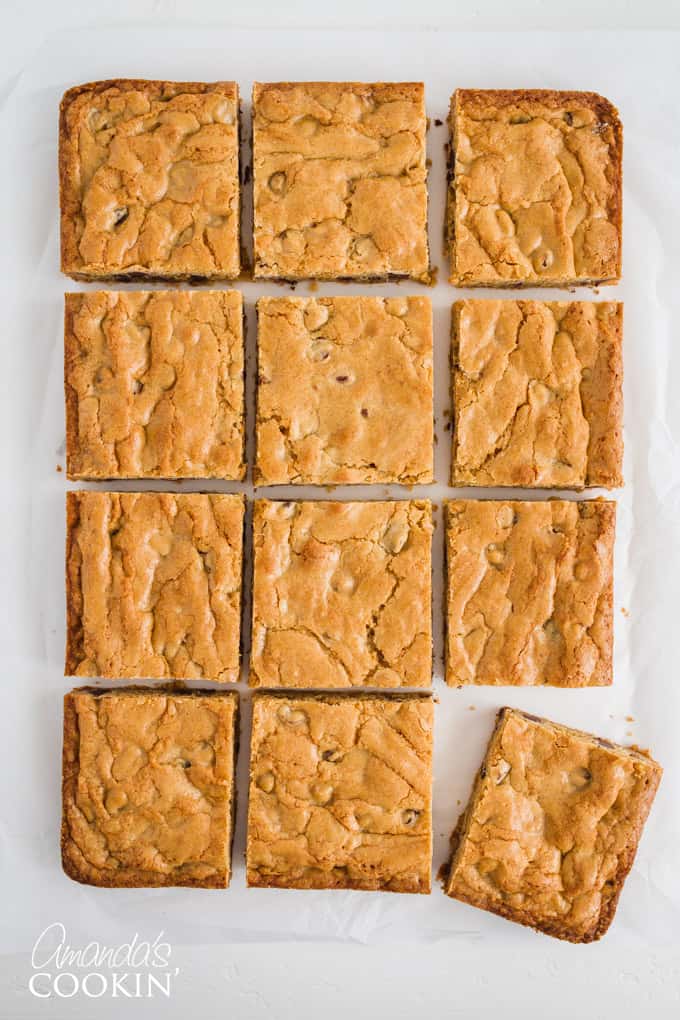 If you're a fan of nuts in your brownies or cookies, you can easily throw some chopped walnuts or pecans into this chocolate chip blondies recipe.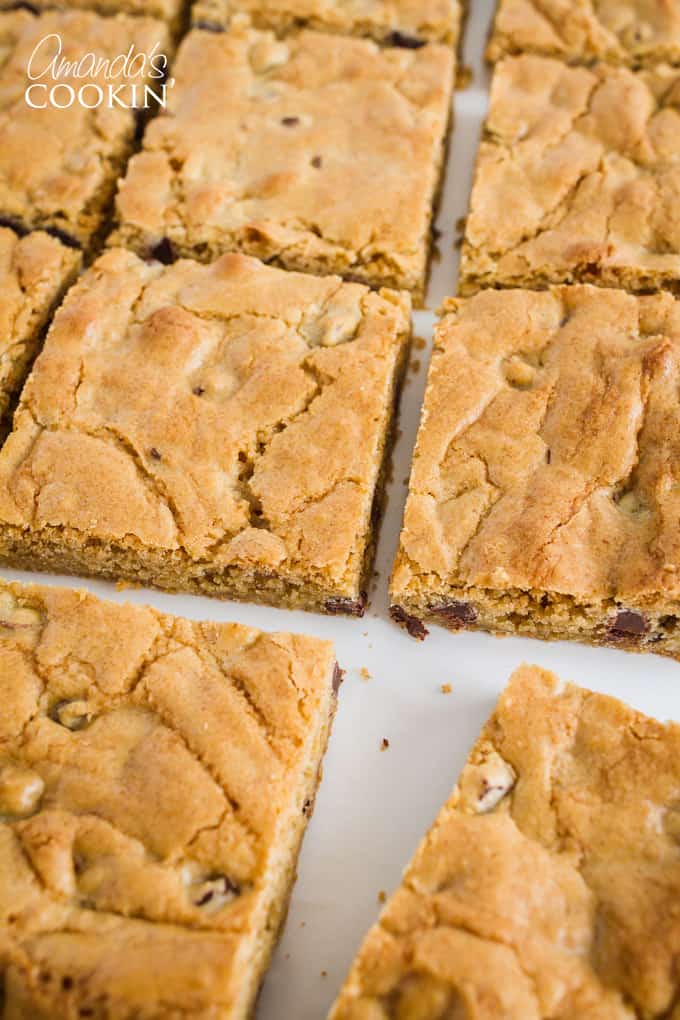 Ingredients for Chocolate Chip Blondies
1-1/2 cups packed brown sugar
1/2 cup butter, melted
2 eggs, lightly beaten
1 teaspoon vanilla extract
1-1/2 cups all-purpose flour
1/2 teaspoon baking powder
1/2 teaspoon salt
1 cup (6 ounces) semisweet chocolate chips
Helpful Kitchen Tools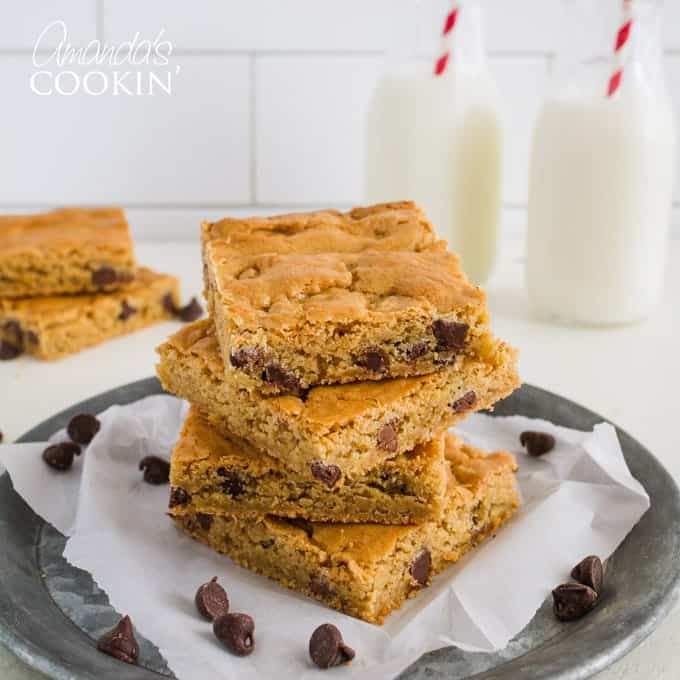 Making Chocolate Chip Blondies
In a large bowl, combine the brown sugar, butter, eggs, and vanilla just until blended.
Combine the flour, baking powder and salt; add to brown sugar mixture. Stir in chocolate chips.
Spread into a greased 13-in. x 9-in. baking pan.
Bake at 350° for 18-20 minutes or until a toothpick inserted near the center comes out clean.
Cool on a wire rack. Cut into bars.
HINT – printer friendly version below!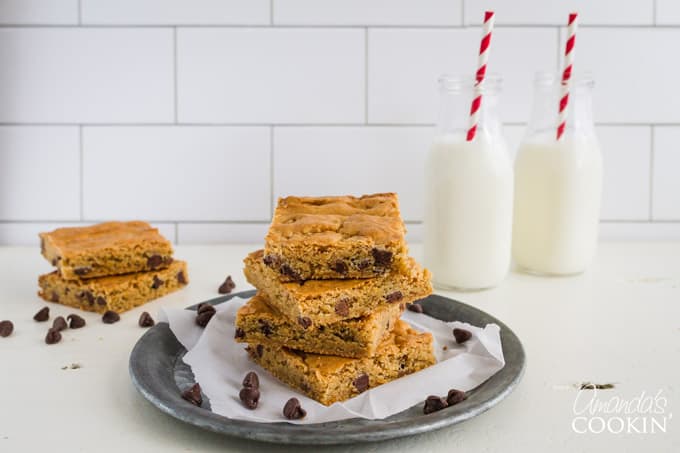 For more delicious cookies, brownies, and bar recipes check out…
This post was originally published on this blog on Oct 3, 2008.