Today I am going to make you drool. It's only fair, because when I found this cake on Smitten Kitchen, my drooling reflex jumped into action totally against my will. As my British dad would say, I was losing my gravy. ;) So what else could I do but head into the kitchen and make this incredibly rich, fantastically delectable, never enough adjectives, the neighbors can't have any, cake. I'm serious. The neighbors never saw this.
To be fair though, I did give them mini cakes. :) See this recipe is for a triple layer cake that calls for 3 round cake pans. I only have two, so instead of baking two, cooling them, then washing a pan and baking another, I baked the rest of the batter in a cupcake/muffin pan. I turned them upside down and frosted them, then topped them with the chocolate glaze. Good golly. Holy cow. Ay carumba! This is an amazing cake, but I must say that this is definitely better suited to a special occasion. It's terribly rich (in a good way) and because of its fabulous presentation, it works well for birthdays or other celebratory events.
You must try this cake. The peanut butter cream cheese frosting reminds me of the best apple dip ever and the chocolate cake is so moist that you have to be careful when you handle the layers.
Sour Cream-Chocolate Cake with Peanut Butter Frosting and Chocolate-Peanut Butter Glaze
Adapted from Sky High: Irresistible Triple-Layer Cakes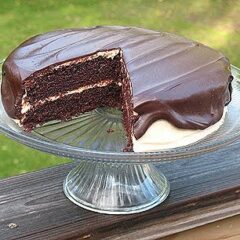 Chocolate Cake with Peanut Butter Frosting & Chocolate Peanut Butter Topping
IMPORTANT - There are often Frequently Asked Questions within the blog post that you may find helpful. Simply scroll back up to read them!
Print It
Rate It
Ingredients
2

cups

all-purpose flour

2 1/2

cups

sugar

3/4

cup

unsweetened cocoa powder

preferably Dutch process

2

teaspoons

baking soda

1

teaspoon

salt

1

cup

neutral vegetable oil

such as canola, soybean or vegetable blend

1

cup

sour cream

1 1/2

cups

water

2

tablespoons

distilled white vinegar

1

teaspoon

vanilla extract

2

eggs
Peanut Butter Frosting
10

ounces

cream cheese

at room temperature

1

stick

4 ounces unsalted butter, at room temperature

5

cups

confectioners' sugar

sifted

2/3

cup

smooth peanut butter

preferably a commercial brand (because oil doesn't separate out)
Chocolate Peanut Butter Glaze
8

ounces

semisweet chocolate

coarsely chopped

3

tablespoons

smooth peanut butter

2

tablespoons

light corn syrup

1/2

cup

half-and-half
Instructions
Preheat the oven to 350 degrees F. Butter the bottoms and sides of three 8-inch round cake pans. Line the bottom of each pan with a round of parchment or waxed paper and butter the paper.

Sift the flour, sugar, cocoa powder, baking soda, and salt into a large bowl. Whisk to combine them well. Add the oil and sour cream and whisk to blend. Gradually beat in the water. Blend in the vinegar and vanilla. Whisk in the eggs and beat until well blended. Scrape down the sides of the bowl and be sure the batter is well mixed. Divide among the 3 prepared cake pans.

Bake for 30 to 35 minutes, or until a cake tester or wooden toothpick inserted in the center comes out almost clean. Let cool in the pans for about 20 minutes. Invert onto wire racks, carefully peel off the paper liners, and let cool completely. (Deb note: These cakes are very, very soft. I found them a lot easier to work with after firming them up in the freezer for 30 minutes. They'll defrost quickly once assembled. You'll be glad you did this, trust me.)

To frost the cake, place one layer, flat side up, on a cake stand or large serving plate. Spread 2/3 cup cup of the Peanut Butter Frosting evenly over the top. Repeat with the next layer. Place the last layer on top and frost the top and sides of the cake with the remaining frosting. (Deb note 1: Making a crumb coat of frosting–a thin layer that binds the dark crumbs to the cake so they don't show up in the final outer frosting layer–is a great idea for this cake, or any with a dark cake and lighter-colored frosting. Once you "mask" your cake, let it chill for 15 to 30 minutes until firm, then use the remainder of the frosting to create a smooth final coating. Deb note 2: Once the cake is fully frosting, it helps to chill it again and let it firm up. The cooler and more set the peanut butter frosting is, the better drip effect you'll get from the Chocolate-Peanut Butter Glaze.)

To decorate with the Chocolate–Peanut Butter Glaze, put the cake plate on a large baking sheet to catch any drips. Simply pour the glaze over the top of the cake, and using an offset spatula, spread it evenly over the top just to the edges so that it runs down the sides of the cake in long drips. Refrigerate, uncovered, for at least 30 minutes to allow the glaze and frosting to set completely. Remove about 1 hour before serving. Decorate the top with chopped peanut brittle.
Peanut Butter Frosting
In a large bowl with an electric mixer, beat the cream cheese and butter until light and fluffy. Gradually add the confectioners' sugar 1 cup at a time, mixing thoroughly after each addition and scraping down the sides of the bowl often. Continue to beat on medium speed until light and fluffy, 3 to 4 minutes.

Add the peanut butter and beat until thoroughly blended.
Chocolate Peanut Butter Glaze
In the top of d double boiler or in a bowl set over simmering water, combine the chocolate, peanut butter, and corn syrup. Cook, whisking often, until the chocolate is melted and the mixture is smooth.

Remove from the heat and whisk in the half-and-half, beating until smooth. Use while still warm.
NEW! Be sure to subscribe to my newsletter, Foodie in the Craftroom, to receive updates and tips from both Amanda's Cookin' and Crafts by Amanda! Visit https://amandascookin.com/p/subscribe-to-newsletter.html
Amanda Davis is the entrepreneurial mom of four grown children and four step children. She and her husband, Chef Antoine, love to cook together creating recipes for this blog. Amanda also make kid's crafts and creates decorative items for her home. She is a crafting expert and guru in the kitchen and has appeared online and in print publications many times over the years. She is also a craft book author five times over and product developer as well as the owner of
FunFamilyCrafts.com
. You can find her on social media by using the buttons to the left!
Latest posts by Amanda Davis (see all)