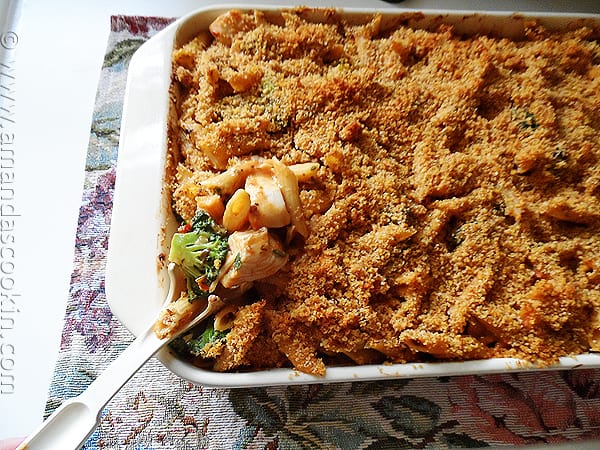 I've never liked the word "casserole". I'm not sure why, but I just can't wrap my mind around it, and "hot dish" doesn't really do it for me either. Whenever I hear the word "casserole", images of condensed soup drowned food enters my head. However, the casserole is actually quite wonderful and so many recipes these days don't include condensed soup, so I'm trying my best to loosen up and make more. After all, they are marvelous for feeding a crowd, and my family qualifies as a crowd with 3 teenagers, a young adult and two parents.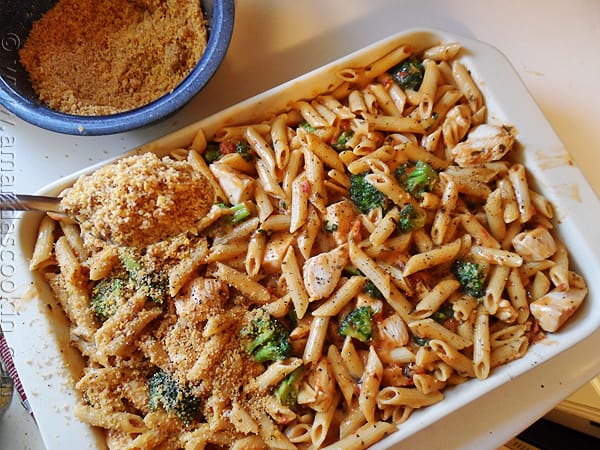 When I spotted this baked penne with chicken, broccoli and smoked gouda on Mel's Kitchen (a fellow Wisconsin blogger) and read the ingredient list, I knew it would be something I enjoyed. I adapted it to fit what I had in the kitchen and it was absolutely delicious. I used 1% milk instead of heavy cream, which worked just fine, and substituted smoked gouda for her smoked mozzarella. I'm sure I could have found the smoked mozzarella, considering I live in Wisconsin, but I absolutely love smoked gouda so it was an easy choice.
[amazon_link id="1933615141″ target="_blank" container="" container_class="" ]
[/amazon_link]I also used my homemade crumbs, which are actually a combination of leftover crackers, bread crumbs and corn flakes. I cut the salt in half since my family tends to grab the salt shaker at every meal. The oil packed sun dried tomatoes that I used were already chopped (or rather minced), saving me that step. Lastly, I used fresh thyme since I have an overabundance of it in my herb garden. So I added the thyme to the simmering sauce instead of sauteing it with the garlic. Mel originally adapted this recipe from the cookbook [amazon_link id="1933615141″ target="_blank" container="" container_class="" ]Cook's Illustrated Cover and Bake[/amazon_link]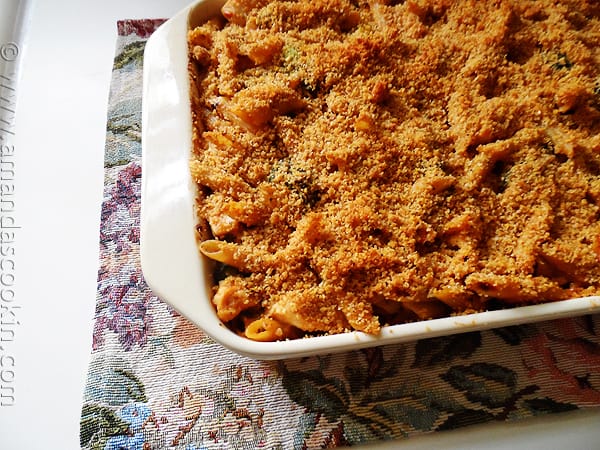 This is a wonderful recipe for Sunday dinner. It's amazing how far a box of pasta can stretch 3 chicken breasts and actually serve 8 hungry mouths. Definitely worth a try, I will be making this again.