If you're planning a trip to Universal Orlando you won't want to miss some of the fun foods available all over the parks. These delectables are scattered throughout Universal Orlando, Universal Islands of Adventure and that marvelous strip in between the two parks known as City Walk. Here's a guide to the fun food you can find in between all the rides and attractions.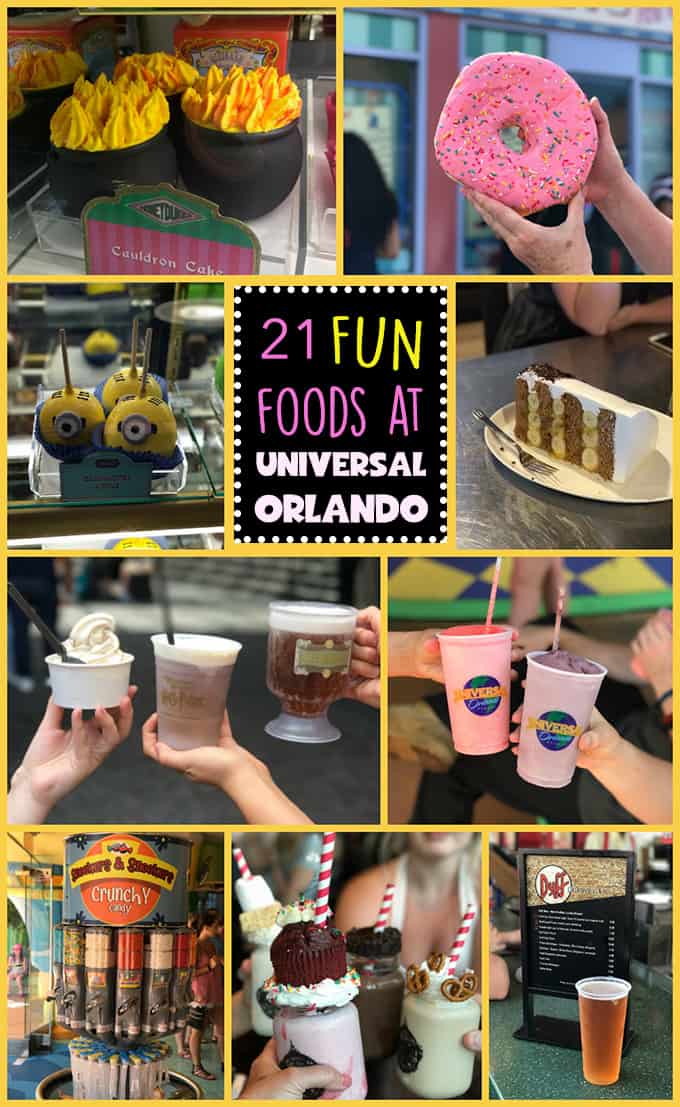 21 Fun Foods You Can Eat at Universal Orlando
There are lots of sweet treats and fun foods in each of the parks as well as on City Walk that you won't want to miss. Here are 21 fun foods we loved during our stay!
The Wizarding World of Harry Potter
Both Universal Studios Florida and Universal's Islands of Adventure host the Harry Potter Experience. You can visit Diagon Alley inside Universal Studios and then head over to Islands of Adventure to step into Hogsmeade.

Honeydukes, according to the Harry Potter series, is a candy shop in the wintry Scotland village of Hogsmeade. It's a magical  place where students and teachers go for its famous chocolate and wonderfully wild treats. Inside Honeydukes you'll find a multitude of goodies, the ones I'm sharing here are just a sampling of what you can find!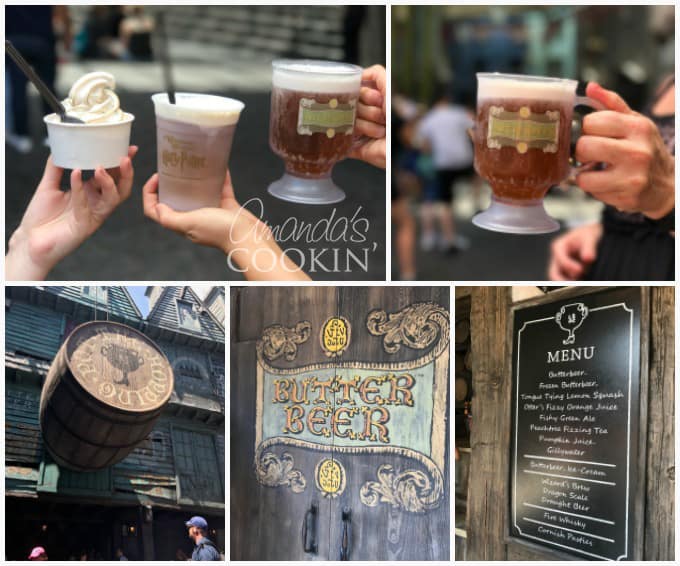 Butterbeer, 4 Ways – You can't visit the world of Harry Potter without trying butterbeer! You can find it throughout the Wizarding World of Harry Potter, and in some establishments, like The Hopping Pot, you can get it as a slushie (called frozen butterbeer) and in ice cream form. You can even buy butterbeer flavored fudge in Honeydukes! This butterscotch-flavored soda is a must have before you head home. Want to try this at home? Try our butterbeer recipe!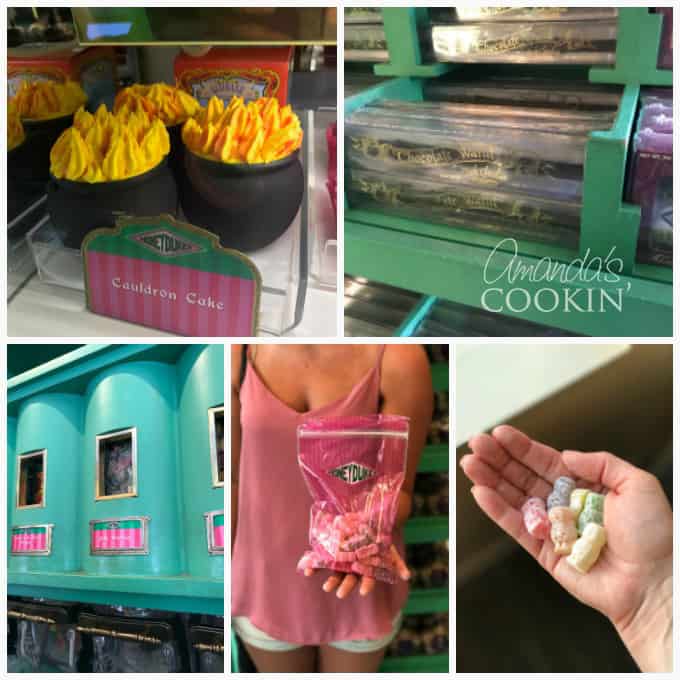 Cauldron Cakes – You can find these treats inside Honeydukes behind the glass near the register. They are quite popular, so be sure to get one for yourself!
Chocolate Wands – Founds on the shelves of the Honeydukes sweet shop, these magic wand shaped chocolates are a wizard's favorite.
Jelly Babies – These are truly an English candy that date back to the 19th century. They are shaped like babies and have the texture of a Swedish Fish. Their flavors are milder than their American counterparts and are truly delicious! They can be purchased by the pound along with numerous other bulk candies.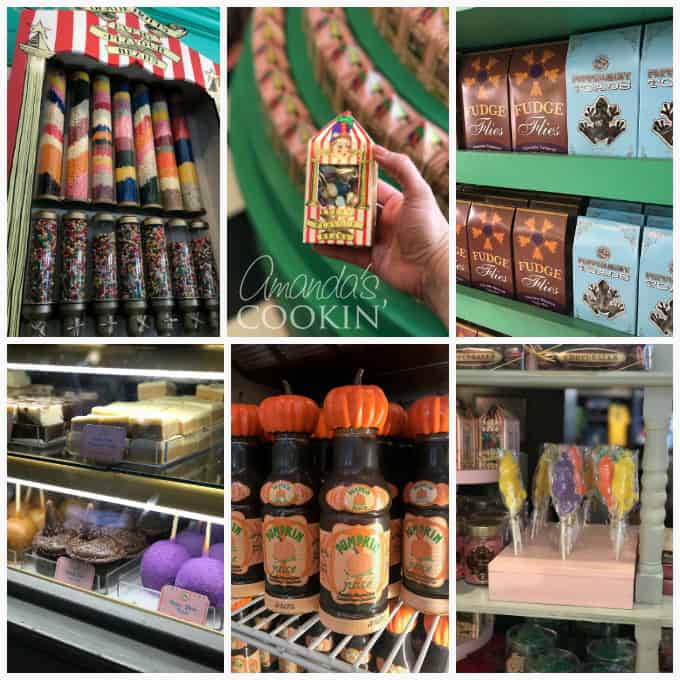 Bertie Bott's Every Flavour Beans – Known as the jelly beans with a "risk with every mouthful" these beans can range in flavors from chocolate and peppermint to dirty socks and liver! Definitely a fun experience for all.
Peppermint Toads & Fudge Flies – In the Harry Potter series, chocolate frogs are packaged with trading cards of famous wizards and witches, but peppermint toads are known to hop around in your stomach after you've eaten them! Right next to the peppermint toads, you can find Scabbers the rat's favorite treat, Fudge Flies.
Witch Hat Cupcakes – While not from the actual movie, these adorable cupcakes are difficult to pass up. Be sure to check out all the treats behind the counter at Honeydukes!
Pumpkin Juice – This very popular drink was consumed any time of day and was a favorite in the wizarding world, especially among students. Some say that pumpkin juice was comparable to orange juice in the Muggle world. You can fid pumpkin juice as several refreshment stands, in gift shops and inside Honeydukes.
Frogs on a Stick – You'll find all sorts of fun candies in Honeydukes, like these frogs on a stick. The shelves are filled with all sorts of wizarding treats so be sure to take your time while visiting this store.
Seuss Landing
Walking into Seuss Landing in Universal's Islands of Adventure is like stepping into one of your favorite childhood storybooks. Throughout Seuss Landing, nestled among fun rides and cute gift shops you'll find tasty themed treats to eat.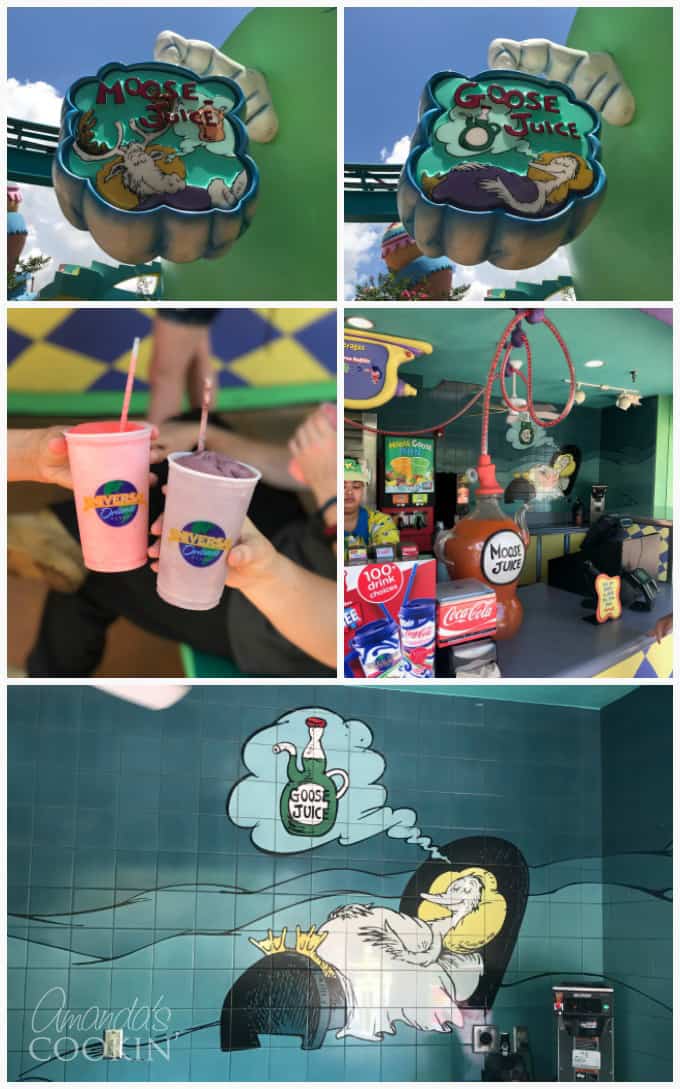 Moose Juice, Goose Juice – Inspired by Dr. Seuss's Sleep Book, you can enjoy a refreshing slushie drink in several fun flavors.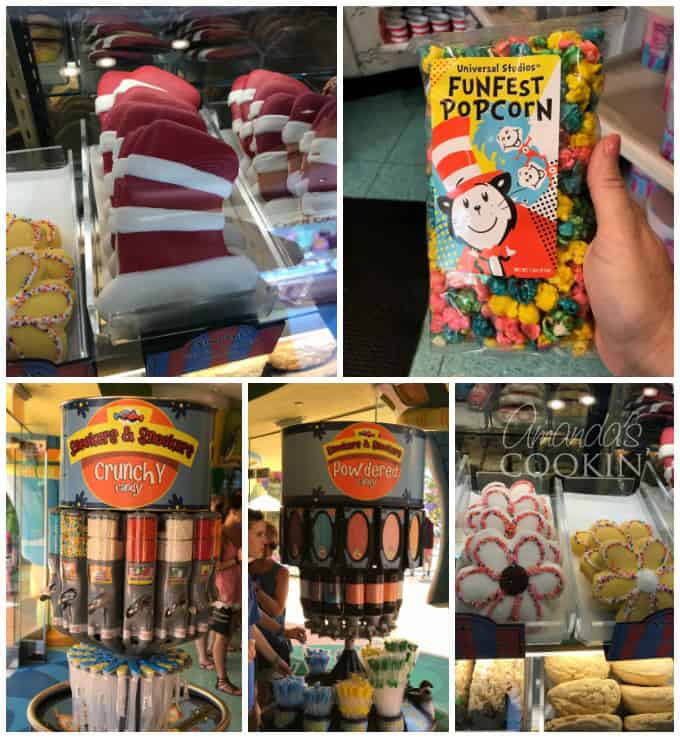 Cat in the Hat Cookies – Enjoy a tasty cookie shaped like the Cat in the Hat's hat! There are other seasonally fun cookies to choose from as well.
Funfest Popcorn – While at first glance this bag appears like a regular bag of coated popcorn, you'll notice that its colors are inspired by those used in most of Dr. Seuss's books!
Self Serve Crunchy and Powdered Candy – Inside Snookers & Snookers Sweet Candy Cookers you can make your own take home packages of candy using the colorful dispenser bins.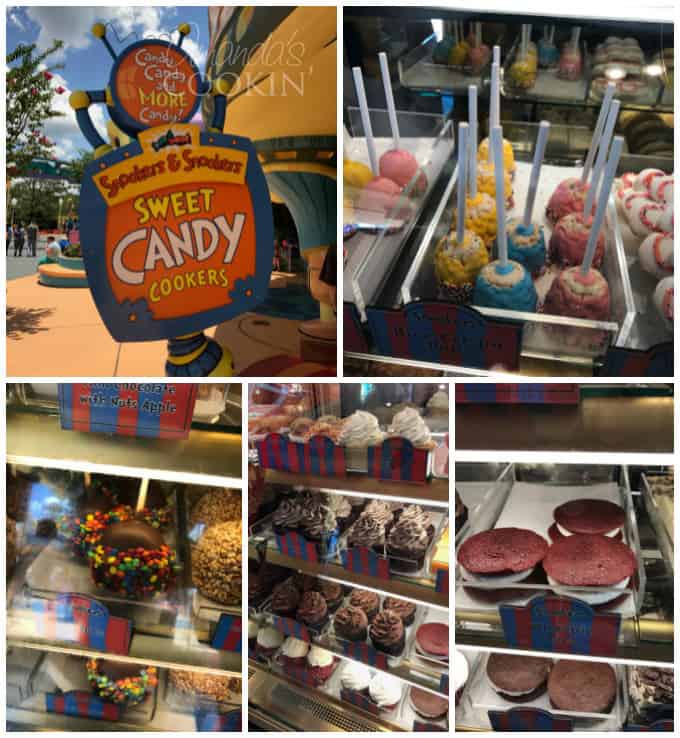 Colorful Confections – Also inside Snookers & Snookers is a large display case housing caramel apples, decorated rice krispie pops, plenty of cupcake options and even whoopie pies!
Universal City Walk
There are several restaurant and dining options available in City Walk, the area between Universal Studios Florida and Universal's Island of Adventure. We focused on two in particular: Toothsome Chocolate Emporium (extreme milkshakes) and NBC Sports Grill & Brew (pretzel and banana cake).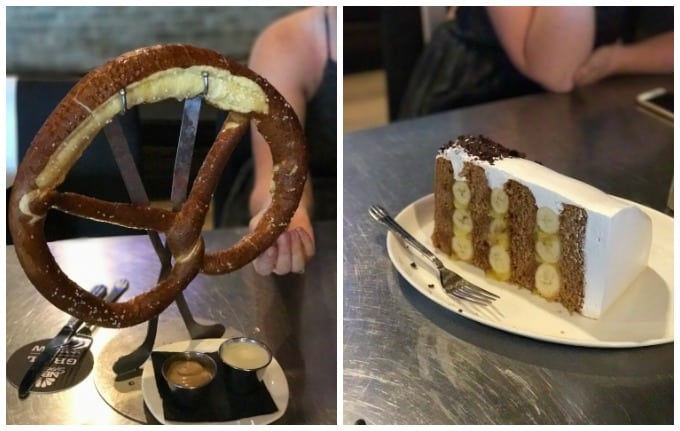 Giant Soft Pretzel – Take a close look at that photo. See the hand placed in the photo to help you visualize this pretzel's size? Our waitress said many people compare it to a car's steering wheel! it was most definitely huge and absolutely share worthy.
Big Banana Cake – If you have a large party or you're leaving the park and headed to your hotel after eating, get this banana cake. First of all, it's likely too big to finish at the restaurant so you'll want to take home the leftovers, and it feeds a lot of people. Here's the deal. This is a 7-layer, 9-inch cake made with halved bananas and a pudding-caramel filling. It's covered with a thick layer of frosting and then cut into four gigantic pieces. There were only 3 of us, we could never have finished it and we weren't leaving the park yet. So a happy family next to us enjoyed the rest. I couldn't bear the thought of the waitress taking it back and throwing it away!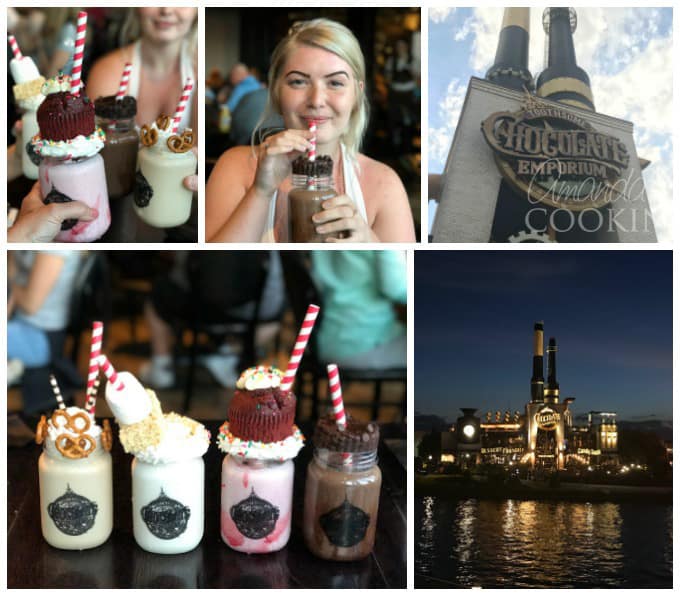 Extreme Milkshakes – Toothsome Chocolate Emporium has a full menu of appetizers, entrees and desserts. Then there are two full menu pages of just their extreme milkshakes. We ordered the Brownie Milkshake (Dutch chocolate ice cream with chocolate swirl and a brownie on top) and the Marshmallow Crisp Milkshake which uses vanilla ice cream, marshmallow fluff, whipped cream and topped with a rice krispie treat and a giant marshmallow. We also ordered the Red Velvet Milkshake which is made with vanilla ice cream, raspberry sauce, fresh whipped cream and topped with a red velvet cupcake and colorful sprinkles. Finally we tried the Salted Dulce de Leche which has salted caramel ice cream, dulce de leche, salted pretzels, fresh whipped cream and chocolate cigars. These were all amazing and I can't wait to try some different ones on my next trip!
The Simpsons & Despicable Me Minions
Inside Universal Studios Florida you'll find the home of Bart and Homer Simpson as well as plenty of Minions! It's pretty hot in Florida during the summer, so we decided to try a refreshing drink.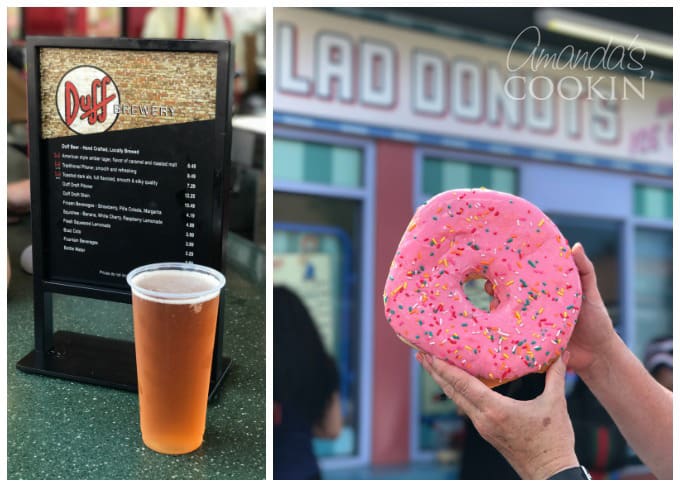 Duff Beer – Any fan of The Simpsons knows the Duff Beer was Homer's favorite beverage. You can enjoy a cold tap beer on your way through the park!
Lard Lad Donuts – When in Springfield you must visit the donut shop, Lard Lad Donuts. There you can pick up a delicious pink frosted donut covered in sprinkles. Did I mention it's the size of 4 donuts in one?

Minion Apples – Not just minions, the bakers and creators in the sweet shops have decorated apples to look like minions and other fun characters.
Minion S'mores – How about a s'more covered in chocolate candy coating and decorated to look like your favorite minion characters? There are others to choose from, even Hello Kitty!
This was my third trip to Universal Orlando and I want to go back! There's so much to do and the last time I was there I only had a couple of days. This last trip I only had one day. Next time I'll report on the rides and attractions so stay tuned.
What's your favorite fun food at universal Orlando?
Amanda Davis is the entrepreneurial mom of four grown children and four step children. She and her husband, Chef Antoine, love to cook together creating recipes for this blog. Amanda also make kid's crafts and creates decorative items for her home. She is a crafting expert and guru in the kitchen and has appeared online and in print publications many times over the years. She is also a craft book author five times over and product developer as well as the owner of
FunFamilyCrafts.com
. You can find her on social media by using the buttons to the left!
Latest posts by Amanda Davis (see all)