I'm backed up… busy… swamped. I almost didn't make these, but I skipped last week and didn't want to miss another Tuesdays with Dorie.
So, I opened the book and was very happy to see that I wouldn't have to shop for anything. Butter, sugar, powdered sugar, salt, a few eggs and some flour. Easy enough. To decorate.. an egg yolk and some colored sugar. Even better!
Besides, I really needed a reason to show off my new milk glass plate.
Isn't it purty??
I found it at a local booth type store, you know the kind. A bunch of different dealers pay for space and display their wares. You can find anything from antique furniture to Christmas ornaments and a mountain of stuff in between. Themes range from Victorian to The Fifties to Grandpa's garage junk.
It's so fun sifting through stores like this. It's really hard to find the time though, so I was really happy when I found this little gem, as well as the other plate pictured here. I'm not done though. I'm still on the lookout for a milk glass cake platter. :)
Anyway, enough about my plates, and more about the cookies. They're good, very good, melt in your mouth yummy.
I found them very easy to decorate. The dough gives you two logs, I cut each log into thirds and worked with one third at a time. I did different colors and also used Turbinado sugar and nonpareils BUT I had a problem with some of them getting too brown. :( So, I only photographed the starlets.
This is a lovely recipe and can be found on pages 131-133.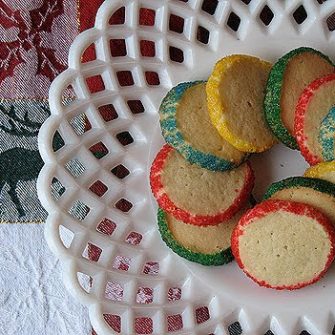 Ingredients
2

sticks

8 ounces unsalted butter, at room temperature

1/2

cup

sugar

1/4

cup

confectioners' sugar

sifted

1/2

teaspoon

salt

preferably fine sea salt

2

large egg yolks

at room temperature, plus 1 large egg yolk, for brushing the logs

2

cups

all-purpose flour

Decorating

coarse sugar
Instructions
Working with a stand mixer, preferably fitted with a paddle attachment, or with a hand mixer in a large bowl, beat the butter at medium speed until smooth and very creamy. Add the sugars and salt and beat until well blended, about 1 minute. The mixture should be smooth and velvety, not fluffy and airy. Reduce the mixer speed to low and beat in 2 of the egg yolks, again beating until the mixture is homogeneous.

Turn off the mixer. Pour in the flour, drape a kitchen towel over the stand mixer to protect yourself and the counter from flying flour and pulse the mixer at low speed about 5 times, a second or two each time. Take a peek -- if there is still a lot of flour on the surface of the dough, pulse a couple more times; if not, remove the towel. Continuing at low speed, mix for about 30 seconds more, just until the flour disappears into the dough and the dough looks uniformly moist. (If most of the flour is incorporated but you've still got some in the bottom of the bowl, use a rubber spatula to work the rest of the flour into the dough.) The dough will not clean the sides of the bowl, nor will it come together in a ball -- and it shouldn't. You want to work the dough as little as possible. What you're aiming for is a soft, moist, clumpy (rather than smooth) dough. Pinch it, and it will feel a little like Play-Doh.

Scrape the dough out onto a smooth work surface, gather it into a ball and divide it in half. Shape each piece into a smooth log about 9 inches long: it's easiest to work on a piece of plastic wrap and use the plastic to help form the log. Wrap the logs well and refrigerate them for at least 3 hours, preferably longer. (The dough can be kept in the refrigerator for up to 3 days or frozen for up to 2 months.)

GETTING READY TO BAKE: Center a rack in the oven and preheat the oven to 350 degrees F. Line two baking sheets with parchment or silicone mats.

Remove a log of dough from the refrigerator, unwrap it and place it on a piece of parchment or wax paper. Whisk the remaining egg yolk until it is smooth, and brush some of the yolk all over the sides of the dough -- this is the glue -- then sprinkle the entire surface of the log with decorating sugar.

Trim the ends of the roll if they're ragged, and slice the log into 1/3-inch-thick cookies. (You can make these as thick as 1/2 inch or as thin as -- but no thinner than -- 1/4 inch.) Place the rounds on the baking sheets, leaving an inch of space between them.

Bake one sheet at a time for 17 to 20 minutes, rotating the baking sheet at the midway point. When properly baked, the cookies will be light brown on the bottom, lightly golden around the edges and pale on top; they may feel tender when you touch the top gently, and that's fine. Remove from the oven and let the cookies rest a minute or two before carefully lifting them onto a rack with a wide metal spatula to cool to room temperature.

Repeat with the remaining log of dough, making sure the baking sheets are cool before you bake the second batch.
Amanda Formaro is the crafty, entrepreneurial mother of four grown children. She loves to bake, cook, make kid's crafts and create decorative items for her home. She is a crafting expert and guru in the kitchen and has appeared online and in print publications many times over the years. She is also a craft book author five times over and product developer as well as the owner of
FunFamilyCrafts.com
. You can find her on social media by using the buttons to the left!
Latest posts by Amanda Formaro (see all)