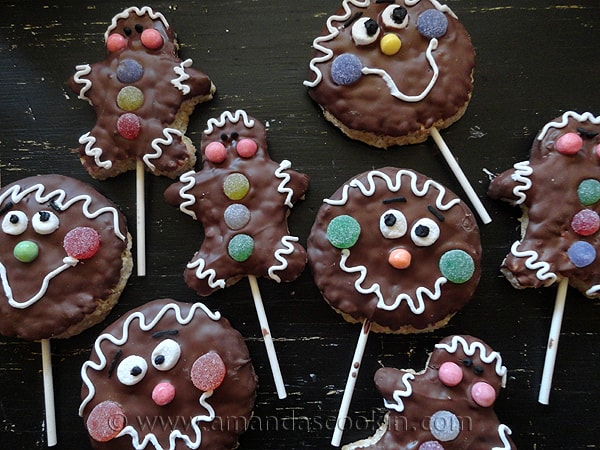 Rice Krispy Treats are known in just about every household, yes? I don't think I've ever met someone who doesn't like this time tested treat. With Christmas right around the corner, I though that Gingerbread Man Rice Krispy Treats would be really fun and make a great edible gift too!
I was challenged by Kellogg's® Rice Krispies® and the amazing women of TheMotherhood.com to create a fun treat for the holidays that you can make with your kids. Well, you know me and edible crafts. I was all over it, a perfect fit for me!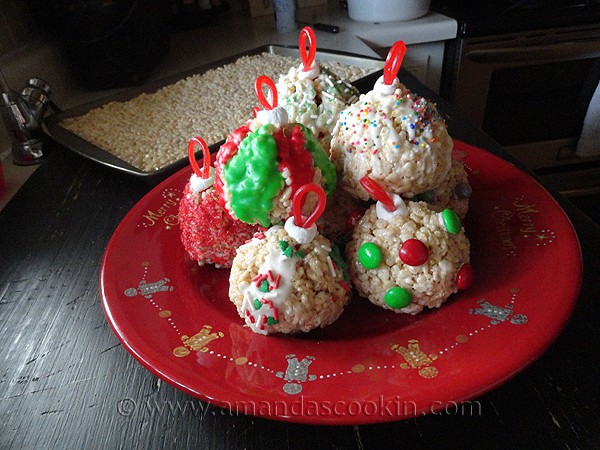 I did a live stream video feed with The Motherhood to demonstrate how to make these fun treats as well as their Tree Trimmer Treats. The Tree Trimmer Treats are made to look like little Christmas ornaments and the decorating possibilities are many!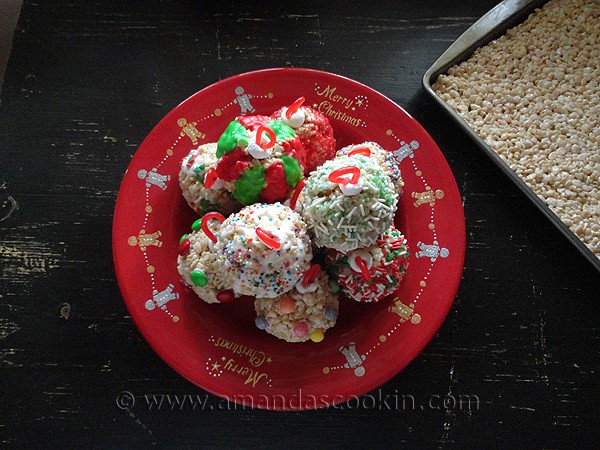 You can get the recipe for the Tree Trimmer Treats here on the Rice Krispies website. I have a few tips for you if you decide to make these (all of these tips are demonstrated in the video):
[By the way, if you'd like to see how to make this holiday plate, check out my post on my craft blog – Make Your Own Holiday Tableware]
Be sure to make the ornament hangers first. You need the treats to be warm so you can mold them easily, so having the hangers ready is essential.
The easiest way to make the hangers is to squeeze the miniature marshmallow between your fingers, smooshing it. Then hold the licorice whip as close to the end as you can for best control. Turn and twist it to poke it through the marshmallow, then thread the other end through the hole you just made.
Use vanilla frosting as glue to attach candies to the outside of the treats.
You can also make a simple powdered sugar glaze (powdered sugar + enough milk to make it paintable) and brush it onto the treats with a pastry brush. Then you can sprinkle with jimmies, nonpareils, sprinkles, or decorator sugar. You can make vibrant colors by adding gel food coloring to the glaze as well.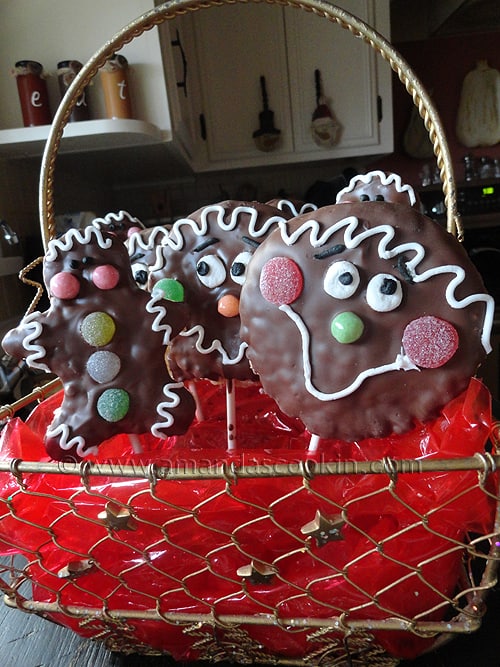 To make the Gingerbread Man Rice Krispy Treats, I suggest using a metal cookie cutter. It has more strength and stability than its plastic counterpart and will be much more effective. Buttering or spraying the cookie cutter is optional. I found that it wasn't needed as long as you follow the treat recipe correctly. Too much cereal can make for a dry treat, too much marshmallow can make them too sticky. Be sure to follow the measurements.
You'll need almond bark for this instead of baking chocolate or chocolate chips. Almond bark is made specifically as a candy coating and works best.
You can decorate these guys with whatever you like, I used gumdrops, small colorful candies, and white and black decorator icing.
I also suggest using lollipop sticks rather than popsicle sticks. Popsicle sticks are wider and will be harder to work with. Get lollipop sticks in the cake decorating section of your discount department store or craft supply store.
My last tip is to use a large measuring cup with a handle to melt your chocolate in. This gives you a vessel with a handle so it's easy to hold, and you can tilt the cup so that you can cover the entire surface of your treat with one swoop.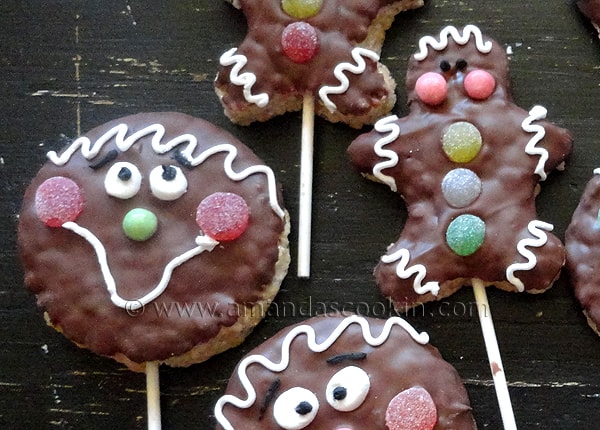 Again, all of these tips and the demonstration are in the video below. Enjoy!