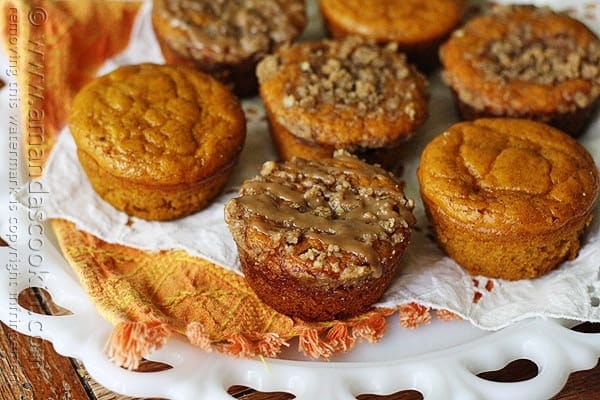 These probably qualify as cupcakes, but there's something about streusel that reminds me of coffee cake or muffins. And, there's something about a cupcake without frosting that just doesn't seem like a cupcake to me. So I've called these mini cakes instead. After all, the recipe is for a cake, and they are small…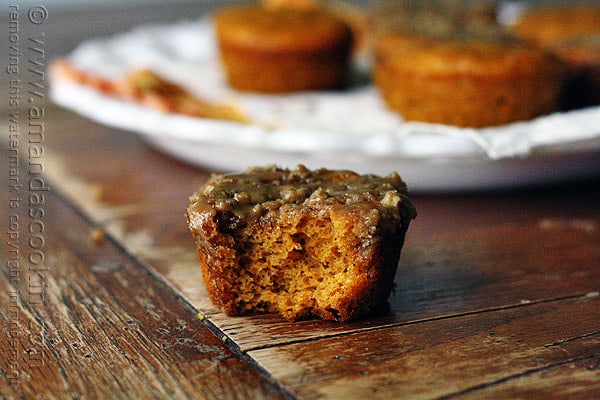 I was asked by the fine folks at Yoplait to try their new Yoplait Greek yogurt. There are several flavors, including blueberry, strawberry, raspberry, tangerine, pineapple, coconut and vanilla. So far I've tried vanilla, pineapple, and coconut. I also bought strawberry, but someone ate it, and no one will fess up to it! Of the ones I've tried, the pineapple and the vanilla are my favorites but they've all been good so far. I'm really hoping I can find tangerine as that sounds fabulous!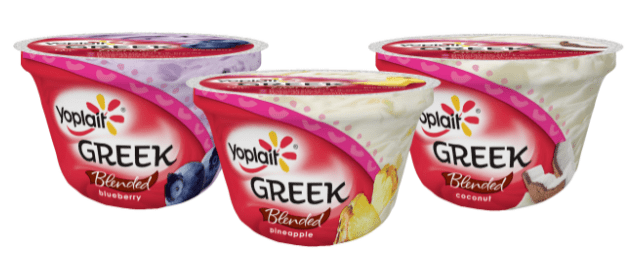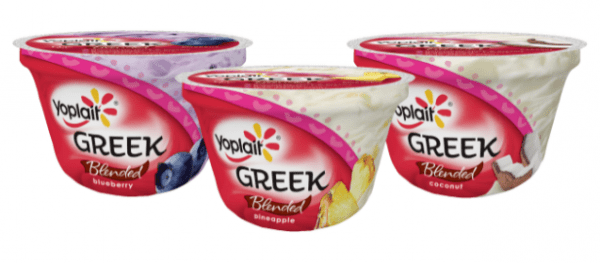 To see some other bloggers' reactions to tasting this for the first time, check out this video.
I'll admit, I've never really climbed aboard the Greek yogurt bandwagon. I have used it many times in baking, but I really hadn't found one just for eating that I felt was both affordable and delicious. These Yoplait Greek yogurts fit the bill on both counts though and are my new go-to yogurt! I'll be watching and hoping for new flavors too.
Since I do like to bake with Greek yogurt to replace most or all of the oil or butter in a recipe, I decided to try using it and adapting my Chocolate Dappled Pumpkin Cake into these mini cakes.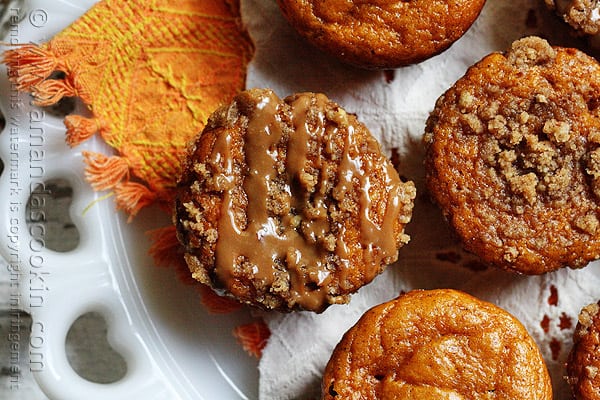 These turned out so moist and tender, and they were disappearing off the plate quickly! Everyone in the house loved them, definitely a winner. My favorite part is the maple glaze. :)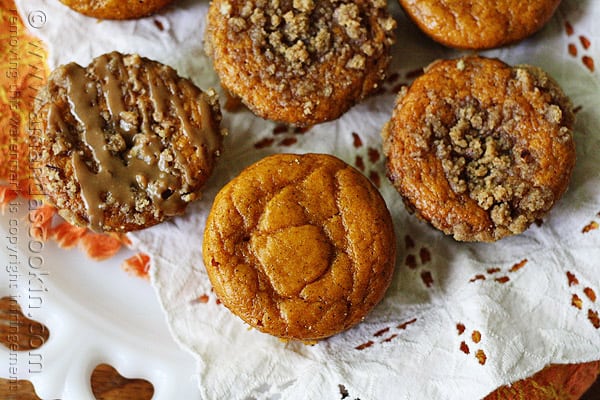 I decided to make these a few different ways. You can make a naked cupcake and avoid the extra calories that streusel or glaze can sneak into the mix, go in between and just stick with the streusel, or go all out and drizzle some glaze over the top of the streusel. Doesn't matter which way you make them, they are good!
I hope you decide to try them. Be sure to let me know if you do!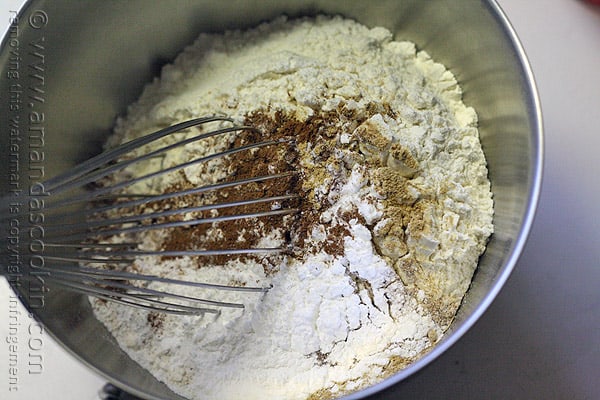 First whisk together all the dry ingredients, then set them aside for later.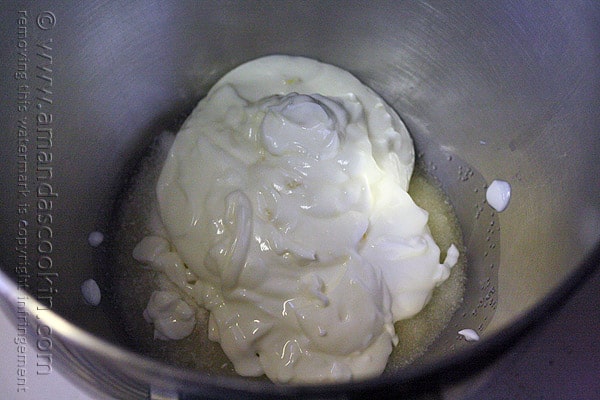 In a mixer bowl, combine the oil, Truvia (or sugar if you prefer) and the Yoplait Greek yogurt. Mix it up real good. :) Add your eggs, one at a time, beat well after each one.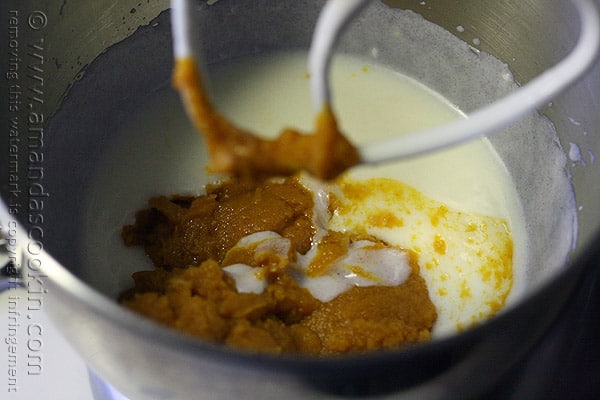 Add the pumpkin and mix it slowly…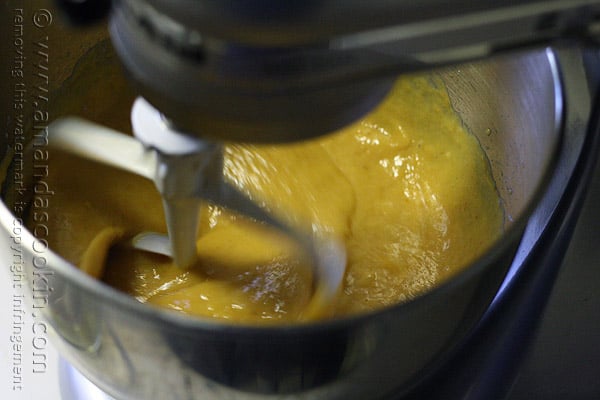 …then give it a quick whir to combine it all.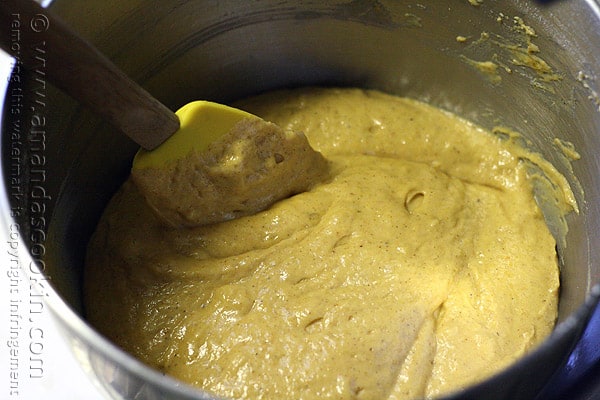 Use a rubber spatula to scrape down the sides and make sure there's nothing on the bottom of the bowl. Since we didn't use butter, chances are pretty low there's anything stuck down there. stir in your flour mixture just until there are no more traces.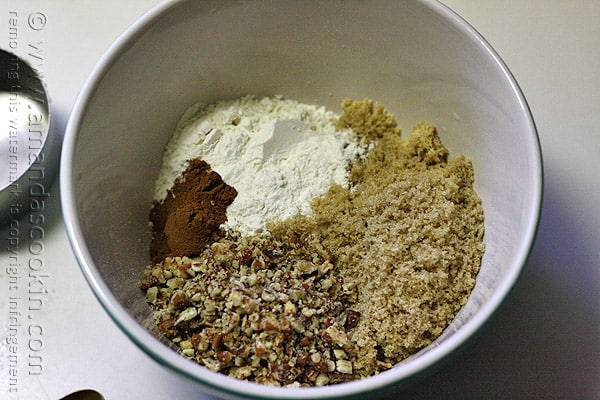 Mix up your streusel real quick by mixing together all the ingredients except the butter.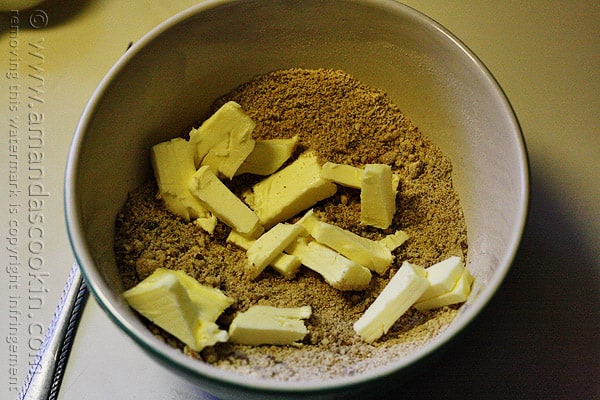 Drop the butter in and rub it into the dry ingredients with your fingers until it begins to clump together.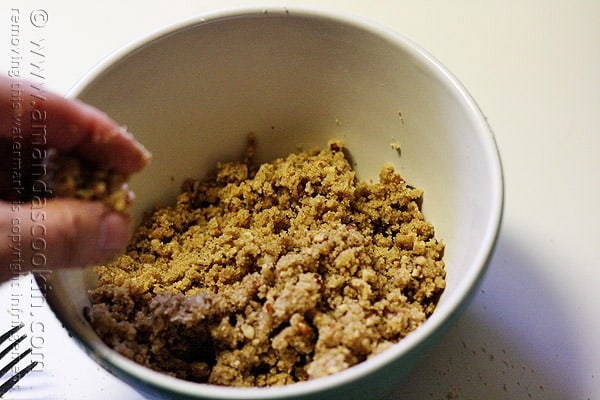 It should stick together but not be a big ball of butter.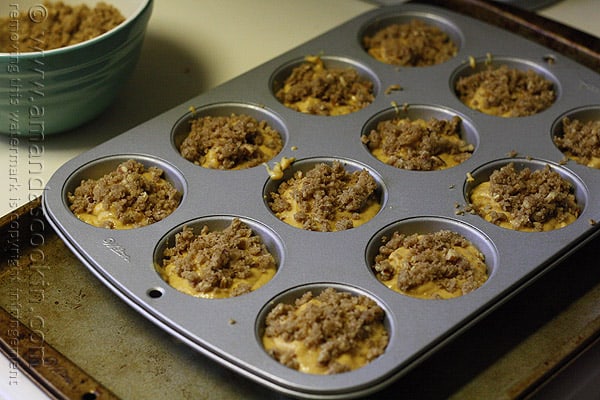 Divide the batter among 24 muffin cups and sprinkle on the streusel. Bake!
Once they've cooled in the pan for about 15 minutes then it's safe to move them to a cooling rack.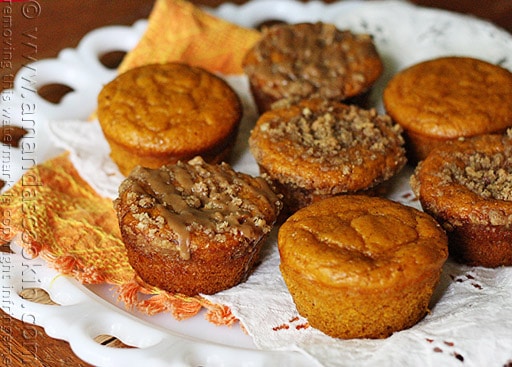 There, isn't that better?? Yum! I love baked goods with pumpkin. Some of my favorites include these White Chocolate Pumpkin Cake, this Cranberry Pumpkin Coffee Cake, and these Pumpkin Cranberry Muffins with White Chocolate Chunks. There isn't a Thanksgiving that goes by where I don't make this Perfect Pumpkin Pie recipe either! Do you have a favorite pumpkin recipe?
I was compensated for the recipe development and work involved in creating this post. I was not paid for my opinion and those stated are 100% genuine.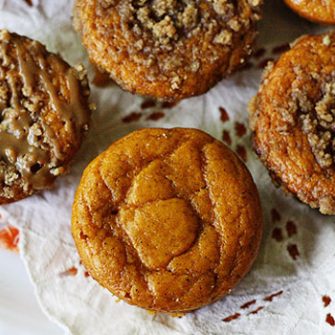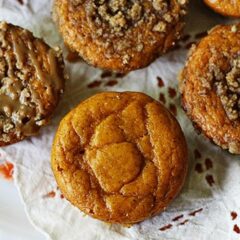 Pumpkin Mini Cakes with Cinnamon Streusel Topping
IMPORTANT - There are often Frequently Asked Questions within the blog post that you may find helpful. Simply scroll back up to read them!
Print It
Rate It
Ingredients
2

cups

unbleached all purpose flour

3

teaspoons

baking powder

2

teaspoons

baking soda

1/4

teaspoon

salt

1

teaspoon

ground cinnamon

1/2

teaspoon

ground ginger

1/2

teaspoon

nutmeg

1

cup

Truvia sweetener

or 2 cups granulated sugar

3/4

cup

Yoplait Greek Yogurt

vanilla or coconut

1/4

cup

canola oil

4

eggs

15-

oz

can pumpkin puree
Streusel Topping
1/4

cup

finely chopped pecans

1/2

cup

packed brown sugar

1/4

cup

unbleached all purpose flour

1/2

teaspoon

ground cinnamon

3

tablespoons

butter

softened (but not warm), cut into pieces
Maple Glaze
Heaping 1/2 cup powdered sugar

sifted

1/2

teaspoon

Mapleine

1-2

tablespoons

milk
Instructions
Preheat oven to 350 F. Spray with cooking spray or line with paper liners 2 12-cup muffin tins.

Whisk together flour, baking powder, baking soda, salt, cinnamon, ginger and nutmeg. Set aside.

In mixer at medium speed, beat together the Truvia, Yoplait Greek yogurt and the canola oil. Add eggs, one at a time, beating well after each addition. Beat in the pumpkin until mixture is well combined. Turn off mixer and scrape down sides of bowl and stir everything together.

Add the flour mixture all at once and turn mixture on low. Slowly beat until almost no traces appear, then turn up to medium to mix it all together, but no more than 30 seconds. Overbeating the batter can cause your cupcakes to sink in the middle!

Fill muffin tin cups about 2/3 full.
Make the Streusel
Combine all streusel ingredients except for the butter and mix well. Add butter pieces and work together with your fingers until mixture just starts to clump together.

Sprinkle streusel topping over batter in pans (about 1/2 tablespoon for each cupcake).

Bake in preheated oven for 22-24 minutes. Remove from oven and allow cupcakes to cool in pan for 15 minutes. Remove from pan and cool completely on wire racks.
For the Glaze
Add the Mapleine and 1 tablespoon of the milk to the powdered sugar. Mix together completely and add drops of additional milk until you reach the desired drizzling consistency.
Amanda Formaro is the crafty, entrepreneurial mother of four grown children. She loves to bake, cook, make kid's crafts and create decorative items for her home. She is a crafting expert and guru in the kitchen and has appeared online and in print publications many times over the years. She is also a craft book author five times over and product developer as well as the owner of
FunFamilyCrafts.com
. You can find her on social media by using the buttons to the left!
Latest posts by Amanda Formaro (see all)