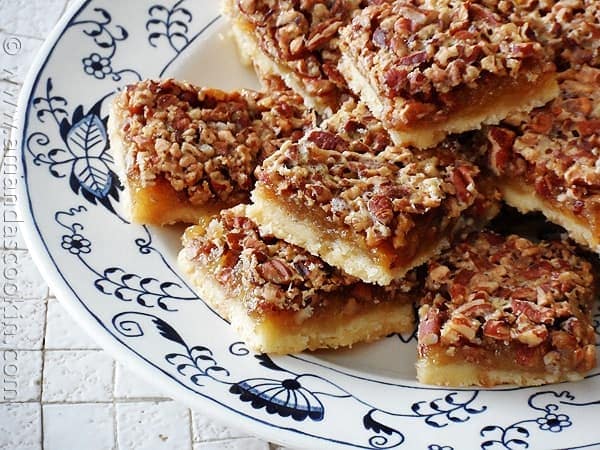 Pecans, along with almonds and cashews, are one of my favorite nuts. It's funny how as a child I never liked pecan pie. Of course, every mom knows what "I don't like it" really means. It translates to "I'm afraid to try it, therefore I couldn't possibly like it because it looks weird". Being a small child of the 70's and a teen of the 80's I was raised on convenience food, packaged products and desserts with lots of whipped cream. Pecan pie didn't have whipped cream, so how could it possibly be good?
I was so wrong, as many children are. As a mom of two young adults and two teenagers I have watched my kids go from loving everything as a baby to turning their nose up at many of those things as a young child. Then as they morph into teenagers their palate begins to take shape and they try more and more foods (many of which they ate happily as a baby!) and realize what they've been missing.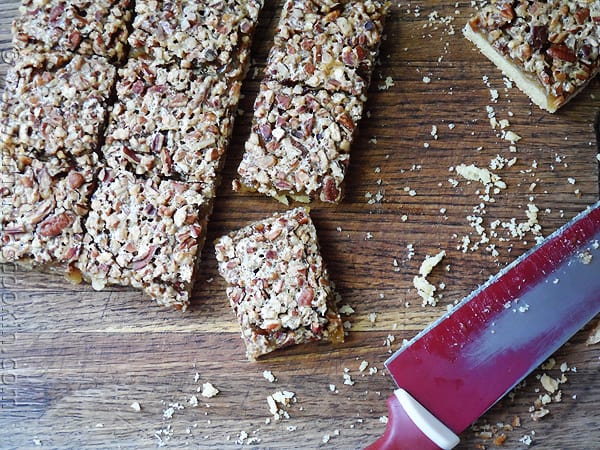 I'm okay with that. I've come to realize that it's just part of how we evolve from infant to adult. I think the only thing that actually irks me is that my teens will try something at one of their friend's houses that they wouldn't touch with a ten-foot pole at mine! I guess the good side of that scenario is that their defense to that is "Well, I didn't want to be rude to Mrs. So-and-so." So my children are respectful, I'll take that and deal with the "I don't want to try that" responses at home. :)
These beautiful pecan pie bars are one of those things that as a child I never would have touched. It wasn't until I was a full-fledged adult before I was brave enough to taste pecan pie and realize just what I'd been missing all those years. My teen boys still won't try them, but my daughter, who is now 19, did and loved them.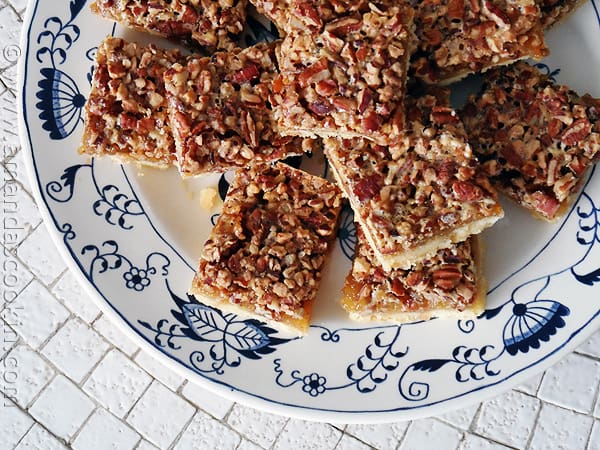 I love that these are in bar form because they are so easy to grab and take! They are perfect for a party, office birthday, or any other celebration where you need to bring a dessert along. They are deliciously reminiscent of holiday pecan pie, but totally portable.
If you can get your kids to try them, I hope they enjoy it. :)
Try my Pecan Tassies too!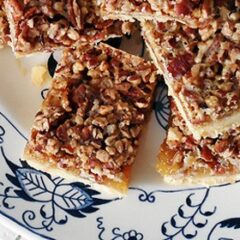 Pecan Pie Bars
IMPORTANT - There are often Frequently Asked Questions within the blog post that you may find helpful. Simply scroll back up to read them!
Print It
Rate It
Ingredients
2

cups

unbleached all purpose flour

1/2

cup

powdered sugar

1/4

teaspoon

salt

1/4

teaspoon

baking powder

2/3

cup

unsalted butter

cut into cubes

3

eggs

1/2

cup

packed brown sugar

1/3

cup

sugar

1

cup

light corn syrup

2

tablespoons

unsalted butter

melted

2

teaspoons

vanilla

1 3/4

cups

chopped pecans

divided
Instructions
Preheat oven to 350 F. Line a 13x9 baking pan with foil, spray the foil with cooking spray.

Whisk together flour, powdered sugar, salt and baking powder. Drop the butter into the flour mixture and work it with your fingers until mixture resembles coarse crumbs and begins to stick together. Press evenly into prepared pan and bake for 15 minutes, or until lightly browned. Remove from oven and place on cooling rack.

Whisk eggs in a large bowl until lightly beaten. Add sugar and brown sugar and beat well. Whisk in the corn syrup gradually and then beat in vanilla and melted butter. Fold in 1-1/4 cups of the pecans. Pour filling over the crust in the pan, sprinkle with remaining 1/2-cup pecans.

Bake 35-45 minutes, or until filling is set. Remove from oven and cool on a wire rack.

Lift bars from pan using foil and cut into bars.
Amanda Davis is the entrepreneurial mom of four grown children and four step children. She and her husband, Chef Antoine, love to cook together creating recipes for this blog. Amanda also make kid's crafts and creates decorative items for her home. She is a crafting expert and guru in the kitchen and has appeared online and in print publications many times over the years. She is also a craft book author five times over and product developer as well as the owner of
FunFamilyCrafts.com
. You can find her on social media by using the buttons to the left!
Latest posts by Amanda Davis (see all)