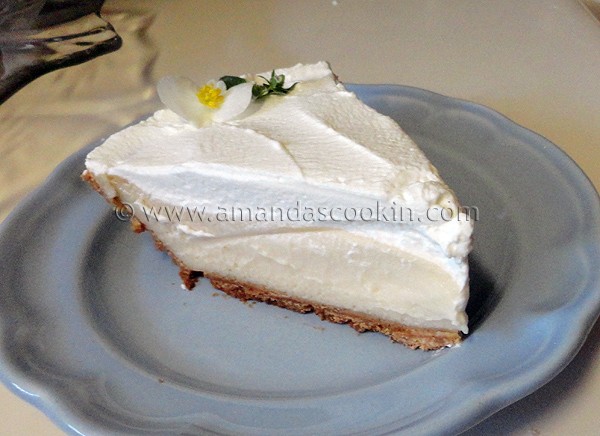 I realize that summer is pretty much over. So why lemonade cheesecake halfway through September then? Because lemonade is yummy, and so is cheesecake, so why not? If you enjoy the tartness of lemonade and the sweetness of a whipped cream topping, then this is the cheesecake for you. It's light and fluffy, not dense, reminds me a little of lemon meringue pie.
I actually failed at this recipe the first time I made it. The recipe calls for a pre-made graham cracker pie crust. I had one, but it suffered an unfortunate accident and ended up crushed. So I dumped the crushed crust into a bowl, crushed it up completely and added a little butter to moisten it. I put it into a springform pan and then continued with the recipe. I really think it would have been fine, but I was making ice cream at the same time and forgot about the cheesecake in the oven. *sigh*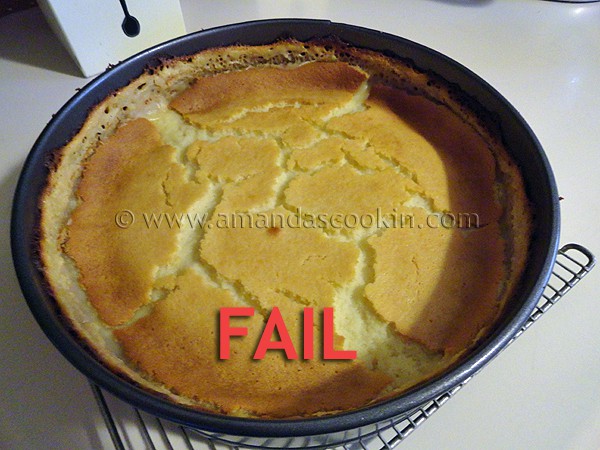 So this is what the overbaked thing looked like when I took it out. Eeeew.
Fast forward a week or so later. I was ready to make the cheesecake. I had picked up the frozen lemonade while grocery shopping, but forgot the crust! My oldest son was heading to the store to fill our water jugs (we have awful well water that we don't drink) so I had him pick me up a crust. Instead of putting the bag with the crust in the front seat of the car with him, he put it in the back with the filled gallon water jugs. ?? Needless to say when he went around the corner jugs fell over, crushing the pie crust. Back to the store he went and I was finally ready to try again.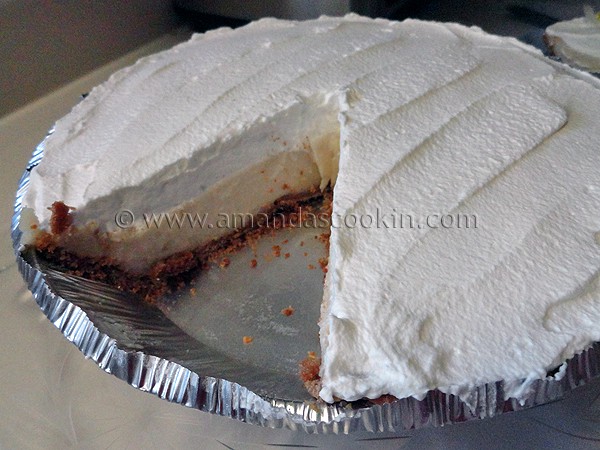 This time was a success, the only change I made was to use half Ricotta Cheese and half cream cheese. I also changed the instructions a bit. This is a great dessert for lemonade and cheesecake lovers alike! This recipe was adapted from Sargento's lemonade cheesecake.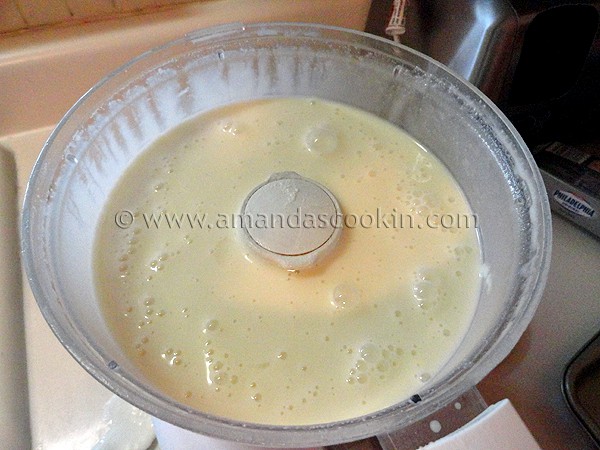 I used my food processor, I prefer that for cheesecakes. You can certainly use a stand mixer as well.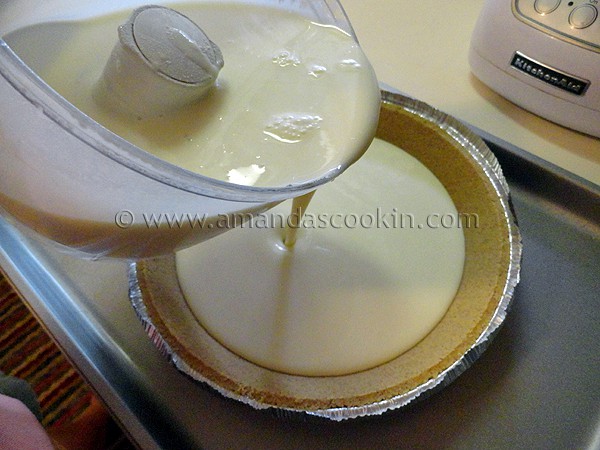 Be sure to place the crust on a rimmed baking sheet. The mixture is thin and the pie will be full, making it pretty much impossible to lift and place in the oven without spilling it!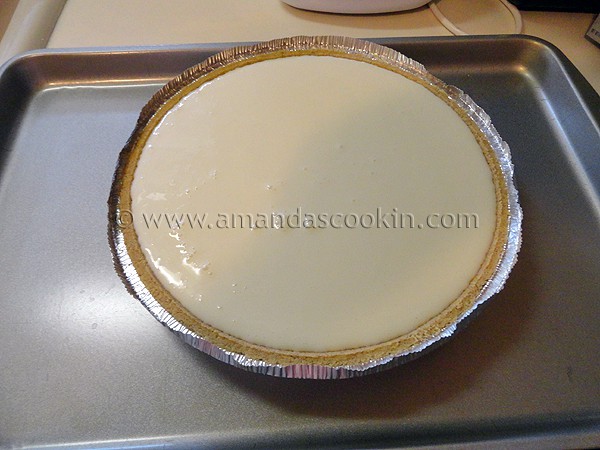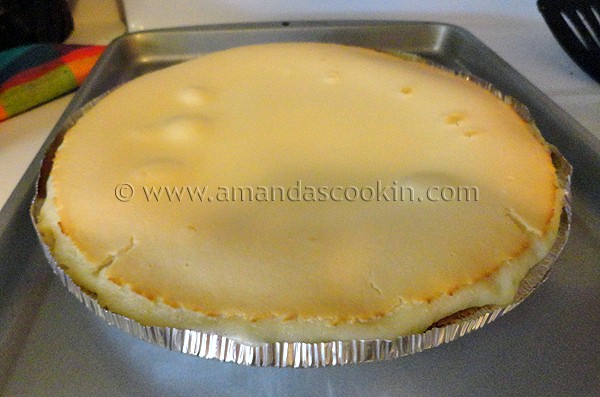 It's pretty puffed up when it's done, but it will relax as it cools off.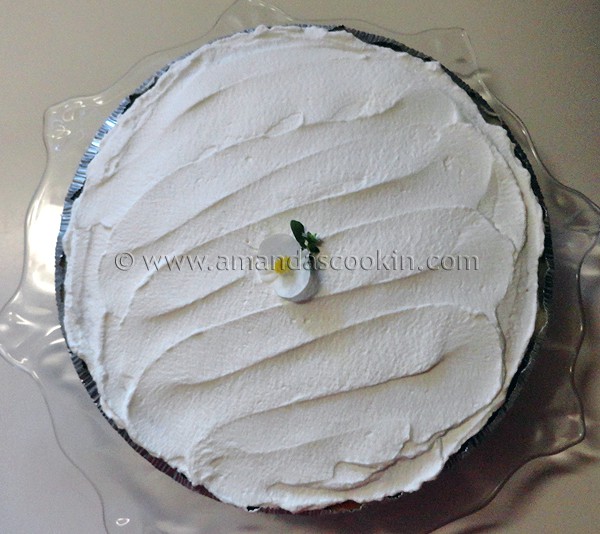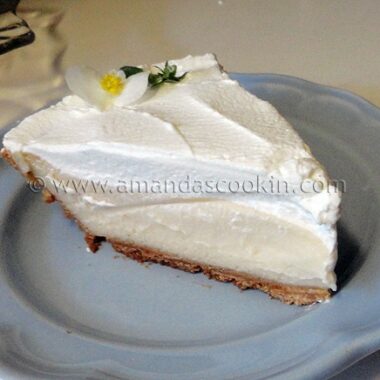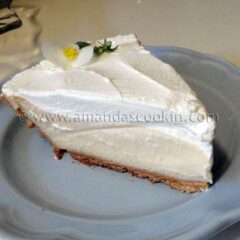 Lemonade Cheesecake
The tang of lemon and the sweetness of whipped cream come together for a delicious dessert.
IMPORTANT - There are often Frequently Asked Questions within the blog post that you may find helpful. Simply scroll back up to read them!
Print It
Rate It
Ingredients
1

cup

Sargento® Whole Milk Ricotta Cheese

8

oz.

package of cream cheese

cubed

1

can

6 oz. frozen lemonade concentrate, thawed

2

eggs

1/2

cup

sugar

1/3

cup

all-purpose flour

1

9 oz. prepared graham cracker pie crust

Heavy whipping cream

2

tablespoons

powdered sugar
Instructions
Combine Ricotta cheese and cream cheese in a food processor. Pulse several time until it starts to combine, then process until creamy. While processing, slowly pour thawed lemonade concentrate through the feeder tube of your processor. While processing, add eggs, slowly pour in sugar and finally the flour. Process for 2 minutes, scraping down sides of work bowl once.

Place empty pie crust onto a rimmed baking sheet. Pour mixture into pie crust.

It will be pretty full, so be careful when you transfer it to the oven. Bake in preheated 350°F oven 47-50 minutes or until center is set.

Cheesecake batter will have risen but will relax as it cools.

Transfer to cooling rack; cool completely. Cover and chill 4 hours or longer.

In a mixing bowl fitted with the whisk attachment, beat the whipping cream and powdered sugar on medium-high until stiff peaks are formed. Spread topping on pie.
Sargento did compensate me for the time I dedicated to making this recipe and putting this post together for you, however my opinions on flavor and preparation are 100% mine. :)
Amanda Davis is the entrepreneurial mom of four grown children and four step children. She and her husband, Chef Antoine, love to cook together creating recipes for this blog. Amanda also make kid's crafts and creates decorative items for her home. She is a crafting expert and guru in the kitchen and has appeared online and in print publications many times over the years. She is also a craft book author five times over and product developer as well as the owner of
FunFamilyCrafts.com
. You can find her on social media by using the buttons to the left!
Latest posts by Amanda Davis (see all)