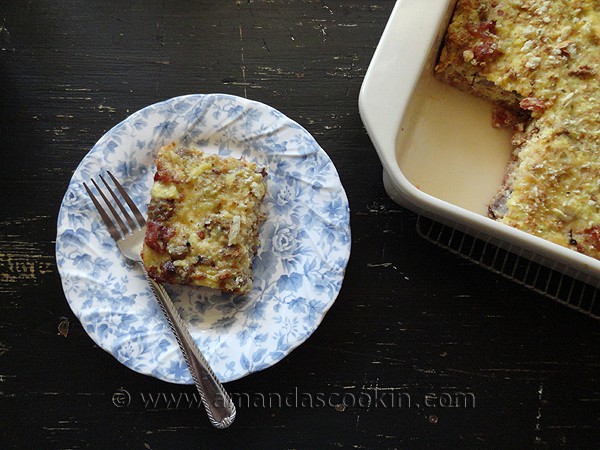 Breakfast casseroles are an excellent way to feed a crowd, which makes them ideal for the holidays. Many people have relatives visiting at this time of year, so breakfast for the masses can be quite a chore, unless of course it all goes in one pan and into the oven!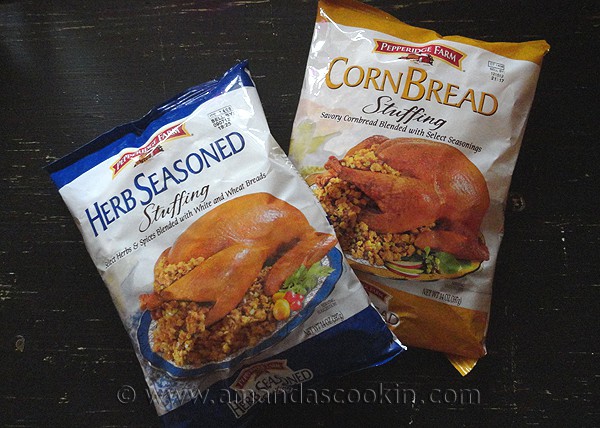 Pepperidge Farm came to me and asked if I would be willing to take on the challenge of creating a recipe using one of their delicious stuffings. I love their stuffing and usually buy the herb flavor to serve with my turkey at Thanksgiving. So of course I said yes, knowing how great it is anyway! However, this time I wanted to do something different, and to add to the challenge, they wanted a Wisconsin twist on it.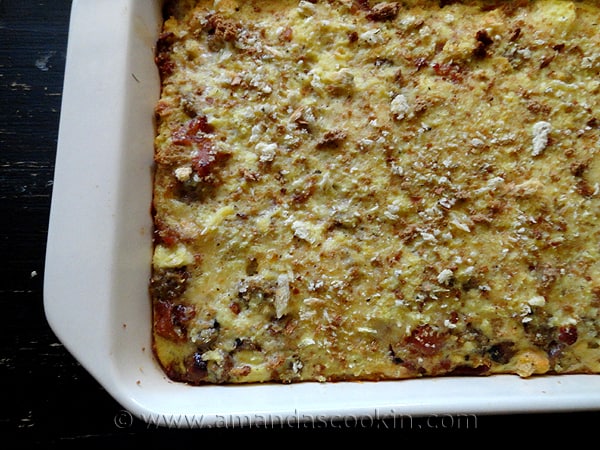 Well as you know we here in Wisconsin pride ourselves on being known as "the dairy state" (even if California THINKS they are now, haha). So when I thought of cheese and milk, my mind immediately drifted toward Christmas breakfast. Frothy eggs, crisp bacon, sizzling sausage, mmmm! But anyone who has ever cooked a farmhouse style breakfast buffet for a crowd knows it's a lot of work. Too many dishes to keep warm while cooking others. The toast always ends up soggy and cold and nothing is the same temperature.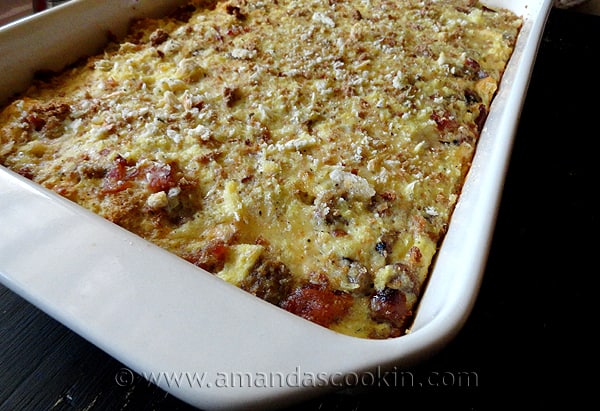 Enter the breakfast casserole. This is an excellent way to serve a piping hot breakfast that will feed the masses without all the hassles of individual platters of eggs, sides and bread. You can even make some of this ahead so there isn't as much preparation in the morning. Some steps you can plan early are to cook and crumble the bacon, cook and slice the sausage, shred the cheese and measure out the stuffing. That will leave you with just a few steps in the morning before you pop it in the oven. Serve this delicious casserole with warm bread and butter or buttered toast.

The complete directions are below. It's pretty easy, but make things even easier on yourself by cooking, crumbled, slicing and shredding first, then make the casserole. Spread the corned beef hash in the baking pan, mix and layer ingredients per the recipe, then sprinkle with cheese.

Add the whisked eggs then top with remaining stuffing. Bake, eat!
Be sure to check out PepperidgeFarm.com for some more tasty recipes. They have lots of great ideas, I'll be checking them out so I can use the rest of this delicious stuffing! :) 
Variations:
1) You can mix and match the meat in this recipe to suit your tastes. Perhaps you prefer ham, Polish sausage, or chorizo. Just measure 1 1/2 cups total for the meat.
2) Cheese – I love Gouda so that's my choice, but really any type of cheese will work!
3) Not everyone is a fan of corned beef hash, which I line the bottom of my casserole with. A nice alternative would be frozen O'Brien Potatoes. I would measure a scant 2 cups and thaw them first, Then fry them in a skillet to warm them up before adding them to the baking pan.
4) If you prefer egg substitute, such as Egg Beaters, go for it. Since you're scrambling the eggs anyway, egg beaters are a great alternative.
5) If you don't have shallots, use a mild or sweet onion, such as Vidalia. You don't need much, 2-3 tablespoons will do it. if you like, you can add in some diced bell peppers as well. Mushrooms would be delicious too!

Pepperidge Farm provided me with some tasty product samples and compensated me for the time it took to develop this recipe and purchase supplies. However, you can be confident in knowing that all opinions shared in this post are 100% honest and my own.