So I'm sitting here, boiling to death because I am baking pie after pie for tomorrow's feast. Because we have a bi-level home, my husband is cold in the family room downstairs so he insists on having the heat on, and because heat rises I'm sweating upstairs. The kitchen is u-shaped, so there's nowhere for the heat to go. So even though it's 27 degrees outside, I have the kitchen window open in an effort to keep my sanity. it also helps that I am downing a Samuel Adams. ;)
So I figured, while I wait the last 40 minutes for the pumpkin pie I will go ahead and post about the Mock Somoas I made. I found the recipe on Once Upon a Plate, she found it at Baking Bites. no matter where it came from, it's definitely GOOD. It's also kind of a pain. The caramel coconut topping was not spreadable and I really had to work at manipulating it onto the cookies. So I had the bright idea of adding some more caramel to it and tossed it in the microwave. Mistake. Don't do this. it made it harder to work with. GROAN.
So I don't know if I will go through the hassle of making the cookies again (let's say I won't put the Girl Scouts out of business) BUT I think I will try making these into bar cookies instead. They would be fabulous that way and a lot easier!
If you would like to try these for yourself, here is the recipe :) They were gobbled up and everyone LOVED them! Have a Happy Thanksgiving everyone!
DISCLAIMER: Just in case any well meaning posting women decide to ridicule me for not supporting girl scouts by giving out this recipe (like someone did to Mari at Once Upon a Plate) I will state for the record that I buy Girl Scout cookies EVERY YEAR without fail. I was a GS leader and my daughter was in GS's for several years. If Girl Scouts sold their cookies year round, us bloggers wouldn't have to try this recipe for ourselves. LOL
Oh quick note, instead of the wrapped caramels, Kraft now makes these nifty caramel bits! They worked great and are far too good, I kept tossing them in my mouth LOL
Recipe credit: Nicole @ Baking Bites,
See Nicole's Original Recipe here: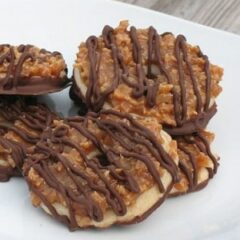 Girl Scout Cookie Recipe: Somoas
IMPORTANT - There are often Frequently Asked Questions within the blog post that you may find helpful. Simply scroll back up to read them!
Print It
Rate It
Ingredients
1

cup

butter

softened

1/2

cup

sugar

2

cups

all purpose flour

1/4

teaspoon

baking powder

1/2

teaspoon

salt

1/2

teaspoon

vanilla extract

up to 2 tablespoons milk
Topping:
3

cups

shredded coconut

sweetened or unsweetened

12-

ounces

good-quality chewy caramels

1/4

teaspoon

salt

3

tablespoons

milk

8

ounces

dark or semisweet chocolate

chocolate chips will do
Instructions
Preheat oven to 350F.

Cream together butter and sugar in a large bowl. Mix in flour, baking powder and salt at a low speed, next, the vanilla and milk, adding in the milk only as needed to make the dough come together without being sticky (you may not need any at all). The dough should come together into a soft, pliable ball. Add in a bit of extra flour if your dough seems sticky.

It's easiest to roll the dough out in 2 or 3 batches (between pieces of wax (or parchment) paper to about 1/4-inch thickness (or a little thinner) using a 1 1/2-inch cookie cutter to make rounds. Place on a parchment lined (or on silicone mat) baking sheet and make a hole in the center. I used the small end of a large round piping tip. Nicole comments that you can use a knife, or the end of a wide straw, to cut a smaller center hole. Repeat until the dough is used up (it's okay to re-roll, this dough is shortbread-like and very forgiving.)

Bake cookies for 10-12 minutes, until bottoms are very lightly golden brown around the edges.

Cool for a few minutes on the baking sheet, to allow them to firm up slightly, then transfer to a wire rack to cool completely.

If you prefer milk chocolate, by all means use that.

Preheat oven to 300 degrees (F)

Spread coconut evenly on a rimmed baking sheet and toast 20 minutes, stirring every 5 minutes, until coconut is golden. Watch carefully, especially near the end of toasting time; the coconut toasts very quickly once it begins to become golden.

Cool on baking sheet, stirring occasionally. Set aside.
Topping
Unwrap the caramels and place in a large microwave-safe bowl with milk and salt. Cook on high for 3-4 minutes, stopping to stir a few times to help the caramel melt. When smooth, fold in toasted coconut with a spatula.

Using the spatula or a small offset spatula, spread topping on cooled cookies, using about 2-3 teaspoons per cookie. Reheat caramel for a few seconds in the microwave if it begins to firm up, to make it soft and spreadable once again.

While topping sets up, melt chocolate in a small bowl. Heat on high in the microwave in 45 second intervals, stirring thoroughly to prevent scorching. (I melted mine stovetop using double boiler method.) Dip the base of each cookie into the chocolate and place on a clean piece of parchment paper (I used silicone baking mats instead). Transfer all remaining chocolate into a piping bag or a ziplock bag with the corner snipped off and drizzle finished cookies with chocolate. (Melt a bit of additional chocolate, if there is not quite enough for each cookie.)

Let chocolate set completely before storing in an airtight container.
Amanda Davis is the entrepreneurial mom of four grown children and four step children. She and her husband, Chef Antoine, love to cook together creating recipes for this blog. Amanda also make kid's crafts and creates decorative items for her home. She is a crafting expert and guru in the kitchen and has appeared online and in print publications many times over the years. She is also a craft book author five times over and product developer as well as the owner of
FunFamilyCrafts.com
. You can find her on social media by using the buttons to the left!
Latest posts by Amanda Davis (see all)