Last week I was walking my dog and noticed that my neighbor had a glorious sour cherry tree and it was chock full of red fruit! Now this isn't a neighbor that I know, we just wave at each other and know that we live on the same block, but that's the extent of it. Several days later I was walking my dog again and this time my neighbor was out in his yard. We waved and I said "Is that a cherry tree?" "Yes," he answered. "Oh, I'm so envious! Must be great having fresh cherries!"
[UPDATE] Just inserting an update here, it's a year later and I've picked the tree clean again. Only this year I learned how to can some homemade cherry pie filling! Hope you'll check it out. :) [END UPDATE]


At that point he informed me that I was welcome to pick as many cherries as my little heart desired because he and his wife don't use them and they would just go to waste otherwise. GO TO WASTE?? Not with me living down the road! So I took him up on his offer and walked down and picked about 4 pounds. There are still tons on the tree, and I plan to go back and get more soon.


Meanwhile, I didn't know these were sour cherries until I took a bite of one. Wow! Now those are tart. So immediately I began to worry about what I was going to do with these. Can you tell I've never made anything from or baked with sour cherries? Turns out, once baked, these little beauties lose a lot of their tartness and they mesh beautifully with other ingredients.

Now to be fair, I must give credit where credit is due. While searching for recipes using sour cherries, I came across this old post on Chowhound. The original recipe they refer to was called Laurie's Pear Tart, where a small cake is made in an 8″ springform pan, a lot of the moisture coming from the ripe pears. I'm not sure why it was called a tart, it's not a tart. It's a cake. I read in some of the posts that people had successfully used sour cherries, pretty much keeping the recipe the same with the addition of some almond extract and a little bit more sugar.
And so now I give you this amazingly wonderful cake, which really requires no icing or glaze, bursting with moisture and flavor. I've renamed it and adjusted ingredients to fit my needs. The edges of the cake have a slight chewy yet crunchy texture and the almond flavor really compliments the cherries. Fabulous! This is great for a nice dessert or even with coffee in the morning. I loved this.
Oh two things:
1) You'll notice in the recipe it says the poke some of the cherries into the cake and leave some on top. I didn't do that, I poked them all down into the cake, that's why most of my cherries are at the bottom of the cake. I will be making this again and will try it as my instructions state below as I saw a lovely picture of a cherry cake someone made with cherries poking through the top.
2) Here's a funny tidbit for you. I forgot to pit my cherries! LOL So I took the first bite of cake and had to spit out a cherry pit. It was like eating watermelon and spitting out the seeds! hahaha
Sour Cherry Almond Cake
adapted from Laurie's Pear Tart
.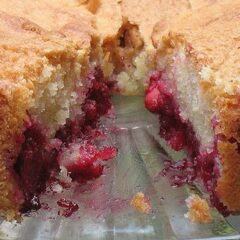 Fresh Sour Cherries & Cherry Almond Cake
IMPORTANT - There are often Frequently Asked Questions within the blog post that you may find helpful. Simply scroll back up to read them!
Print It
Rate It
Ingredients
1

tsp

baking powder

1/2

tsp

salt

1

stick

1/2 cup unsalted butter

1

cup

flour

1

cup

sugar

1

tsp

pure vanilla extract

3/4

tsp

almond extract

2

eggs

2

cups

of pitted sour cherries

rinsed but don't pat dry
Instructions
Spray an 8? springform pan with non-stick cooking spray and preheat oven to 350 F. Place prepared pan on a baking sheet and set aside.

Whisk together flour, baking powder and salt in a small bowl. Set aside.

Cream together butter, sugar, vanilla, and almond extract. Add eggs, one at a time, beating well after each addition.

Slowly add flour mixture to butter mixture until completely combined.

Spread batter into prepared pan.

Add cherries to the top of the batter. Leave some of the cherries on top and press some down into the batter. The ones you leave on top will be covered partially by the batter as it bakes. This makes for a pretty appearance.

Bake for 50-55 minutes or until knife inserted in center comes out clean. Do not overbake.
Amanda Davis is the entrepreneurial mom of four grown children and four step children. She and her husband, Chef Antoine, love to cook together creating recipes for this blog. Amanda also make kid's crafts and creates decorative items for her home. She is a crafting expert and guru in the kitchen and has appeared online and in print publications many times over the years. She is also a craft book author five times over and product developer as well as the owner of
FunFamilyCrafts.com
. You can find her on social media by using the buttons to the left!
Latest posts by Amanda Davis (see all)