I've made this Apple Cider Pound Cake twice already. That's a total of 4 pound cakes. Originally when I made this I cooked the caramel too long, even though I followed the instructions, so my adapted instructions below reflect that. Funny thing is, the caramel on the original batch looked ok, but after spreading it on, it hardened and I ended up peeling it off in one big sheet. I then made the caramel again and was successful, though the pictures were less than satisfying, so I made it again.
This time we ate one (with much satisfaction I might add) and gave the other one to my neighbor. She said it disappeared the first day and that one of her teen boys had actually stashed 3 pieces so he could have them the next day! Ha ha ha, I'd say that was a success. He has already requested that I make it again. :)
The apple cider flavor is clear in this fabulous pound cake and the caramel topping is… well… icing on the cake! You could very easily skip the topping and eat this plain, or you could whip up some cinnamon butter to slather on. No matter how you slice it, it's a party in your mouth. :) Try this pound cake. You'll love me for it. :) 
Things I adapted include the cooking level and time for the glaze, using butter instead of margarine, and baking in two loaf pans instead of a tube pan, which of course altered the baking time.
Apple Cider Pound Cake With Caramel Glaze
slightly adapted from CDKitchen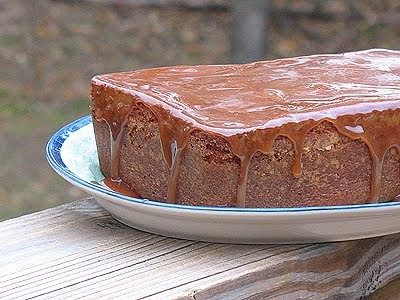 Ingredients
Cake
1

cup

unsalted butter

1/2

cup

butter flavored shortening

3

cups

granulated sugar

6

eggs

3

cups

all purpose flour

1/2

teaspoon

salt

1/4

teaspoon

allspice

1/2

teaspoon

nutmeg

1/2

teaspoon

baking powder

1/4

teaspoon

ground cloves

1/2

teaspoon

ground cinnamon

1

cup

apple cider

1

teaspoon

pure vanilla extract
Caramel Glaze
1/2

cup

granulated sugar

1/4

cup

buttermilk

1/4

teaspoon

baking soda

2

teaspoons

light corn syrup

1/4

cup

unsalted butter

1/4

teaspoon

pure vanilla extract

1/4

teaspoon

ground cinnamon
Instructions
Preheat oven to 350 degrees. Butter and flour two loaf pans.

For pound cake, soften butter and shortening. Gradually add sugar, beating for 1 minute. Add eggs, 1 at a time, beating for 1 1/2 minutes after each addition.

Sift together flour, salt, allspice, nutmeg, baking powder, cloves and cinnamon. Blend together cider and vanilla. Add dry ingredients to butter mixture alternately with cider mixture. Stir until well-blended. Pour batter into prepared pans. Bake for 50-60, or until done. Cool cakes in pans for ten minutes, then remove from pans and cool on wire rack.

For glaze, stir together sugar, buttermilk, baking soda, corn syrup, butter, vanilla and cinnamon in medium saucepan. Bring to a rolling boil over medium-low heat. Boil for 6-8 minutes, stirring occasionally, or until candy thermometer registers 185 degrees.

Place a piece of waxed paper underneath the cooling rack that your cakes are on. Pour glaze on top of pound cakes and using a frosting spatula, gently spread glaze out to the sides and allow it to drip down.

Cake will keep in a covered container or cake plate for 2-3 days.
NEW! Be sure to subscribe to my newsletter, Foodie in the Craftroom, to receive updates and tips from both Amanda's Cookin' and Crafts by Amanda! Visit https://amandascookin.com/p/subscribe-to-newsletter.html
Amanda Formaro is the crafty, entrepreneurial mother of four grown children. She loves to bake, cook, make kid's crafts and create decorative items for her home. She is a crafting expert and guru in the kitchen and has appeared online and in print publications many times over the years. She is also a craft book author five times over and product developer as well as the owner of
FunFamilyCrafts.com
. You can find her on social media by using the buttons to the left!
Latest posts by Amanda Formaro (see all)