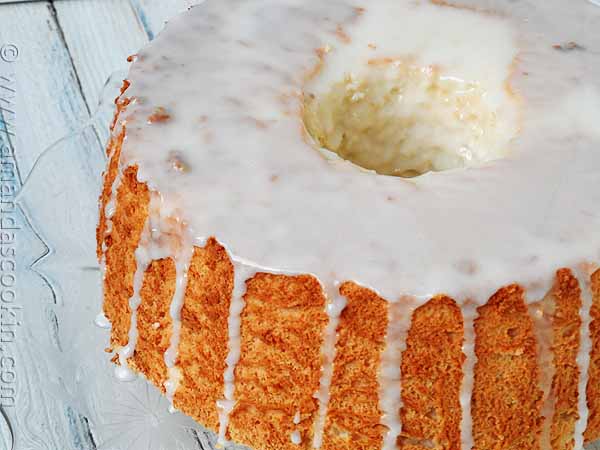 Angel food cake is my mother in-law's favorite. She was visiting when her birthday rolled around, so I asked her what kind of cake she wanted. I knew the answer before I asked. Angel food cake with a simple powdered sugar glaze. How could I refuse her? After all, she's more like a mom than a mother in-law.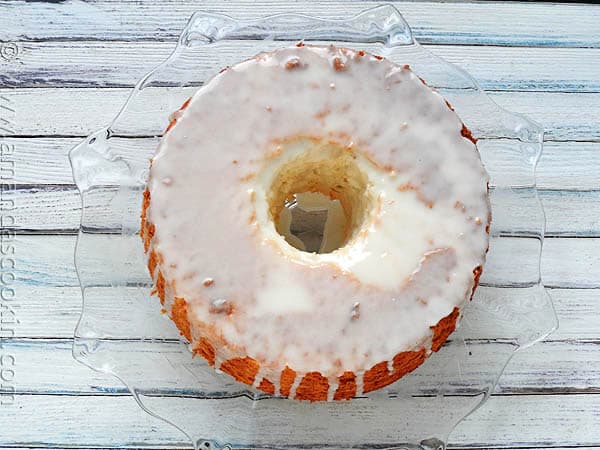 I met my mother in-law almost a decade before she was actually my mother in-law. I started dating my husband when I was 15 years old, and I was 17 when I finally met her. I know that sounds strange, but my husband lived with his biological mother when I met him. He was actually raised by his father and stepmother and had only recently moved back when we met.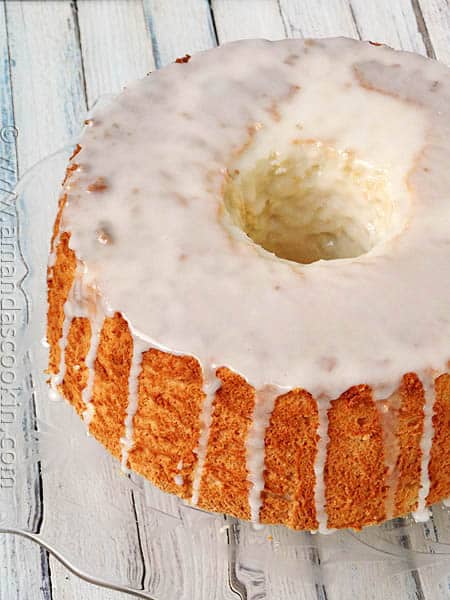 I liked Berta from the start. She's a warm and caring person and has a lot of love to give. She's easy to talk to and loves our kids. In fact, they lived with us for almost a year when my first two children were just tiny little things. She watched the kids during the day while I went to work. She was such a huge help! But alas, they moved back to Nevada and it wasn't six months afterward and we were on our way too.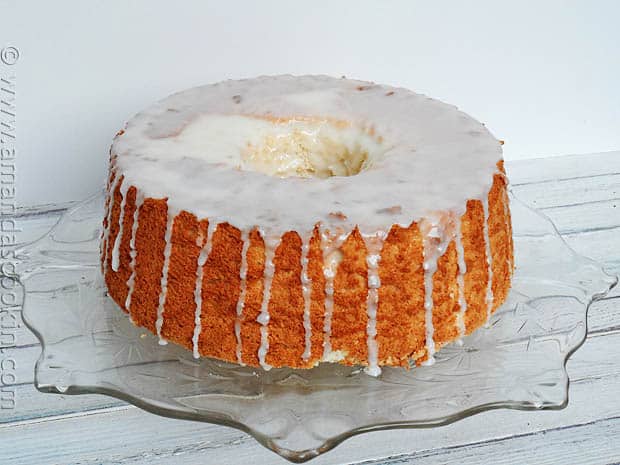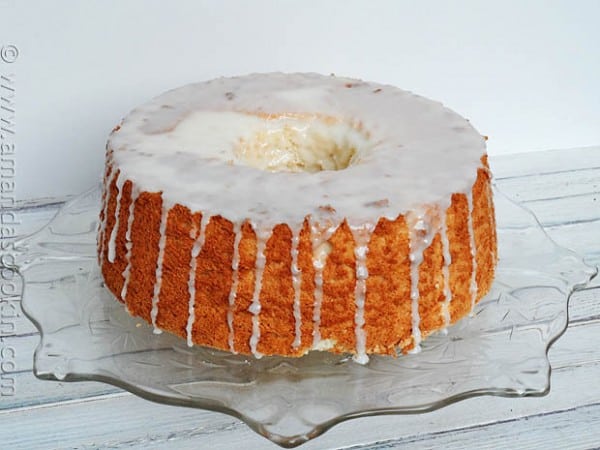 Over the years we've lived close by and far away from each other. My father in-law passed away two years ago and she's living back in Iowa near her family. Luckily for us, she still loves to come and visit and we always cherish the time when she is here. I love having her around. We sit outside on the patio and just talk and talk. I hate it when she leaves and goes home!
She was here for the entire month of June and it was great to have her. She's a wonderful taste tester and a great audience for my cooking and baking experiments. So when she requested an angel food cake with a simple glaze I was more than happy to oblige.
3 1/2 years ago I made this angel food cake and it was great. I compared the recipes and they aren't much different, just a couple of small variations, but I decided to try a different one just for fun.
Oh and yes, Berta loved the cake. :) So did we.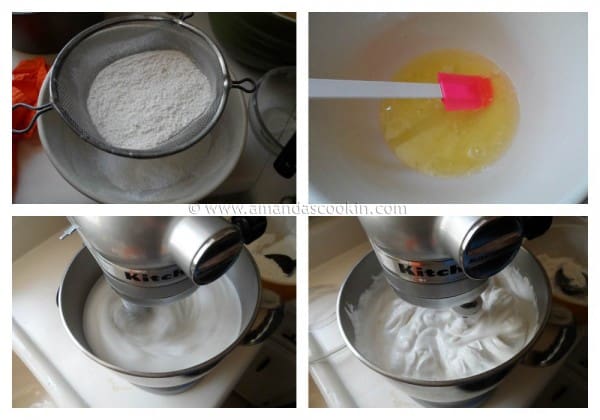 Make sure you let the egg whites sit for 30 minutes at room temperature before you whip the daylights out of them.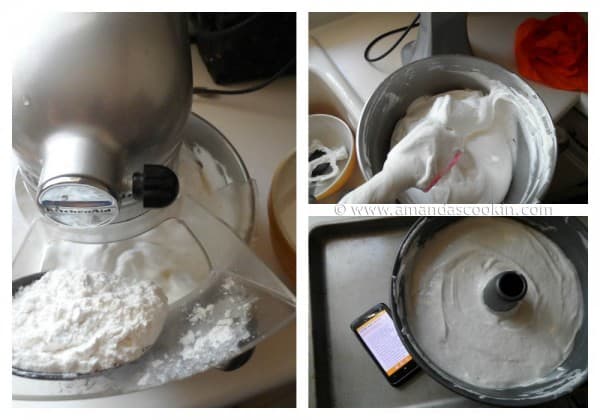 This recipe uses powdered sugar as well as granulated sugar.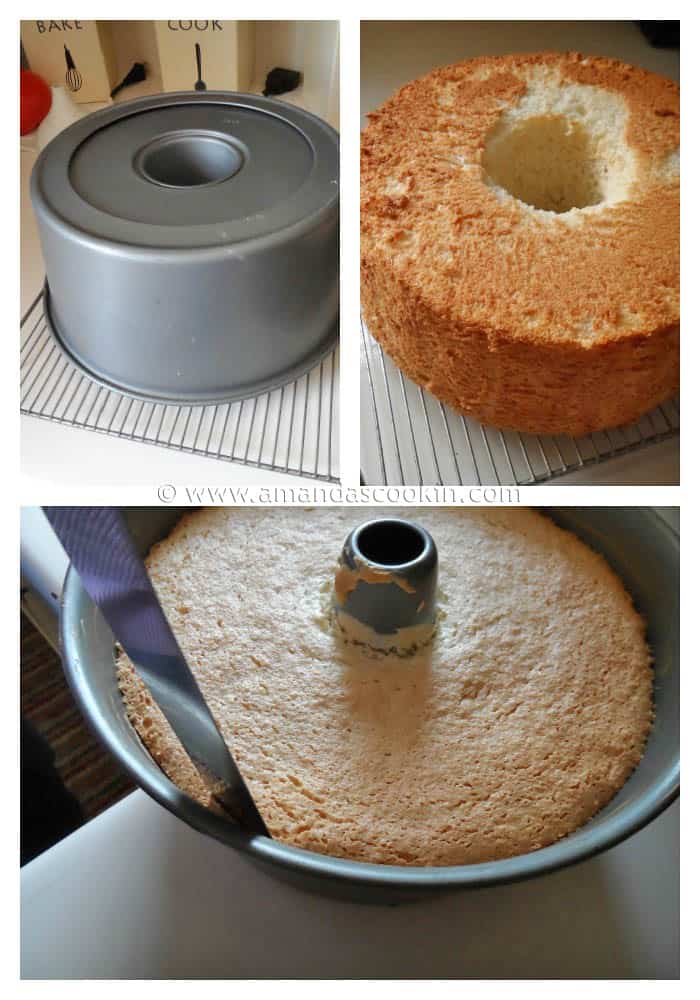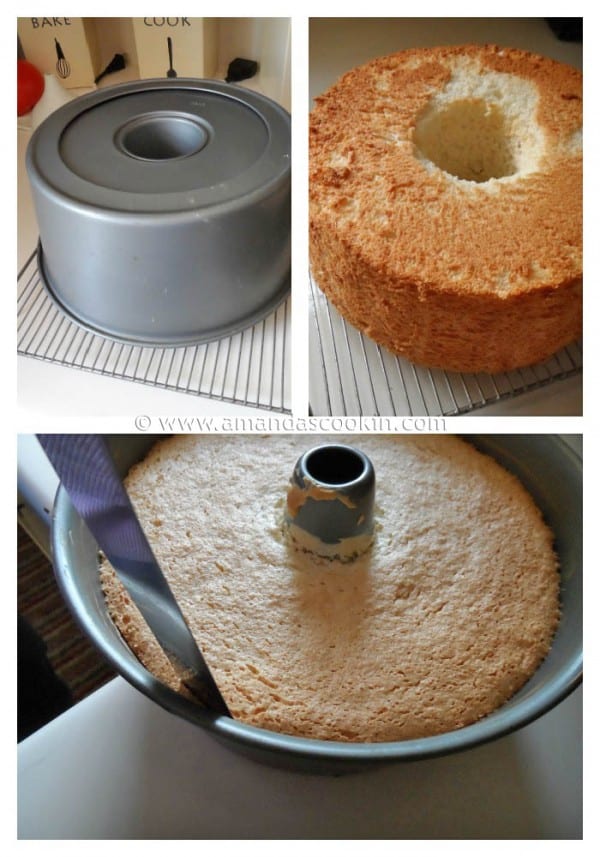 After the cake has cooled, use an icing spatula to loosen it from the pan.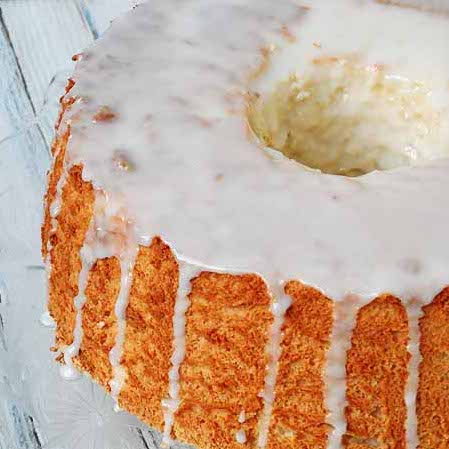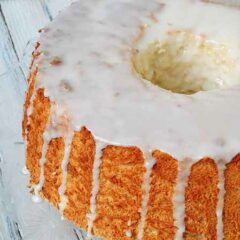 Homemade Angel Food Cake
Fun for those that love to bake, making your own angel food cake is very satisfying.
IMPORTANT - There are often Frequently Asked Questions within the blog post that you may find helpful. Simply scroll back up to read them!
Print It
Rate It
Ingredients
12

egg whites

1 1/4

cups

confectioners' sugar

1

cup

all-purpose flour

1 1/2

teaspoons

cream of tartar

1 1/2

teaspoons

vanilla extract

1/2

teaspoon

almond extract

1/4

teaspoon

salt

1

cup

sugar
Instructions
Measure egg whites, adding or removing whites as needed to equal 1-1/2 cups. Place in a mixing bowl; let stand at room temperature for 30 minutes.

Meanwhile, sift confectioners' sugar and flour together three times; set aside.

Add cream of tartar, extracts and salt to egg whites; beat on high speed. Gradually add sugar, beating until sugar is dissolved and stiff peaks form.

Fold in flour mixture, 1/4 cup at a time. Gently spoon into an ungreased 10-in. tube pan. Cut through batter with a knife to remove air pockets.

Bake at 350 degrees F for 40-45 minutes or until cake springs back when lightly touched. Immediately invert pan; cool completely before removing cake from pan.
Expert Tips & FAQs
59 mg sodium, 23 g carbohydrate, 0 fiber, 3 g protein
Amanda Formaro is the crafty, entrepreneurial mother of four grown children. She loves to bake, cook, make kid's crafts and create decorative items for her home. She is a crafting expert and guru in the kitchen and has appeared online and in print publications many times over the years. She is also a craft book author five times over and product developer as well as the owner of
FunFamilyCrafts.com
. You can find her on social media by using the buttons to the left!
Latest posts by Amanda Formaro (see all)