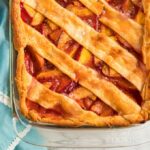 Print Recipe
Deep Dish Peach Pie
There's nothing quite like a slice of fresh peach pie. This is a deep dish pie perfect for a crowd, great for holidays, parties, and potlucks.
FOR THE PIE
1

cup

sugar

1/4

cup

cornstarch

1/2

tsp

cinnamon

1/8

tsp

salt

10

cups

sliced peaches

approximately 4-5 pounds

3

tbsp

butter
CRUST
In a medium bowl with a fork, stir together flour and salt.

Use a pastry blender (or two knifes scissor stylto cut in the shortening until mixture resembles coarse crumbs.

Sprinkle in water, a tablespoon at a time. Mix lightly with a fork after each addition until the dough holds together.

Shape the dough gently into a ball. Cut off one-fourth and set aside.

On a lightly floured surface with a lightly floured rolling pin, roll the remaining three-fourths of the dough into a 17x13 rectangle.

To lift the dough rectangle, gently roll half of it onto the rolling pin and lift it over the 13x9 glass pan. Ease it gently into the pan and up over the sides.
PIE FILLING
In a medium bowl combine sugar, cornstarch, cinnamon, and salt. Set aside.

Add sliced peaches to the dough lined pan.

Dot the peaches with the butter.

Sprinkle with the reserved sugar mixture.

Preheat oven to 425 F.

Roll the remaining dough into a 10x6 rectangle then cut into 1-inch wide strips. This is easily done with a pastry wheel or pizza cutter.

Place the strips crosswise over the peach filling, gently pinching them in place along the edge.

Roll the excess dough hanging over the edge up under itself along the edge.

Bake undisturbed for 50 minutes. Filling should be bubbly and crust golden brown.

Remove from oven to a cooling rack. Let stand for 15 minutes then serve warm.
Buy 5 pounds of peaches. You may not need them all, but you will definitely have enough. It all depends on the size of the peaches. The last time I made this pie, 3 1/2 pounds of peaches yielded 10 cups, the required amount for this recipe.
This is a rustic looking crust. If you prefer a fancier look, you can create a fluted edge with your fingers.
Let the pie bake without opening the oven. The crust will brown pretty quickly, but mine never burns. If your oven bakes on the hot side and the crust looks like it will burn, you can remove it from the oven and cover the edge (only the edges) with foil. Don't cover the top of the pie. That will create steam, causing the strips to collapse and the filling won't thicken properly.
For a firmer pie that's easier to cut, allow to cool for 2 hours. Slices can be reheated in the microwave.
Serving:
1
slice
|
Calories:
348
kcal
|
Carbohydrates:
45
g
|
Protein:
4
g
|
Fat:
18
g
|
Saturated Fat:
5
g
|
Cholesterol:
6
mg
|
Sodium:
274
mg
|
Potassium:
228
mg
|
Fiber:
2
g
|
Sugar:
22
g
|
Vitamin A:
415
IU
|
Vitamin C:
7
mg
|
Calcium:
12
mg
|
Iron:
1.4
mg