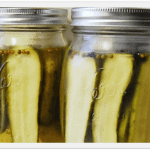 Print Recipe
Homemade Claussen Pickles Copycat
Learn to easily make homemade Claussen pickles! This Claussen pickle recipe is a copycat of course, but it's hard to tell the difference, they are so good!

To make the brine, combine water and vinegar in a large pitcher. Add salt, coriander seed, mustard seed, red pepper flakes and black peppercorns. Stir until salt is dissolved. Set aside.

Wash cucumbers in water and trim 1/8-inch off of the blossom end of each one. Slice each cucumber in half lengthwise.

Divide the dill seed and dried garlic evenly between two clean quart sized jars. Fill jars with cucumber halves, fitting as many in as you can, they may be snug!

Stir brine again to mix ingredients. Place a fine mesh colander over a large bowl or measuring cup. Pour brine through the colander, catching the brine solids in the colander. DO NOT discard!

NOTE: You will not be able to fit all the water in this measuring cup or in the two jars. The goal here is to save the brine solids and use them, you will be discarding the left over vinegar and water mixture when finished.

Once all the solids have been removed from the brine, distribute them evenly among the jars. Using the brine liquid in the measuring cup, pour into the jars until all the cucumbers are covered.

Your brine level should cover your cucumbers and reach the bottom of the jar neck where the twisting begins. The cucumbers will also release some liquid as they brine, so don't overfill the jar. Discard any remaining brine liquid.

Cover lightly with a lid perched on top but do not close and seal. Leave on the counter (out of direct sunlight) for 2-4 days, or until the cucumbers taste like pickles throughout.

Secure lids on jars and refrigerate for up to six months.
Serving:
1
pickle
|
Calories:
20
kcal
|
Carbohydrates:
3
g
|
Sodium:
1647
mg
|
Potassium:
199
mg
|
Fiber:
1
g
|
Sugar:
1
g
|
Vitamin A:
110
IU
|
Vitamin C:
4.5
mg
|
Calcium:
30
mg
|
Iron:
0.4
mg