What? White peanut butter? Amanda, have you finally lost your mind? Well of course the peanut butter isn't white, silly readers. :) I substituted white chocolate chips for regular chocolate chips, and boy what a great idea, if I do say so myself.
I've told you before about this amazing cookbook, 400 Sensational Cookies by Linda J. Amendt. I've already made, and blogged about the fabulous White Chocolate Pumpkin Blondies, the Chocolate Chip Espresso Cookies (da BOMB), and those beautiful Cranberry Orange Spiral Cookies. So here we are, at the 4th cookie recipe from this book, and it's another winner! There hasn't been one yet that I haven't loved. If you haven't already, you should check the library for this book or go to Amazon or your local bookstore and buy it.
Now, I'm not stalking or anything, but I found Linda's website, and read this:
"Linda J. Amendt is an accomplished and experienced baker and home canner, winning over 900 awards in state and county fair food competitions across the country, including nearly 600 first place blue ribbons and special awards for excellence, and earning national recognition for her exquisite food creations."
Well I believe it! For me to actually seek out an author so I can email them some kudos means something. I mean come on, how many cookbooks do I either own myself, borrow from the library, or pick up from the thrift store? LOTS. I will say though, if I make a recipe from a cookbook, and it's good, I will definitely try another. Get another winning recipe, you bet I'm going for it again. And again. And again.
Oh, and might I add that this publishing house knows how to pick them. I have a pasta cookbook from the same publisher and have made 5 incredible dishes from it already. Everything's a winner! But that's for another post.
Now on to Linda's recipe. I didn't change much, only difference really is that I didn't have any chocolate chips in the house, but I did have some white chocolate chips. Everything else was in the pantry, and I was able to use up the last of the rolled oats. It's National Oatmeal Month ya know! ;)
These cookies are good right out of the oven, but they are even better at room temperature. I'm not sure how they would have been with chocolate chips, but the white chocolate combined with the peanut butter chips is to die for! Try them, you'll thank me :)
Oh, and I halved this recipe (should'a seen me cutting that egg in half!) but the full recipe is below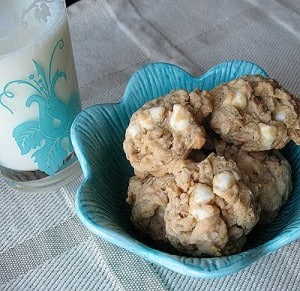 Ingredients
1 1/2

cups

all purpose flour

1

tbsp

baking powder

1/2

tsp

salt

3/4

cup

unsalted butter

softened (I don't soften mine, I use it cold, cut into tablespoons)

3/4

cup

chunky peanut butter

I used creamy

2/3

cup

granulated sugar

2/3

cup

packed light brown sugar

3

eggs

2

tsp

vanilla extract

3 1/2

cups

quick-cooking rolled oats

1/2

cups

white chocolate chips

you can use semisweet

1 1/2

cups

peanut butter chips
Instructions
Preheat oven to 350 F and line cookie sheets with parchment paper.

In a bowl, whisk together flour, baking powder and salt until well combined.

In mixer on medium speed, cream butter, peanut butter, sugar and brown sugar until light and fluffy, about 3 minutes. Add eggs, one at a time, beating well after each addition. Beat in vanilla. Reduce to low speed and slowly add the flour mixture and mix until flour disappears. Stir in the oats then fold in the chocolate and peanut butter chips.

Use a cookie scoop to drop tablespoonfuls of dough, 2 inches apart, onto cookie sheets. Bake for 12 minutes. Edges should be lightly brown. Slide parchment paper onto cooling rack and cool 5 minutes. Transfer from parchment to rack to cool completely.
Amanda Formaro is the crafty, entrepreneurial mother of four grown children. She loves to bake, cook, make kid's crafts and create decorative items for her home. She is a crafting expert and guru in the kitchen and has appeared online and in print publications many times over the years. She is also a craft book author five times over and product developer as well as the owner of
FunFamilyCrafts.com
. You can find her on social media by using the buttons to the left!
Latest posts by Amanda Formaro (see all)