Big cookies, one for each hand. Full of oats, molasses, coconut, chocolate chips, dried fruit, and nuts. Oh yeah, and a little cookie dough in there for good measure! I'll admit, while mixing up this cookie dough, I said out loud to myself "I don't think I'm going to like these". I was dead wrong. These were surprisingly good and reminded me of a granola bar, only in chewy cookie form. Similar to a chocolate chip cookie, I believe these were best when they were a little warm. They were definitely best on day 1, still pretty good on day 2, but day 3 they were about spent. These make great lunch box cookies too!
Oh yeah, and yet another cookie with coconut baked inside that no one knew! HA! Just like the Toasted Coconut Orange Icebox Cookies I made last week. The coconut nay-sayers had no clue. :)
Thanks go out to Mary of Popsicles and Sandy Feet for choosing the Chockablock Cookie from Dorie's book, Baking From My Home to Yours
.
This recipe also gave me a great excuse to finally use this huge mug for a photo session :) Isn't it cool? It's a HUGE mug, it takes two hands to hold it. To give you an idea of the size, those cookies are about 3 inches in diameter each!
Photogenic, there are not. Pretty, they are not. In fact, they're kind of ugly. The kind of cookie you look at and have second thoughts about taking a bite. But then you're glad you did!
Now when I made these, mine varied a little in that I didn't have enough molasses, only half, so I substituted agave nectar, and that worked just fine. As for the add-ins, I used a handful of orange essence prunes, chopped up, and the remainder was cherry flavored craisins. For nuts, I used a small amount of chopped pecans, some sliced almonds that I chopped up, and some chopped walnuts. I really didn't want to hit the grocery store for this one, so I also improvised on the chocolate. I had enough chocolate chips for half what the recipe called for, so I chopped the remainder from some semisweet chocolate blocks (the recipe called for bittersweet, but this worked just fine).
These were a bit sticky to work with, but other than that, I had no problems. In fact, this was one of the few TWD recipes that I actually baked at the long end of the called for time.
A delicious pick, thank you Mary!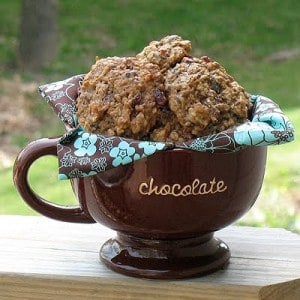 Ingredients
1 1/2

cups

all-purpose flour

3/4

teaspoon

baking powder

1/2

teaspoon

baking soda

1/4

teaspoon

salt

1/2

stick

4 tablespoons unsalted butter, at room temperature

1/4

cup

solid vegetable shortening

1/2

cup

sugar

1/2

cup

molasses

not blackstrap

2

large eggs

1 1/2

cups

old-fashioned oats

1

cup

coarsely chopped pecans

1

cup

dried cranberries

2

cups

chocolate chips

1/2

cup

unsweetened shredded coconut
Instructions
Line two baking sheets with parchment or silicone mats. Position the racks to divide the oven into thirds. Preheat oven to 325º F. Whisk together the flour, baking powder, baking soda and salt. Working with a stand mixer fitted with paddle attachment, beat the butter and shortening until light and fluffy, about 2 minutes. Add the sugar and beat for another two minutes. Pour in the molasses and beat for 1 minute more. Add the eggs one at a time, beating 1 minute after each addition. Reduce mixer speed to low and mix in the oats, then add the dry ingredients, mixing only until they disappear into the dough. Toss in the nuts, dried cranberries, chocolate chips and coconut and, turn the mixer on and off quickly a few times to incorporate. Drop by rounded tablespoons onto the prepared pans, leaving about 1 1/2 inches between the mounds. Bake for 15 - 18 minutes, rotating pans from top to bottom and front to back at the midway point, until the cookies are golden and just about set. Remove the baking sheets to cooling racks and let the cookies rest on the sheets for about 5 minutes before transferring them to racks to cool to room temperature.
Amanda Formaro is the crafty, entrepreneurial mother of four grown children. She loves to bake, cook, make kid's crafts and create decorative items for her home. She is a crafting expert and guru in the kitchen and has appeared online and in print publications many times over the years. She is also a craft book author five times over and product developer as well as the owner of
FunFamilyCrafts.com
. You can find her on social media by using the buttons to the left!
Latest posts by Amanda Formaro (see all)