I have two words for you: menu planning. This 20-30 minute task can save you tons of money each week in several ways. It doesn't have to be fancy as you can see from my chicken scratch above, just anything that works for you. Pinterest is a great way to keep track of your meals and there are tons of smartphone apps these days that will help you do the job as well.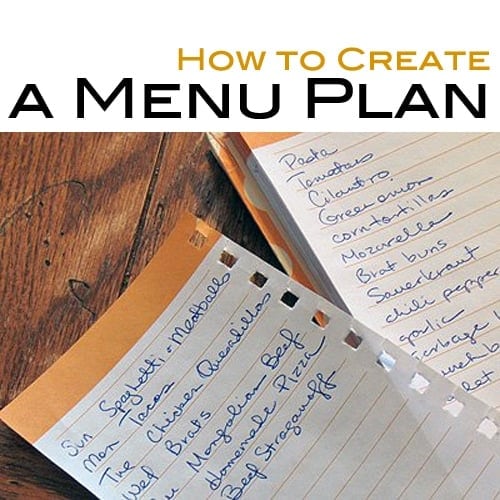 How a menu plan can save you money
Avoid take-out because you didn't plan for dinner
Stop multiple trips to the grocery store for this and that
Helps you build your grocery list
Can keep your pantry current by using what you have
Keeps the dust off your cookbooks!
Over the years I've gone back and forth between menu planning, not menu planning, sometimes doing it, sometimes not. Nowadays it's pretty much part of my routine. Let me expand on the items above:
Avoid Take-out
When I don't put together a menu plan it is inevitable that we will have take out 1-2 times in a week. Even though I work from home, I still WORK. Which means I spend hours in front of the computer and before I know it it's time to get dinner started. If I haven't planned what we are going to have, everything is still frozen, I won't be in the mood to dash around and get something ready, so I end up spending $30-40 for dinner that night. Yikes!
Stop Multiple Trips to the Grocery Store
Each week when planning my menu, I keep my grocery list right next to me and build that as well. If I didn't do this, I would end up running to the local high priced grocery store because WalMart is twenty minutes away and that's too far (40 minutes round trip plus parking, shopping, standing in line, you just spent an hour or more out of your day!). My grocery list and my menu plan go hand in hand and work together well.
Helps Build Your Grocery List
As I mentioned above, I build my grocery list at the same time as my menu plan. I go through cookbooks, bookmarked recipes and my pantry to figure out what we have that week. By building my grocery list at the same, I won't accidentally forget something that I might need for one of my dinners, which could result in running to that high priced grocery store down the road!
Can Keep Your Pantry Current
When I build my grocery list I also take a quick visual inventory of my pantry. With 2 adults, 2 teens and 2 grade school aged kids eating all week long, it doesn't take long for items to deplete. However, all those hands in the pantry can shove things to the back and out of sight. I fish through the pantry and see if there's anything that will compliment my dinners or anything that needs to be used before it expires.
Obviously I won't build a whole dinner around a can of corn, but if I have a bag of dried beans and some leftover ham, that paired with some chopped onion and herbs can make a meal. Add some rolls and we've got a dinner.
Keeps the Dust Off Your Cookbooks!
I try to include 1-2 recipes on my menu plan that are from my cookbooks. It's fun to try something new each week. I have several cookbooks and old recipe magazines that I love to browse through. It's hard to find time, but I've pretty much set aside Saturday morning for all of this. I use bookmarks (pieces of paper work) to mark recipes I want to try.
Overall, menu planning is a great way to save money and avoid spending extra money on unexpected grocery store trips, impulse buying, and keeps you from wasting food!
Be sure to browse through all my dinner recipes when planning your menu!
Amanda Formaro is the crafty, entrepreneurial mother of four grown children. She loves to bake, cook, make kid's crafts and create decorative items for her home. She is a crafting expert and guru in the kitchen and has appeared online and in print publications many times over the years. She is also a craft book author five times over and product developer as well as the owner of
FunFamilyCrafts.com
. You can find her on social media by using the buttons to the left!
Latest posts by Amanda Formaro (see all)