Do you ever just want something, but don't want the work that goes along with it? I mean, gingerbread cookies are really fun, especially making the little men and women with gumdrop buttons and icing rick rack. So cute! I get it! But sometimes you just want the cookie… know what I mean? This is a wonderful gingerbread cookie recipe that will bake up nice and soft and delivers a warm, spicy flavor you will love.
I used this same recipe when I made these cute gingerbread face cookies for Kaboose (note that they wanted to list a recipe from their site so it's not the same as the one I used which is listed here on this post), but this time I wanted to make things a little simpler. Instead of decorating with candy, gumdrops and other such confections, I chose chocolate. Good choice, I know. :) Chocolate rocks, no doubt about it, and I love both regular and white chocolate, so I just did some simple drizzles and all was good in the world.
Incidentally, I used these awesome candy making and dipping bars from Ghirardelli that I got from Sam's Club. it melts beautifully and dries glossy. Great stuff! These would be perfect for cake balls or dipped fruits. I plan to make chocolate covered pretzels an pretzel rods with them too.
If you decide to give these as a gift, make my recycled bread tag snowmen to secure your cookie bags! I'll show you how to make them here.
So if you would like to keep things simple, try these gingerbread cookies. Roll them a little thicker than what the recipe states and they'll stay nice and soft. Either way they are wonderful!
Soft Gingerbread Cookies 
adapted from Recipezaar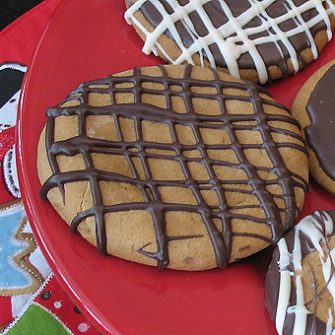 Soft Gingerbread Cookies with Chocolate Drizzles
Print
Rate
Total Time:
2
hrs
30
mins
Ingredients
3

cups

all-purpose flour

1 1/2

teaspoons

baking powder

3/4

teaspoon

baking soda

1/4

teaspoon

salt

1

tablespoon

ground ginger

1 3/4

teaspoons

ground cinnamon

1/4

teaspoon

ground cloves

6

tablespoons

unsalted butter

3/4

cup

dark brown sugar

1

large egg

1/2

cup

molasses

2

teaspoons

vanilla
Instructions
In a small bowl, whisk together flour, baking powder, baking soda, salt, ginger, cinnamon, and cloves until well blended.

In a large bowl (KitchenAid's great for this) beat butter, brown sugar, and egg on medium speed until well blended. Add molasses and vanilla and continue to mix until well blended. Gradually stir in dry ingredients until blended and smooth.

Divide dough in half and wrap each half in plastic and let stand at room temperature for at least 2 hours or up to 8 hours. (Dough can be stored in the refrigerator for up to 4 days. Return to room temp before using.)

Preheat oven to 375°. Grease or line cookie sheets with parchment paper.

Place 1 portion of the dough on a lightly floured surface. Sprinkle flour over dough and rolling pin. Roll dough to a scant 1/4-inch thick (I rolled mine a bit thicker for softer cookies). Use additional flour to avoid sticking.

Cut out cookies with desired cutter. It's easiest to roll the dough out on the parchment, cut out the cookies and remove the outer pieces, leaving the cookie shapes on the parchment. Then lift the parchment up at one side, so that the cookie shape is now upside down, place your hand under it and peel the parchment off the back of the cookie. The cookie will land gently in your hand and won't get stretched out of shape like it would if you lift the cookie from the surface and place it on the pan.

Space cookies 1 1/2-inches apart. Bake 1 sheet at a time for 7-10 minutes (the lower time will give you softer cookies). Remove cookie sheet from oven and allow the cookies to stand until the cookies are firm enough to move to a wire rack.
Amanda Formaro is the crafty, entrepreneurial mother of four grown children. She loves to bake, cook, make kid's crafts and create decorative items for her home. She is a crafting expert and guru in the kitchen and has appeared online and in print publications many times over the years. She is also a craft book author five times over and product developer as well as the owner of
FunFamilyCrafts.com
. You can find her on social media by using the buttons to the left!
Latest posts by Amanda Formaro (see all)