When I was a little girl, my mom used to make soft boiled eggs and soldiers for breakfast. I would dip the soldiers into the warm, soft yolk and eat them. It's a warm memory I hold dear to my heart. I've been eating soft boiled eggs for breakfast for many years because of my mom. Though I don't partake in the "soldiers" anymore, every once in a while I tell my kids about them and smile. My mom would butter a slice of bread and then cut it into sticks. She called them soldiers. I don't know if she made it up, brought it with her from England, or heard about here in the states. I just know that I loved them.
I lost my mom when she was just 45 years old. I was 23, so I wasn't a little girl anymore, but I hadn't finished growing up yet. I still hadn't had any children of my own, so my babies never met their grandmother, they've only seen pictures and heard my stories. I still had so many questions to ask, so many things I wanted, and needed to say. In September, it'll be 20 years since I said goodbye to her. She may have left this Earth, but she never left my heart. I still miss her just as much as I did back then. I still cry once or twice a week without fail, like today. Every once in a while I'll open a photo album just to see her face and brush my fingers across it, as if to hug her somehow.
And I still think about her every single time I make a soft boiled egg. Today, I wanted soldiers. I don't know why. I just did. So this post is for you mom. God, I miss you.
Soft Boiled Eggs & Soldiers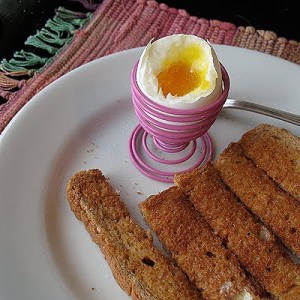 Ingredients
2

eggs

1

or 2 slices of bread

spreadable butter or margarine
Instructions
Put eggs in a saucepan deep enough to cover the eggs with an inch or so water above. Bring to a boil over high heat. As soon as the water gets to a rolling boil, set the timer for 3 minutes.

Right after setting the timer, butter bread if you prefer them untoasted. Otherwise pop the bread in the toaster, then butter it. Cut into sticks.

When timer goes off, remove eggs from water with a spoon. Serve in egg cups.
NEW! Be sure to subscribe to my newsletter, Foodie in the Craftroom, to receive updates and tips from both Amanda's Cookin' and Crafts by Amanda! Visit https://amandascookin.com/p/subscribe-to-newsletter.html
Amanda Formaro is the crafty, entrepreneurial mother of four grown children. She loves to bake, cook, make kid's crafts and create decorative items for her home. She is a crafting expert and guru in the kitchen and has appeared online and in print publications many times over the years. She is also a craft book author five times over and product developer as well as the owner of
FunFamilyCrafts.com
. You can find her on social media by using the buttons to the left!
Latest posts by Amanda Formaro (see all)