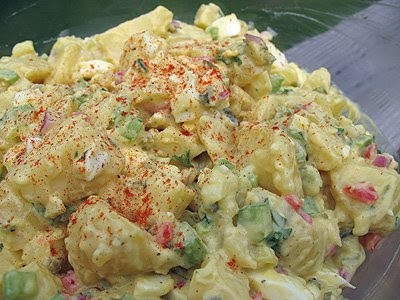 Several years ago I was given a book called Peace, Love, & Barbecue: Recipes, Secrets, Tall Tales, and Outright Lies from the Legends of Barbecue
 by Mike (and Amy) Mills. Mike Mills owns several restaurants, grew up around real barbecue, and has won many barbecue championships. I just recently started making things from this book, and let me tell ya, everything has been fabulous!
Take this beautiful potato salad as just one example. In the book, Mike travels around meeting with many other barbecue greats and managed to glean a few recipes along the way. This particular recipe is courtesy of Blair, wife to John T. Edge from Mississippi.
The name?
Blair says "John T. and I fell in love over food. After we had our son, I started to think serious thoughts about potato salad. I wanted to cook like a good Mississippi mama and raise our son on certain foods of which he'd one day be proud. He could only say a few words when I came up with this recipe. But in my dream, he would take a bite of potato salad, rip off his bib, hoist his hands into the hallelujah air as if addressing all of humankind, and shout 'My mama makes the best potato salad in the whole wide world!'"
Well Blair, so far in my book, it is the best potato salad in the whole wide world! The colors alone make for an impressive presentation, but the flavor of this dish is wonderful and I can't wait to make it again!
This recipe can be found on page 267 of Mike Mills' Peace, Love, & Barbecue: Recipes, Secrets, Tall Tales, and Outright Lies from the Legends of Barbecue