I have this problem with my freezer. There isn't enough room. My chest freezer in the garage is full with a side of beef and a side of pork. It's amazing how long it takes to make a dent! The freezer in my side by side refrigerator is stuffed full with overflow meat from the chest freezer, frozen homemade chicken and beef stock, zucchini juice, juice from tomatoes, shredded cheese, etc, etc.
My other problem is that my husband is an ice cream fanatic. We always have to have room for 3 1/2 gallon cartons of ice cream. I much prefer to make my ice cream from scratch, but he goes through so much of it so fast, I just can't keep up! Not to mention that the ice cream maker's canister has to freeze over night (or at least 7 hours) before you can put the custard in, and it only makes a quart at a time.
I think I need another freezer. :-/
I went to the library and checked out David Lebovitz's book Perfect Scoop: Ice Creams, Sorbets, Granitas, and Sweet Accompaniments
. It's delicious. It's marvelous. It's creamy and dreamy. :)
I've already made 3 recipes: vanilla, chocolate, and cinnamon. Today I'm going to give you the chocolate ice cream recipe because this is THE chocolatiest (is that a word?) chocolate ice cream I have ever had. Rich and creamy smooth, absolutely divine. I couldn't handle more than two scoops at a time, but it's pure chocolate madness, I guarantee it!
Do you ever make your own ice cream?
Chocolate Ice Cream
from David Lebovitz's The Perfect Scoop

If you are looking for intense chocolate flavor, look no further!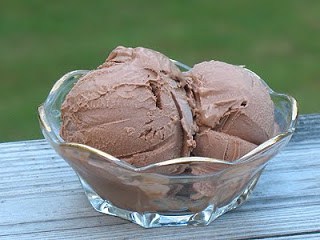 Ingredients
2

cups

heavy cream

3

tablespoons

unsweetened Dutch-process cocoa powder

5

ounces

bittersweet or semisweet chocolate

chopped

1

cup

whole milk

¾

cup

granulated sugar

Pinch

of salt

5

large egg yolks

½

teaspoon

vanilla extract
Instructions
Warm 1 cup of the cream with the cocoa powder in a medium saucepan, whisking to thoroughly blend the cocoa. Bring to a boil, then reduce the heat and simmer at a very low boil for 30 seconds, whisking constantly. Remove from the heat and add the chopped chocolate, stirring until smooth. Then stir in the remaining 1 cup cream. Pour the mixture into a large bowl, scraping the saucepan as thoroughly as possible, and set a mesh strainer on top of the bowl.

Warm the milk, sugar, and salt in the same saucepan. In a separate medium bowl, whisk together the egg yolk. Slowly pour the warm milk into the egg yolks, whisking constantly, then scrape the warmed egg yolks back into the saucepan.

Stir the mixture constantly over the medium heat with a heatproof spatula, scraping the bottom as you stir, until the mixture thickens and coats the spatula (170°F on an instant-read thermometer). Pour the custard through the strainer and stir it into the chocolate mixture until smooth, then stir in the vanilla. Stir until cool over an ice bath.

Chill the mixture thoroughly in the refrigerator, then freeze it in your ice cream maker according to the manufacturer's instructions. (If the cold mixture is too thick to pour into your machine, whisk it vigorously to thin it out.)
Amanda Formaro is the crafty, entrepreneurial mother of four grown children. She loves to bake, cook, make kid's crafts and create decorative items for her home. She is a crafting expert and guru in the kitchen and has appeared online and in print publications many times over the years. She is also a craft book author five times over and product developer as well as the owner of
FunFamilyCrafts.com
. You can find her on social media by using the buttons to the left!
Latest posts by Amanda Formaro (see all)