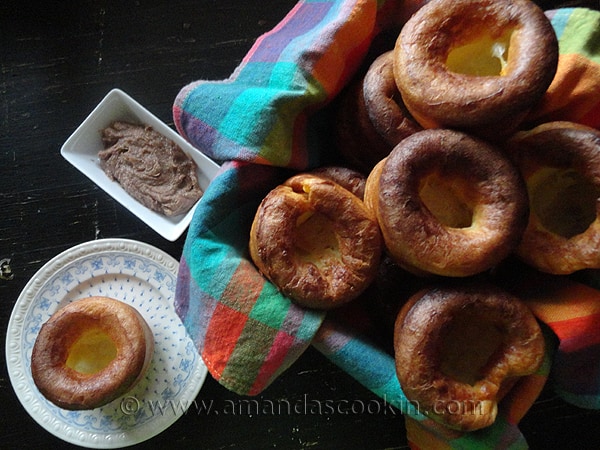 My mother in law was in town for Thanksgiving. I love having her here, she's like a second mom to me, but she's also a great audience as far as my cooking goes. She loves to watch me cook, bake and craft and is always complimentary, consequently swelling my head while she's here. She's quite funny, calling her sister every time I would make her something. She'd call to gloat about what treat she was eating and her sister would grumble jealously. Her sister asked if I had a recipe for popovers. Ya know, that's something I hadn't made before!

How fun for me. Not only would I get to try something I hadn't made yet, but I had this great audience that would "oooo" and "ahhhh" over the results. Of course I was a little nervous, popovers just sound like one of those recipes that could end in disaster. I only had a muffin tin, no popover pan here, but that was no problem. These were incredibly easy and I even adapted several recipes to come up with mine, so I wasn't even sure they would work.

There are a lot of popover recipes out there and I did my fair share of searching. I do have to share a rather funny discovery I made. I not only searched the web, but I also scoured several of my cookbooks, one of which was The Joy of Cooking. Shortly after looking at the recipe in the book I did a google search and found that Martha Stewart had one on her site too.
(Caution: I'm about to go off on a tangent here. So bear with me.)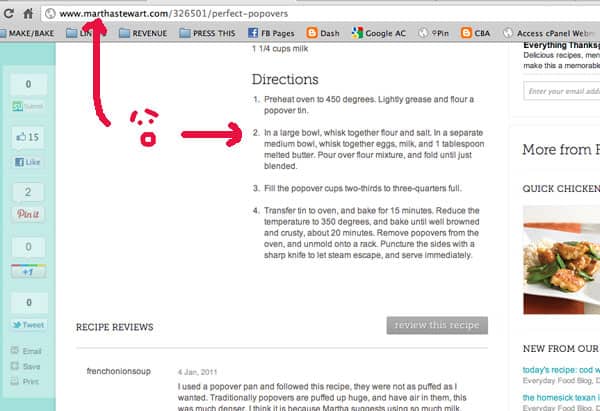 The funny part? They are the SAME. I mean really the same, same wording, instructions, everything. And neither gives credit to the other, ha!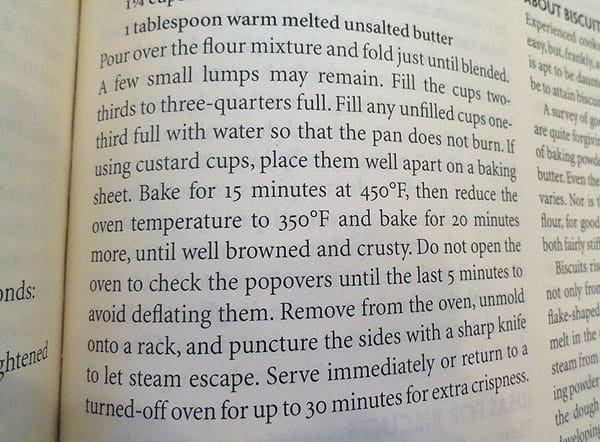 I'm relatively certain that The Joy of Cooking had it first. The first copyright on the Joy of Cooking is 1931, 10 years before Martha was even born. There are repeated copyrights after that, all the way up to 1997. So while The Joy of Cooking had it first, who knows whose recipe it really is… why?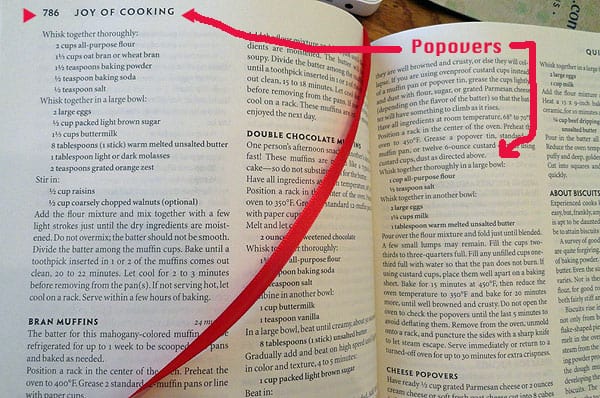 Well, if you saw the movie Julie & Julia, you might remember the scene in the movie where Julia Child talks to the author of The Joy of Cooking, Irma Rombauer:
Irma Roumbauer: The first edition of The Joy of Cooking took me a year to write.
Julia Child: Only a year? Including testing the recipes?
Irma Roumbauer: Well, I didn't really test all the recipes. There were so many of them.
So umm, the book has many, many recipes that she just collected from different places. Who knows WHO developed them or where they are from! Just for fun, you can see the movie scene excerpt I'm referring to here. (caution: there is adult language on the blog. just sayin', in case you are easily offended, don't shoot the messenger)
The question remains, why didn't Martha's website give credit? Was it an overzealous employee, or perhaps someone who thought they were posting their mom's original recipe? After all, we know that "Martha Stewart" the website is not just Martha herself. But word for word instructions with no credit? Hmm. Loosens the site's credibility a bit I think.
Funniest part is that the first comment on Martha's site says this: "I used a popover pan and followed this recipe, they were not as puffed as I wanted. Traditionally popovers are puffed up huge, and have air in them, this was much denser. I think it is because Martha suggests using so much milk, normally it is half milk half water. Still very tasty but if you want the giant oversized puffed up popover this isn't it. I recommend looking at the Joy of Cookings instructions for popovers or yorkshire pudding (they are the same thing essentially)."
That made me laugh too. Ummm HELLO. You didn't like this recipe but are recommending people try the exact same one instead? Silly lady. The recipe is exactly the same as the one in the book she referred to, so my guess is that her recipes results were a case of user error. I also, in all my searching, didn't see any popover recipes using water. So, yeah.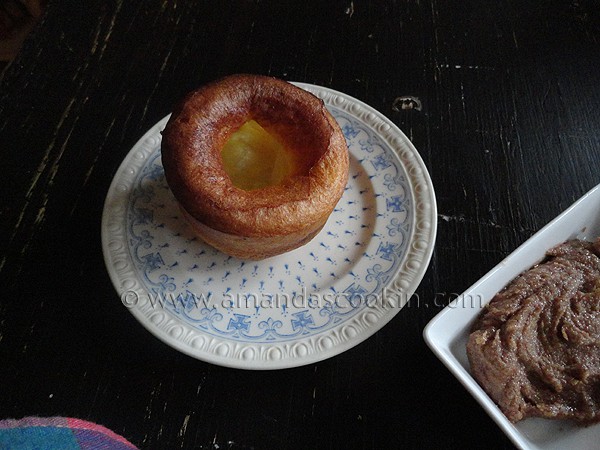 Anyway, I digress. Enough about Martha and her copyright infringing site (haha). These popovers were absolutely divine. We devoured them rather quickly, which is really what you should do. This isn't the type of treat that sits around and preserves well. They are best eaten warm, in my humble opinion. I chose to make a cinnamon sugar butter to serve them with. I've actually changed the ratios in the printable version below from what I made, because I felt the one I actually served had too much sugar. It was marvelous melted on the popover though! Just sayin'.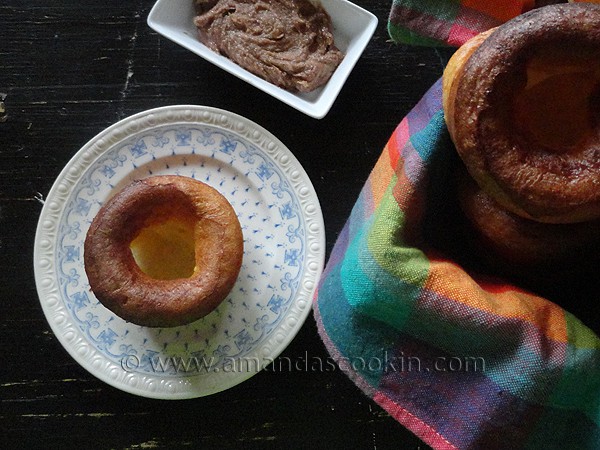 After making these my mind opened up to numerous possible variations. I've listed them below, but I haven't tried them yet. However, I would imagine each would work out beautifully. This will NOT be the last time I make popovers and so glad Aunt Joyce requested them. :) Thanks "Joycee"!
POSSIBLE VARIATIONS:
Traditional popovers: leave out the vanilla and the sugar.
Herbed Popovers: Replace the melted butter with melted herb butter, and/or add 1 tablespoon of finely chopped fresh herbs to the batter.
Garlic & Cheese: Add 2 tablespoons of finely shredded cheese and replace the melted butter with melted garlic butter.
Fruit & Almond Popovers: Follow the sweet recipe adding in 1/2 teaspoon of almond extract with the vanilla. Serve with fruit jam or apple butter instead of cinnamon butter.
Sugar Crusted: Another twist would be to brush baked popovers with melted butter and roll in sugar or cinnamon sugar (David Lebovitz).
Chocolate: Replace 3 tablespoons of the flour with 3 tablespoons of unsweetened cocoa and follow sweet recipe above. Drizzle with melted chocolate and/or a powdered sugar glaze.