I'll start by saying I've never been big on peaches. Almonds, on the other hand, are a completely different story. I decided to be adventurous and try this recipe which combines the two topped off with cinnamon because frankly, it sounded good! I don't hate peaches, they just aren't up there as a favorite. I don't usually buy them, so for this recipe I grabbed a bag of frozen peaches. The verdict? Divine!
I have a new appreciation for the peach. While it might not be my favorite as a fruit to each fresh, it's definitely a keeper in this almond laced quick bread. I'm not sure if it's the almond extract that brings out the flavors, or the use of the cinnamon, I just know it's yummy.
At first I thought there was something wrong with the recipe because I ended up with way too much topping and my breads bubbled over. Turns out I don't read directions very well. :-/ I was supposed to use 4 mini-loaf pans (which I did), but the size should have been 6×3, mine are more like 4.5×2.5. So technically I could have actually baked one extra bread with those sized pans. All in all it worked out fine. A bit "rustic" looking, if you will, but absolutely yummy.
Peach Almond Bread with Cinnamon Topping
adapted from Alicia's Recipes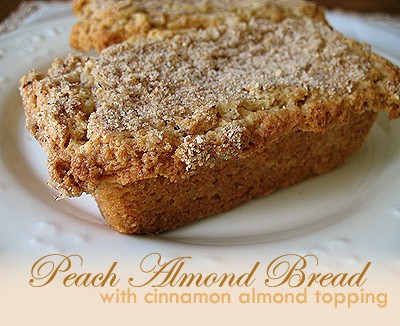 Ingredients
1/2

cup

unsalted butter

softened

1/2

cup

sugar

1/2

cup

packed brown sugar

1

egg

1/2

cup

sour cream

1/2

teaspoon

almond extract

1 1/2

cups

unbleached all purpose flour

2

teaspoons

baking powder

1

teaspoon

cinnamon

1

cup

chopped peaches

fresh or frozen

1/2

cup

chopped toasted almonds
Cinnamon Almond Toppin
1/4

cup

sugar

1/2

teaspoon

cinnamon

1/2

cup

finely chopped toasted almonds
Instructions
Preheat oven to 325 F. Grease and flour 4 mini loaf pans (6x3), place loaf pans on cookie sheet.

Beat together first 6 ingredients until blended. Stir in the remaining ingredients together in a bowl then add to wet ingredients until just moistened. Do not overmix. In a separate bowl, combine the topping ingredients, blend in a mini food processor or coffee grinder.

Divide batter between 4 loaf pans and sprinkle with topping. Bake 45 to 50 minutes or until cake tester inserted in center comes out clean. Allow to cool 15 minutes in pans, and then remove and continue to cool on a rack.
More from me you might like:
Cantaloupe Quick Bread
Cinnamon Chip Banana Muffins and Loaves
Honey Pear Bread
Vanilla Zucchini Muffins
Great recipes from the internet:
Peach Mango Sorbet from Baking and Boys
Peach Macadamia Scones from Tasty Eats at Home
Peaches 'n Cream Muffins from Two Peas and Their Pod
Fresh Peach Ginger Peasant Cakes from Passionate About Baking
(If you enjoyed this post, I'd truly appreciate a stumble, Digg, facebook share, whatever you like! :) )

Amanda Formaro is the crafty, entrepreneurial mother of four grown children. She loves to bake, cook, make kid's crafts and create decorative items for her home. She is a crafting expert and guru in the kitchen and has appeared online and in print publications many times over the years. She is also a craft book author five times over and product developer as well as the owner of
FunFamilyCrafts.com
. You can find her on social media by using the buttons to the left!
Latest posts by Amanda Formaro (see all)