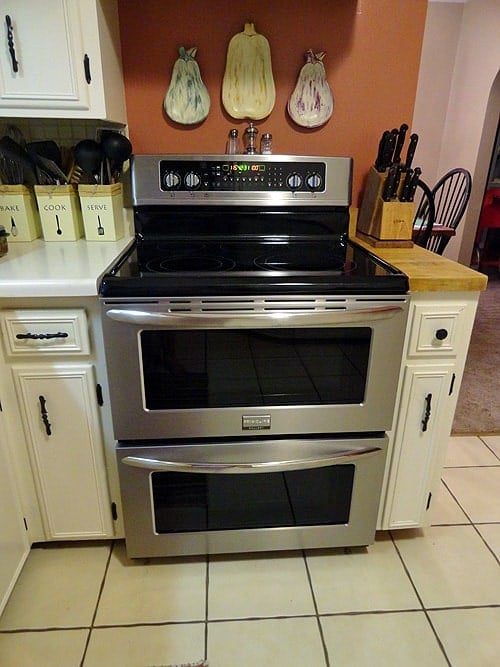 How exciting is this?? I was selected to participate in Frigidaire's latest Test Drive initiative! As part of this program, I received a beautiful new Frigidaire Gallery® Range with Symmetry™ Double Ovens. Ahhh! When I received the email I was so excited! While there was nothing wrong with my current oven, it was very limited and I have been been dying to modernize my appliances.
Here's my old stove. Again, nothing wrong with it and I promise it went to a good home! ;-)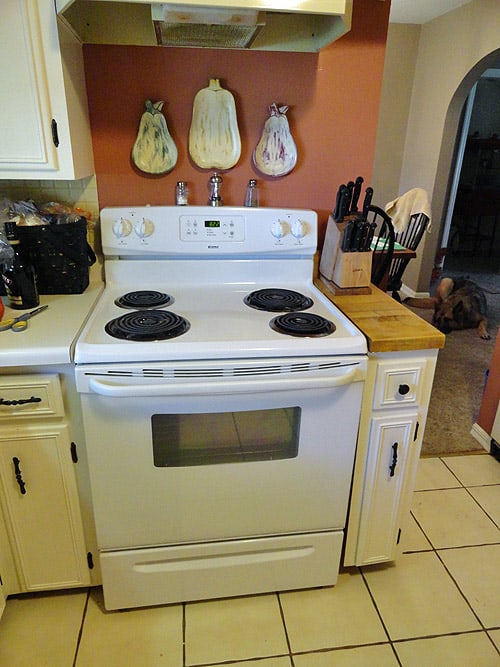 But doesn't that stainless steel state of the art beauty look much better in its place??
I just finished reading through the manual, which I HIGHLY recommend by the way. Case in point, my son made macaroni and cheese on the stove top the first day we had it and some of it boiled over, staining the stove top. I thought for sure it was permanent and I couldn't get it off with ceramic stove top cleaner. After reading through the manual not only did I discover that we were using the wrong burner for that sized pan, but that I WAS able to remove the stain this morning with a very mild solution of gentle dish soap and warm water. Yay!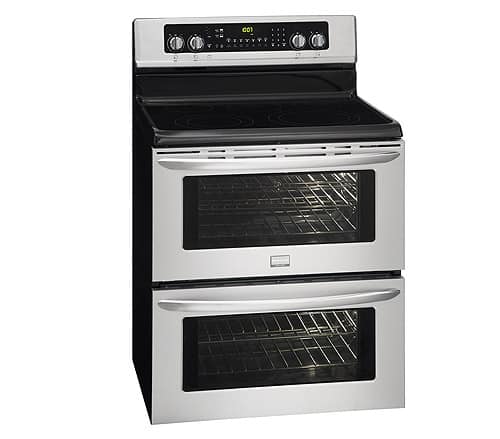 There are some pretty amazing features on this range and I cannot wait to try them all out. Here are some of the Signature Features:
Symmetry Double Ovens – Two large ovens, each big enough to cook a 28-pound turkey, provide the flexibility to cook multiple dishes at the same time at different temperatures.
Fits-More™ Cooktop – With five elements including two SpaceWise® Expandable elements and a Warming Zone so you can cook more at once.
Precision Set™ Controls – Adjust heat levels more precisely, providing exceptional temperature control.
Quick Preheat – Preheat in just four minutes.
Some things I can't wait to try out are the bake time feature, quick preheat and the pizza setting!
The bake time feature allows you to set the oven to bake for a specified number of minutes and shut off when done. It accounts for preheat time as well. So you place the food in the oven, set the bake time and temp and it will preheat, bake and turn off. This is ideal for me since I seem to be multitasking all the time. I have over baked a thing or two because I'm always doing too many things at once! There have been several occasions where I am putting a cake in the oven and one of the kids calls to say they need a ride home. This would be perfect for those moments.
The quick preheat allows your oven to reach the desired baking time much quicker by using the built in convection fan to circulate the heat quicker. Ideal for when you are in a hurry. Umm, me! Always! haha
The pizza setting just goes without saying. We love homemade pizza around here, but the kids like to pop frozen pizzas in the oven too. This works for both. You can select frozen or fresh and go from there. I also have a recipe for homemade frozen pizzas for you, coming soon!
There's also a keep warm setting on the fifth element of the stove top and in the oven as well. Excellent for dinner time and holidays. I am so excited to get busy using my new kitchen-love. Thank you Fridgidaire!
:)

I am a participating blogger in a Test Drive Campaign by Frigidaire and received a Frigidaire Range to facilitate my reviews on this blog. All opinions are 100% mine.
Amanda Formaro is the crafty, entrepreneurial mother of four grown children. She loves to bake, cook, make kid's crafts and create decorative items for her home. She is a crafting expert and guru in the kitchen and has appeared online and in print publications many times over the years. She is also a craft book author five times over and product developer as well as the owner of
FunFamilyCrafts.com
. You can find her on social media by using the buttons to the left!
Latest posts by Amanda Formaro (see all)