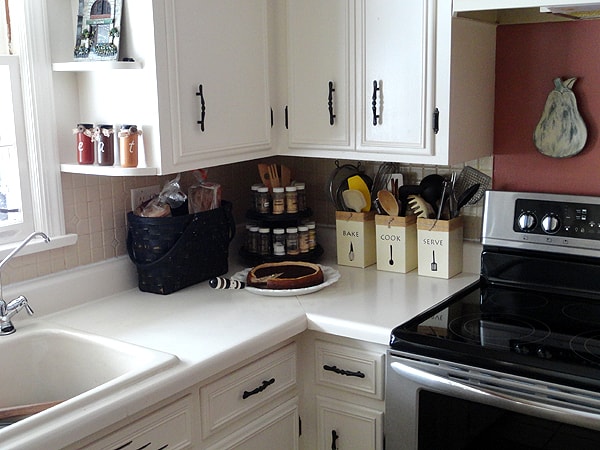 I often share with you things that make life in my kitchen a bit easier. Whether it be a gadget, an appliance or a tip I've picked up here or there. There are certain things that I "can't live without" (I'm sure I could, but definitely wouldn't want to!) that I've grown to love and depend on. Some of those things are new to my kitchen, others are time tested and I've used for years and years. I thought it would be fun to share some of those favorites with you, and would love to hear what you can't live without either!
I created a section on this site that highlights the many different things I use everyday. I do have several favorites though, things that fall into that "I don't want to live without this" category. Those things include: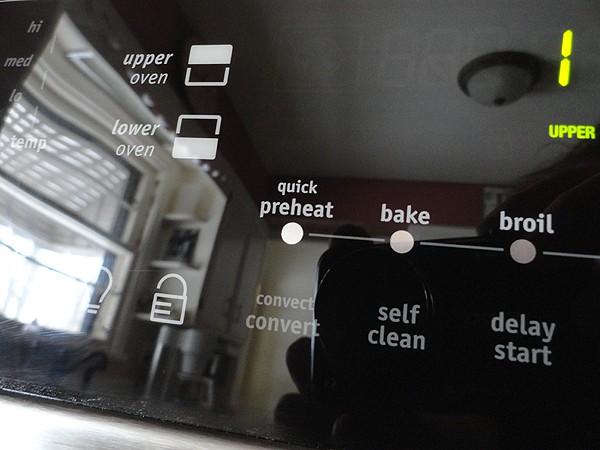 The Quick Preheat feature on my Frigidaire Gallery® Range with Symmetry™ Double Ovens. I use Quick Preheat ALL THE TIME. It's so much faster than waiting for the standard preheat time. This range uses convection heat for the quick preheat feature which allows the heat to flow much quicker and get to the desired temperature faster.
As far as pans go, I have two favorites. My cast iron Dutch Oven and my ManPans skillet. I love cast iron because of how well it retains heat and cooks evenly. It's absolutely perfect for stews and braises. I love my cast iron skillet too! For stir fries and pasta dishes, I wouldn't want to be without my ManPans! It's deep, cooks evenly and is super lightweight. I did a post on this pan too, you can read all the details here.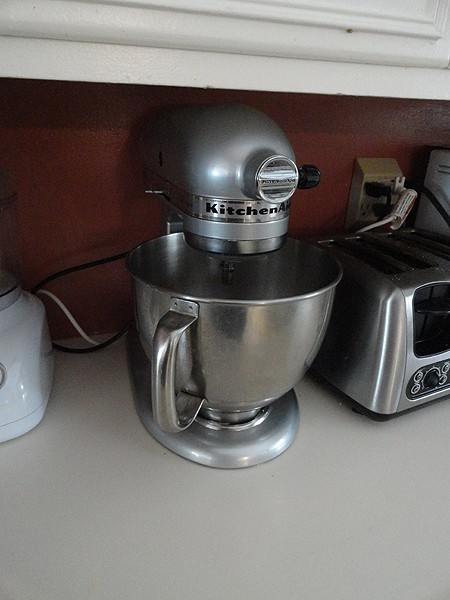 The workhorse – my KitchenAid Mixer. I certainly couldn't do without my KitchenAid mixer. I'm a little disappointed in the pin at the back, it worked its way halfway out within the first six months and no amount of coaxing will get in back in. It's still going strong though and is definitely the work horse of this kitchen!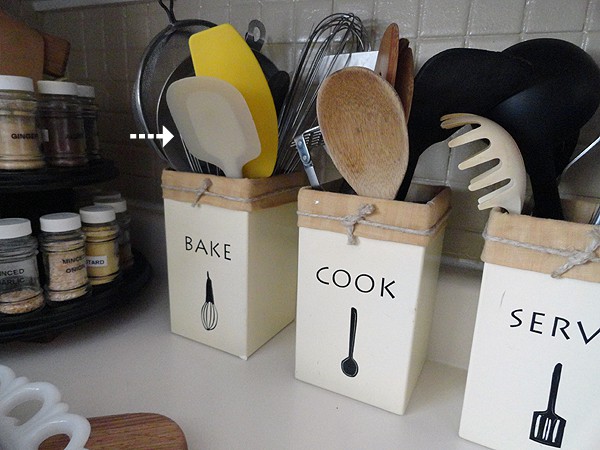 I know it might seem silly to regard a rubber spatula as one of my kitchen faves, but it is! I bought this Wilton silicone stand mixer spatula at Michael's about 3 or 4 years ago. It's sturdy and dependable and has outlived several of the cheaper discount store rubber spatulas. I use it for everything!
If you're interested in making these kitchen utensil holders go here and you can see the spice rack revamp here.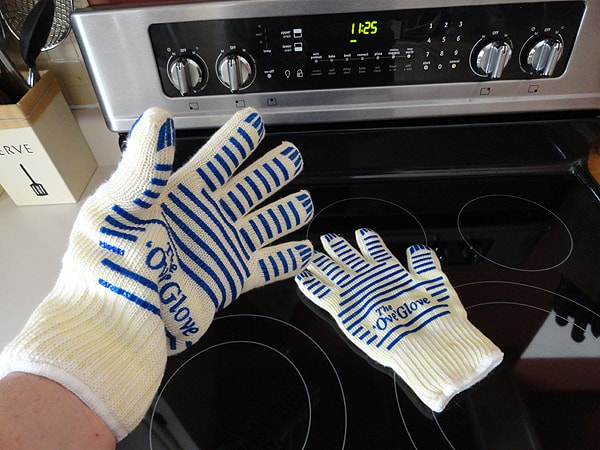 My newest fave are these Ove' Gloves! I finally ordered them just a couple weeks ago. I was so tired of trying to use hot pads to remove things from the oven, and even worse, from the microwave. These gloves are heat resistant and they allow you to actually use your hands, unlike bulky and cumbersome hot pads or oven mitts. Brilliant! However, I will warn you, and the box warns you too, don't use them if they get wet. It can cause burns, so make sure they are dry before using them again.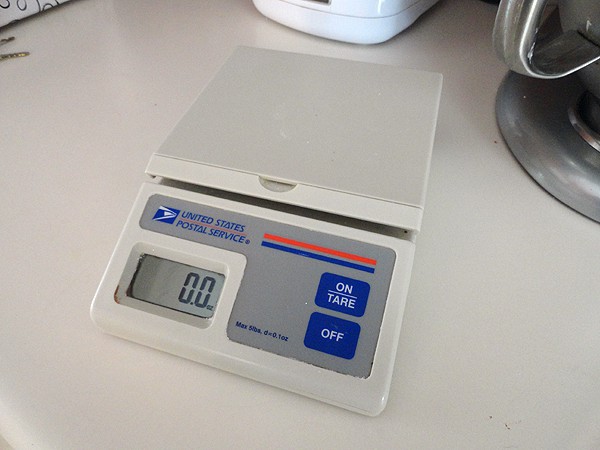 Another thing I use constantly is my postage scale. I know that's a little weird. I originally bought it quite a few years ago because I was shipping a lot of packages for my old job. Postage scales are pretty precise, so they are actually great for the kitchen. I use it all the time for weighing ingredients. It's ideal for a recipe that calls for separating something (like dough or batter). They are very inexpensive too, mine years ago was around $22, but you can find similar ones for $15-20 now.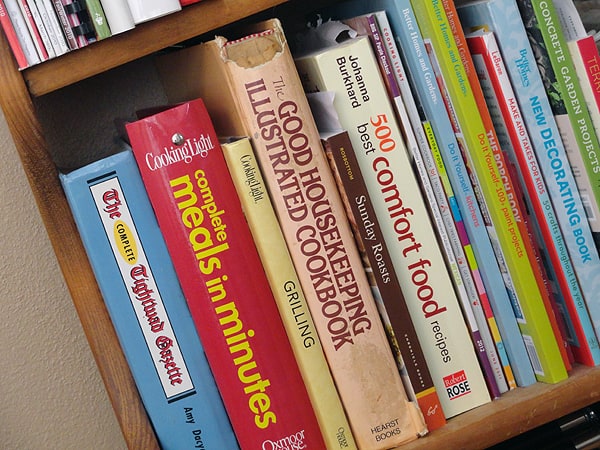 I don't know that I can say that I have one favorite cookbook over all others. However, the Good Housekeeping Illustrated Cookbook is near and dear to my heart. I baked my first real recipe from this book when I was 16 (chocolate eclairs, and they were a flop because I didn't know what I was doing). When I got married and had my first child, I accidentally ruined my copy on the stovetop. The cookbook had actually been my dad's and when I moved out he had inscribed the front and given it to me as a birthday gift. I was heart broken that I ruined it. I did end up finding a replacement for it several years later when I finally got on the internet. And even now, that copy is tattered and torn but truly loved. I've made many, many recipes from this book.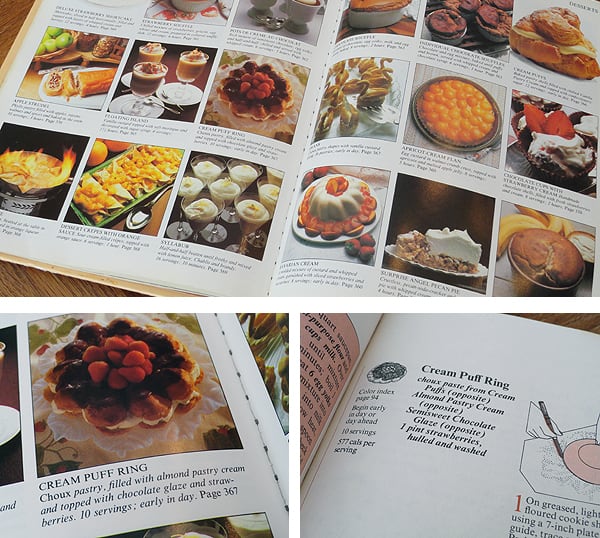 One of my favorite features is that there's a color photo for every single recipe, and all the photos are in the front. Kind of like Pinterest, ha! That way you can thumb through pictures, and if you see something you like it tells you what page the recipe is on. Also, if you look up something by recipe, there's a page number on the actual recipe that tells you where to find the color photo in the front. Cross referenced. I love it. :)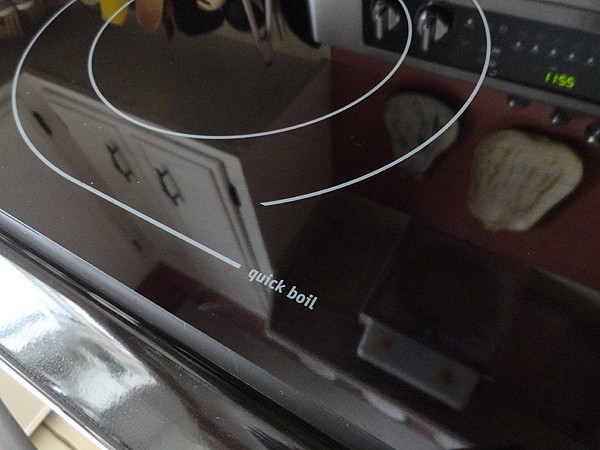 The Quick Boil feature on my Frigidaire Range. The quick boil feature boils water much faster the regular burners. It's built in to the burner at the front left. Just turn the knob to "high" and water will boil in about 6 minutes. This is such a nice feature, especially since I make pasta quite a bit and the water usually takes FOREVER to come to a boil! You can read more about my Frigidaire Gallery® Range with Symmetry™ Double Ovens here and here too.
I also have this fabulous 13×9 stoneware baker. I thought I bought it at King Arthur Flour, but if I did they don't carry it anymore. I googled it and found it here. It's made by "chantal" and the product line is called "pure". I've never had a pan that cleans up so easily and cooks and bakes so evenly! It is my absolute go-to baking pan. LOVE. After googling I found that they have an entire line of "pure" items, so I guarantee I'll be doing some browsing. I've made many recipes in this pan from cakes to casseroles and at the risk of sounding cliche, clean up is always snap.
While I don't make meatloaf every week, I wouldn't dare make one without this brilliant meatloaf pan. It's the best. It has a drip pan that allows the fat from the meat to drop down safely into the pan below. Less than $14.00 and I've had mine for more years than I can remember. In fact, I don't remember when I got it, it's been that long!
Oh, I'm sure there's more, but these are the things I can think of off the top of my head. Do you have a favorite item in your kitchen, something you wouldn't want to live without??
Amanda Formaro is the crafty, entrepreneurial mother of four children. She loves to bake, cook, make kid's crafts and create decorative items for her home. She is a crafting expert and guru in the kitchen and has appeared online and in print publications many times over the years. She is also a craft book author five times over and product developer as well as the owner of
FunFamilyCrafts.com
. You can find her on social media by using the buttons to the left!
Latest posts by Amanda Formaro (see all)